See Beaches, Summits, and Deserts on San Diego's Best Hikes
Head from sea level to a ridgeline stretch of the Pacific Crest Trail on the best hikes near San Diego.
Photo: "From Garnet Peak" by rmalouf is licensed under CC BY 2.0
Heading out the door? Read this article on the new Outside+ app available now on iOS devices for members! Download the app.
Beaches, deserts, high peaks: One of the most beautiful things about seeking out the best hikes in San Diego is that you can find just about any kind of terrain your heart desires within a reasonable drive, provided you know where to look. From hikes in urban open space to challenging day- and weekend hikes along one of America's premiere long trails to some of the state's best parks (hello, Anza-Borrego) we've picked out some of our favorite trails and trips around sunny southern California.
San Diego's Best Pacific Crest Trail Hike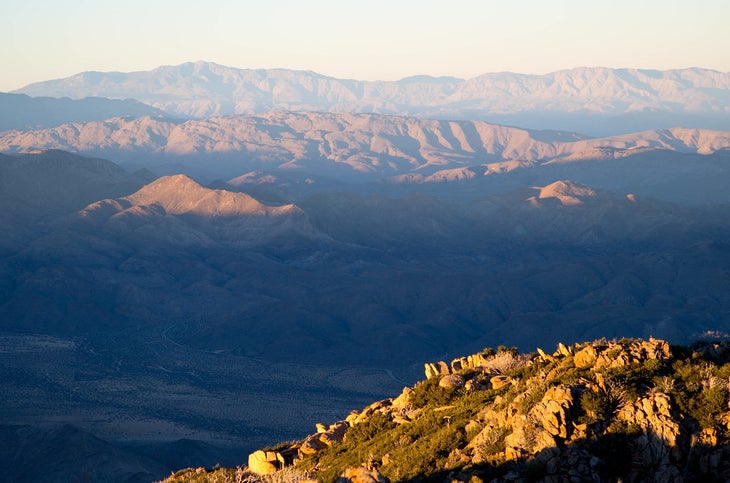 Fresh mountain air, shrub-covered backcountry, jagged peaks, and a killer climbing workout aren't this 12-mile route's only perks. An hour's drive from San Diego proper, this dayhike tours pine and oak stands, recovering burn zones, wildflower meadows, and far-stretching canyons in the Laguna Mountains—all in rare solitude. As you head north along the Pine Mountain Trail, look west to take in Cuyamaca Peak, jutting 6,512 feet skyward from the surrounding ridgelines. The views step up again at mile 5 when you meet up with the PCT: Watch in awe as the Lagunas begin to take up the entire eastern horizon. For an optional side trip, the short but strenuous 2.4-mile climb to the summit of Garnet Peak (5,800 feet) lets you snag the trail's prime lunch spot while savoring the best Anza-Borrego Desert views in San Diego County. Continuing south on the PCT, head across a 5600-foot-high ridge, where the mountain drops thousands of feet away to a scrubland valley. Storm Canyon lies 3,000 feet below you to the east; Monument Peak (6,200 feet), the last major summit seen from the loop, becomes more and more visible to the south as you get closer to Oasis Springs and the finish. —Rajeev Jain
Info Cleveland National Forest
San Diego's Best Beach Hike: Beach and Broken Hill Trails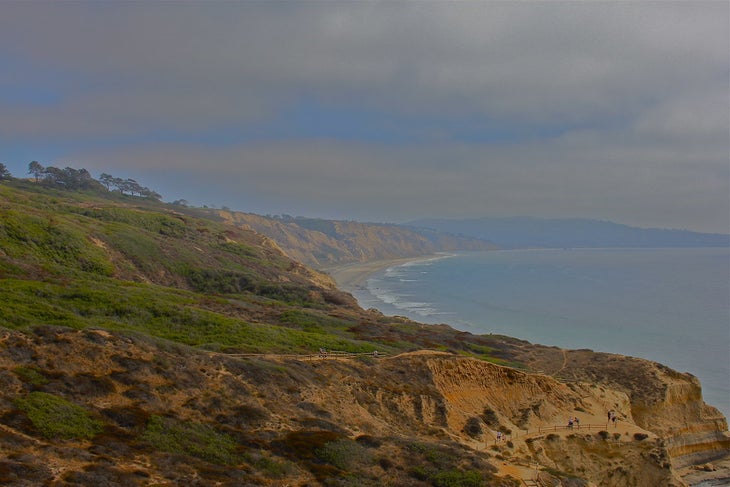 "It's easy to imagine a totally wild Southern California coastline when you hike here," says local Michael Holas of this hike in Torrey Pines Preserve, only 17 miles from the city center. Perched on bluffs overlooking the Pacific, this small urban park is like an environmental time capsule; rilled spines of orange sandstone block both city and roads from view, cupping this oceanside oasis away from SoCal's urban buzz. Descend Beach Trail to Yucca Point for ocean-front views. Nearly halfway through the 2.6-mile loop, pass a popular beach access point before starting the mile-long climb up Broken Hill Trail for the return trip. —Kim Phillips
San Diego's Best Birding Hike: Laguna Meadows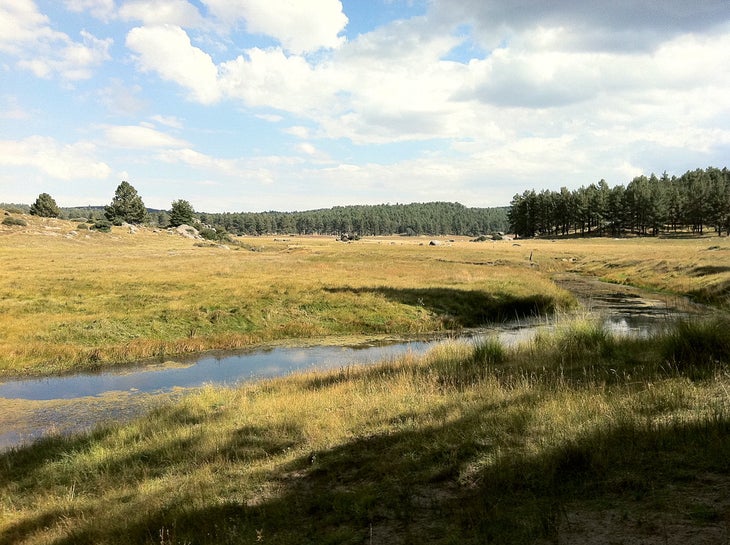 Only an hour's drive from downtown, this eight-miler circles an expansive meadow rimmed by pine-covered hills—and home to eagles, fox, and quail. From the Meadows trailhead on Sunrise Highway, start the loop by working your way up the Sunset Trail on a gentle climb through mixed pine, oak, and chaparral. Trace the ridge at almost 6,000 feet above sea level, taking in long views of the distant blue-hazed spines of the Laguna and Cuyamaca Mountains. After coming off the ridge and connecting to the Big Laguna Trail, continue north into the wide-open Big Meadows area and lollipop loop your way around the pond. Keep an eye out for woodpeckers, fast-moving quail, and circling hawks and eagles. —Kim Phillips and James Murren
Info Laguna Mountain Recreation Area
San Diego's Best Summit Hike: Whale Peak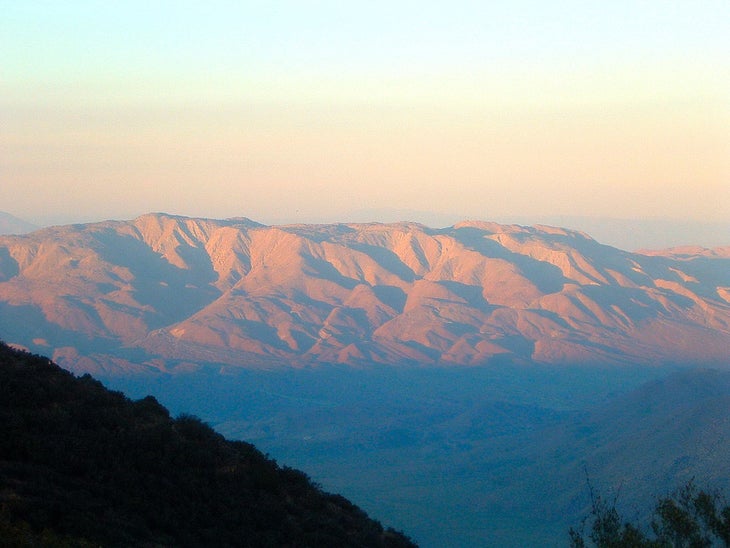 Anza-Borrego Desert State Park, the largest in California, is a favorite of local hikers. For bird's-eye views of sprawling desert and neighboring ranges, tackle the 4.1-mile (one-way) route that gains 1,500 feet of elevation and tops out on Whale Peak's rocky, 5,349-foot summit. On cloud-free days, views extend to the Salton Sea and across the Laguna Mountains. The slopes of Whale Peak support a regionally rare woodland of juniper, chaparral, and pinyon pine, an island of green among the Anza-Borrego Desert's sand and scrub. In the winter snow can even be found on the summit, speckling the cholla cactus with white. —Kim Phillips
San Diego's Best Island Hike: Santa Rosa Island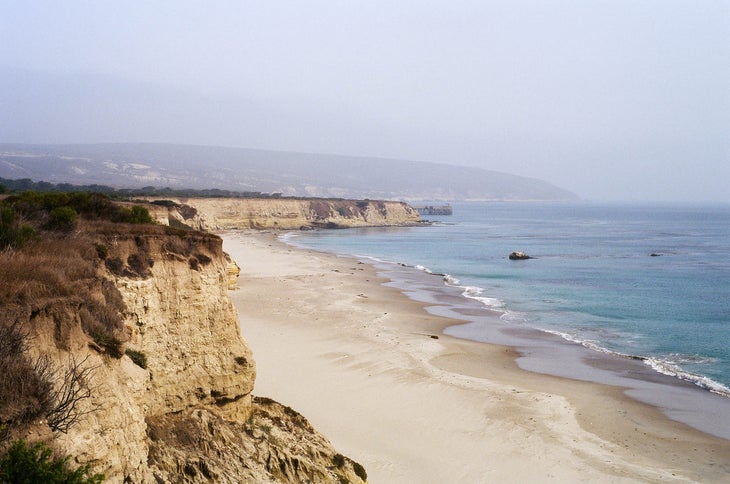 This one might require a longer trip to the trailhead, but the payoff is well worth it. Spend three nights basecamping for the grand tour of the island's northern shoreline, from East Point's beaches to Lobo Canyon's sandstone bluffs. On day 1, take a ferry to Water Canyon, and hike .5 mile west to Water Canyon Campground to pitch camp. On the second day rise at dawn for the 13.5-mile out-andback to East Point; the early start ensures a return before afternoon winds. Head east on Coastal Road, wandering through a 10-foot-high canopy of bonsai-shaped trees marking your entrance to the Torrey pine forest, one of two such groves in the world (the other is in San Diego).
Head south on the Torrey Pines Trail, ascending sandy switchbacks to an old ranching double track with views north to Skunk Point's white sands. Turn southeast, hike along a freshwater marsh, and join Coastal Road in .5 mile. Pass several small beaches (which are closed March 1 to September 15 for snowy plover nesting) en route to East Point, a favorite sunning point for seals and sea lions. Keep an eye out for dolphins and whales off the coast. Return by the same route—or continue to the southern shore if you want to beach camp.
On day 3, begin the 14.3-mile round-trip to Lobo Canyon by heading west on the Cherry Canyon Trail above the crescent moon-shaped Bechers Bay to Soledad Road. Continue east to Costal Road, hike north for .3 mile, then turn west onto Smith Highway. In 3.1 miles, descend into Lobo Canyon. Knobby sandstone formations protrude above 100- to 300-foot-high walls with pygmy mammoth fossils embedded in them. Keep an eye out for tiny Pacific tree frogs, a keystone species that anchors the ecosystem by providing a critical food source.  Descend to the small beach, which thumps with surf, then hike .6 mile west along the shoreline and return along Cow Canyon's eastern rim. —Chuck Graham