Secret Switzerland
Discover solitude on the Swiss border with this highlights tour of John Harlin's favorite trips—rope not required.
Heading out the door? Read this article on the new Outside+ app available now on iOS devices for members! Download the app.
[Daily Reports]

To read John's daily reports and see his photos, go to swissinfo.ch/eng/Specials/Border_Stories/Daily_reports.html?cid=8987462


[Map]

Go to assets.xobix.ch/john_harlin/html/poc/fullscreen_map.html to see an interactive map of John's 1,400-mile circuit.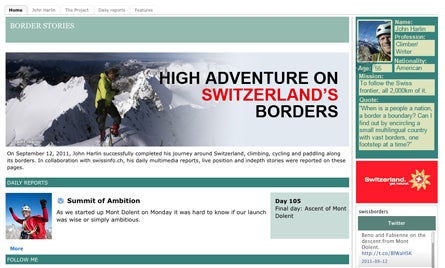 [Night Life]

Do it the Euro way, and stay in huts when possible. Wild (backcountry) camping is not allowed in Switzerland, though bivouacking is (translation: no tents in the daylight). Get rescue insurance, English-language hut information, and hut discounts by joining the U.K. section of the Austrian Alpine Club (www.aacuk.org.uk). Expect to pay up to $30 per night for a bunk bed and an optional $30 for meals. Hut contacts vary regionally: Use the Swiss Alpine Club (sac-cas.ch), German Alpine Club (alpenverein.de), Italian Alpine Club (cai.it), and French Alpine Club (ffcam.fr).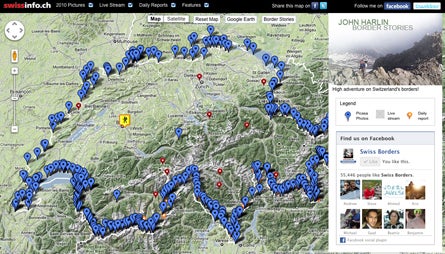 [Wildlife]

St. Gingolph to Vionnaz, via Haut Sex I saw almost as many ibex and chamois here in the "Pres Alps" as I did on the rest of the borders combined. They probably like the absence of cows and hunters in these protected meadows. You'll hike perhaps 7,000 vertical feet uphill if you start on Lake Geneva, but you can cut the descent by three quarters if you catch a bus at the ski lift northeast of the peaklet labeled "Haut Sex" (it's an old Celtic word). Trails run close to the border most of the way. Though I bivouacked, rooms are available in Tenay on the Swiss side or Chalets de Bise on the French. 2 long days
[Best Views]

Theodulpass to the Hörnli Hut You'll need gear for a couple pitches of 5.6-ish rotten-rock climbing, ice tools for a short bit of steep glacier, and a helmet for dashing beneath crumbling seracs. The reward is the spectacular Furgg ridge, where the crowds of Zermatt might as well be on another planet. Sleep in Italy at Theodulpass if you'd like to make it to the Hörnli Hut in time to eat (don't be late for dinner or you won't get served). Tip: There's free, legal camping near the Hörnli Hut if you carry a tent. 3 days
[Wild culture]

Lago Maggiore to Giessee This diverse landscape spans palm trees and glaciers, forests and alps, villages and solitude. Most of this distance lies in a newly designated national-park-in-training, Parco Nazionale del Locarnese, which seeks to preserve old towns and their cultures as much as the wilderness. You can stick to standard trails the whole way, though a couple of optional "blue trails" teeter across boulders as big as minivans. Bivouac or stay in huts and hotels. 7 days: Link Brissago, Bordei, Comologno, Bosco-Gurin, Basódino, and Passo San Giacomo.
[Ridge walk]

Passo San Jorio to Gandria Enjoy pure hiking bliss while crossing the sheep-grazed ridgetops and the limestone-studded forests of the famous Denti della Vecchia ("old woman's teeth"). With clear skies, you can see the tiny triangle of the Matterhorn. Gandria is a historic fishing village on a fjordlike lake—the old stone buildings feel like the Italian Riviera transplanted to Switzerland. 2 days
[Historic trek/scramble]

Müstair to Müstair (or Lago de Livigno) This hike is amazingly historic, spectacular, and wild, even for Switzerland. It starts at a 1,300-year-old monastery built by King Charlemagne and climbs to the easternmost point in Switzerland. From there, follow the exact border along a varied ridgeline that includes a rugged quarter mile of cable handline (hike into the valley if you don't do well with heights) to reach the battle fortifications of Stelvio Pass, where the Austrians faced off against Italians in World War I. Trails and a bit of easy off-trail take you over a remote pass from Italy into Switzerland's wild Val Mora. Head back to Val Müstair via one of several trails depending on how far you want to hike. Reserve a hotel on Stelvio Pass and then either bivouac or pound out a long day to Buffalora or the Livigno dam. 3 days, via Piz Chavalatsch, Stelvio Pass, Fuorcla Schumbraida, and Val Mora
[Alpine trails]

Rhine River to Klosters Wander below, above, and right through the middle of a long series of limestone palisades. Start from Switzerland or Liechtenstein and take your pick of trails leading up 7,000 vertical feet to the prominent hiker's peak of Falknis. From there, follow trails mostly in Switzerland but occasionally crossing to Austria. The easy trails stay below the cliffs, but more interesting trails (sometimes with cables for handrails) snake through the walls. The Sulzfluh offers a full-on via ferrata that leads to a long summit ridge—or hike beneath it on walking trails. Huts available on both sides of the border. 4 days, via Falknis, Schesaplana, Sulzfluh, and Schlappiner Pass
[Paddling]

Kreuzlingen almost to Rheinfelden Float the Rhine from Lake Constance to the edge of industrial Basle. Downstream from Basle, freighters carry heavy cargo to the North Sea. Upstream it's just you and other little boats that can be carried past the dams. This isn't world-class paddling, but it's a nice perspective on the forested lowlands of Switzerland. Campgrounds and hotels are available. Be sure to allow time to wander some of the gorgeous riverside villages. And portage past the mighty Rheinfall if you want to stay in one piece. 3-4 days
[Road biking]

Vallorbe to Lake Geneva Few travelers see this high, open, bucolic countryside. But you'll need to study the map carefully for this tour: Leave the paved road just where the border takes a right-angle turn to the left, three kilometers southwest of a peak called La Dôle (1,677m). Follow a dirt road for a kilometer to a single-lane paved farmer's road right on the border. Pedal uphill for a kilometer to the crest. Then stop in amazement as the Alps spread across the southern horizon on the far bank of Lake Geneva. From the pass glide 3,300 vertical feet down switchbacking pavement—with no cars—to the Geneva valley. Rent bikes at the major train stations in Geneva or Basle. 2-3 days