Seattle's Top 10 Dayhikes
The best local trails, as selected by BACKPACKER Local scouts Anastasia Allison and Jason Bickford.
Heading out the door? Read this article on the new Outside+ app available now on iOS devices for members! Download the app.
Pity the poor Seattle hikers: On any given day, they must decide whether to explore one of three national parks (Olympic, North Cascades, and Mount Rainier), venture into the Central or South Cascades, head north into the Canadian Coast Range, or just stick around Puget Sound or the Pacific Ocean. It's a tough job, but somebody's gotta do it.
ANASTASIA ALLISON'S TOP 5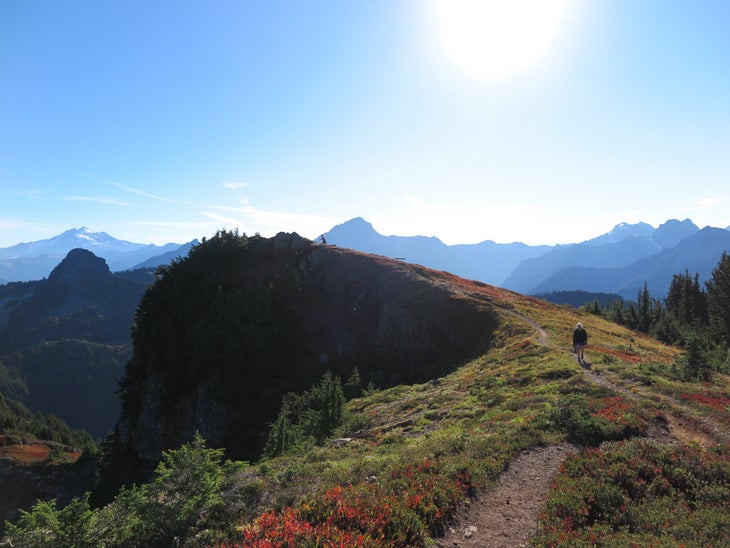 1. Mt. Dickerman, Mountain Loop Highway
Trailhead: Mt. Dickerman/Perry Creek Meadows
Mileage: 8 (round-trip)
Drive from Seattle: 1.5 hours
I love this hike because it is so accessible (no long drive on a bumpy forest service road!). The elevation gain packs a punch, but the burn is worth it – the summit views are expansive, looking out over the Monte Cristo area and, on a clear day, all of the Cascades. From the same parking lot, you can also opt to hike to Perry Creek Meadows, which is a great spot for stunning views, without the popularity of Mt. Dickerman.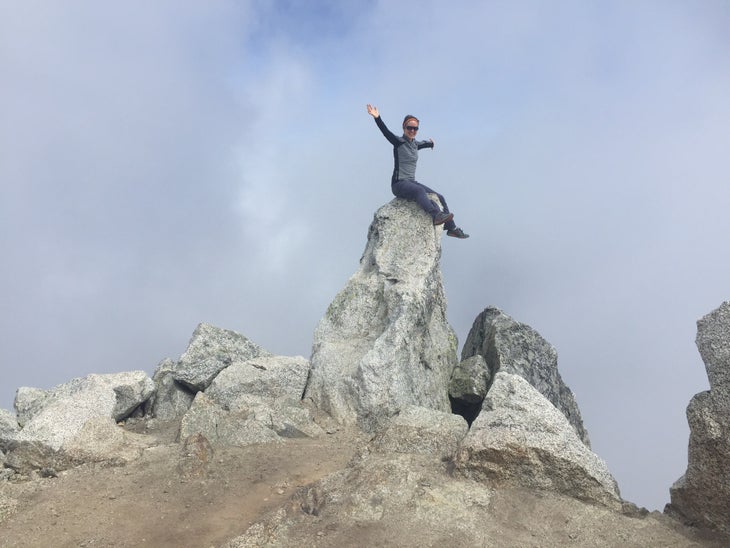 2. Mt. Pugh, North Cascades/Mountain Loop Highway
Trailhead: Mt. Pugh 
Mileage: 11 (round-trip)
Drive from Seattle: 1.5-2 hours
Mt. Pugh, with 5,300 feet of gain, is a definite quad-burner, but it has everything that anybody could ever want in a fantastic dayhike: beautiful meadows, a ridge walk, a fun Class 3 scramble, and dreamy summit views. The first time I did Mt. Pugh, I remember looking at the final scramble to the summit, and thinking, "No way!" Have no fear – it's possible, I promise. After walking along a narrow "knife's ridge" to reach the base of the summit block, you will proceed up a fun, not-as-hard-as-it-looks Class 3 scramble, before reaching the final trail to the summit. This hike is a full day, but is also a full reward. It's worth every step.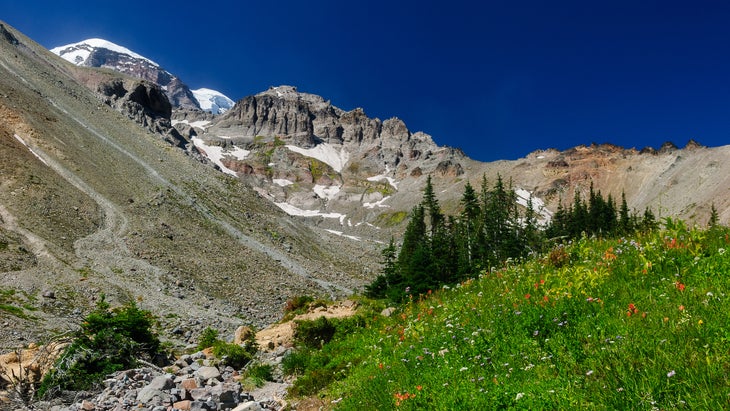 3. Glacier Basin, Mount Rainier National Park
Trailhead: White River Campground
Mileage: 6.5 (round-trip)
Drive from Seattle: 1.5 hours
Once the snow melts in late July or early August, this spectacular hike takes you to a basin just below the Inter Glacier. From there, scramble up "yellow hill," the start of the climbing route that ultimately leads to the Emmons Glacier. See if you can spot the climbers, like tiny dots, in the distance on their ascent or descent of the peak. This trail isn't nearly as crowded as trails on the south side of the mountain, and the views are arguably more stunning. The Emmons Glacier is the largest glacier in the Lower 48, and this hike will put you front and center with its overwhelming presence.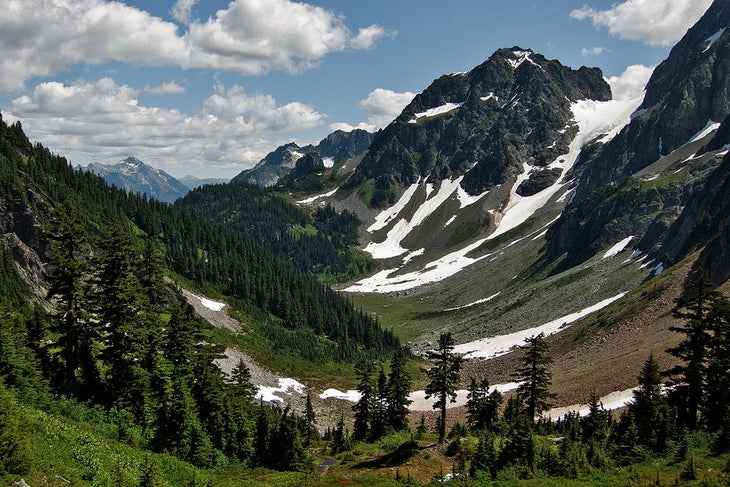 4. Cascade Pass, North Cascades National Park
Trailhead: Cascade Pass 
Mileage: 7 (round-trip)
Drive from Seattle: 2.5 hours
Cascade Pass is, quite simply, a PNW classic. Enjoy the 30-plus gentle switchbacks that lead to this stunning vista: Continue to your left to visit the dreamy locale of the Sahale Arm, head down the valley for a backpacking trip to the remote town of Stehekin, or venture right from the pass to embark on an epic, off-trail mountaineering classic, "The Ptarmigan Traverse." Even if you just visit the pass, you won't be disappointed. Don't forget to stop at 5B's Bakery in Concrete, or Cascadian Farm in Rockport for ice cream on your way home!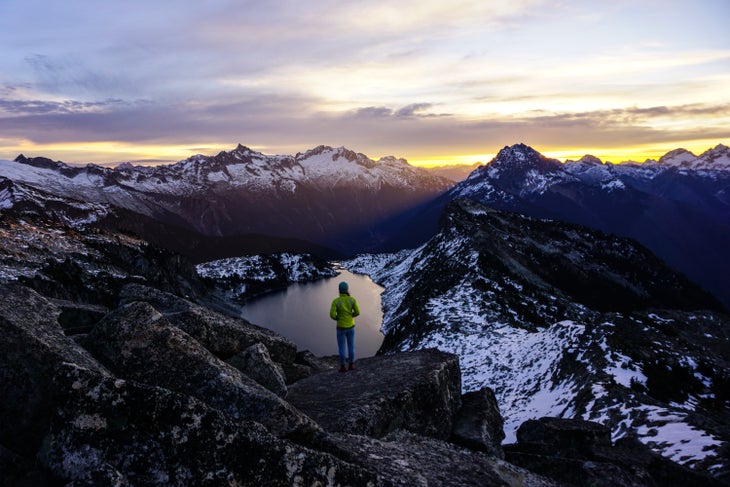 5. Hidden Lake Peak, North Cascades
Trailhead: Hidden Lake Lookout
Mileage: 8 (round-trip)
Drive from Seattle: 2 hours
This moderate trail quickly climbs out of the forest and into expansive meadows. Eventually, after hiking through a dream-world of sloping granite, you will arrive at a small notch overlooking Hidden Lake. Scramble up the remaining several hundred feet to visit the Hidden Lake Peak fire lookout (first-come, first-serve for backpacking!) and take in the sweeping views of Eldorado and Forbidden Peaks and the rest of the North Cascades. 
JASON BICKFORD'S TOP 5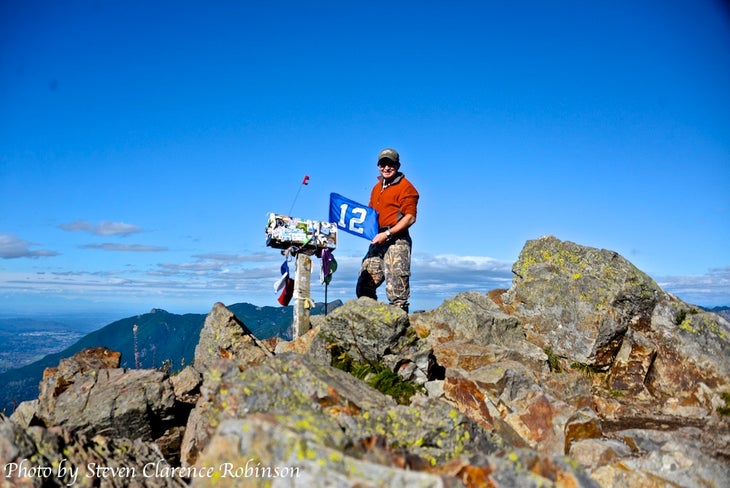 1. Mailbox Peak, Snoqualmie area
Trailhead(s): Mailbox Peak (old and new trail use the same lot)
Mileage: 9.4 (round-trip)
Drive from town: 45 minutes
The perfect workout training trail for big climbs or backpacking trips. With two route options and 4,000 feet of gain in 2.7 miles on the shorter (and of course, much steeper) old trail, it's the perfect peak. The trailhead has two parking lots and plenty of overflow, which is great on busy summer weekends. On the winter route, with enough snow, there are perfect spots to learn beginner ice axe and crampon skills. If I am short on time and want a massive leg workout I will take the old trail up and trail run the new longer route down.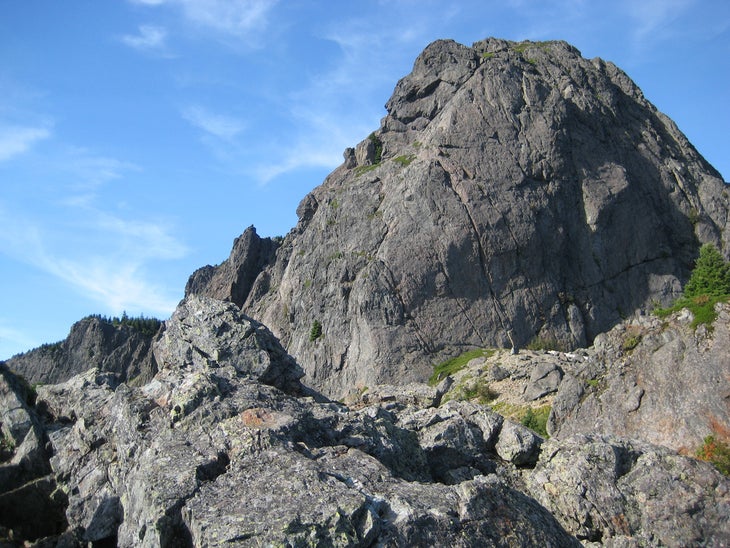 2. Mt. Si, Snoqualmie area
Trailhead: Mt Si 
Mileage: 8 (round-trip)
Drive from town: 40 min
Mt Si is one of my all-time favorite, go-to day hikes. Mount Si is where I fell in love with hiking, especially in the Cascades, as it offers a reasonable starting challenge with beautiful scenery along the trail and a stunning view at the top of the Snoqualmie Valley, Mt Rainier, the Cascades, Olympics, Bellevue, and a little of Seattle. I can hike Mt Si year-round and usually do at least twice each season throughout the year. The well-maintained trail is mostly through dense forest with some large rock breaks and scramble near the top. Si is 8 miles round-trip with a gain of 3,150 feet. I have done the hike more than 25 times and with many of my friends and family.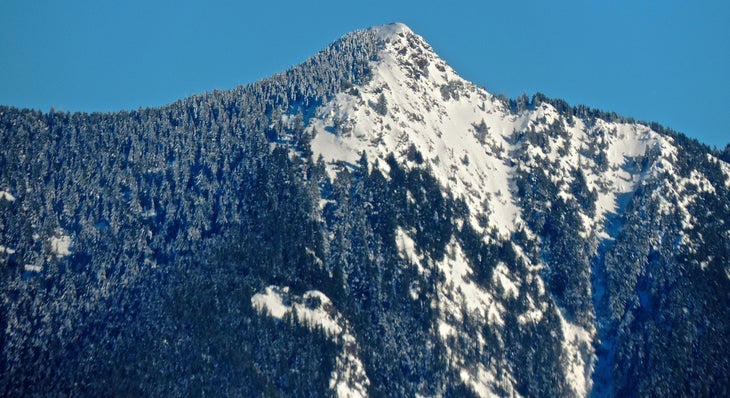 3. Mt. Teneriffe, Snoqualmie area
Trailhead: Mt. Teneriffe 
Mileage: 13.8 (round-trip)
Drive from town: 40 min
This is one of the hikes where you use your hands, elbows, and trekking poles a ton on to climb up through some steep switchbacks. There is a long flat first intro to the mountain and then it gets steep and rugged. The total gain on Teneriffe is 3,800 feet. You hike along a really cool ridge with great views and a steep drop-off on one side and thick forest on the other. There is a cool rock nest about two thirds of the way up that is a perfect stop for a snack before starting the ridge. When you get to the peak, you are on the top of a single round mountain, with steep drop-offs surrounding it. This one, more than any other close to the city, makes me feel like I've conquered a mountain and am a beast!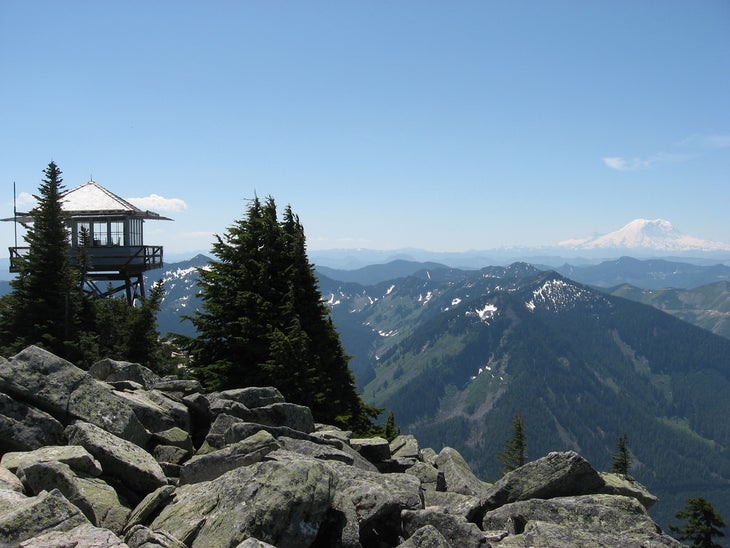 4. Granite Mountain, Snoqualmie area
Trailhead: Granite Mountain 
Mileage: 8.6 (round-trip)
Drive from town: 50 min
Granite Mountain offers so much beauty, especially in the spring, summer, and fall: stunning, vibrant green alpine meadows; beautiful white rock contrasting the dark green plant life; alpine lakes; wildflowers; and great views of the Cascades, Mount Rainier, Kaleetan Peak, and Crystal Lake. The ranger station at the top is often open to the public and it is so much fun to check out and snap some photos of and from. The elevation at the peak is 5,629 feet, so in the winter this trail can have some serious snow and avalanche danger (worth it on a safe day).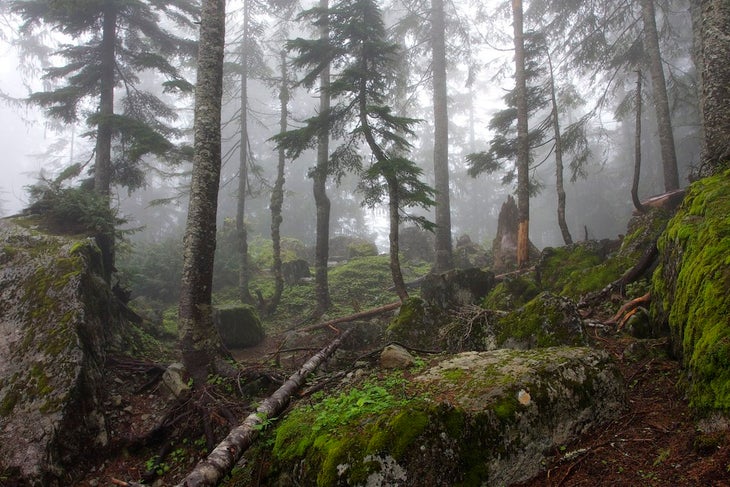 5. Lake Serene and Bridal Veil Falls, Central Cascades
Trailhead: Lake Serene and Bridal Veil Falls 
Mileage: 8.2 (round-trip)
Drive from town: 1 hour 15 minutes
Lake Serene and Bridal Veil Falls Trailhead is less than a half mile off of Highway 2 in Index, WA, and the parking lot is nice and large for busy summer weekends. There are multiple waterfalls to see and large log bridge crossings over streams (and what looks like a river when the snow is melting) on the way up. The final destination of the trail is Lake Serene itself and a large mountain wall behind it with avalanches happening during much of the winter – I love hearing and watching them over a cup of cowboy coffee!