Seattle's Top 10 Backpacking Trips
Washington's top multiday trails, as selected by BACKPACKER Local scouts Jason Bickford and Anastasia Allison.
Heading out the door? Read this article on the new Outside+ app available now on iOS devices for members! Download the app.
It's easy to disappear into true wilderness in Washington. What's harder is deciding which of the backpacking trips within a few hours' drive of Seattle are truly worthy of your limited free time. You won't go wrong with one (or all!) of these 10 local favorite itineraries encompassing everything from the rugged Olympic Coast to azure mountain lakes to a glacier excursion. Pick one and pack your bags.
JASON BICKFORD'S TOP 5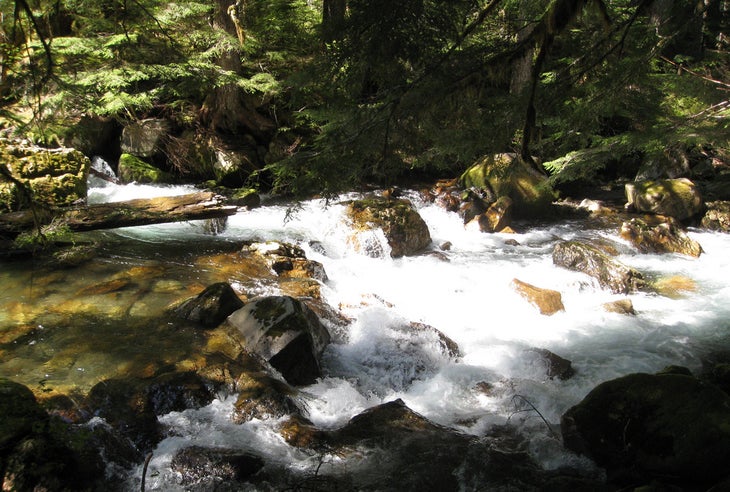 Goat Lake, Mt. Baker-Snoqualmie National Forest
Trailhead: Elliot Creek/Goat Lake 
Mileage: 10.4 (round-trip)
Drive from Seattle: 2 hours 40 minutes
My first experience backpacking was a trip to Goat Lake, and it was the perfect difficulty to get started on: It provides enough distance to feel like you are really getting out there without the risk of overdoing it. It is very popular late spring through early winter for backpackers and hikers. The generally well-maintained trail gains 1,400 feet over 5.2 miles. Near the start it splits for about 3 miles so you can take either the Upper Elliot Trail or Lower Elliot Trail. I recommend taking one each way to see more of this stunning part of the Cascades! The upper trail goes through a dense forest with two waterfalls and the lower goes along Elliott Creek much of the time. 
The trail ends at Goat Lake itself, which sits below some tree-covered and other bare rock jagged mountains. There are 15 campsites and a box-style toilet just before the lake. When I went in late May the experience was very kind to a green backpacker: very few bugs, flat and spacious camp areas, only a couple of other small groups camping–nothing to fret about other than how horrible I was at repacking my pack!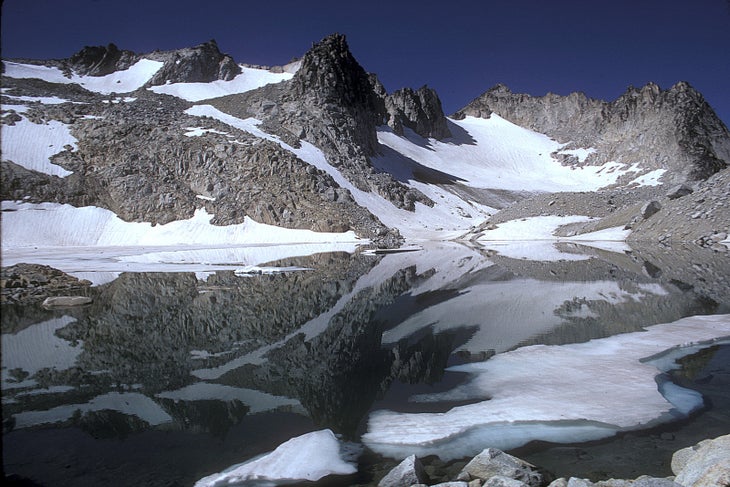 Jade Lake, Mt. Baker-Snoqualmie National Forest
Trailhead: Deception Pass 
Mileage: 20 (round-trip)
Drive from Seattle: 2 hours 45 minutes
Jade Lake provides a moderately strenuous challenge for an overnight trip, with 4,500 feet of gain over 10 miles each way through an absolutely beautiful area. Most of the trail is well-maintained and not too difficult to navigate, although I would recommend a GPS  in case of snowfields, downed trees, or anything else that could throw you off the trail. The first major point of interest is Marmot Lake. To reach Jade Lake, follow the trail past the campsites towards the other end of the lake. Marmot Lake is a large, clear alpine lake with forested mountains surrounding most of it. Jade Lake is several times smaller, but stands out so much more against the pale gray rocks and melting icefield that feeds it. It stunningly earns its name, especially on a clear day! Tip: Bug spray or nets are strongly recommended. 
There are many other cool spots to visit in the area: For a bigger challenge, keep trekking to Dip Top Peak or Pea Soup Lake.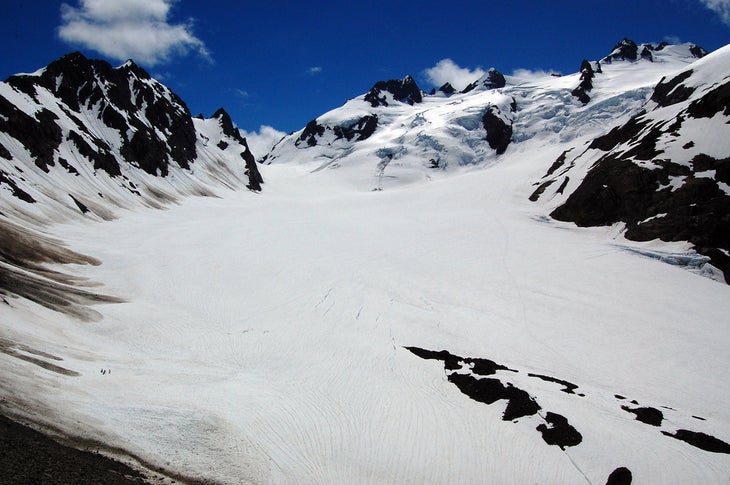 Hoh River Trail to Blue Glacier, Olympic National Park
Trailhead: Hoh River (Hoh Rain Forest Visitor Center parking lot)
Mileage: 36 (round-trip)
Drive from Seattle: 4 hours 30 minutes
This is an incredible weekend backpacking trip that offers a stark contrast of environments and a moderate climb of 4,700 feet. The trip starts with very little elevation gain for the first dozen miles or so through the Hoh River Valley–quite possibly the greenest and lushest place I've ever been. 
It's best to this hike over two nights. It's manageable to start in the afternoon on day one and hike for 10 to 12 flat miles along the Hoh River to the Lewis Meadows, Martin Creek, or Elk Lake campsites. Day two would be the big day, with 15 to 16 miles of hiking and gaining close to 4,200 feet of rugged and sometimes steep elevation to get to perfect viewpoints of the Blue Glacier and Mt. Olympus, then descending back down that day. You have great chances of seeing elk and maybe mountain goats (watch out for these guys, as some are very aggressive). Look out for heavy bugs late spring through early fall and a ridiculously old and crude dangling wood and rope ladder that you unfortunately pretty much have to use to make it up the very steep terrain. It is at least 150 feet long and is without a doubt the most terrifying part of the trip.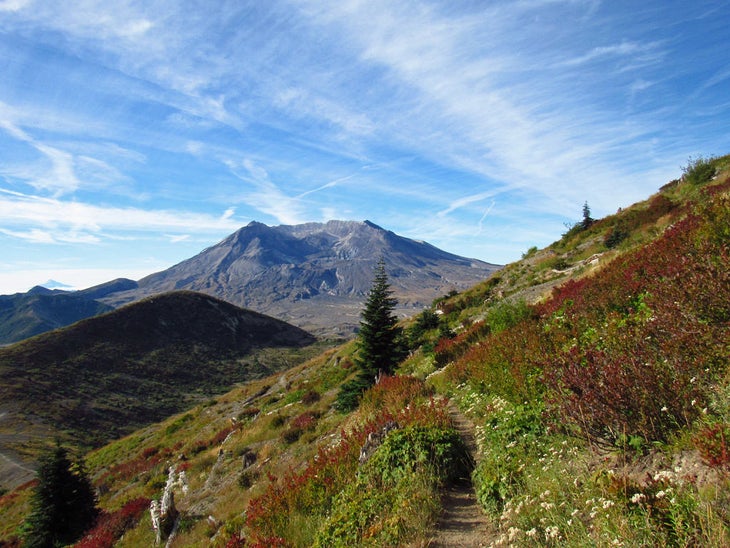 Mt. Margaret Backcountry Loop, Mt. St. Helens National Volcanic Monument, Gifford Pinchot National Forest
Trailhead: Norway Pass 
Mileage: 25 
Drive from Seattle: 4 hours
The Mount Margaret Backcountry Loop offers my favorite views of Mt. St. Helens, as they are from the north and you see growing domes, inside the crater, and the stunning rim encircling it all, along with Spirit Lake sitting in the foreground. From the Norway Pass Trailhead, take the Lakes Trail to make first camp at Snow Lake. Along the way you will encounter countless bleached-white dead trees, some standing straight up, others blown over from the 1980 eruption. It is beautiful yet eerie and feels like trekking through a haunted forest at times! 
The next day you continue on the Lakes Trail to Coldwater Lake. After about 4 miles, when the trail forks, take the path left onto the Coldwater Trail, which you stay on for 4.5 miles taking a fork left onto the Boundary Trail for about 2.5 miles to Dome Camp. The next morning you have about a mile of hiking and 450 feet of elevation to climb to reach Mt. Margaret, the high point of trip with quite possibly my favorite view in the world: the stunning Mt. St. Helens, Spirit Lake, Mt. Rainier and Mt. Adams. You will climb about 5,500 feet in total on this loop.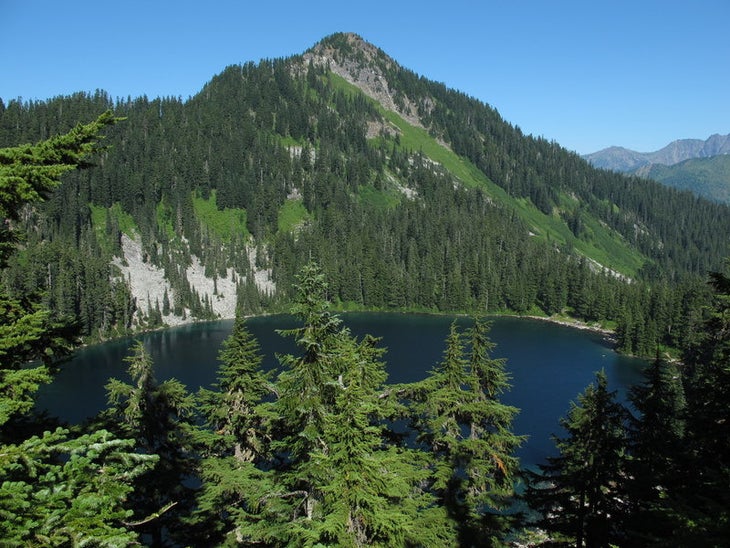 Chain and Doelle Lakes via Pacific Crest Trail, Alpine Lakes Wilderness 
Trailhead: Stevens Pass
Mileage: 23 miles
Drive from Seattle: 1 hour 45 minutes
After striking out with lottery bids for a backpacking permit to the famously popular Enchantments region, Chain and Doelle Lakes stood out to me as an excellent alternative. Start at Stevens Pass and head south on the Pacific Crest Trail, which takes you up through Stevens Pass ski resort slopes and some powerlines. At the first junction, take Icicle Creek Trail past Josephine Lake. When you turn onto Chain Lakes Trail the path goes from gently rolling through meadows to a solid climb of at least 1,000 feet per mile for a couple of miles. The steep climb pays off many times over with expansive views of the Chain Lakes with Bull's Tooth looming above them. 
The trail continues on up another smaller climb through a pass that overlooks the isolated gorgeousness of the Doelle Lakes. I recommend camping at the Chain Lakes if you are doing a more rigorous overnight trip with two longer days; camp at Josephine Lake both nights if you want a slower pace or a late afternoon start.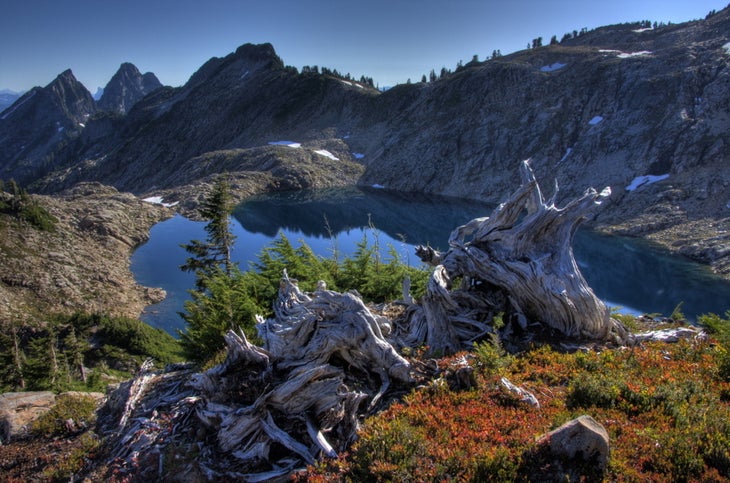 Foggy Lake/Gothic Basin, Mt. Baker-Snoqualmie National Forest
Trailhead: Barlow Pass 
Mileage: 9.2 (round-trip)
Drive from Seattle: 1 hour 45 minutes
Getting to Gothic Basin isn't for the faint of heart (or calf muscles), but this is one hike where the rewards are directly proportional to the physical exertion (2,850 feet of elevation gain). I've done this many times as a dayhike, but why leave so soon? To get there, walk the road beyond Barlow Pass gate for about a mile, then take the Weeden Creek Trail to the basin. There is endless exploring to be had on the slab rock that surrounds Foggy Lake. Pack a helmet and throw in some peakbagging: Del Campo and Gothic Peaks are popular Class 3 scrambles situated directly above the lake. This hike usually isn't accessible until later in the summer, as several avalanche gullies make the approach somewhat treacherous when snow is present. Foggy Lake doesn't melt out until August or September. If possible, go midweek to avoid the weekend rush.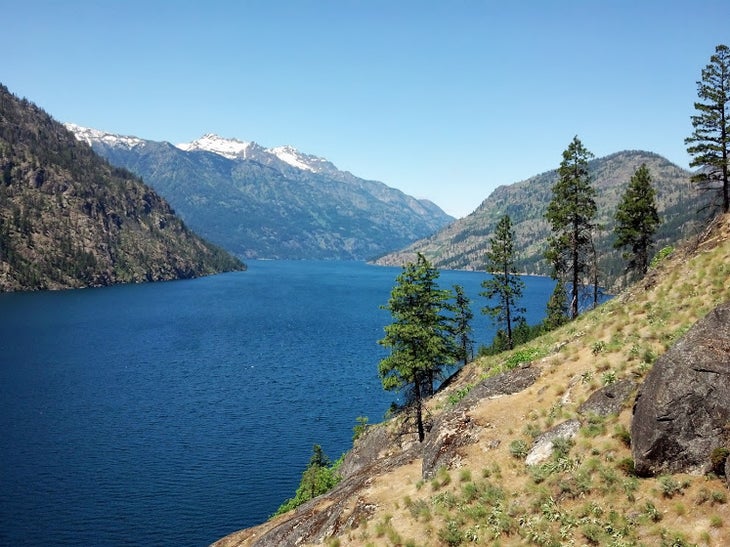 Lakeshore Trail to Stehekin, North Cascades National Park
Trailhead: Prince Creek 
Mileage: 17.5 (one-way) 
Drive from Seattle: 3 hours
The Lakeshore Trail might take more work to organize than a normal backpacking trip, but trust me–it's worth it. Start your journey by purchasing round-trip tickets in advance for the "Lady of the Lake" boat in Chelan, a picturesque town on the shore of Lake Chelan. Make sure to request a stop at Prince Creek. The boat will nearly run ashore, seemingly in the middle of nowhere, and deposit you with your backpacking gear. 
For the next leg of the journey, hike 18 miles along the rolling Lakeshore Trail, camping for a few nights along the way. My favorite campsite is Moore Point with its stunningly beautiful vistas of Lake Chelan, which is the largest natural lake in Washington. Meander into Stehekin, the most remote permanently occupied town in the Lower 48 (accessible by boat, hiking, or seaplane only), while you wait for your return boat back to Chelan. But don't miss a stop at the famous Stehekin Pastry Company for a cinnamon roll.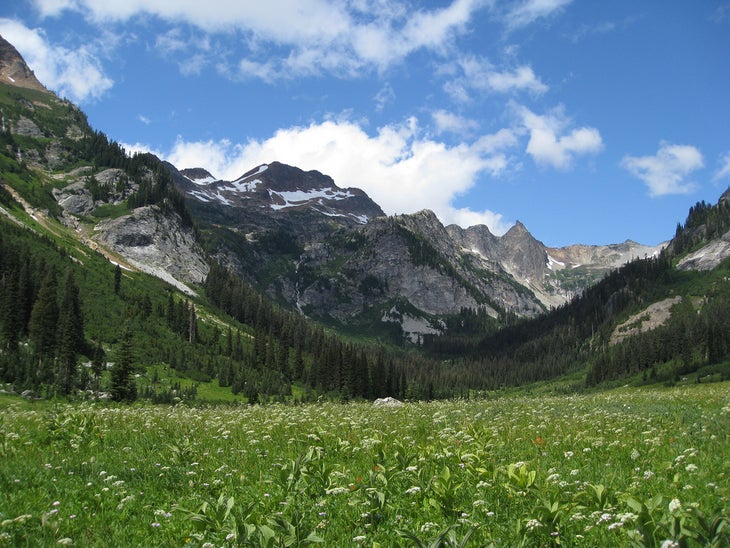 Spider Meadow-Buck Creek Pass Loop, Glacier Peak Wilderness
Trailhead: Phelps Creek/Trinity 
Mileage: 41 (plus an additional 3.2-mile road walk, unless you have two vehicles. Note: the Phelps Creek Road is horrible. It has been done by sedans, but if you have an SUV, you'll feel better about your life on this road.)
Drive from Seattle: 3 hours 30 minutes
This backpacking trip is epic–there is simply no other way to describe it. Start at the Phelps Creek Trailhead and hike a leisurely 5 miles into Spider Meadow, nestled beneath the awe-inspiring summits of Seven Fingered Jack, Maude, and Chiawawa Peaks. Camp in the meadow, or continue on to Larch Knob, a bulging hunk of rock that hangs over the meadow at the head of the valley, right at the base of the Spider Glacier. The camping on Larch Knob is, and I am not exaggerating, magical. 
The next day, ascend the "glacier" (which is more like a small snowfield) and descend from Spider Gap down to the turquoise gems known as the Upper Lyman Lakes. Good camping abounds at Cloudy Pass (include a climb of Cloudy Peak if you have time). From Cloudy Pass, make your way to Suiattle Pass, which offers the option to veer off to Image Lake via Miner's Ridge for a side trip. Don't miss the chance to camp at Middle Ridge–perfect camping in a picturesque meadow under Fortress Peak with wide-open views of Glacier Peak. From Middle Ridge, you'll ascend to Buck Creek Pass, and then begin the long descent back to the Trinity Trailhead.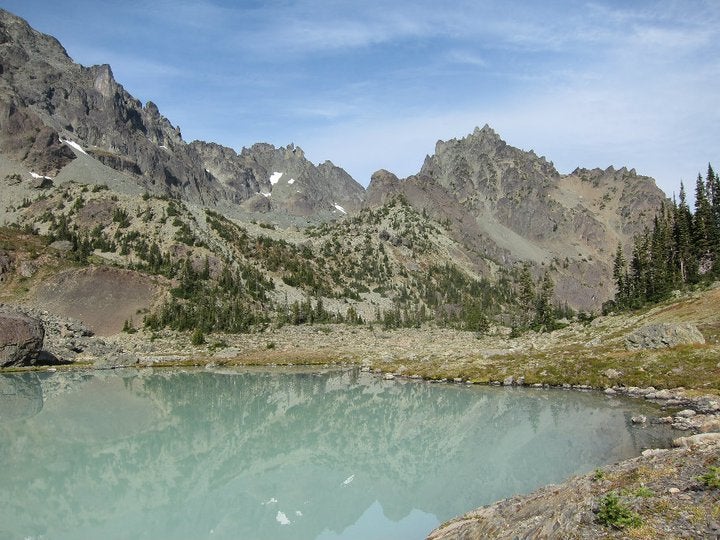 Upper Royal Basin, Olympic National Park
Trailhead: Upper Dungeness 
Mileage: 16 (round-trip)
Drive from Seattle: 3 hours 30 minutes (including a ferry ride on the Seattle/Bainbridge Island Ferry)
Upper Royal Basin is a gem of a lake, nestled into a quiet basin in the Olympics. Along the way, the views get better and better as you gently ascend through a forest next to Royal Creek. Set up camp at the lake, and spend a day hiking through Arrowhead Meadow and into the Upper Basin to explore one of the most beautiful blue tarns on the entire Olympic Peninsula. Hikers who want more of a challenge can ascend Deception Peak or explore (off-trail) into Deception or Milk Creek Basins. Most of this trip is in Olympic National Park. Camping is allowed only at designated locations and campsites within Royal Basin. From May 1 through September 30, reservations are also required.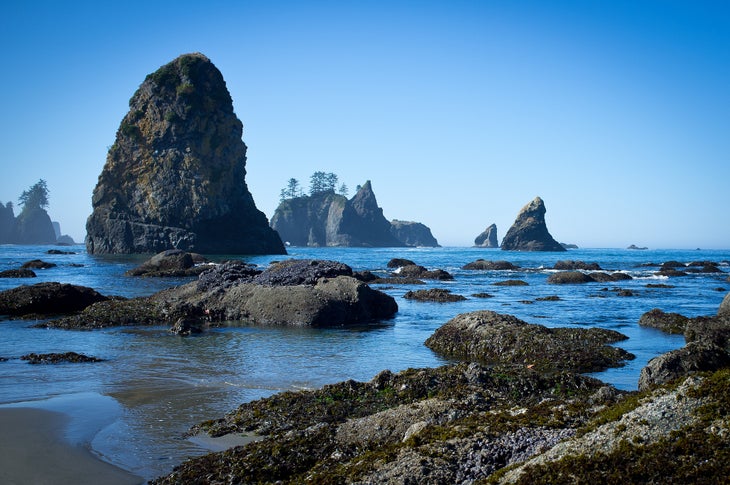 Ozette to Shi Shi Beach, Olympic National Park
Trailhead: Lake Ozette
Mileage: 15 (one-way; you will need to drop a car approximately 1 mile away from the trailhead at Shi Shi)
Drive from Seattle: 5 hours + time to drop vehicles, if needed
I used to be a self-proclaimed mountain snob, until I backpacked the Washington coast from Ozette to Shi Shi. This section of coast is rugged, spectacular, and will leave you with a completely different understanding and appreciation of hiking on a beach. From Lake Ozette, hike to Sand Point for your first expansive views of the Pacific Ocean. From there, hike 3 miles along the beach to Cape Alava, stopping to admire the petroglyphs at Wedding Rock along the way. 
After Cape Alava, continue north to the first, "major obstacle" of the trip–crossing the Ozette River. Make sure to stop by the ranger station before heading to Ozette to find out the latest conditions on the river crossing, which can be notoriously hazardous. Once across the river, continue north towards Shi Shi. Good camping with water is available near Duc Point (just make sure you check the tide chart before pitching your tent on the beach). Don't get lulled into a false sense of security thinking that this is an "easy" hike: There are plenty of adventurous overland trails to get your heart pumping, along with tides and boulder scrambling to contend with. This trip is wild, rugged, and adventurous–and it will leave you with that same sense of accomplishment that you get from ascending any mountain.