Weekend Forecast: May 4-6
What Seattle hikers need to know this weekend
Heading out the door? Read this article on the new Outside+ app available now on iOS devices for members! Download the app.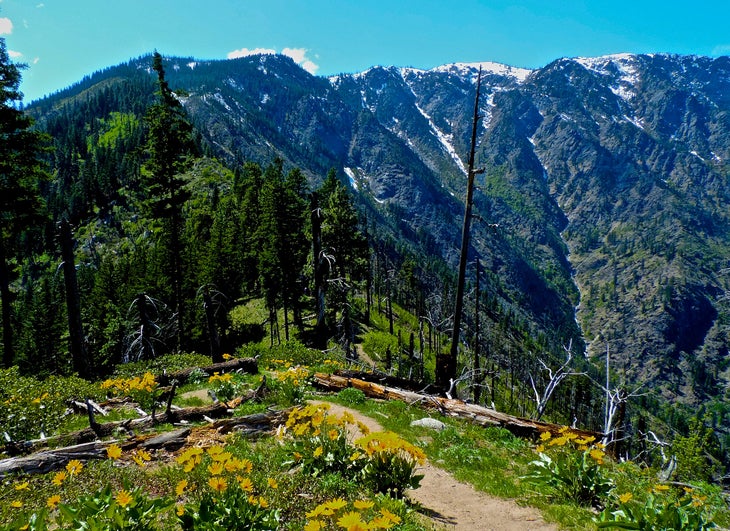 Hello Seattle hikers!
After the wettest April in recent history, I know that if you are anything like me, you are probably feeling the need to screenshot your current Seattle forecast and frame it on the wall… what is that bright ball of fire in the sky? The sun? Yep, get your SPF out–it's back!
Here's the good news: NWAC (Northwest Avalanche Center) hasn't issued a special forecast for this weekend (yet), which means that things are likely starting to consolidate a little bit. That being said, we are still in a "tricky" time of year for avalanches, and with warming temperatures, USE CAUTION. If you aren't sure, or if you can avoid avalanche-prone terrain, please err on the side of caution. Here are a few suggestions for the weekend.
Pratt River Trail: This out-and-back hike starts with a spectacular walk across the Middle Fork Snoqualmie River on a stunningly beautiful bridge. Once across, make a right to follow the Pratt River Trail (don't go left; there is an active slide on the Middle Fork Trail). Follow this trail for as long as it takes to get your fill of small waterfalls, forests, and the distant sound of a raging river.
Icicle Ridge: This trail in Leavenworth is only a few minutes from town and follows switchbacks up to the ridge crest on Icicle Ridge. Once you reach a "T" at the top of the ridge, head right to a viewpoint on the ridge and soak in the views before heading back to Leavenworth for a brat at Munchen Haus and a coffee at J5 Coffee. 
Camp Muir: This is the thigh-buster option of my hike suggestions this week. Camp Muir climbs from Paradise at Mt. Rainier to just over 10,000 feet in only a few miles. This "hike" is definitely more like a mini-mountaineering expedition, so be prepared with appropriate gear (snowshoes, crampons, poles, the 10 Essentials). A GPS can be helpful here, and remember to check the Mt. Rainier Recreational Forecast since Mt. Rainier creates its own weather patterns. The gate at Longmire doesn't open until 9 am, so make sure you are there right when it opens, and remember that you are required to carry chains in your vehicle to enter the park. Getting up and back to Muir in snowy conditions will take all day, but there is nothing more spectacular than spending a day on the Muir Snowfield when the mountain is out. Be sure to check avalanche reports, as there is one location near Panorama Point that can be avy-prone in sketchy conditions.
Happy adventuring!