Seattle, WA: Scorpion Mountain via Johnson Ridge
This 7.7-miler in the northern Cascades climbs through wildflower-dotted meadows along Johnson Ridge en route to awe-inspiring views from Scorpion Mountain.
Heading out the door? Read this article on the new Outside+ app available now on iOS devices for members! Download the app.
Save this rollicking Cascades out-and-back for July, when wildflower season creates a fireworks-like display along the lush Johnson Ridge. Begin your floral exploration by hiking on an old, lupine-lined roadbed at the end of Forest Road 6250. Cross through a thick old-growth forest before making the climb to the top of Sunrise Mountain—a summit carpeted with abundant huckleberry meadows and dotted with alpine firs and small mountain hemlock. Savor the prime panoramas of the Monte Cristo Range and Glacier Peak before making a precipitous descent toward a ridgeline saddle.
After another steep ascent, sweep through more lush meadows en route to another wildflower bonanza just 0.5 mile ahead. Take in the awe-inspiring flower display before bearing left at the Y-junction to make the final push toward Scorpion. From the summit, absorb still more bountiful wildflower fields—flush with lupines, tiger lilies, paintbrush and aster—while savoring high-peak panoramas. If you've still got life in your legs, make the 500-foot descent from the meadow's edge toward Joan Lake. Otherwise, retreat to the trailhead by retracing your route.
-Mapped by Alan Bauer, Alan Bauer Photography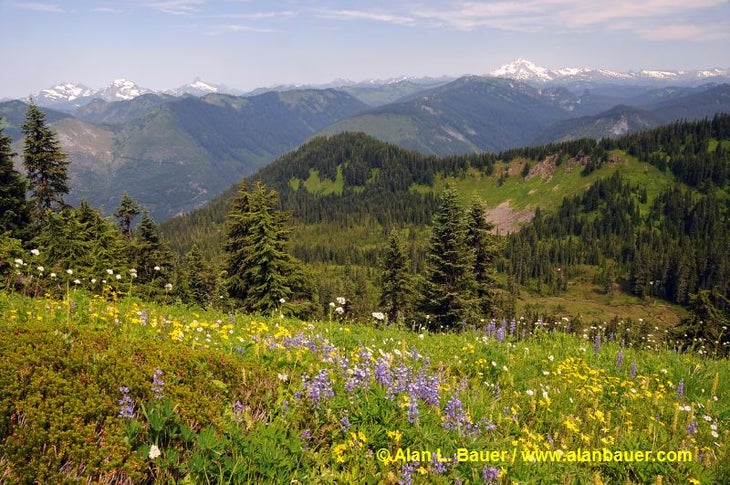 Trail Facts
Waypoints
SMN001
Location: 47.7964971, -121.2624516
At the end of FR 6250, head southeast on old roadbed. From this lupine-lined trail, you'll already be treated to western views of the pristine Wild Sky Wilderness over the Beckler River Valley.
SMN002
Location: 47.7934885, -121.2522717
Leaving the roadbed trail, enter an old-growth forest on a lush, moss-lined path tunneling into the open understory of huge silver firs and cedar trees. The forest floor is carpeted by blooming trilliums; singing thrushes fill the air with song.
SMN003
Location: 47.791294, -121.2440614
Enjoy a brief and rare level stretch of trail lined with moss-covered logs and towering trees. Crossing into several smaller meadows, keep your eyes open for hummingbirds dancing among the vivid summer wildflowers.
SMN004
Location: 47.7878278, -121.2361035
Push forward through an especially steep section of trail toward Sunrise Mountain. Spectacular views await at Sunrise's summit.
SMN005
Location: 47.7889869, -121.228946
Reach thick, exposed huckleberry meadows dotted with alpine firs and small mountain hemlock stands at the top of Sunrise Mountain. To the north, grab panoramas of the Monte Cristo Range of the Henry M. Jackson Wilderness. To the east, gaze at the icy mass that is Glacier Peak. Then complete a steep, pounding downhill along Johnson Ridge.
SMN006
Location: 47.7873106, -121.2227089
Descend to a saddle on Johnson Ridge before swinging back up at another steep grade.
SMN007
Location: 47.7918179, -121.2104262
At the top of another gravity-defying climb, wander through more huckleberry meadows (frequented by bears in the fall) as you approach a wildflower-frenzy just 0.5 mile ahead.
SMN008
Location: 47.7932436, -121.2024316
Reach a fireworks-like display of dazzling wildflowers at the last 0.5 mile of Johnson Ridge. Meadows of lupines, tiger lilies, paintbrush and aster form the stunning observation point for Glacier Peak, the Monte Cristo Range, and the Alpine Lakes Wilderness.
SMN009
Location: 47.7925956, -121.1991256
At the unmarked Y-junction, swing a left to cross through more wildflower-carpeted meadows en route to Scorpion's true summit.
SMN010
Location: 47.7920254, -121.1973005
Crest Scorpion Mountain's wildflower-blanketed peak to gain infinite Cascade vistas. Find a cool stand of mountain hemlocks or alpine firs to break for lunch.
SMN011
Location: 47.7911947, -121.1968862
Continuing to the east, approach another junction at the Johnson Ridge Trail. If you're craving more adventure, make the 500-foot descent to Joan Lake. Otherwise, savor views of the lake from the ridgeline before turning around and retracing your route back to the trailhead.
Wildflowers on Scorpion Mountain
Location: 47.7920253, -121.1968803