Seattle, WA: Poo Poo Point
This 4-mile out-and-back in Tiger Mountain State Forest climbs through lush forest to Poo Poo Point, a grassy perch overlooking the Issaquah Alps.
Heading out the door? Read this article on the new Outside+ app available now on iOS devices for members! Download the app.
Christened "Poo Poo Point" by guidebook author and activist Harvey Manning, in honor of the "poo poo" sound made by loggers' steam whistles, this grassy perch in Tiger Mountain State Forest offers postcard views across the Issaquah Alps. From the parking area near the paraglider landing field, hike southeast on Chirico Trail toward the base of the mountain. After 300 yards, the climb begins on a narrow (and sometimes muddy) trail that ascends quickly through lush, mossy forest.
After a mile, the trail merges onto an old logging road and continues climbing northeast to the first of two grassy launch sites used by hang- and paragliders. Take in the expansive views before finishing off the climb—from here its only 0.3 mile to Poo Poo Point, the primary gliding launch site. At the top, savor sweet views of Squak Mountain, Cougar Mountain, and Lake Sammamish to the northwest and Mount Rainer to the southeast before retracing your route to the trailhead.
-Mapped by Nathan and Jeremy Barnes, hikingwithmybrother.com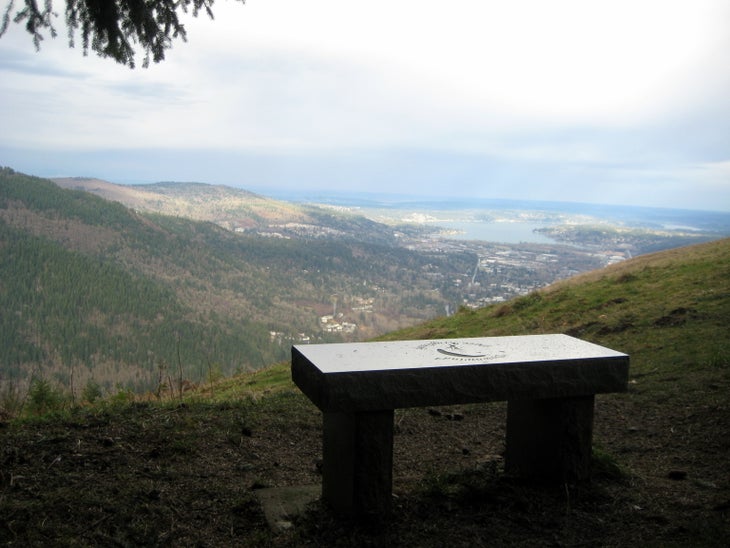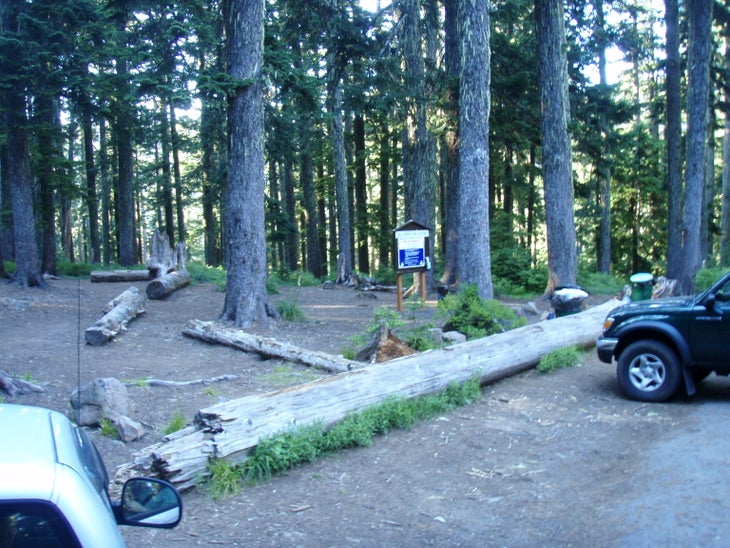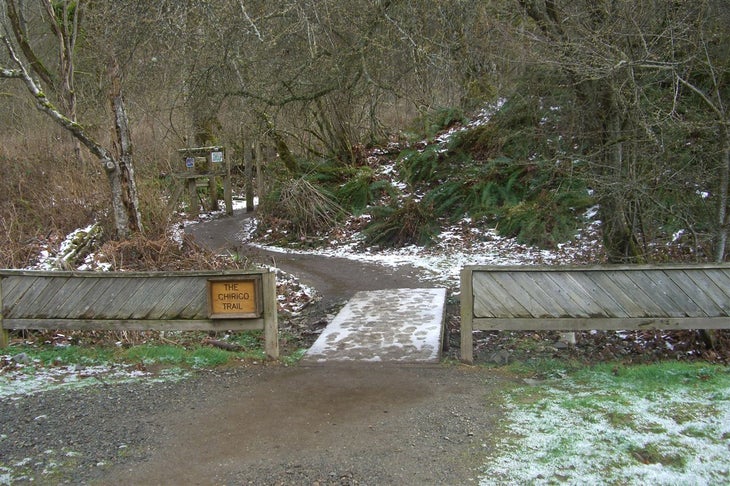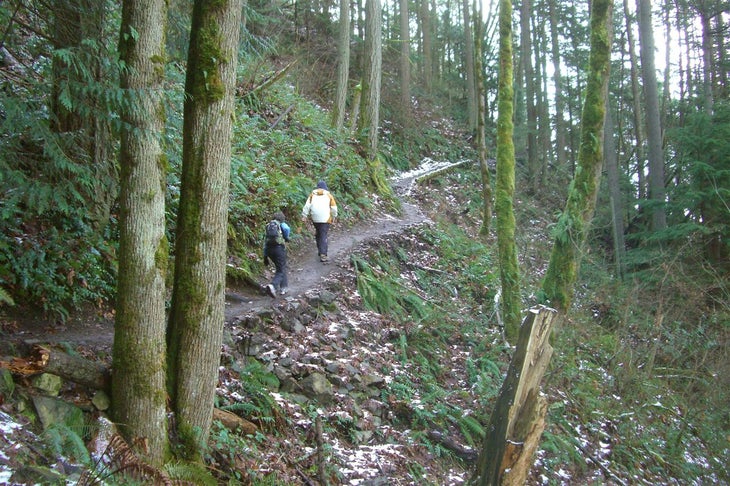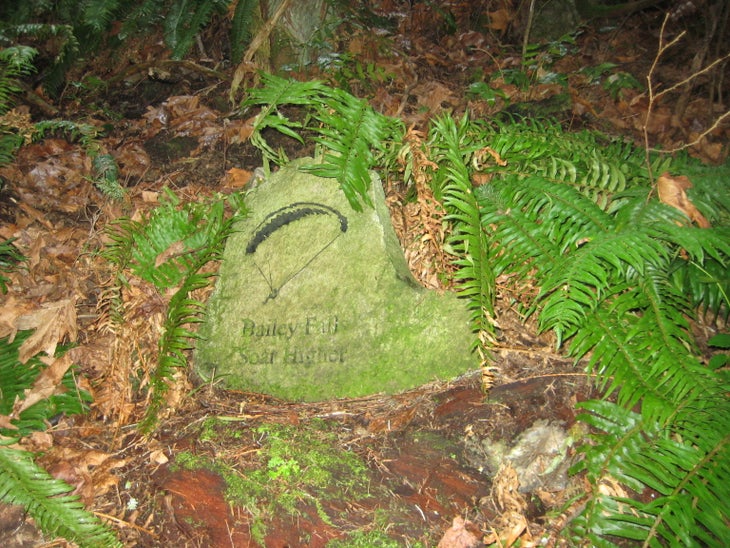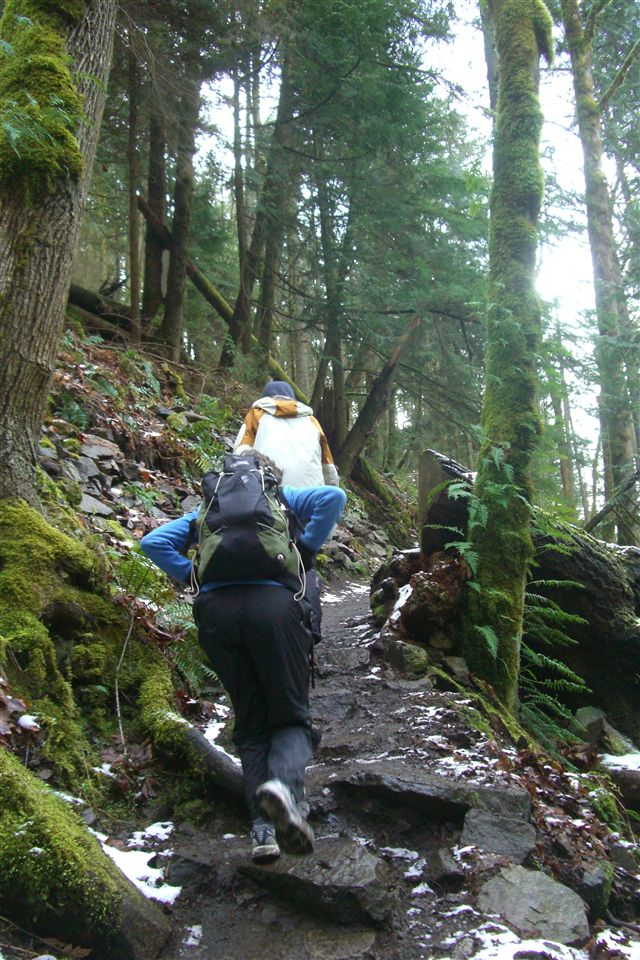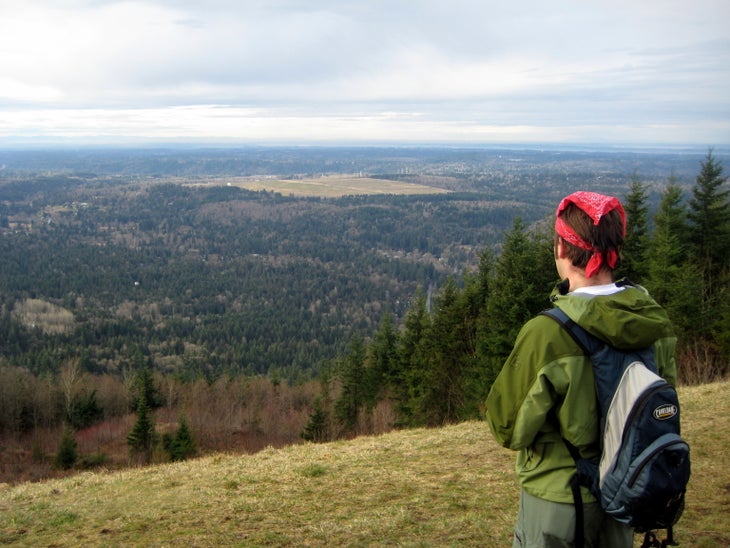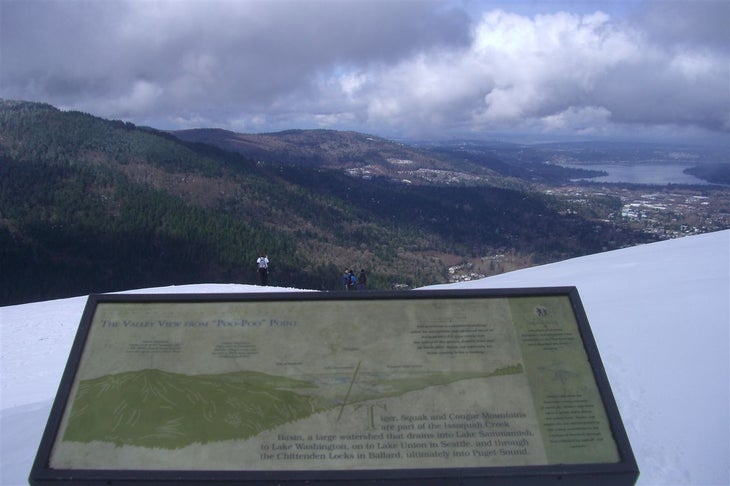 Trail Facts
Waypoints
PPP001
Location: 47.5002063, -122.0220941
From the parking area, cross the grassy field (paraglider landing field) to reach Chirico Trailhead.
PPP002
Location: 47.4999236, -122.0211232
From the trailhead, the path crosses a small marshy area, then begins a steep and steady climb.
PPP003
Location: 47.4929067, -122.0183444
Pass a mossy, rock bench at this sharp corner (a good place to take a breather). Woodpeckers are a common sight along this steep slope.
PPP004
Location: 47.4929932, -122.0146368
The trail merges onto an old, overgrown logging road. The climb continues ahead.
PPP005
Location: 47.4948785, -122.0132107
Trail briefly levels out and offers occasional southeast views of Mount Rainier.
PPP006
Location: 47.4960528, -122.011376
A steep spur trail forks off from the main trail at this point. Take either trail to the southern launch point ahead. Look for paragliders launching above if winds are from the south.
PPP007
Location: 47.4967705, -122.01092
Hike across a large clearing on the ridge shoulder (the first of two launch sites). You'll find more postcard-worthy views of Mount Rainier from this vantage point.
PPP008
Location: 47.4995322, -122.0081359
Poo Poo Point: This grassy perch is the primary launch site for paragliders. Horseback riders and mountain bikers also congregate here, having gained Poo Poo on designated trails. Take in bird's-eye views of Issaquah, Lake Sammamish, Seattle, the Olympic Mountains, and Mount Baker. Hike south along the summit to find a pit toilet and Poo Poo Point Trail, which leads to Tiger Mountain and Issaquah High School. Return to the trailhead along the same route.
Poo Poo Point
Location: 47.499119, -122.0085329
Parking Lot
Location: 47.500199, -122.0220673
Parking lot and paraglider landing area
Chirico Trailhead
Location: 47.4999254, -122.0210856
Into the Woods
Location: 47.4991118, -122.0192242
Bailey Falls Trail Marker
Location: 47.4977635, -122.0191973
Trail Marker for Bailey Falls. "Soar Higher!"
Lush Trail
Location: 47.4962413, -122.0193529
Paraglider Launch Area
Location: 47.4967813, -122.0108557
The southern launching area for paragliders.
Wintry Launch Area
Location: 47.4967958, -122.010802
Summit Sign
Location: 47.499534, -122.008101