Seattle, WA: Naneum Creek Meadows Loop
Tour wildflower-filled meadows and trace the tops of rugged, basalt cliffs on this picturesque, 9.6-mile loop in Wenatchee National Forest.
Heading out the door? Read this article on the new Outside+ app available now on iOS devices for members! Download the app.
Starting from the Naneum Rim Trailhead, this photogenic loop links lush meadows, cliff-top views, and scores of wildflowers. Begin descending grassy slopes spotted with pines and wildflowers before passing a trailside perch overlooking lush valley and basalt-lined cliffs. Take in the views from this vantage point, then descend another mile to the northern edge of Naneum Meadow, a sprawling field nestled beneath basalt-rimmed cliffs. After tracing the eastern edge of the meadow, veer left for a mile-long climb to the top of the basalt cliffs.
Roughly 3 miles into the hike, the route rounds to the northeast and traverses the slopes above Howard Creek—postcard-worthy views of cliff-lined canyons appear at mile 4.8. From here, the trail drops to Howard Creek and turns onto Trail 1373 for a dusty, northwest climb out of the lower forest. Finish off the loop with a scenic, 2.2-mile road walk along FR 9712, which passes the expansive Haney Meadows (a hangout for deer, elk, bears) and reconnects with the trailhead at mile 9.6.
-Mapped by Alan Bauer, Alan Bauer Photography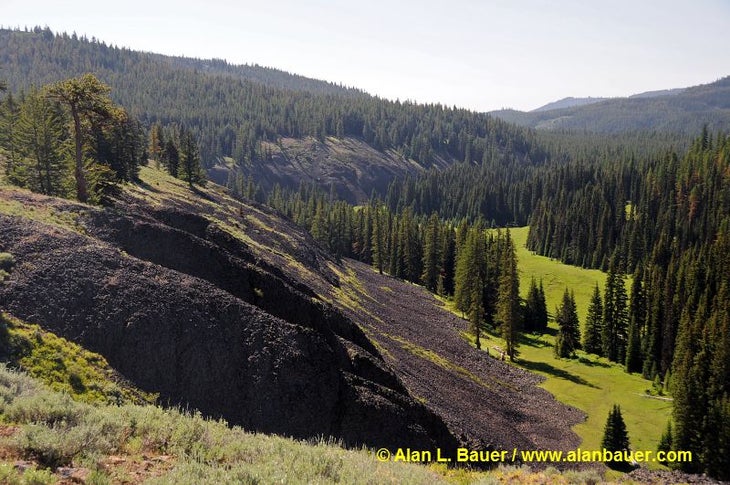 Trail Facts
Waypoints
NAN001
Location: 47.3001585, -120.5648232
From the Naneum Rim Trailhead, hike south away from the road. The trail descends a grassy area spotted with pines, wildflowers, and sometimes elk.
NAN002
Location: 47.2975391, -120.5630207
This trailside perch offers views across a narrow, lush valley with basalt-lined cliffs; look southwest to find Table Mountain. Wildflowers speckle the ground; you'll find scarlet gila, lupines, arrowroot balsamroot, ballhead waterleaf, and desert thyme buckwheat.
NAN003
Location: 47.2969279, -120.5595875
The trail continues its descent to the southeast, crossing gentle hillsides filled with sage, pines and firs. Keep an eye out for yellow-bellied marmots; scan the massive, old-growth ponderosas for owls.
NAN004
Location: 47.2928676, -120.5460691
Turn right onto Naneum Creek Trail #1381, and pass a potential campsite. Ahead, the trail winds south along the eastern edge of Naneum Meadow; mountain bluebirds, grosbeaks, meadowlarks, and raptors are a common sight here.
NAN005
Location: 47.2879773, -120.547024
Pass the remains of an old settler's cabin. Basalt-rimmed cliffs rise abruptly to the east.
NAN006
Location: 47.285663, -120.5459404
Leave Naneum Meadow and veer left for a steep, switchback climb. At the top, the trail rolls through mixed forest and meadows filled with lupines and Columbia lewisia.
NAN007
Location: 47.2797822, -120.5382156
Bear left onto Howard Creek Trail #1372 @ Y-junction. After a short, steep climb, the trail traces the top of basalt cliffs with spectacular views south toward Liberty and the Coluckum Mountain areas.
NAN008
Location: 47.2739007, -120.5271006
Stay straight @ 3-way junction. Ahead: More cliff-top meadows of lupines, arrowroot, and lewisia.
NAN009
Location: 47.2742792, -120.5222082
After passing a camp area with huge views, the trail swings northeast to a dirt road. Cross the road and continue northeast.
NAN010
Location: 47.281529, -120.5154705
Pass an active spring that feeds a huge water trough (used by local equestrians).
NAN011
Location: 47.292111, -120.516445
Stop and check out the tremendous views east overlooking cliff-lined canyons; Howard Creek flows through the canyon bottom. In 300 yards, the trail begins its steep descent to Howard Creek.
NAN012
Location: 47.2975755, -120.5076063
Bear left @ Y-junction onto Trail 1373 (Old Ellensburg Trail); cross Howard Creek. Next, begin a dusty, northwest climb out of the lower forest on slopes filled with flowers (and bugs).
NAN013
Location: 47.3147954, -120.5317676
Turn left onto FR 9712 and hike south along this quiet road. Ahead: More views, meadows, and creeks.
NAN014
Location: 47.3124241, -120.5317461
Haney Meadows sprawls out to the east. Scan the meadow for deer, elk, and bears; scan the skies for mountain bluebirds, circling turkey vultures, and hawks. In 300 feet, pass an historic old cabin next to the road.
NAN015
Location: 47.3089833, -120.5356407
Continue straight on the road where Naneum Creek Trail #1381 drops down the left-hand side of the road toward Naneum Creek. Ahead: Follow the road 1.7 miles to the trailhead.
Basalt Cliffs in Naneum Creek Meadow
Location: 47.2973354, -120.5625057