Seattle, WA: Mineral City
Take a walk though Washington's mining and logging history by exploring the area once known as Mineral City on this 15-mile out-and-back.
Heading out the door? Read this article on the new Outside+ app available now on iOS devices for members! Download the app.
It's not clear exactly when Mineral City came into existence. It began as a collection of mining claims sometime in the 1870s. Before it was known as Mineral City, the mining camp was called Silver City, which is listed as existing as far back as 1880. Today, one can hike to the town site along the same road, which is largely still intact. 
The trail begins where the road ends at a washout and is heavily marked; more than once the trail returns to sections of asphalt that are still intact. At 2.8 miles turn left, crossing a bridge over the North Fork Skykomish River, then veer right onto an unsigned road. After another mile, turn left at a fork in the road at a rocky barricade. Ignore the road heading east and make an easy scramble over the barricade, then navigate a large washout, now heading up Silver Creek. The road is fairly easy to follow after this point, though a few drainages have lost their bridges, making for several more short scrambles. 
Over the next few miles, cross a number of large bridges built to hold fully loaded logging rigs. Waterfalls are abundant as creeks and streams filter down from the hills above. Pass several adits—horizontal mines cut straight back into the rock—as well as a number of mining claims, a crumbling bus and large cabin. At 7.5 miles reach the outskirts of the town site, marked by the words "Mineral City" chain-sawed into a log, where little remains. A tree with the word "Mill" carved into it marks the location of the Mineral City mill. From here, you can catch glimpses of Sheep Gap Mountain and Silver Tip Peak to the north and Hubbart Peak to the east. Crested Butte is to the northwest.
Mapped by Nathan & Jeremy Barnes Hiking With My Brother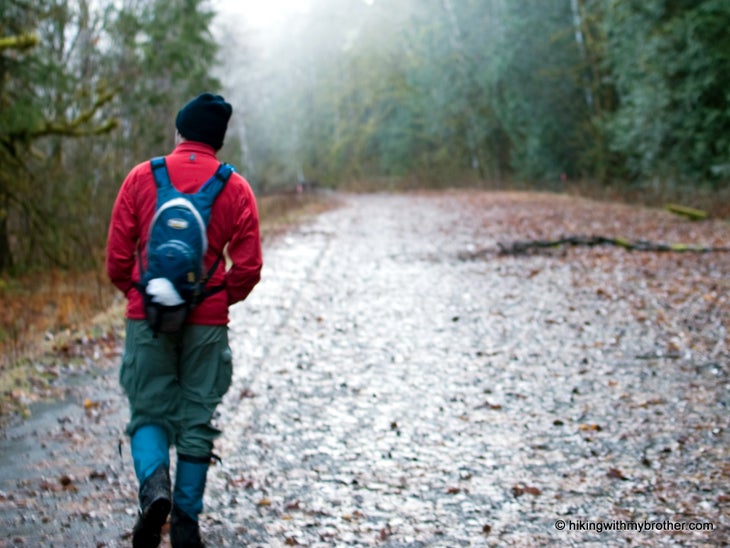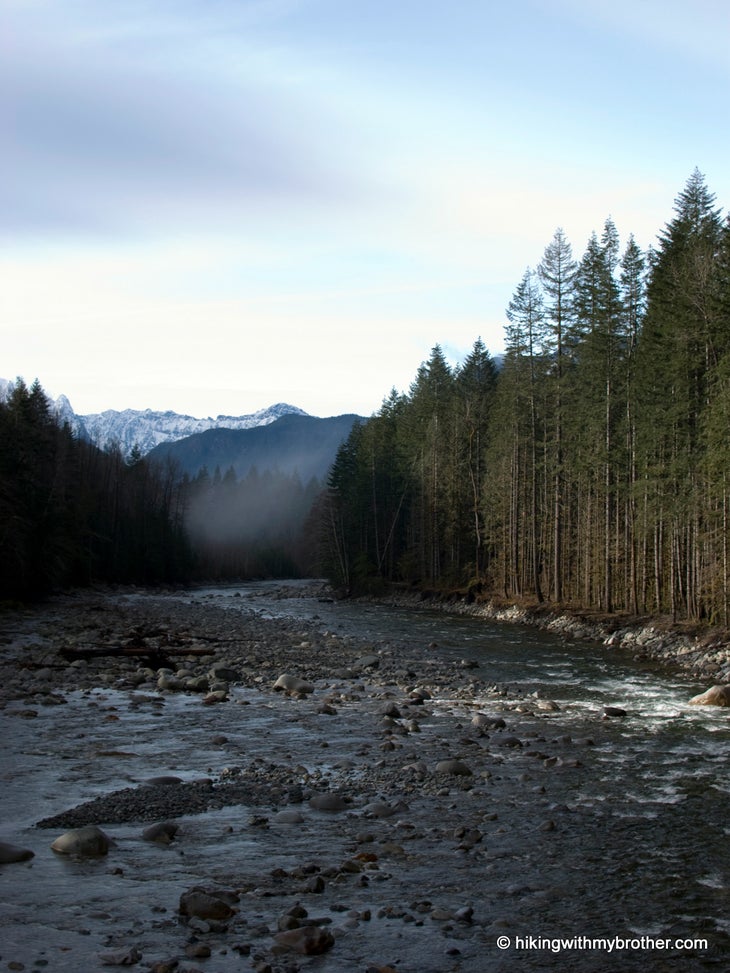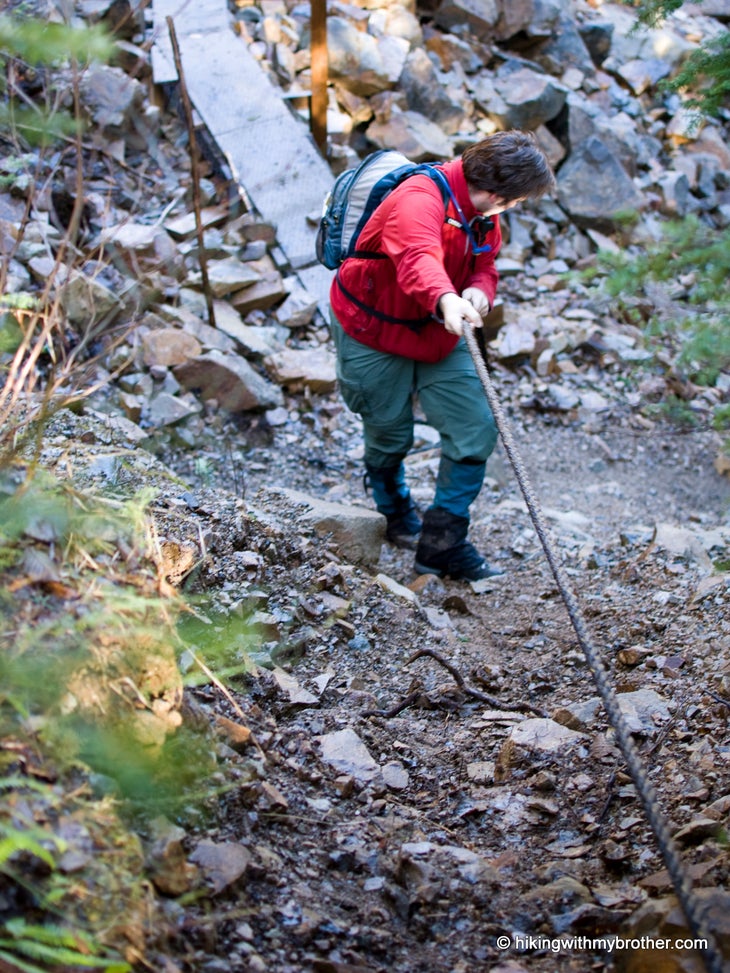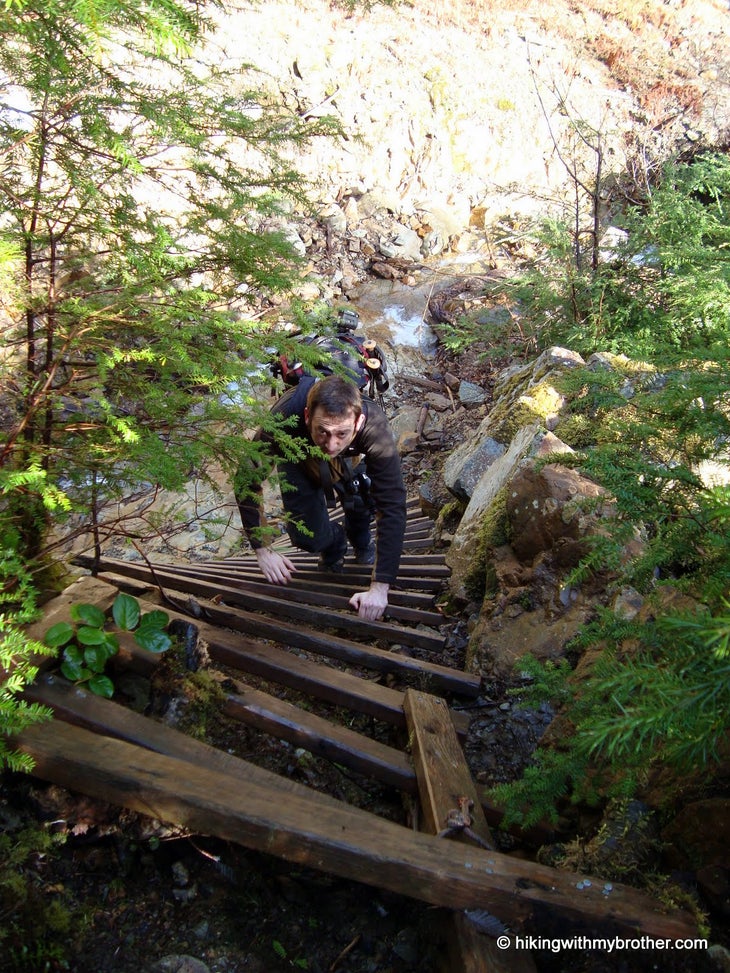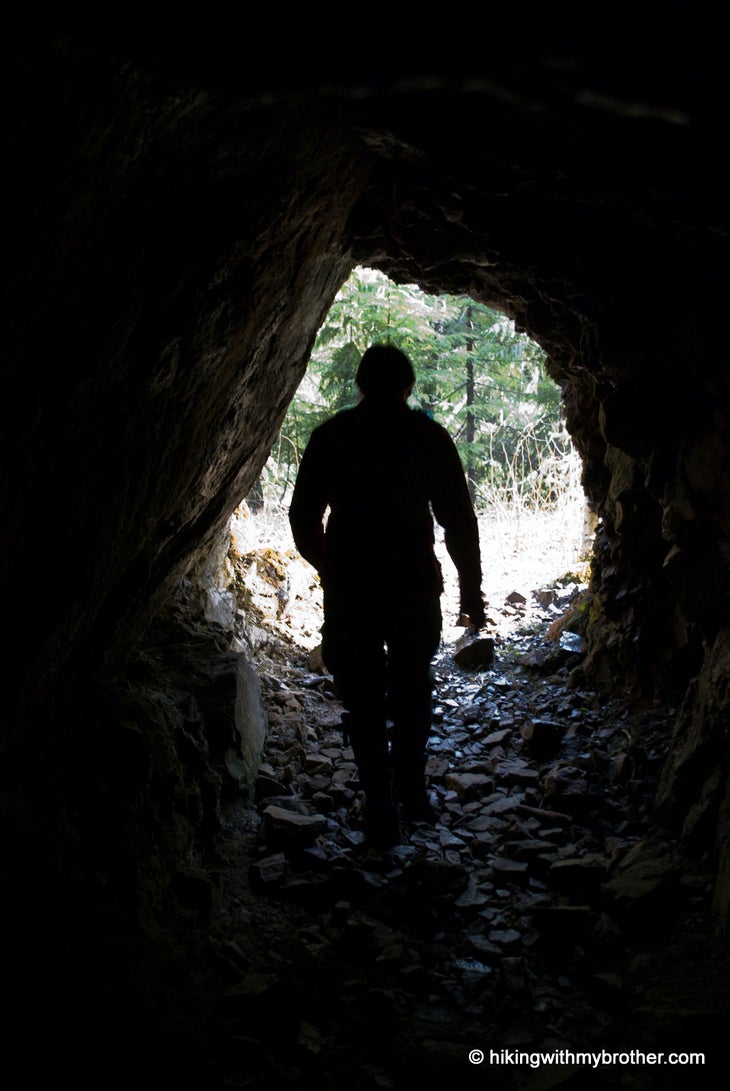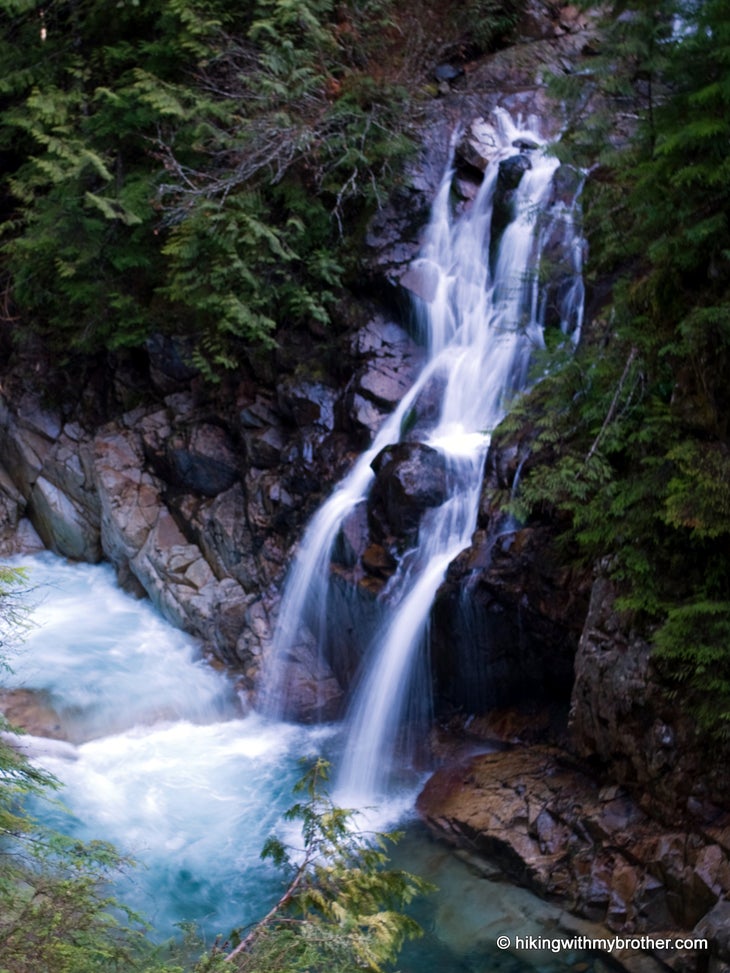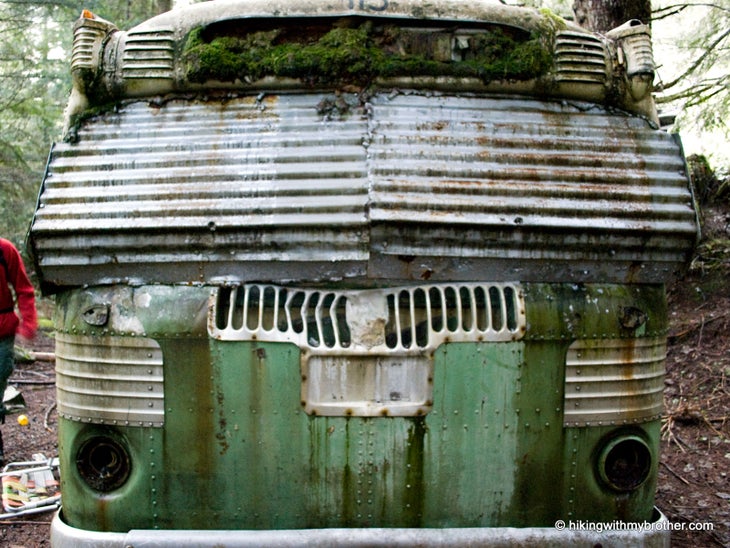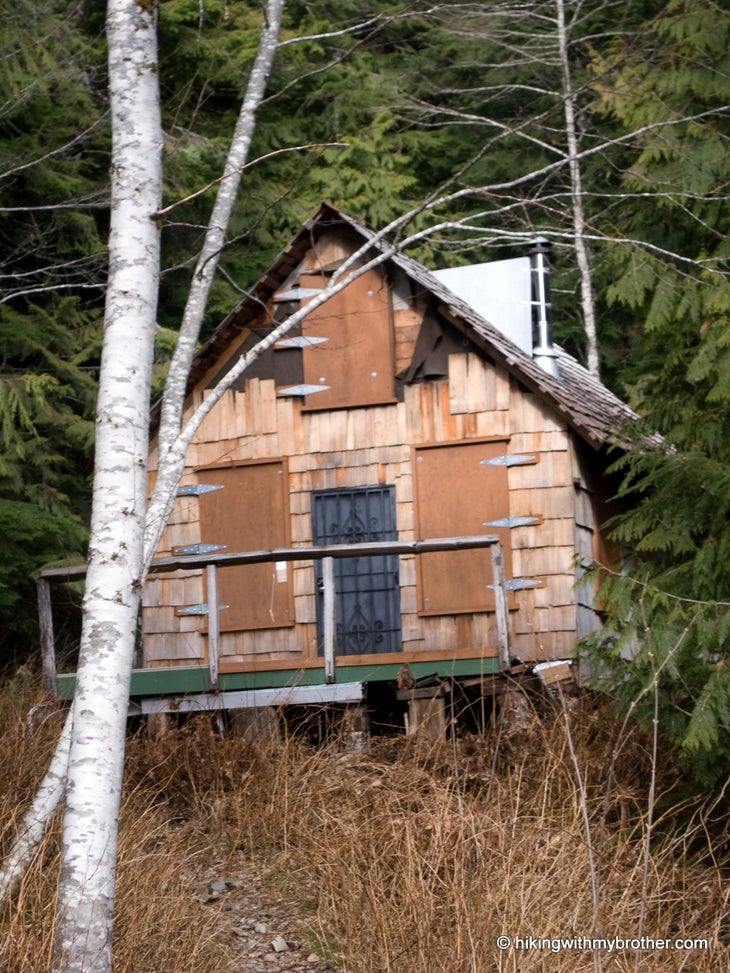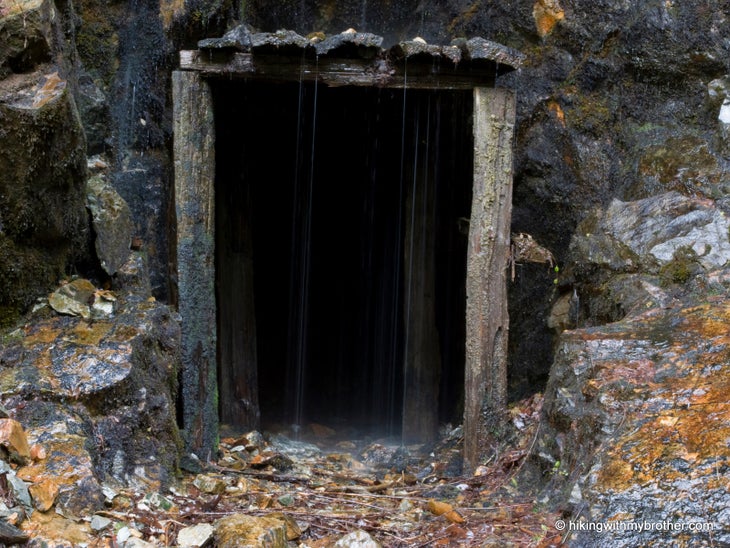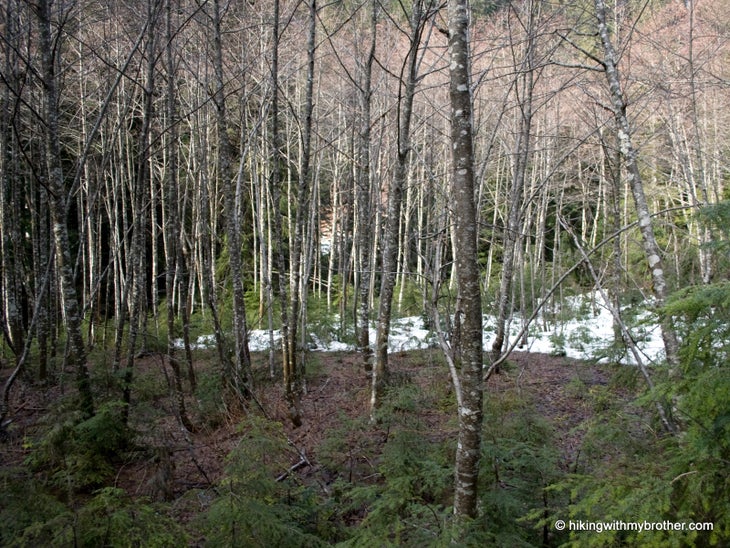 Trail Facts
Waypoints
MIN001
Location: 47.863511, -121.482266
Drive to the road closure point on the Index Galena Road. Park and start following a boot path up the bank on the right.
MIN002
Location: 47.865043, -121.476862
Trail returns to paved road.
MIN003
Location: 47.866743, -121.473934
Turn right onto a trail in the woods.
MIN004
Location: 47.868784, -121.471321
Continue on paved road.
MIN005
Location: 47.891201, -121.44061
Road junction; turn left and cross the bridge over the North Fork Skykomish River.
MIN006
Location: 47.892794, -121.442687
Junction; turn right.
MIN007
Location: 47.90978, -121.438732
Use caution crossing this landslide section.
MIN008
Location: 47.914376, -121.439352
New bridge under construction; take a makeshift ladder down to cross.
MIN009
Location: 47.91572, -121.439789
Mine location.
MIN010
Location: 47.919054, -121.439242
Mine location.
MIN011
Location: 47.92563, -121.439926
Old bridge still spans the stream below.
MIN012
Location: 47.9281, -121.44003
Local backpackers drove this bus up to this location in the 80s and used it as a base camp for excursions.
MIN013
Location: 47.933248, -121.439404
The Monte Cristo Cabin has been standing since before 1979.
MIN014
Location: 47.935019, -121.439413
Shallow mine.
MIN015
Location: 47.937646, -121.43904
Bridge out; turn right and follow the pink tags that cut a path down to Silver Creek, across the gully, and up the other side.
MIN016
Location: 47.950879, -121.434259
Only one log remains of the original bridge; use caution when crossing.
MIN017
Location: 47.950798, -121.433287
Site of Mineral City.
Road Walk
Location: 47.874447, -121.4645
North Fork Skykomish
Location: 47.891831, -121.441841
Landslide Crossing
Location: 47.910014, -121.438751
Ladder
Location: 47.914559, -121.439481
Mine Entrance
Location: 47.915824, -121.439738
Small Falls
Location: 47.917032, -121.439202
Old Bus
Location: 47.928162, -121.440167
Monte Cristo Cabin
Location: 47.933338, -121.439481
Shallow Mine
Location: 47.935063, -121.439352
Balanced Crossing
Location: 47.950817, -121.434202
Historic Site
Location: 47.950759, -121.43328
Flattened earth and a few logging cables are all the remain of Mineral City