Seattle, WA: Merritt Lake via Nason Ridge
Hike through mixed forest to a sparkling alpine lake and crest a rocky ridgetop with panoramic views on this 6.1-mile trek in the North Cascades.
Heading out the door? Read this article on the new Outside+ app available now on iOS devices for members! Download the app.
From the trailhead, begin climbing west through mixed conifer forest. The trail zigzags up steep slopes as it passes a rock garden peppered with wildflowers and old growth ponderosa pines. After 1.2 miles, the terrain levels slightly, continuing northwest to Merritt Lake. (Watch for falling fir cones dropped by Douglas squirrels to stock their food caches.)
Views to the northeast of Nason Ridge appear around mile 1.5—look closely to find Alpine Lookout, an active fire tower rising from one of the ridge's highpoints. The route continues to climb another mile to the southeast banks of Merritt Lake. You'll find striking views of Nason Ridge's rocky slopes encircling the lake basin. The final .6-mile stretch involves a scramble to ridgetop views overlooking Merritt Lake and a sea of Cascade Range peaks.
-Mapped by Alan Bauer, Alan Bauer Photography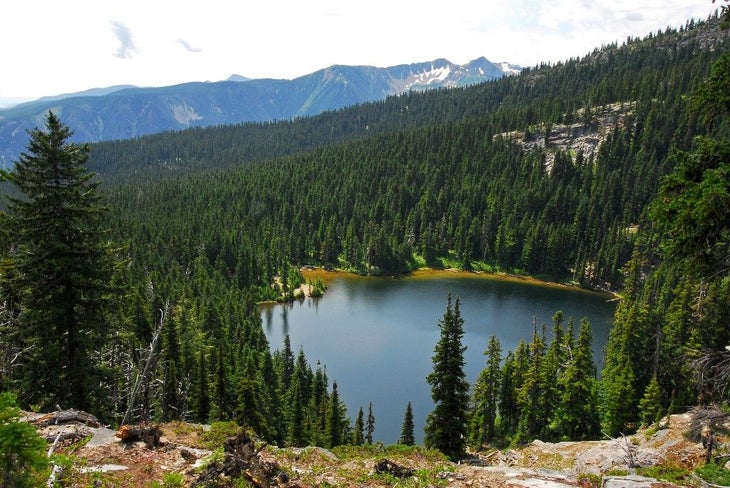 Trail Facts
Waypoints
NAS001
Location: 47.7911072, -120.8845062
Head west from the trailhead; prepare for a steady climb through mixed pine and fir forest.
NAS002
Location: 47.7912788, -120.8891296
Meander through scenic, open forest filled with pine and fir; you'll pass a rock garden punctuated with wildflowers
NAS003
Location: 47.7937393, -120.8956223
Gigantic, old-growth ponderosa pines line the trail as you ascend several steep slopes
NAS004
Location: 47.7956886, -120.8961182
Steep stretch is finished. Ahead, trail bends to the northeast for 800 feet, then weaves northwest for a gentle elevation gain to the lake. Heads up for falling fir cones-Douglas squirrels drop them to the ground to stock their hidden food caches.
NAS005
Location: 47.7967072, -120.8988342
Check out views to the northeast. Alpine Lookout rises from one of the highpoints on Nason Ridge. Next, continue hiking on relatively flat trail to the lake through fragrant forest that's almost always within ear-shot of Mahar Creek, the lake's small outlet stream.
NAS006
Location: 47.7997208, -120.9076996
Bear right @ 3-way junction onto the Nason Ridge Trail (Trail 1583).
NAS007
Location: 47.8052444, -120.9122162
From the southeast banks of Merritt Lake, take in stunning views of the lake basin nestled below the rocky, tree-dotted slopes of Nason Ridge. Don't forget your bug spray-mosquitoes swarm around this popular lake. Grab a snack, then pass through the jumble of campsites to reconnect with Nason Ridge Trail to the east. Ahead, tackle a short but steep climb above the lake.
NAS008
Location: 47.8080559, -120.912735
Turn left @ T-junction onto unsigned, but well-defined boot path leading to Lost Lake.
NAS009
Location: 47.8079224, -120.9134674
From the top of the cliff, admire incredible views to the south overlooking Merritt Lake and the Alpine Lakes Wilderness, and up-close views of the Chiwaukum Mountains. Ahead, path becomes very steep and rocky through rock-gardens.the best views are just ahead.
NAS010
Location: 47.8097229, -120.9168777
Turn right @ unsigned 4-way junction on Nason Ridge pass; scramble 100 yards to a spectacular rocky pinnacle and panoramic views. (Straight @ 4-way descends to Lost Lake; good fishing. Left is the boot path up Mt Mastiff and Mt. Howard.)
NAS011
Location: 47.8096313, -120.9158707
Start counting the peaks, valleys, lakes, around you: Merritt Lake (700 feet below to the south), the Stuart Mountain Range, massive Mount Mastiff to the NW, Lost Lake and the mountains that surround the Little Wenatchee and White River Valleys to the north. Retrace route to trailhead.
Merritt Lake
Location: 47.8096313, -120.9157944
Views of Merritt Lake from Nason Ridge.