Seattle, WA: Guye Peak via Cave Ridge Trail
Take this short, little-known scramble up to the top of Guye Peak in the Alpental Ski Area.
Heading out the door? Read this article on the new Outside+ app available now on iOS devices for members! Download the app.
After some time off, we decided we wanted a hike to shake out some of the cobwebs and get back into our hiking routine. Ever since we passed under it on our way to Kendall Katwalk, we'd been wanting to tackle Guye Peak. It only took a little bit of sunshine breaking through the overcast morning to send us out to Snoqualmie Pass to check it out.
Tentatively named Slate Mountain for a time, Guye Peak was eventually named for F.M. Guye, who staked out a number of mining claims on both Guye Peak and Snoqualmie Mountain. Many of the rough paths the crisscross the mountains above Alpental have their origins in the mining activities of the late 1800s.
It's something of an exaggeration to call the Cave Ridge Trail to the top of Guye Peak a "trail," as it is more of a series of scrambles over boulders and fallen trees connected by short, boot-pounded paths though narrow bands of vegetation. Short and rough, the route aggressively attacks the elevation, conveying you up the slope with only an occasional begrudging switchback or two. At just over mile, things begin to level out and the trail passes by a small lake before beginning the final push to the top.
Be aware that decades of use have resulted in many lesser-used side trails that can be confusing. While there is one sign directing you either to Snoqualmie Mountain or Guye Peak, the trail is unsigned. Dramatic overhangs and big drop-offs make this a popular hike with both hikers and mountaineers year-round. The short trail distance and close proximity to I-90 mean easy access, but can also lend an illusion of relative safety. Use caution near the top, as slick conditions can easily lead to a tumble or worse – quite a number of people have died on Guye Peak since the 1960's.
Short and brutal, Guye Peak pays dividends in spectacular views. Survey the ski slopes of Alpental and Snoqualmie Pass as well as the whole of Commonwealth Basin. To the east lies Denny Mountain, supporting the slopes of Alpental and beginning a north running ridgeline that includes the Tooth, Bryant Peak and Chair Peak. Snoqualmie Mountain dominates the view to the north, while the Red Mountain steals the show as you swing east to take in Kendall Peak.
Also consider following us at http://www.hikingwithmybrother.com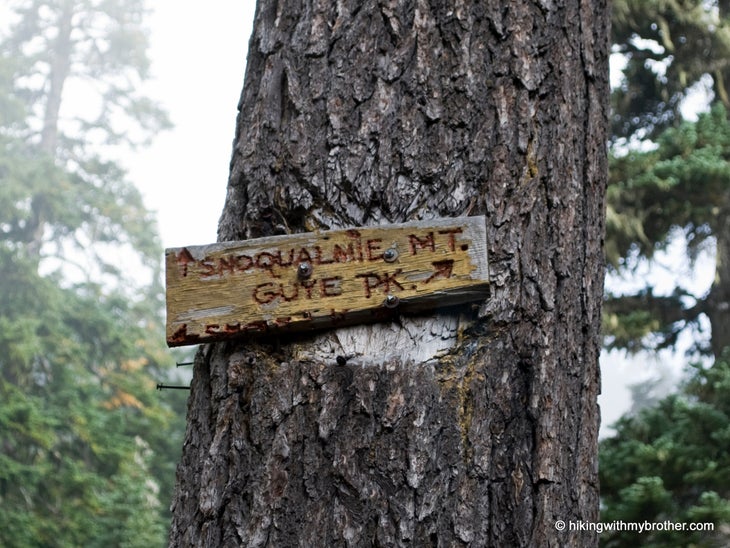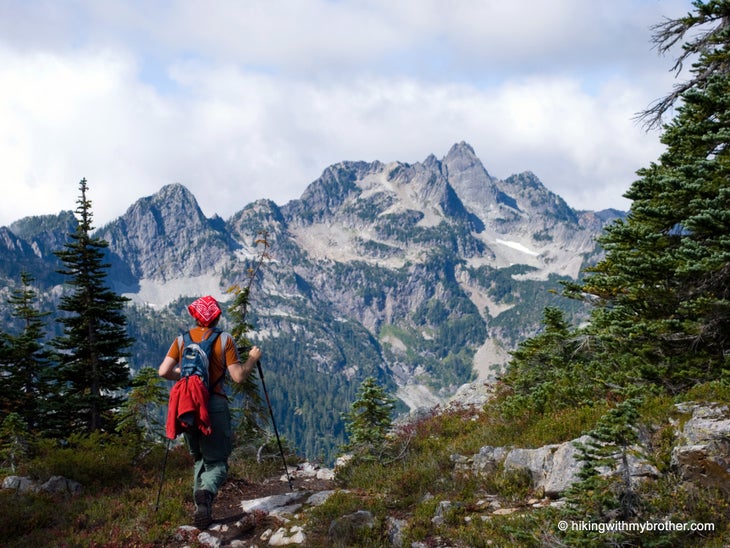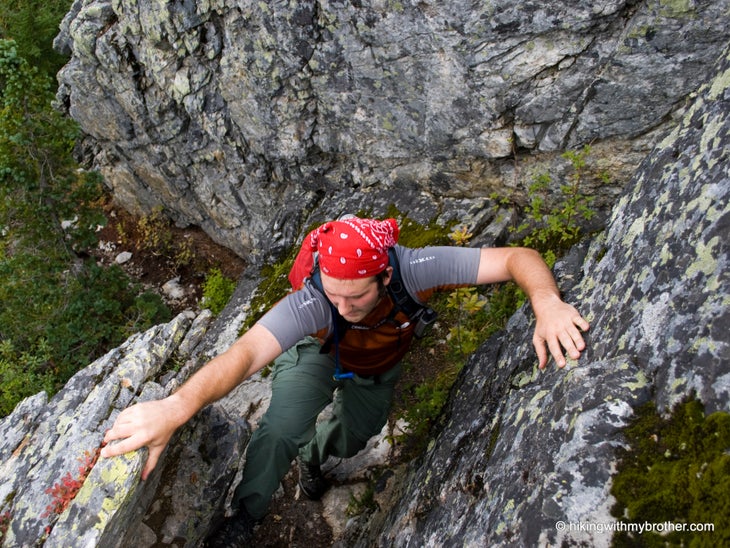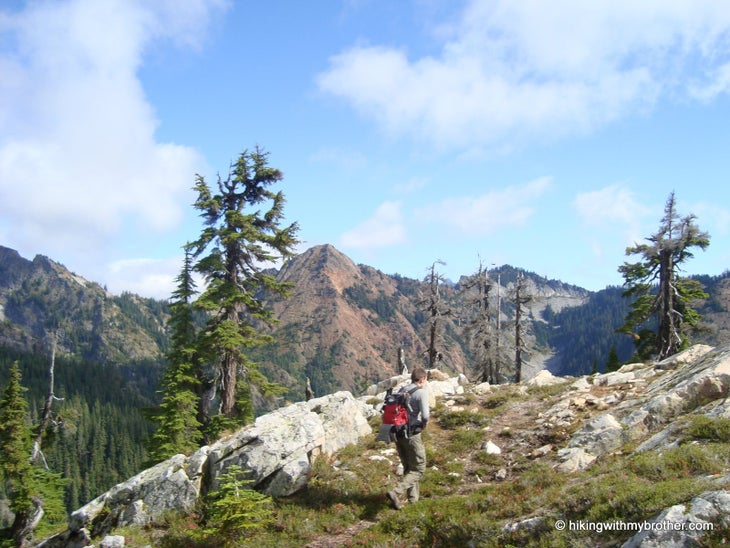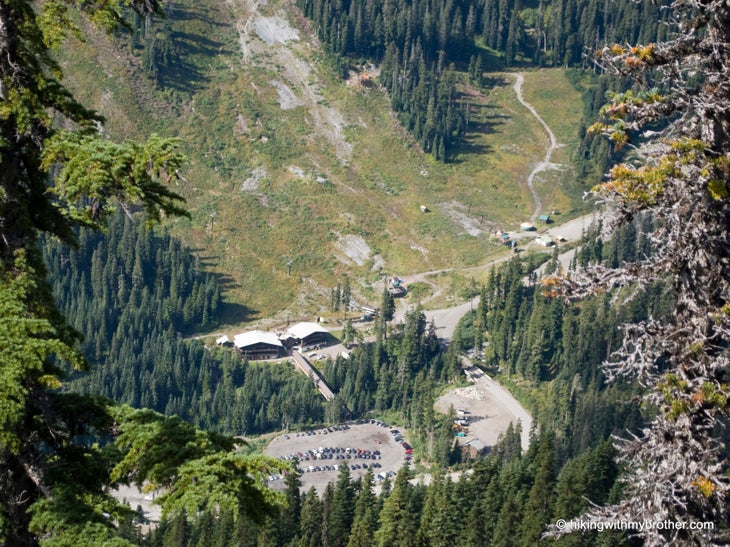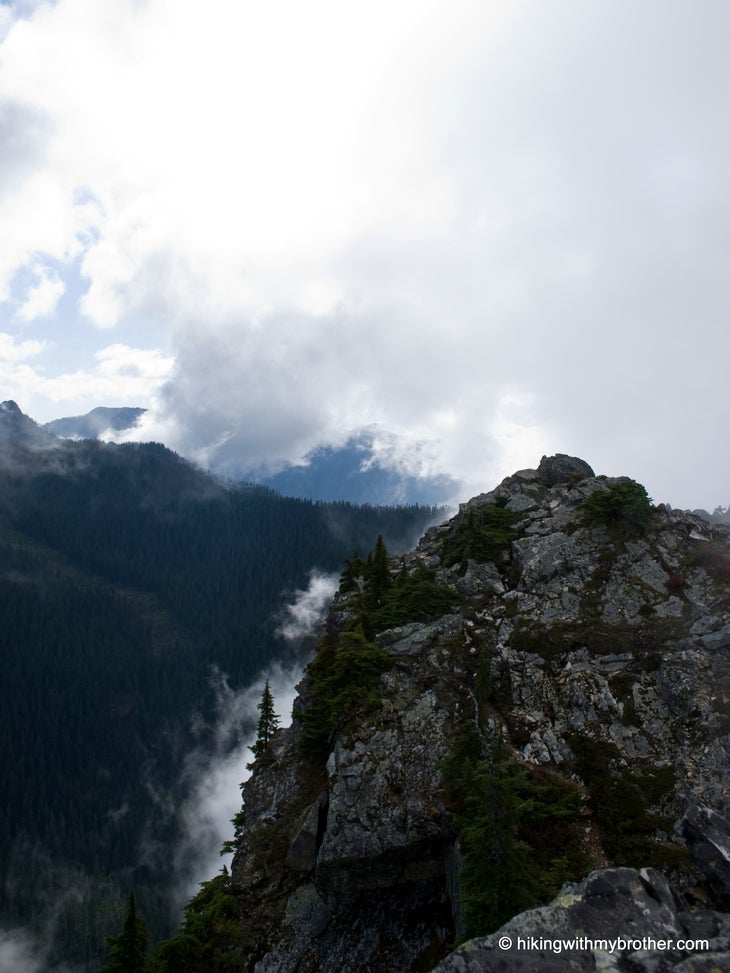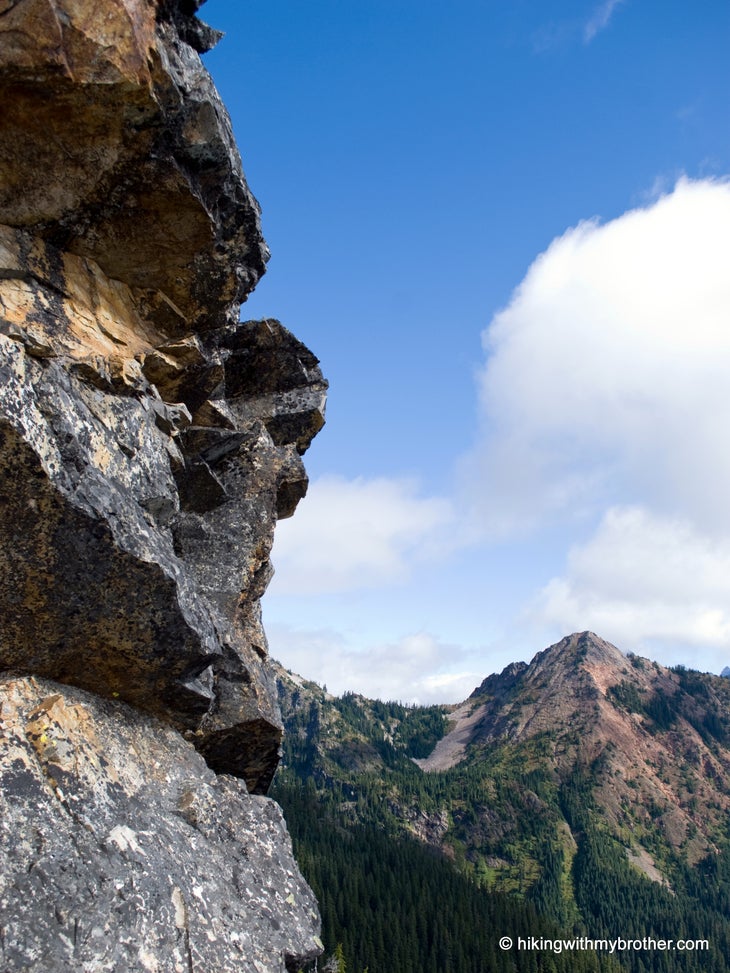 Trail Facts
Waypoints
GP001
Location: 47.445258, -121.423402
Head east from the parking lot to the start of Cave Ridge Trail. The trail starts about 50ft to the right of the Snow Lake trailhead.
GP002
Location: 47.446771, -121.418118
Clearing & view.
GP003
Location: 47.448241, -121.416007
Junction with trail to Snoqualmie Mountain. Go right to continue on the Cave Ridge Trail.
Trail Marker
Location: 47.448218, -121.415856
GP004
Location: 47.446655, -121.410962
Junction on the saddle. Turn right on a spur trail that heads up to Guye Peak. If you start descending, you've missed the turn.
GP005
Location: 47.44597, -121.410998
Head left around the pond.
Small Pond
Location: 47.44591, -121.410921
Fir stands reflecting in a small pond on Guye Peak.
GP006
Location: 47.445709, -121.411504
Small campsite and view.
Chair Peak
Location: 47.445519, -121.411436
On a plateau on Guye Peak. Chair Peak in the distance.
Scrambling up
Location: 47.445228, -121.410105
Doing some light scrambling on the way up.
GP007
Location: 47.44461, -121.40966
Junction. Continue left up to the top.
On Plateau
Location: 47.444024, -121.409225
Hiker crossing plateau on the way to the top.
GP008
Location: 47.442921, -121.409193
Summit of Guye Peak.
Alpental
Location: 47.44303, -121.409177
Looking down on the Alpental Ski Area from the summit.
View from top
Location: 47.442961, -121.409166
Summit view looking south.
Red Mountian
Location: 47.442899, -121.409193
Looking across the Commonwealth Basin at Red Mountain.