Seattle, WA: Fall Mountain and Top Lake
Seasonal wildflowers, a remote mountain lake, and plenty of solitude highlight this 8.6-mile hike that winds through forest and meadows in the Cascade Mountains.
Heading out the door? Read this article on the new Outside+ app available now on iOS devices for members! Download the app.
This out-and-back starts with a switchback climb through forest dotted with seasonal wildflowers. During the first mile, the trail traverses the southern slopes of Shoofly Mountain, passing a streamside campsite with wild ginger, vanilla leaf, and bluebells. Less than half a mile later, climb six more switchbacks and gain 400 feet of elevation. From here, the trail follows a flat ridgetop through meadows bordered by firs. Scan the skies for circling raptors and listen for the whistles of marmots. Views of the Little Wenatchee River Valley open up near mile 3 as you traverse several meadows beneath Fall Mountain's summit. At 3.8 miles, descend steep slopes to the northern tip of Top Lake, a mountain lake ringed with meadows. Grab a snack and savor the views before retracing your route back to the trailhead.
-Mapped by Alan Bauer, Alan Bauer Photography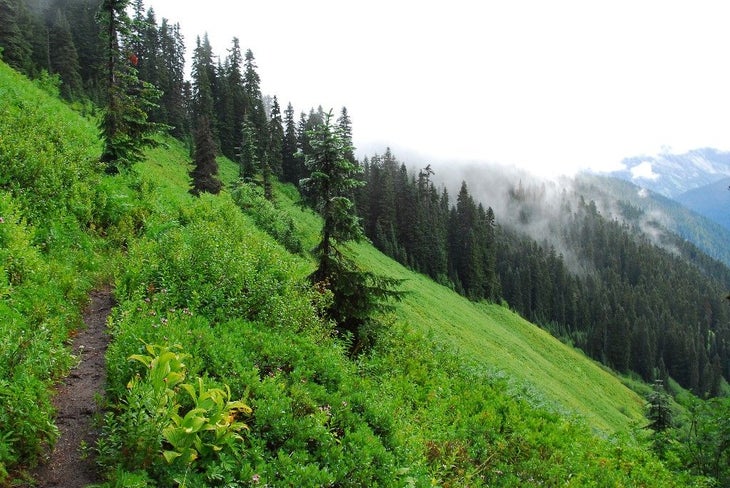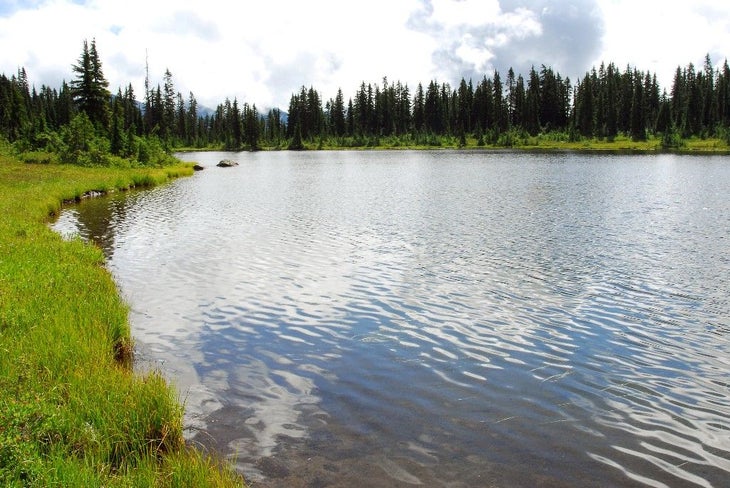 Trail Facts
Distance: 13.8
Miles from city center: 127
Waypoints
TLT001
Location: 47.8741416931152, -121.084846496582
Head north through young forest; flowers and hummingbirds abound in this 20-year-old clear-cut area. In a few hundred yards trail enters old, mature forest.
TLT002
Location: 47.8708229064941, -121.099586486816
Pass a streamside campsite, then continue west along flat bench; rich vegetation and wildflowers such as wild ginger, vanilla-leaf, and bluebells flourish here. Switchback climb ahead.
TLT003
Location: 47.8752288818359, -121.110610961914
Trail levels out after steep climb. Cruise past flowers and views as you hike northwest toward Fall Mountain.
TLT004
Location: 47.8775062561035, -121.112899780273
Pass into Henry M. Jackson Wilderness; continue northwest.
TLT005
Location: 47.8797073364258, -121.116104125977
Trail follows a long, flat ridgetop through meadows surrounded by alpine firs. Listen for whistling marmots and scan the sky for raptors circling the ridge.
TLT006
Location: 47.8834991455078, -121.127082824707
Stunning views open up to the NE across the Little Wenatchee River Valley. Wildflowers accent views of Poe Mountain, Whittier Peak, and Mount David.
TLT007
Location: 47.8844299316406, -121.131958007812
Pass through open meadows along the shoulder of Fall Mountain; watch for deer that blend into the background.
TLT008
Location: 47.8857345581055, -121.13843536377
Grassy meadows blanket the south slope of the ridge all the way down to the Lake Creek drainage. Trail bends to the southwest in .2 mile.
TLT009
Location: 47.8852233886719, -121.142837524414
Begin steep southwest descent to Top Lake—you'll lose 550 feet of elevation in the next .4 mile.
TLT010
Location: 47.8825759887695, -121.150459289551
Top Lake: Ringed with meadows, this mountain lake rests in a flat, open basin. Grab a snack, soak in the views, then retrace route. To extend the trip another mile, continue southwest on trail to Pear Lake.
Lush Meadows
Location: 47.8857154846191, -121.137557983398
Top Lake
Location: 47.8825798034668, -121.150360107422