Seattle, WA: Dingford Creek Trailhead #1005
Hike or bike this former forest road to the Dingford Creek trailhead.
Heading out the door? Read this article on the new Outside+ app available now on iOS devices for members! Download the app.
Occasionally, after flipping though guidebooks and finding a hike we want to do, we'll find that conditions have changed and many miles of road walking are now necessary to access a suddenly distant trailhead. Not easily deterred, this week we came up with a creative solution to our dilemma: incorporating mountain bikes into our hike to cut down time spent plodding down forest roads. Wanting to experiment with the concept before fully committing ourselves to a bike-hike, we decided to head out the Middle Fork Snoqualmie Valley and test out a currently closed section of Forest Road 56 leading out to the Dingford Creek Bridge.
Typically, a high-clearance vehicle can drive FR 56 to the Dingford Creek Trailhead; however, washouts have temporarily closed the road just across the Taylor River. Fortunately, volunteers working at the Goldmeyer Hot Springs still have access to the now locked gate allowing supplies and manpower in and out of the area with relative ease. Currently, efforts are underway to repair this portion of FR 56, but no firm schedule has been determined. We were assured by the Forest Service that the road would open up soon, perhaps as early as this fall.
Our bike trip out to the trailhead was more difficult than we had anticipated. Rocky washouts created troublesome obstacles and unexpected inclines slowed our pace. While the bike ride made short work of friendly sections of the forest road, we found ourselves pushing our bikes up hills and rocky gullies. The scenery was pleasant enough–maples, alders, and ferns line the roadside. But by the time we reached our destination, we'd easily expended as much energy as we would have walking the road.
Once at the trailhead, we tromped down to the Taylor River to check out the Dingford Creek Bridge. This turned out to be a pleasant little spot, with more than enough room to support a few campsites. Crossing the bridge connects with the Middle Fork Snoqualmie Trail #1003 and access to Goldmeyer Hot Springs. Find a path down to the riverside and enjoy a snack.
Hauling the bikes out to Dingford Creek really helped us to realize how much we prefer hiking to biking. Had the road been in great shape, we might have had an easier time of it, but as it turned out, we ultimately decided that bike-hikes were best left to better-maintained roads, which might leave us with some energy for the climb up. Hikes such as Hester and Myrtle Lakes – both accessible from the Dingford Creek Trailhead – are still on our list, we'll just have to leave the bikes behind and plan for a longer day.
Also consider following us at: http://www.hikingwithmybrother.com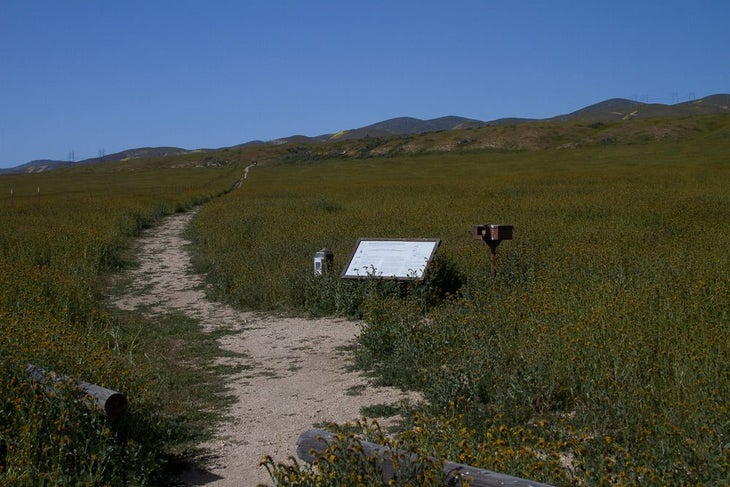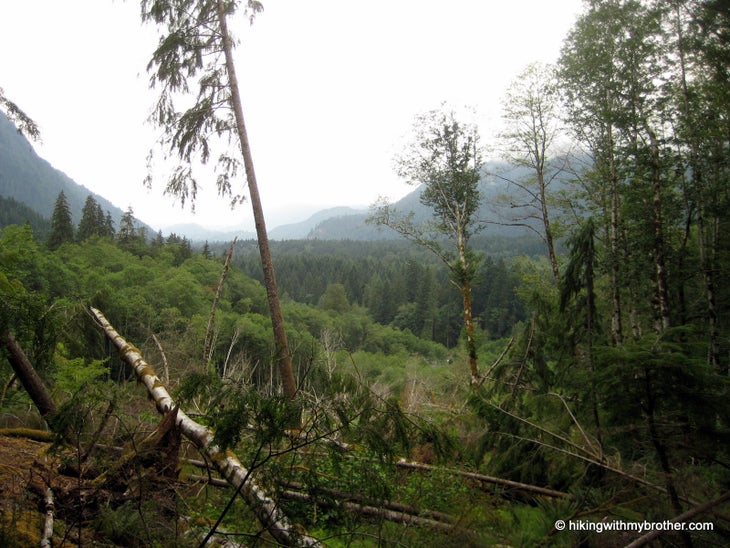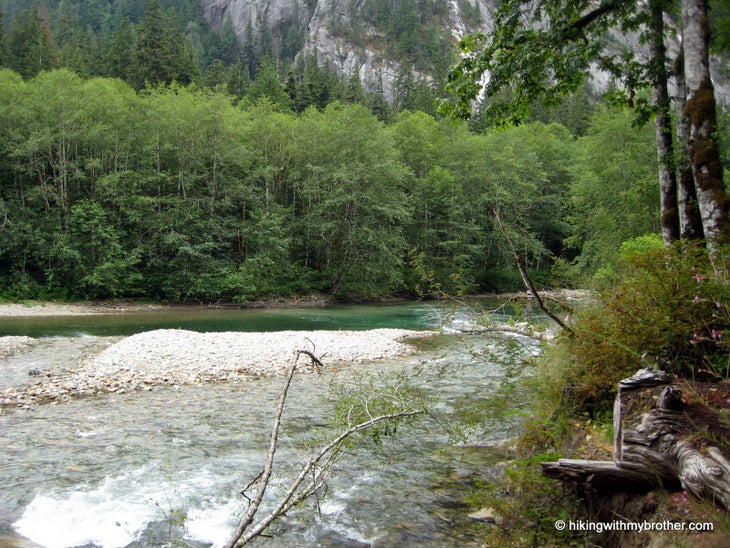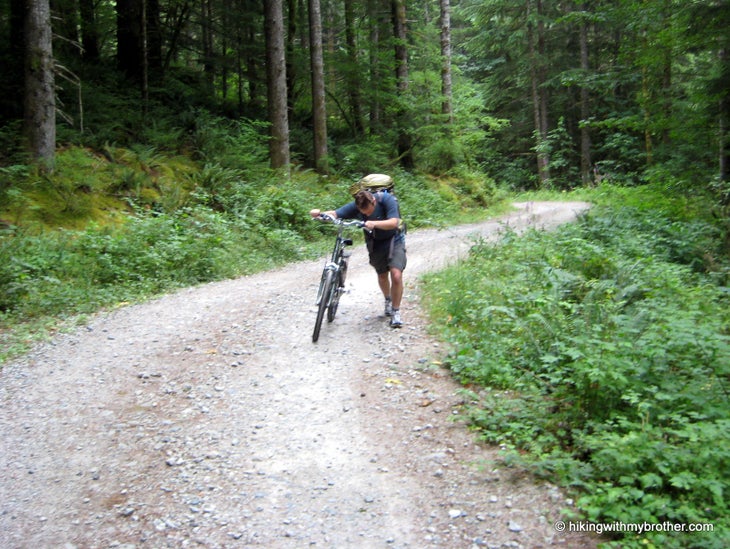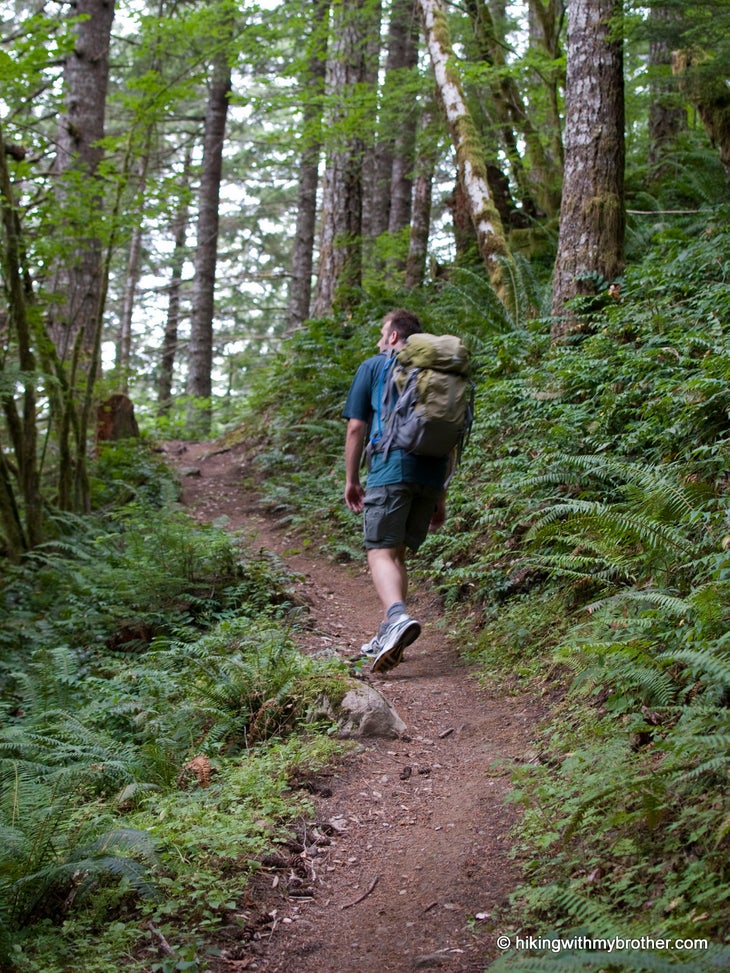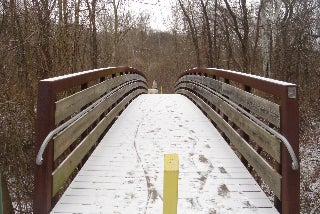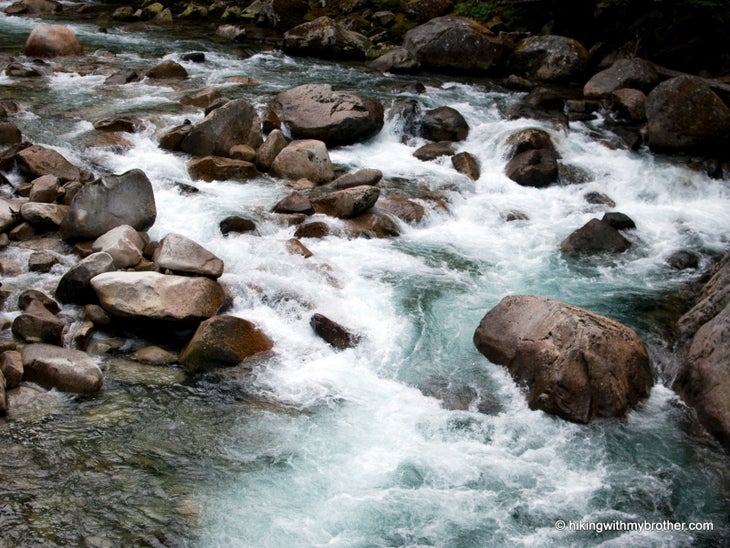 Trail Facts
Waypoints
DCT001
Location: 47.555609, -121.535677
Forest Road 56 is gated at this point. Find a place to park near the entrance and head up the road to the trailhead.
DCT002
Location: 47.552464, -121.527593
After a steep 200-foot climb, the road levels out and provides views of the Middle Fork Valley.
DCT003
Location: 47.544207, -121.523552
After a long downhill, the road evens out at river level and switchbacks sharply to the left.
DCT004
Location: 47.526042, -121.472766
A scant fisherman's trail leads up to Green Ridge Lake and Hi-Low Lake. Continue following the road straight ahead.
DCT005
Location: 47.517459, -121.454091
The road ends at another gate. To the left is the Dingford Creek Trail 1005, which leads to Hester and Myrtle Lakes.
DCT006
Location: 47.517359, -121.454495
A connector trail leading down and to the right heads to Middle Fork Trail #1003. Take this route down to the river.
DCT007
Location: 47.516375, -121.455874
A high bridge spans over the Middle Fork Snoqualmie River. Just across the bridge is the Middle Fork Trial #1003.
DCT008
Location: 47.515743, -121.45418
Head off-trail and follow the river upstream to the mouth of Dingford Creek. This is a great spot for lunch.
Trailhead
Location: 47.555547, -121.535375
Usually parking room.
Valley view
Location: 47.552317, -121.527328
Stegosaurus Butte
Middle Fork River
Location: 47.543395, -121.521749
Glimpse the water
Uphill
Location: 47.535052, -121.487675
Getting steeper
Fellow hiker
Location: 47.516621, -121.4539
On cut-off trail
Bridge
Location: 47.516317, -121.455746
Spans the river
River
Location: 47.516012, -121.455381
Brilliant turquoise