Scranton, PA: Promised Land State Park
Perfect for trail runners, mountain bikers, equestrians, and dayhikers, the trails at Promised Land State Park offer diverse outdoor opportunities at the base of the Poconos.
Heading out the door? Read this article on the new Outside+ app available now on iOS devices for members! Download the app.
Offering a variety of opportunities and a variety of trail options, the trails at Promised Land State Park have a bit of something for everyone on gentle terrain that doesn't discriminate. This 4.5-miler starts from the Lower Lake Campground (reserve your site online or at the camp office) and travels west on Lower Lake Road, crossing over Wallenpaupuck Creek and Lower Lake itself (look for trail marker for your turn-off into the woods). This route makes a short loop before wandering west on the Mill Brook #1 Trail through thin forest and open fields (passing a deer enclosure) en route to a turnaround point. From here, you can continue exploring Delaware State Forest by looping back on the Mill Brook #2 and Saw Mill trails, or just make it up as you go along.
-Mapped by Penn Outdoors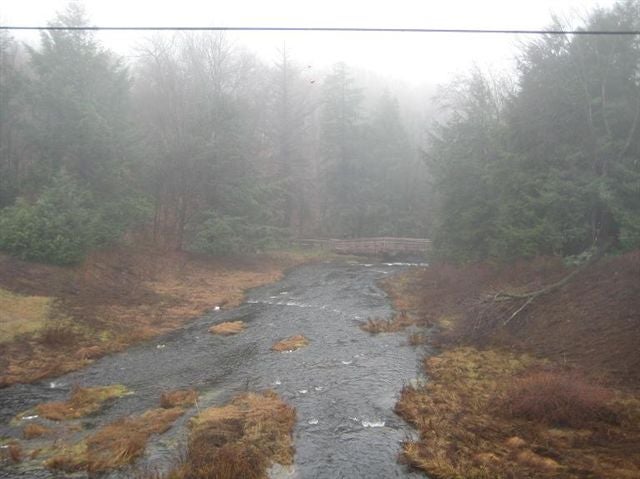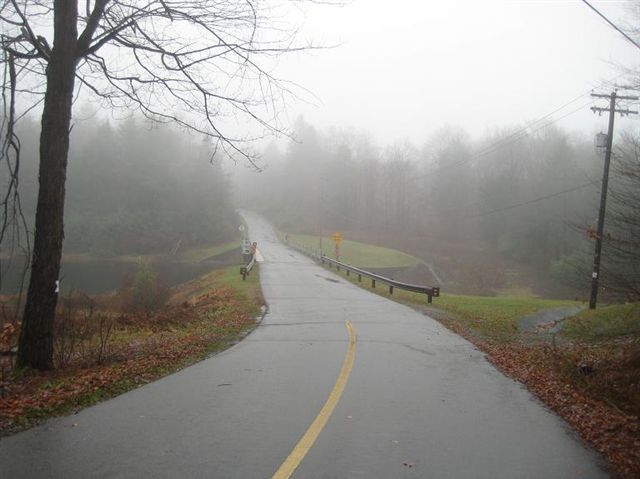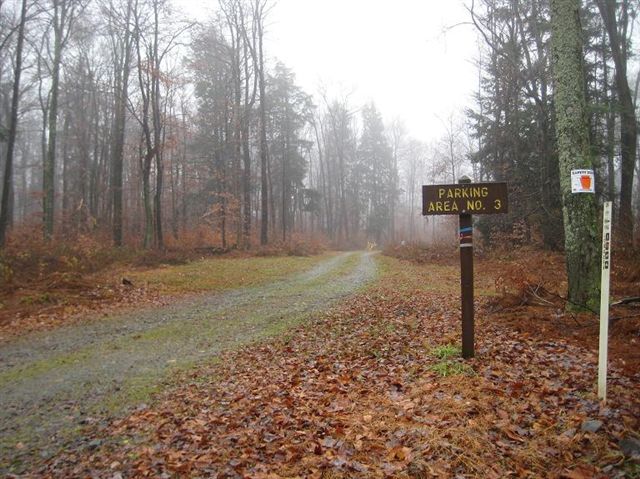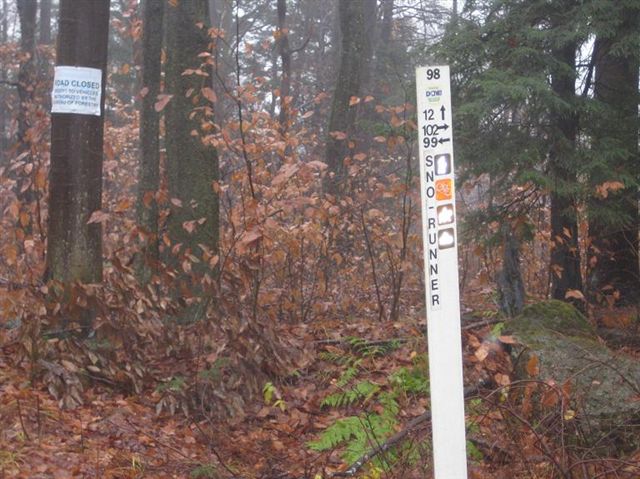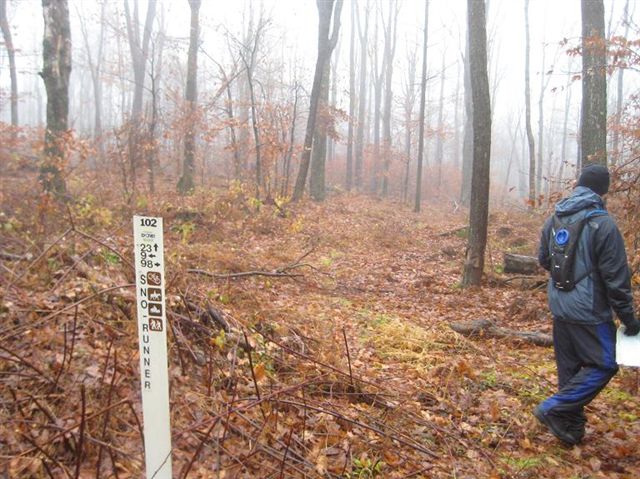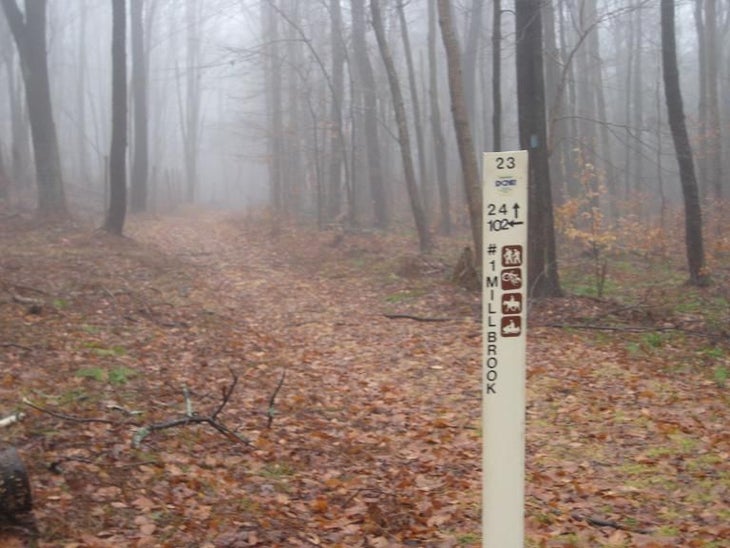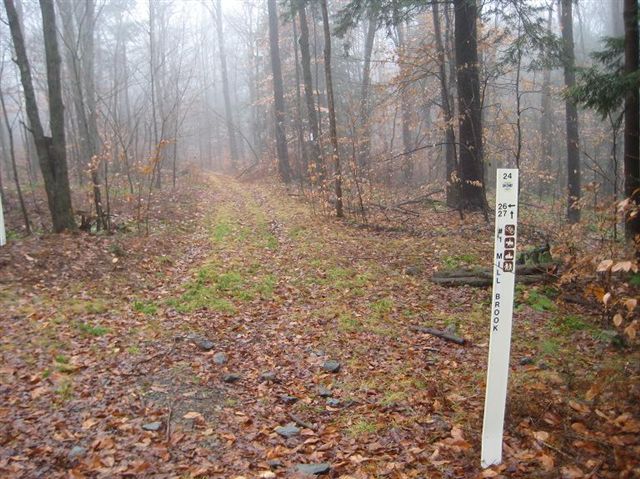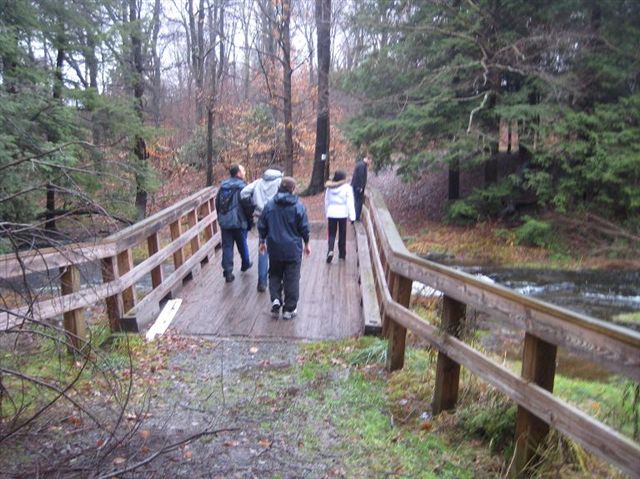 Trail Facts
Waypoints
SLP001
Location: 41.3185748, -75.2306043
Start this route from the Lower Lakes Campground by walking west on Lower Lake Road. Each campsite here has tent areas, fire pit, picnic table, and a parking spot. Reservations can be made online or at the camp office.
SLP002
Location: 41.3139829, -75.2353728
Cross the bridge over Lower Lake and continue on the road; on the way back you'll return just west of this waypoint. The trail turnoff for this route is a bit further ahead on the right.
SLP003
Location: 41.3119843, -75.2339029
Turn right off Lower Lake Road at trail marker 21. Shortly ahead you'll reach trail marker 99; bear right to continue towards marker 98 on the Sno-Runner Trail.
SLP004
Location: 41.3102678, -75.2367783
At marker 98, continue heading towards marker 102.
SLP005
Location: 41.3117342, -75.2396843
Continue to the right heading towards marker 23. If you choose to loop back on the Saw Mill Trail, you'll return through this waypoint.
SLP006
Location: 41.3140312, -75.2383339
Turn left here to pick up the Spike Trail heading towards marker 23. On the return trip, you'll bear left here to return to the campground.
SLP007
Location: 41.3159491, -75.2399111
At marker 24, continue heading west to marker 26. When you get there, continue on Mill Brook Trail #1. As you continue west, you'll transition from thin forest into open fields.
SLP008
Location: 41.3144825, -75.2500927
Passing over the second bridge of the day, continue west on Mill Brook Trail #1.
SLP009
Location: 41.3131448, -75.2574956
At this optional turnaround point, the Mill Brook Trail #1 heads south towards Mill Brook. To turn this out-and-back route into a slightly longer loop hike, head south here, pick up Mill Brook Trail #2 heading east, and then make a left on the Saw Mill Trail and head back to Waypoint 5 (marker 102). Otherwise, continue on Mill Brook #1 as far past this point as you like before backtracking to Waypoint 6 and bearing left there to head back toward the campground.
Wallenpaupuck Creek
Location: 41.313999, -75.2356088
Lower Lake Bridge
Location: 41.3139466, -75.235346
Marker 21
Location: 41.3119199, -75.2338386
Marker 98
Location: 41.3102275, -75.236671
Marker 102
Location: 41.311662, -75.239675
Marker 23
Location: 41.3137572, -75.2382588
Marker 24
Location: 41.3158846, -75.2399325
Second Bridge
Location: 41.3144906, -75.2500498