Scranton, PA: Falls Trail Loop to Adams Falls
Pass 21 waterfalls on this 6.2-mile, five-star loop through a wrinkled ravine and tranquil forest in Ricketts Glen State Park.
Heading out the door? Read this article on the new Outside+ app available now on iOS devices for members! Download the app.
Start from the Falls trailhead and follow the path as it crisscrosses gurgling Kitchen Creek for 1.3 easy miles through a forest of 500-year-old hemlock, oak, birch, ash, and maple. At 1.8 miles, you'll reach the confluence of Kitchen Creek's two branches. The trail lollipops up one gorge to the Highland Trail, which connects to another for the return. Head up Glen Leigh Gorge to approach Adams's favorite falls from below. Forty-one-foot Huron Falls (the fifth falls in Glen Leigh) cascades over multiple steps through the narrow gorge to a rocky amphitheater with a natural bench.
Drive time: Philadelphia: 2 1/2 hours
Contact: Ricketts Glen State Park, (570) 477-5675; www.dcnr.state.pa.us/stateparks/parks/ricketts.htm
-Mapped by Michael Badeaux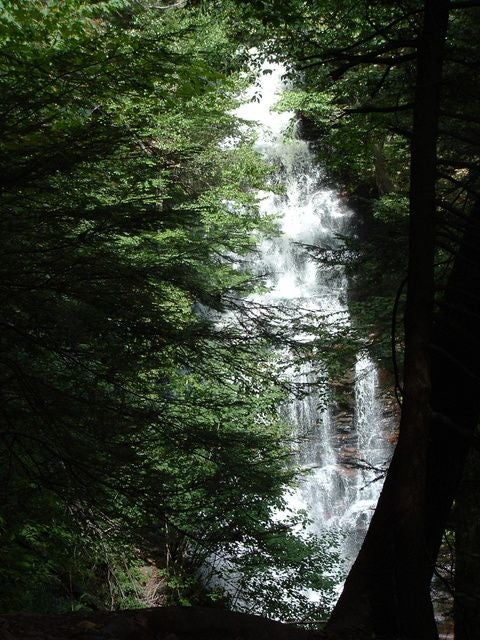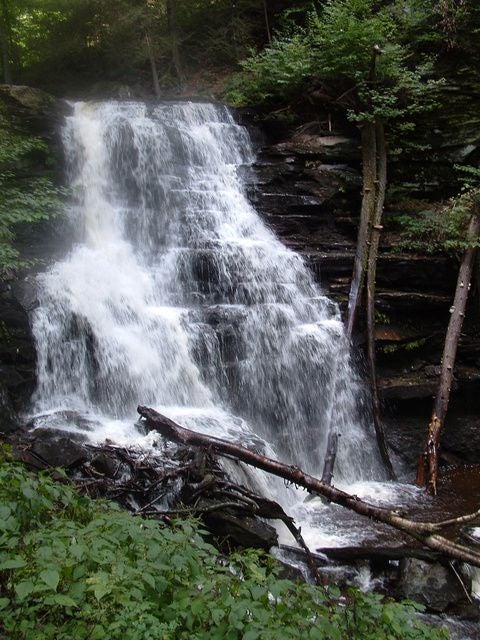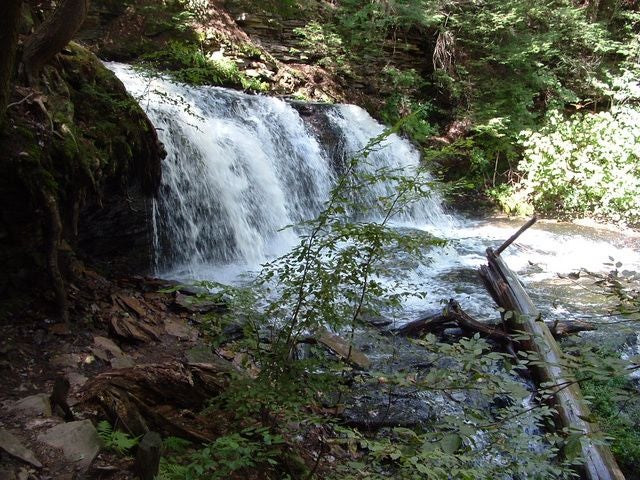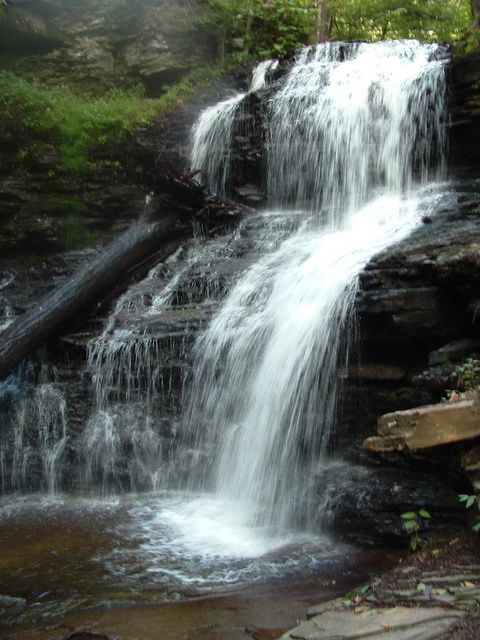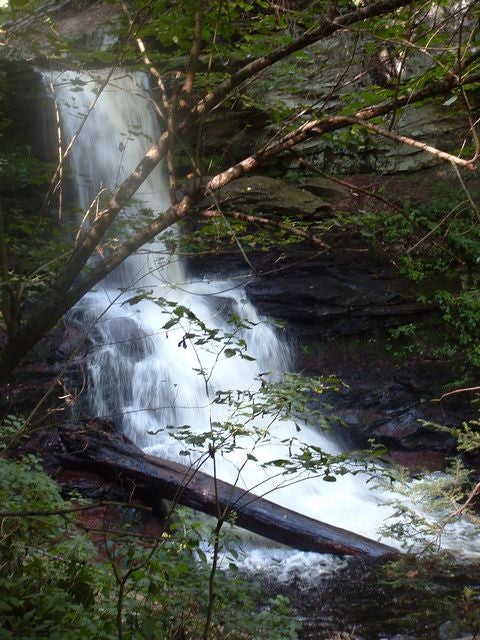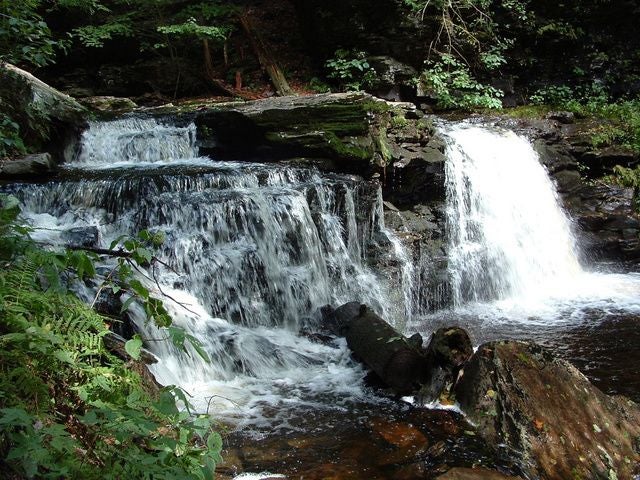 Trail Facts
Waypoints
RIC001
Location: 41.32972, -76.290604
From trailhead, begin hiking east on well-marked Falls Trail
RIC002
Location: 41.328983, -76.28801
Right onto Ganoga Glen Trail. Park is named after Col. Robert Bruce Ricketts, Battle of Gettysburg veteran
RIC003
Location: 41.326389, -76.288429
Stay left on Ganoga Glen Trail/Falls Trail, following current of west Kitchen Creek before entering Ganoga Glen
RIC004
Location: 41.323589, -76.283783
Follow switchbacks and stairs down west side of 94-foot Ganoga Falls; take rocky path toward falls for a midday rest
RIC005
Location: 41.321396, -76.275512
Stay Right to Waters Meet, where 2 forks merge, presenting 4 spectacular waterfalls and an open, shallow pool. Birders may want to hunker down here with binocs to view up to 23 species of warblers
RIC006
Location: 41.318661, -76.274246
Cool off behind Harrison Wright Falls, then continue past old-growth hemlock, pine, oak, some over 900 years old. Note: No swimming allowed
RIC007
Location: 41.316418, -76.273308
Trail splits into two parallel tracks. Flip a coin: both lead to next waypoint
RIC008
Location: 41.311138, -76.275299
Continue south where paths reconnect
RIC009
Location: 41.298839, -76.273259
Cross PA 118 before hitting Adams Falls, a wide stream dropping over mahogany-colored rock. Then backtrack to Waypoint 5, turn right, cross bridge, and head north up Glen Leigh Trail
RIC010
Location: 41.329896, -76.273699
Ascend steep steps and switchbacks, then turn left onto Highland Trail
RIC011
Location: 41.328752, -76.277572
Midway Crevasse, elephant-sized split boulder sitting stubbornly on path; continue around back to Waypoint 2; return to car
Framed by Trees
Location: 41.323627, -76.283913
Ganoga Falls plummets 94 feet.
Erie Falls
Location: 41.321743, -76.276451
The 47-foot drop of Erie Falls.
Mohawk Falls
Location: 41.328529, -76.288223
The white-washed ribbon of Mohawk Falls.
Ricketts Falls
Location: 41.328285, -76.273656
A 38-foot drop into a deep pool.
Sheldon Reynolds Falls
Location: 41.307705, -76.275612
Another beautiful cascade.
Brook
Location: 41.317131, -76.273605
Water rolls over rocky diving boards on this trailside brook.