Santa Fe, NM: Valle Vidal
Explore the "Yellowstone of the Southwest" on this 28.4-mile loop that links a series of meadows, creek crossings, and a canyon in New Mexico's Valle Vidal.
Heading out the door? Read this article on the new Outside+ app available now on iOS devices for members! Download the app.
The Valle Vidal Unit of the Carson National Forest has been called the Yellowstone of the Southwest for its abundance of wildlife and broad open meadows. This clockwise, 28.4-mile lollipop loop combines designated trails, old ranch roads, and relatively easy bushwhacks for a tour of forests and natural grasslands teeming with deer, elk, bear, coyote and hundreds of bird species.
Beginning at the North Ponil Trailhead, this route heads south through open meadows before a small, valley campsite at mile 4.5. Day two begins on old roads and passes south of Beaty Lakes before cruising an old burn area and dipping into the Middle Ponil Canyon to a campsite at mile 15. Several potentially wet stream crossings await on day three and an uphill push to this route's 8,900-foot high point. The trail follows an old road before reaching the final campsite on a ledge just north of Seally Canyon—look northwest for great views of Little Costilla Peak. Day four is a short 1.7 miles to complete this route's 23-mile loop and another 2.6 miles climbing gently toward the trailhead.
-Mapped by Charlie Williams
LOCAL LINKS
GAS
Chevron – St Francis Plaza
Santa Fe, New Mexico 87505
505-983-9749
Conoco Phillips
215 Lincoln Avenue, Santa Fe, NM
505-820-0431
GEAR
REI
500 Market Street #100
Santa Fe, NM 87501
505-982-3557
Sangre de Cristo Mountain Works
328 S. Guadalupe St.
Santa Fe, NM 87501
505-984-8221
GROCERIES
Kaune's Neighborhood Market
511 Old Santa Fe Trail
Santa Fe, NM 87505
505-982-2629
Whole Foods Market
753 Cerrillos Road
Santa Fe, NM 87505
505-992-1700
RESTAURANTS
Back Road Pizza
1807 2nd St # 1
Santa Fe, NM 87505
505-955-9055
Aztec Café
317 Aztec
505-820-0025
Five & Dime General Store
58 E. San Francisco St.
Santa Fe, NM 87501
505-992-1800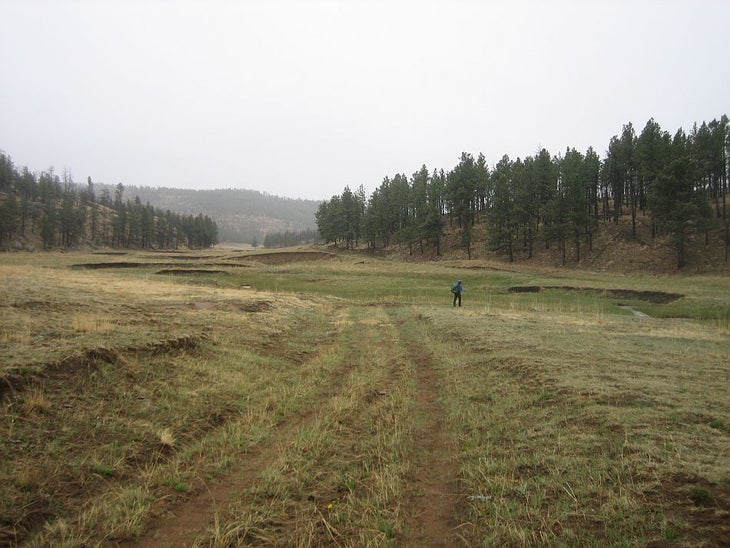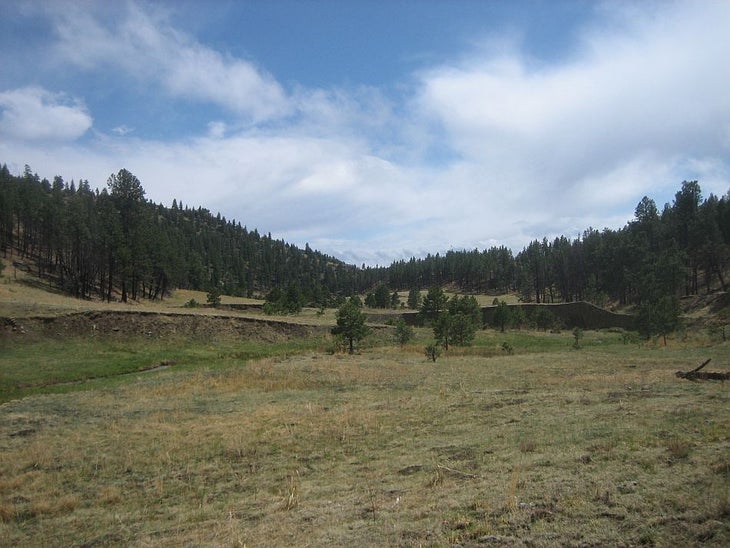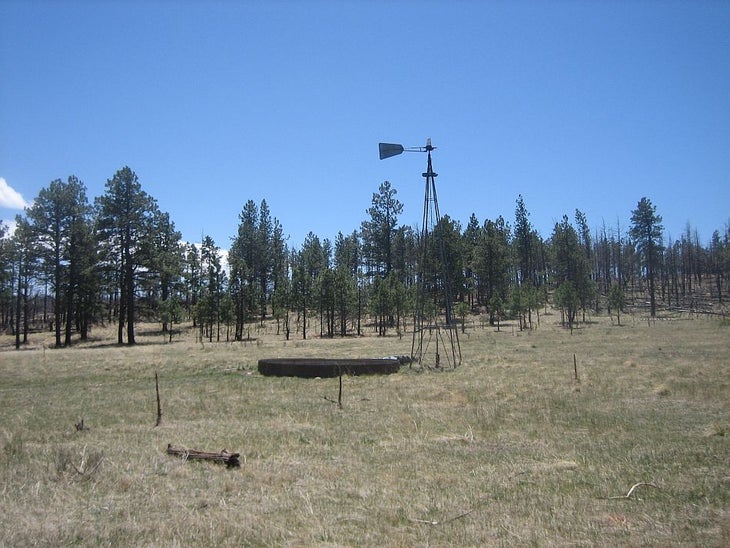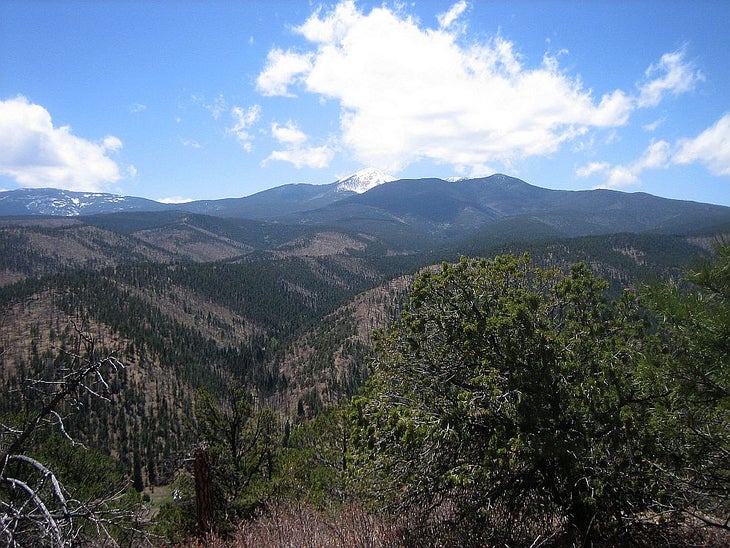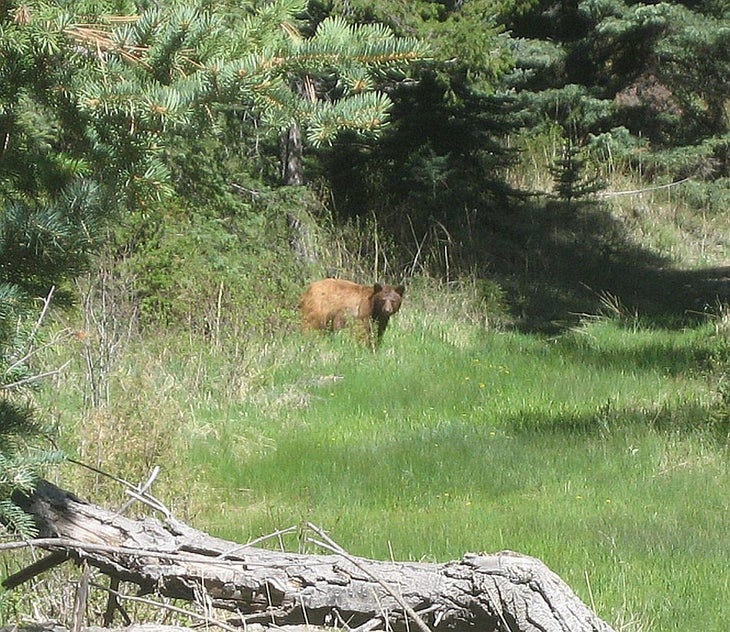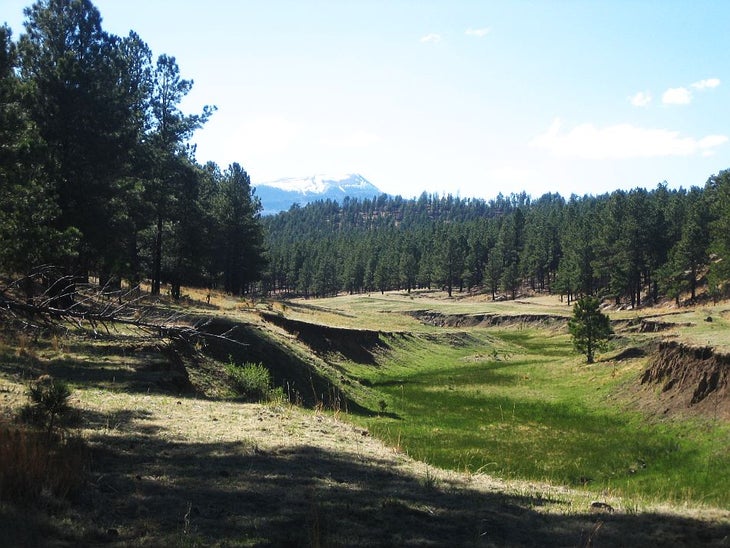 Trail Facts
Waypoints
VID001
Location: 36.7773237, -105.0982618
The North Ponil Trailhead, a small unmarked parking lot on the north side of FR 1950, is the start point for this route. It's right in the middle of the North Ponil meadow, just east of the creek, and very easy to find.
VID002
Location: 36.7483067, -105.0719547
Bear left @ 3-way junction (the beginning of this route's 23-mile loop), bypassing the Seally Canyon Trail. Follow the level doubletrack south to begin a large, counter-clockwise loop. There isn't any shade near this meadow trail; be prepared to protect yourself from the harsh New Mexico sun.
VID003
Location: 36.726613, -105.074473
A small valley at mile 4.5 is a good place to camp; water is accessible via the nearby North Ponil Creek, which this trail has been following from the trailhead. There aren't any other reliable water sources for the next 7.6 miles. From here, this cross-country route turns west along an old fence line to connect the North and Middle Ponil trails.
VID004
Location: 36.723734, -105.093217
The cross-country trek (i.e. bushwhack) begins at this road junction near mile 5.6. Keep the fence line on your left and work your way down the bluff to the creekbed, then bushwack to the top of the hill, heading southwest. You'll continue following the fence once you're in the open forest at the top of the hill.
VID005
Location: 36.721122, -105.101433
Intersect a forest road at the top of this small rise and turn right to follow the road west. In 0.6 mile, the trail skirts the north end of a dry lake bed and 0.7 mile later, the trail joins a ranch road just south of Beatty Lakes.
VID006
Location: 36.7165267, -105.1221228
Stay straight at 4-way junction, following the flat doubletrack southwest. Though many of the trails in this route are actually old roads, they are mostly restricted to forest service vehicles, so there is virtually no traffic.
VID007
Location: 36.698276, -105.113427
Approaching this T-junction at mile 8.9, you'll notice a heavily eroded section of Bonita Creek and will begin to see evidence of the Ponil fire that scorched 90,000 acres in this area in 2002. Cross the forest road and continue south off-trail toward an old windmill.
VID008
Location: 36.685438, -105.114012
From this windmill and dry stock tank, continue bushwhacking up a small draw that winds southwest, then southeast as it climbs more than 200 feet. You are still in and out of burn so your visibility is very good.
VID009
Location: 36.6745459, -105.1104069
Crest the hill and follow the north side of a small creekbed before turning sharply to the southwest. There isn't a trail connecting the creek to Waypoint 10, but it's just a few hundred feet southwest, and a trail into the valley begins there.
VID010
Location: 36.673452, -105.110481
Stop at this overlook, which sits 530 feet above the Middle Ponil Valley. If you look carefully, you might spot the barn and cabin of a homestead. Descend a steep, rocky trail that leads toward the trail on the creek's far side.
VID011
Location: 36.6703, -105.116575
The Middle Ponil Trail's doubletrack follows the creek and crosses 8 tributaries over the next 5.7 miles. Though it's barely noticeable alongside the creek, this stretch of trail climbs about 800 feet.
VID012
Location: 36.6937154, -105.1532364
Up ahead, several potentially wet creek crossings will slow down your progress before the next good campsites. This wide, open expanse just before mile 15 is a good place to consider setting in for night number 2.
VID013
Location: 36.700724, -105.169989
Hike past a trail up Greenwood Canyon on the left and a junction with another dirt road in 0.5 mile, staying close to the river.
VID014
Location: 36.724857, -105.181946
The Middle Fork Trail ends at mile 17.9. Turn right and follow FR 1914 about 300 feet up the hill on the creek's east side. Water quality in Sealy Canyon leaves something to be desired, so if you're low on water, fill up here before the climb.
VID015
Location: 36.730499, -105.170984
Just after the route's high point at mile 19, bear right off the road onto a small, singletrack trail. You'll follow this trail about 0.4 mile before turning right back onto the road. Though you can stick to the dirt road, this connector shaves 0.6 mile from the roadside route.
VID016
Location: 36.734078, -105.150216
Turn left at 3-way junction to climb a small rise and drop into Seally Canyon. You'll cross a dam and pass many small, water-filled impoundments. Water quality is questionable in these ponds and in Beatty Lakes.
VID017
Location: 36.740509, -105.140282
At the southeast corner of this mile 21.4 impoundment is the Seally Canyon Trailhead. Bear right, off the road, and continue east on the trail through the broad meadow.
VID018
Location: 36.742332, -105.122228
The trail follows Seally Canyon: a narrow, incised channel that ranges in depth from 12 to 20 feet. The creek that cut the canyon isn't a reliable source of water, though the cut through the meadow is evidence of its sometimes powerful flow. At this point, you'll find a natural igneous dike creating a water gap.
VID019
Location: 36.750934, -105.100509
This large scout camp has a stage and a huge bonfire area, but no nearby water sources. Look for pools and acceptable options in Seally Creek before turning north, off-trail, toward an open meadow camping area. Continue 1.7 miles east to Waypoint 2; turn left and continue 2.7 miles back to the trailhead.
North Ponil
Location: 36.7433548, -105.0711823
The trail follows this wide, open valley south along the North Ponil Trail.
Valle Vidal
Location: 36.7369238, -105.072298
The wide, meadow setting of the North Ponil Trail which this route follows south from the trailhead on Day 1.
Wind Mill
Location: 36.6854218, -105.1136684
You'll bushwhack through an old burn area to reach this windmill near mile 9.9.
Middle Ponil Vista
Location: 36.6734445, -105.1101065
Looking out over Middle Ponil Creek.
Bear
Location: 36.6980167, -105.1647377
This brown-colored black bear made an appearance on the Middle Ponil Creek section of this route.
Seally Canyon
Location: 36.7445241, -105.1286888
The last several miles of the loop follows this shallow, creek-carved depression called Seally Canyon.