Santa Fe, NM: Lake Katherine to Spirit Lake
Introducing the Pecos: this 15.5-miler, cruises classic trails in the Sangre De Cristo range for a peek at 12,000-foot peaks, alpine lakes, and an intro to the 223,667-acre wilderness in Santa Fe's backyard.
Heading out the door? Read this article on the new Outside+ app available now on iOS devices for members! Download the app.
From the 10,250-foot base of the Santa Fe ski basin, this lollipop loop rises into the Pecos Wilderness under a covering of aspen and fir, across rushing streams and through open meadows in a valley between 12,409-foot Lake Peak and 12,522-foot Santa Fe Baldy.
This route tops out just above 11,700 feet at the shores of Katherine Lake near mile 6.75. Lake Katherine is arguably the crown jewel of the Pecos lakes and the magnificent backdrop of Santa Fe Baldy may warrant a break or a meal-stop near this shoreline (also the launching point for local peak-baggers). This mapped route points to a more secluded camping area, outside the basin, near the upper reaches of Winsor Creek. Day two's 6.7 miles begin with an uphill through occasionally dense forests toward Puerto Nambe's grassy expanse and finish with the familiar stretch along the Winsor Trail back to the ski-basin parking area.
Afternoon storms are common in summer so it's worthwhile to start early and avoid high-altitude exposure during unpredictable afternoons.
-Mapped by Bill Velasquez
LOCAL LINKS
GAS
Chevron – St Francis Plaza
Santa Fe, New Mexico 87505
505-983-9749
Conoco Phillips
215 Lincoln Avenue, Santa Fe, NM
505-820-0431
GEAR
REI
500 Market Street #100
Santa Fe, NM 87501
505-982-3557
Sangre de Cristo Mountain Works
328 S. Guadalupe St.
Santa Fe, NM 87501
505-984-8221
GROCERIES
Kaune's Neighborhood Market
511 Old Santa Fe Trail
Santa Fe, NM 87505
505-982-2629
Whole Foods Market
753 Cerrillos Road
Santa Fe, NM 87505
505-992-1700
RESTAURANTS
Back Road Pizza
1807 2nd St # 1
Santa Fe, NM 87505
505-955-9055
Aztec Café
317 Aztec
505-820-0025
Five & Dime General Store
58 E. San Francisco St.
Santa Fe, NM 87501
505-992-1800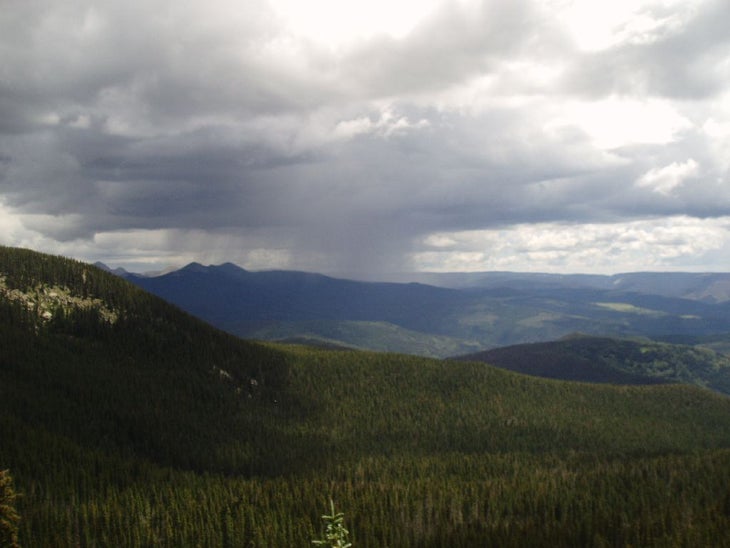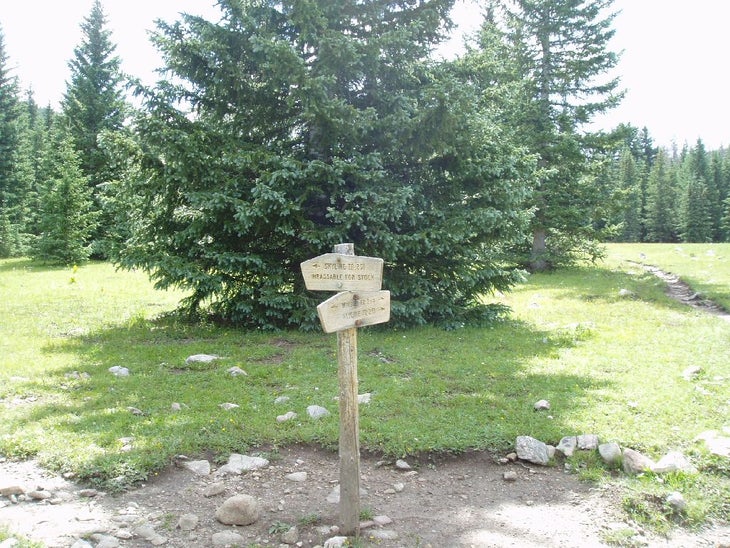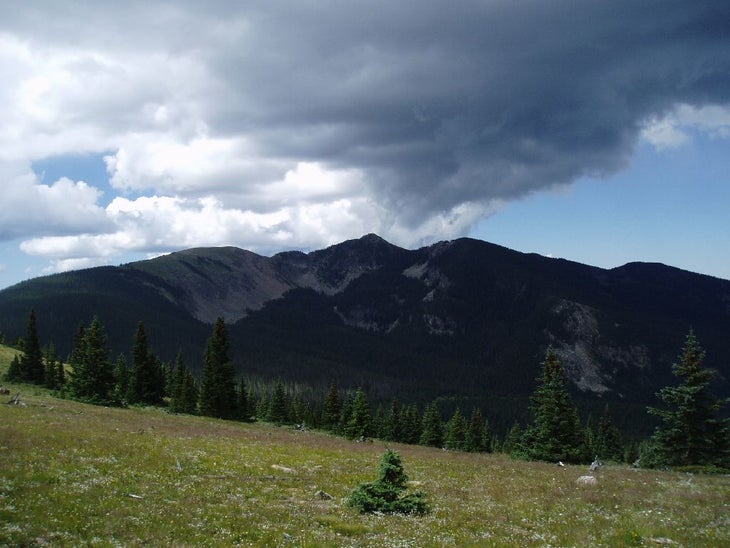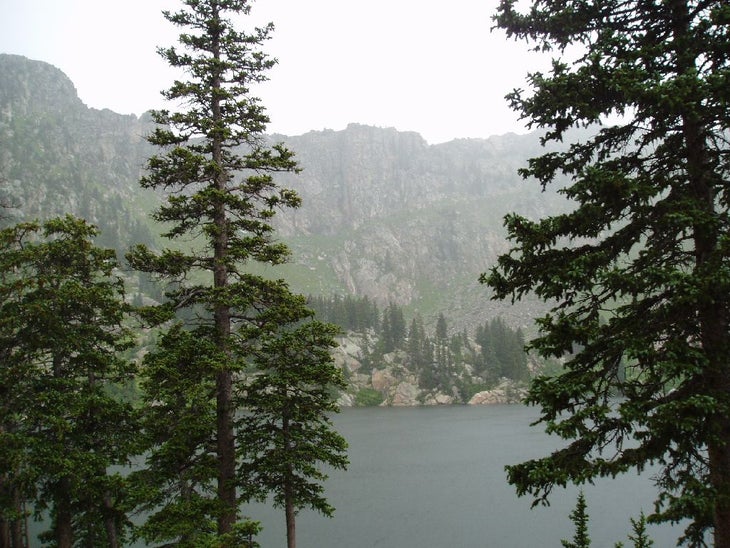 Trail Facts
Waypoints
KSL001
Location: 35.7957125, -105.8049488
The parking area at the base of the Santa Fe Ski Basin has ample parking for hikers when it's not ski season. Start the from the north side of the parking area with a steep climb traveling along a hardened trail surface for the first half mile.
KSL002
Location: 35.8029177, -105.8031464
Pass through a walkway in the fenced boundary of the Pecos Wilderness Area and sign the logbook. The unnofficial Raven's Ridge trail follows fence line east, but this route continues north for a gradual descent through spotty aspen groves.
KSL003
Location: 35.8074597, -105.7997131
Stay straight at this 3-way junction following the Windsor Trail, Trail 254, along cool, shady slopes at about 10,500 feet.
KSL004
Location: 35.8089388, -105.7851219
Just past mile 2, you'll cruise a small clearing and cross a Rio Nambe, a roaring creek that descends from Nambe Lake.
KSL005
Location: 35.8128738, -105.7808914
After the Rio Nambe crossing, the trail continues through heavy aspen and fir, before hitting this shortcut trail to the Rio Nambe and a popular camping area at La Vega meadow. This route stays on Trail 254 from here. Look northeast for occasional glimpses of Santa Fe Baldy.
KSL006
Location: 35.8124017, -105.7676125
Continue on the Windsor Trail at this junction with Trail 160. Several small streams in this area are offer chances to collect drinking water and there are a few nice camping before the climb to the grassy meadow atop Puerto Nambe.
KSL007
Location: 35.8136284, -105.7608211
Puerto Nambe: This high grassy meadow opens up to reveal Santa Fe Baldy, Lake Peak and dramatic alpine ridges. From this point, follow the 251 trail northeast toward Katherine Lake, "Lake Kate."
KSL008
Location: 35.8225784, -105.750824
It's a 5.5-mile climb from the trailhead to this bald saddle with 360-degree views. Get an early start to make sure you hit this point before summertime thunderstorms arrive mid-day. The trail drops steeply as you continue to Lake Katherine.
KSL009
Location: 35.8329842, -105.751605
Cross rocky outcroppings as you make your way to Katherine Lake. And stay alert looking for the trail to Spirit Lake. The hard-packed dirt in this popular area can make it difficult to find the right trail.
KSL010
Location: 35.825312, -105.7354152
Rejoin trail 254 along the rushing Winsor Creek. It's a short climb from the creek to several pleasant campsites. Be sure to pick a spot far from the river.
KSL011
Location: 35.8259087, -105.737793
Just after the Windsor Trail junction, there are traces of the old trail toward Katherine Lake. Only follow the old trail if you're looking for a campsite. It's a dead-end up ahead, but there is a nice shelf near here that is a favorite overnight spot.
KSL012
Location: 35.8175583, -105.7391815
The trail drops slightly nearing the lake basin. This high-traffic area is one of the most popular in the Pecos, perhaps because a stroll around the shoreline offers some beautiful views.
KSL013
Location: 35.8105746, -105.7534504
You'll cruise a dark forested area before 254 joins 251 again here. Follow 254 back to Puerto Nambe (waypoint 7) to close this route's loop and backtrack to the trailhead. 251 climbs from here up to Lake Peak.
Pecos Wilderness
Location: 35.8226814, -105.7507477
A storm brews over the Pecos
251-254 Sign
Location: 35.8136154, -105.760746
This route follows Trail 251 toward Katherine Lake.
Lake Peak
Location: 35.8226433, -105.7507629
View of Lake Peak from the saddle below Santa Fe Baldy. It's just 2 miles (as the bird flies) from here to the 12,409-foot peak.
Lake Katherine
Location: 35.8334539, -105.7513475
A view of Katherine Lake during an afternoon rain storm. Thunder is a real danger in these alpine conditions so try to hit the trails and passes in the early hours of the day.