Santa Barbara, CA: Santa Ynez Ridge via San Ysidro Trail
Hike or run past oak forests, vernal pools, rock climbing walls, and fields of chaparral on this 9-mile out-and-back to the Santa Ynez Ridge.
Heading out the door? Read this article on the new Outside+ app available now on iOS devices for members! Download the app.
The first half of the 4.5-mile-long San Ysidro Trail samples all the classic Santa Barbara frontcountry features: lush deciduous forest, jagged rock walls frequented by altitude-crazy climbers, secluded waterfalls peppered with swimming holes, and vernal pools under canyon shade.
While most stop at the waterfall 1.6 miles in, the best views are further ahead. The route traverses chaparral meadows along the base of Montecito Peak, gaining nearly 2,000 feet in 3 miles on a lung-searing stretch for trail runners. Follow the switchbacks to colorful high country vegetation and views of snow-capped summits at Santa Ynez Ridge. When finished, retrace your steps back to the trailhead.
-Mapped by Chuck Graham
Hike Santa Ynez Ridge via San Ysidro Trail
TO TRAILHEAD: Head southeast on State Street. In 0.2 mile, turn right at West Carrillo Street. Continue for a half mile, then turn left to merge onto US-101 South. In 4.6 miles, take exit 93 for San Ysidro Road. Turn left at Eucalyptus Lane/San Ysidro Road and follow signs for San Ysidro Road. After a mile, turn right onto CA-192/East Valley Road. In 0.9 mile, turn left on Park Lane. Continue straight as Park Lane becomes East Mountain Drive. Follow East Mountain 0.2 mile to the trailhead.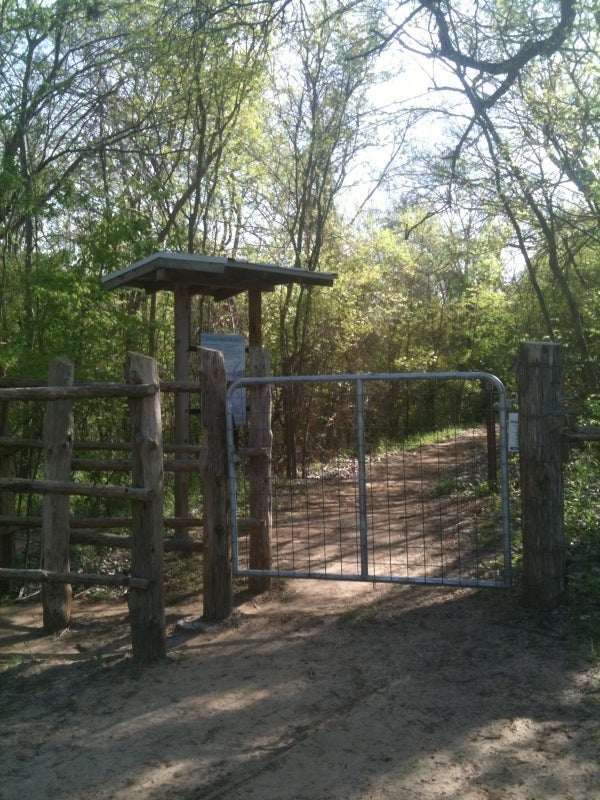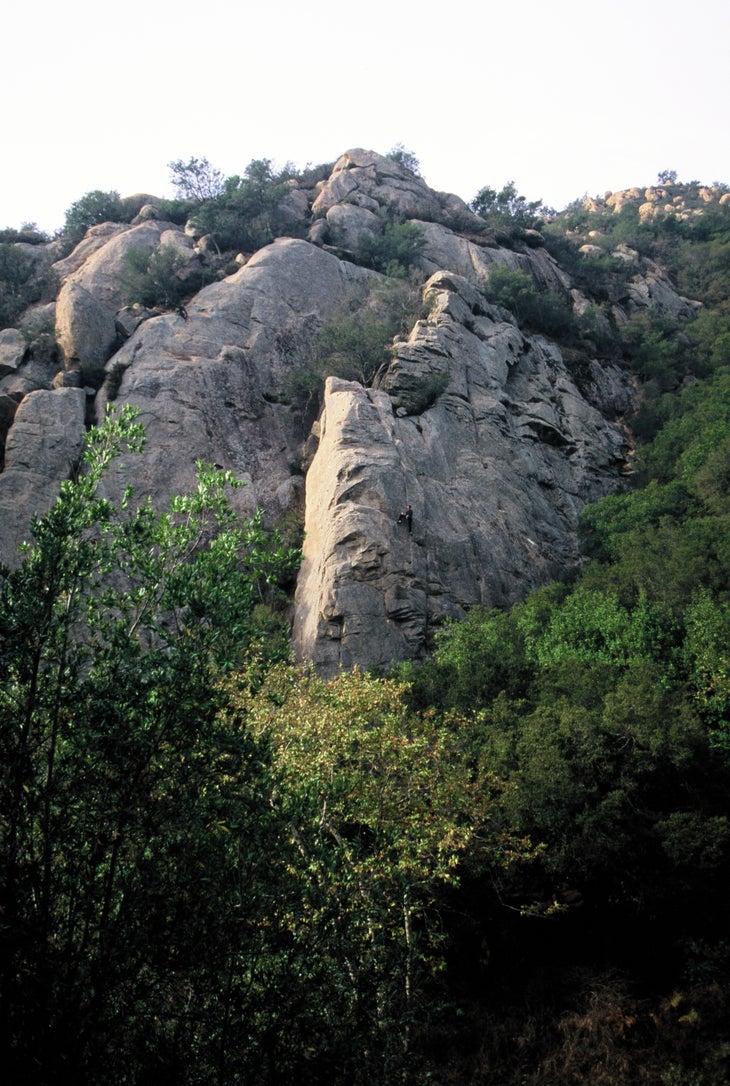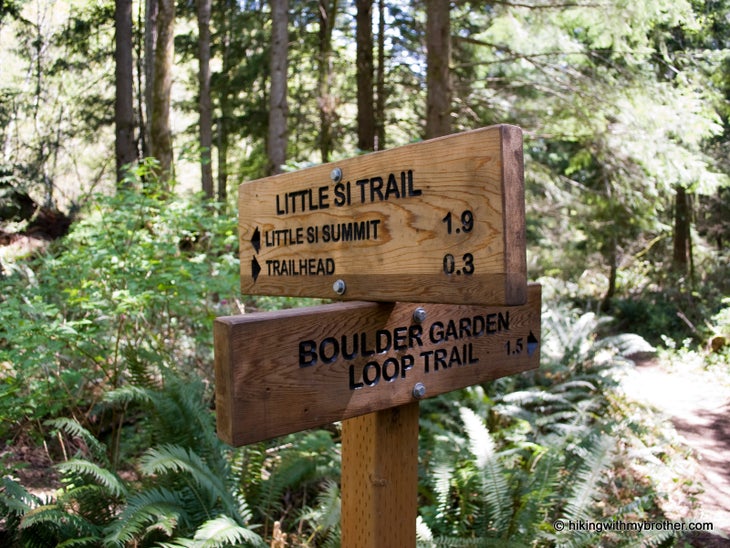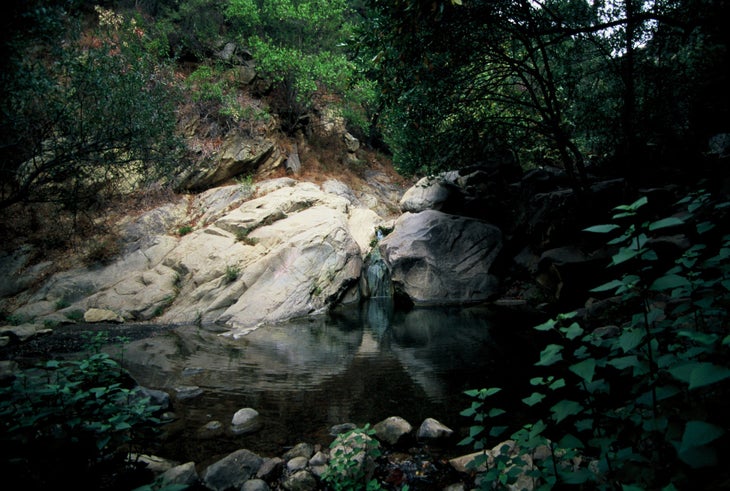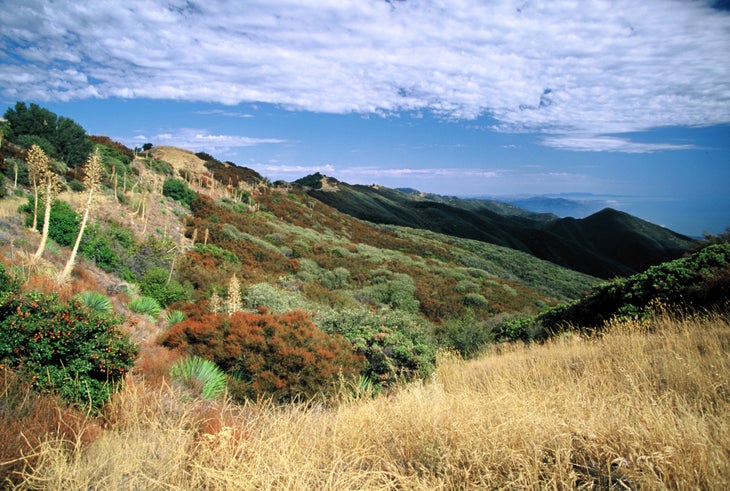 Trail Facts
Waypoints
SYT001
Location: 34.4459745, -119.6220307
Hike north from the trailhead and signs that warn about recent mountain lion sightings. The San Ysidro Trail cuts between private property at this point: do not wander off-trail.
SYT002
Location: 34.4475573, -119.6219735
Bear left @ the intersection with a paved road. Walk northeast along a wood fence. Continue along a rock wall and then pick up the trail again when it ends. San Ysidro Creek is to the left.
SYT003
Location: 34.4508019, -119.6220056
Bear left @ the Y-junction and walk around the chain link fence, heading northeast on a fire road.
SYT004
Location: 34.452343, -119.6218152
Bear right @ the T-junction and continue on the fire road.
SYT005
Location: 34.4539489, -119.6222042
Go straight past the second chain link fence and continue northeast. Just after the fence, the creek and some impressive sandstone slabs appear on the left. This is another popular rock climbing locale in Santa Barbara.
SYT006
Location: 34.4568079, -119.6227712
Go straight @ the T-junction, merging onto singletrack.
SYT007
Location: 34.4578282, -119.6227098
Bear right @ the Y-junction and continue north on the singletrack into a gorgeous oak grove. A sign with a yellow triangular logo displaying "trail courtesy" also marks the intersection.
SYT008
Location: 34.4646434, -119.623569
Here, spur trails offer access to the creek on the left side of the trail. This area's tranquil, shallow pools with little waterfalls are well worth cooling off in.
SYT009
Location: 34.4674964, -119.6223046
Reach another great pool with a tall waterfall and a lot of lush vegetation. There's also an impressive sandstone formation here: a narrow rib juts out of the canyon on the other side of the creek. Head northwest up a rocky sandstone trail that switchbacks into sweeping chaparral vistas.
SYT010
Location: 34.4834692, -119.6352283
The trail tops out on the Santa Ynez Ridge where views of the Santa Barbara backcountry are breathtaking. You can access the Romero Canyon Trail by turning right on East Camino Cielo and heading south from Romero Saddle. Otherwise, retrace steps back to the trailhead.
Trailhead
Location: 34.4477241, -119.6219301
©Chuck Graham
Rock climbing locale
Location: 34.4531032, -119.6215868
After the second chain link fence, look for the sandstone slabs on your left to see a good rock climbing spot. ©Chuck Graham
Trail Sign
Location: 34.4639664, -119.6237111
©Chuck Graham
San Ysidro Canyon Pool
Location: 34.4673277, -119.6220803
©Chuck Graham
View of Santa Ynez Ridge
Location: 34.483354, -119.6350837
©Chuck Graham