Santa Barbara, CA: Romero Canyon
Marvel at Pacific coast views, tree-lined canyons, snowy peaks and tumbling waterfalls on this 7.5-mile highlight reel of Santa Barbara's frontcountry.
Heading out the door? Read this article on the new Outside+ app available now on iOS devices for members! Download the app.
Choked with chaparral, sycamores, and oaks, the sandstone Romero Canyon provides a lush, wildlife-filled channel to snow-capped mountains and ocean views of the Channel Islands. The 7.5-mile loop from the canyon to Santa Ynez Ridge treks over creeks and cascades, offering up shade and swimming holes to hikers who need relief from the Southern California heat.
From the trailhead, climb through the deeply verdant canyon and deciduous forests, then turn up a short section of switchbacks that show off the coast to the right. After only a mile and a half, you'll reach one of the most scenic viewpoints in Santa Barbara county: here, Shrubland slopes, the Channel Islands, and the Pacific coast fill the horizon.
Continuing north through the canyon, the trail climbs steadily for 1,500 feet over the next 4 miles. Santa Ynez Ridge, this route's climax at 3,000 feet, showcases snowy backcountry peaks in Los Padres National Forest. From here, backtrack to the 3-way junction and follow the rushing Romero Canyon Creek to the trailhead.
-Mapped by Chuck Graham
Hike Romero Canyon
TO TRAILHEAD: Head southeast on State St. Turn right onto West Carrillo St. Turn left to merge onto US 101 S. At 5.6 miles, take exit 92 on the left toward Sheffield Dr. Bear left toward North Jameson Ln. Turn right at North Jameson Ln., then bear left at Sheffield Dr. At 1.3 miles, left at CA 192/East Valley Rd. Turn right at Romero Canyon Rd. Turn right to stay on Romero Canyon Rd. At 1 mile, right at Bella Vista Dr. and continue straight to the trailhead.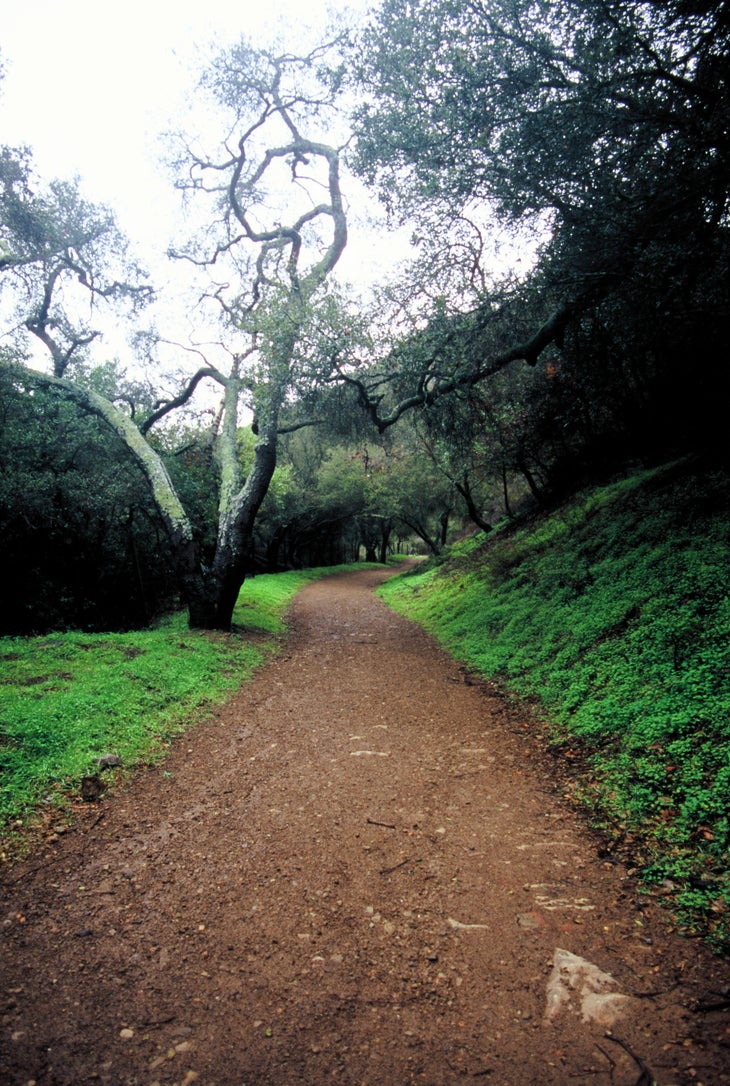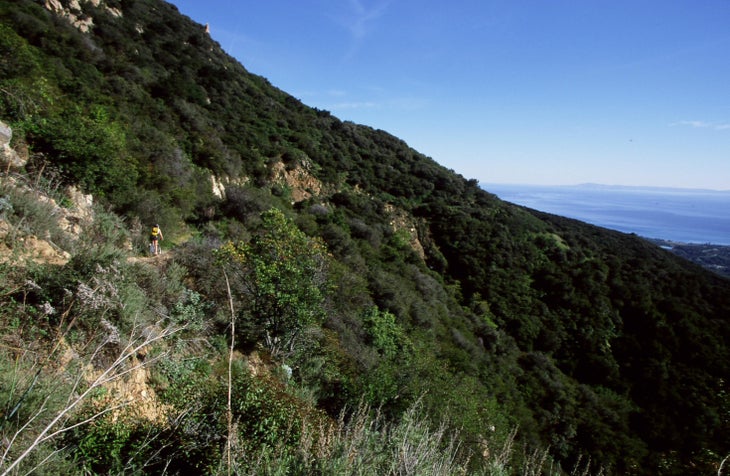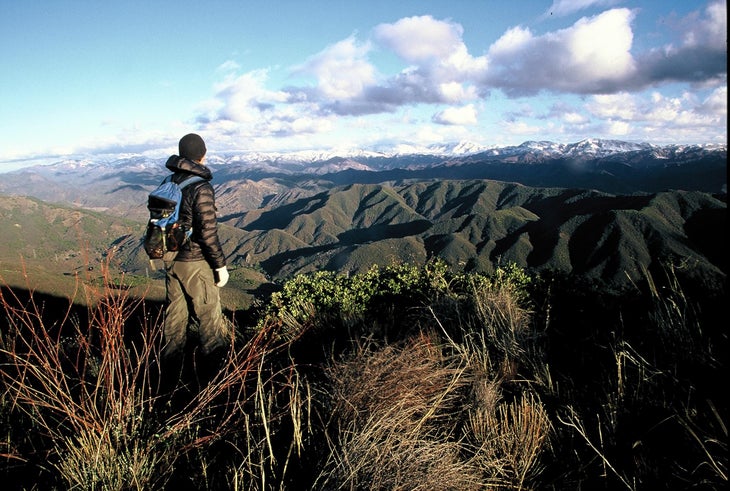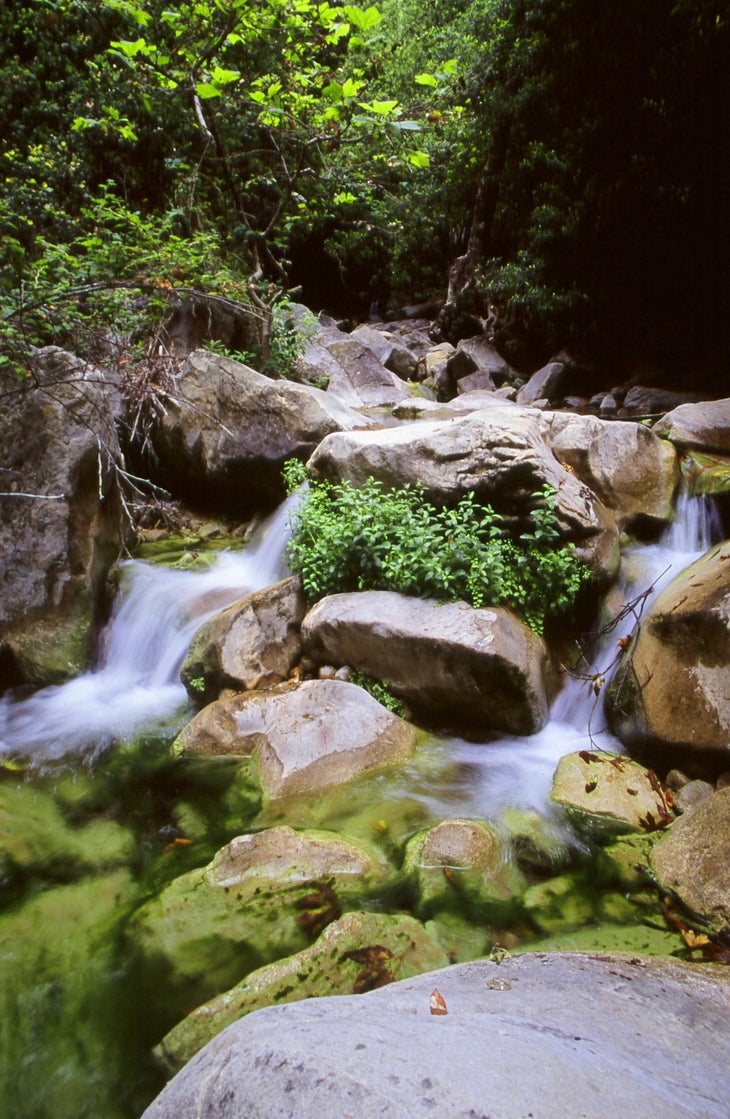 Trail Facts
Waypoints
ROC001
Location: 34.4528913, -119.5906962
From the Romero Canyon Trailhead, hike northeast under a sycamore-tree canopy. While the trailhead sign warns about mountain lions, sightings are uncommon.
ROC002
Location: 34.456891, -119.5925431
Reach a dry creek and bear right, heading east through a beautiful oak tree grove.
ROC003
Location: 34.4579181, -119.5908278
Rock-hop across the creek, then
turn right and merge onto the fire road. Head south-southwest.
ROC004
Location: 34.4527823, -119.5843851
After switching back several times to views of the coast, you'll come to the lookout with the best views of Channel Islands National Park and the city of Santa Barbara.
ROC005
Location: 34.4724362, -119.5935794
Bear right at the 3-way trail junction and continue up the Blue Canyon Trail's steep singletrack.
ROC006
Location: 34.4754905, -119.5890514
Reach Santa Ynez Ridge, which offers views of Los Padres National Forest and the Santa Barbara backcountry. Watch for mule deer and other wildlife. When finished with the scenery, retrace steps back to the 3-way trail junction.
ROC007
Location: 34.4754189, -119.5891877
Bear right at the 3-way junction. Take the singletrack south-southwest into a gorgeous riparian corridor. Over the next 1.5 mile, descend 300 feet.
ROC008
Location: 34.4724698, -119.5934399
Reach a creek crossing with a small waterfall and a small swimming hole. Bear right off the trail to access the water. After cooling off, follow the singletrack through a shady oak woodland habitat.
ROC009
Location: 34.4674985, -119.5908317
Rock-hop across the creek, then bear right to continue south back to waypoint 3 and then the trailhead.
Lower Romero oak grove
Location: 34.4575265, -119.5922756
After crossing the dry creekbed, head east into this oak tree grove. ©Chuck Graham
Romero View
Location: 34.4539171, -119.5833492
This lookout is always worth a gander because it has great views of the city and the islands. ©Chuck Graham
Snowcapped backcountry
Location: 34.475359, -119.5890141
This is the snow-capped backcountry of the Los Padres National Forest from Santa Ynez Ridge. ©Chuck Graham
Romero Canyon Creek
Location: 34.4688491, -119.5901299
A year-round stream flows down Romero Canyon. ©Chuck Graham