Sandpoint, ID: Pend Oreille Divide Trail
Traverse the ridge connecting Lunch Peak and Mount Pend Oreille to gain prime panoramas of Northeastern Idaho's rugged Kaniksu National Forest.
Heading out the door? Read this article on the new Outside+ app available now on iOS devices for members! Download the app.
On this 7-mile out-and-back, you'll catch glimpses of Sandpoint, Lake Pend Oreille, Smith Mountain and Darling Lake while tracing the spine of the soaring Pend Oreille Divide. Follow Trestle Creek Road to the 180-degree turn just under Lunch Peak to get started. Heading north on the Pend Oreille Divide Trail, your surroundings alternate between slope-side scree fields and thinning old growth forest.
Devoid of any major climbs, the terrain rolls between 6,100 and 6,400 feet until you reach Mount Pend Oreille, which looms over the surrounding mountain country at 6,745 feet. From the broad, exposed summit, you'll gain seemingly endless panoramas of the Cabinet Mountains to the east, and Lake Pend Oreille's northern tip dipping into the Purcell Trench to the east. Retrace your steps on the Pend Oreille Divide Trail to return to the trailhead.
Note: the last four miles of road en route to the trailhead (Lunch Peak Road 1091) are very rough: using a high-clearance vehicle is recommended. 
-Mapped by Travis Lesicka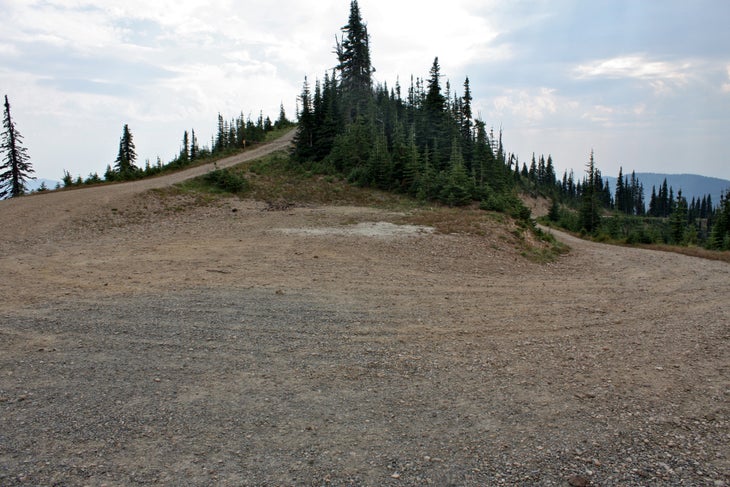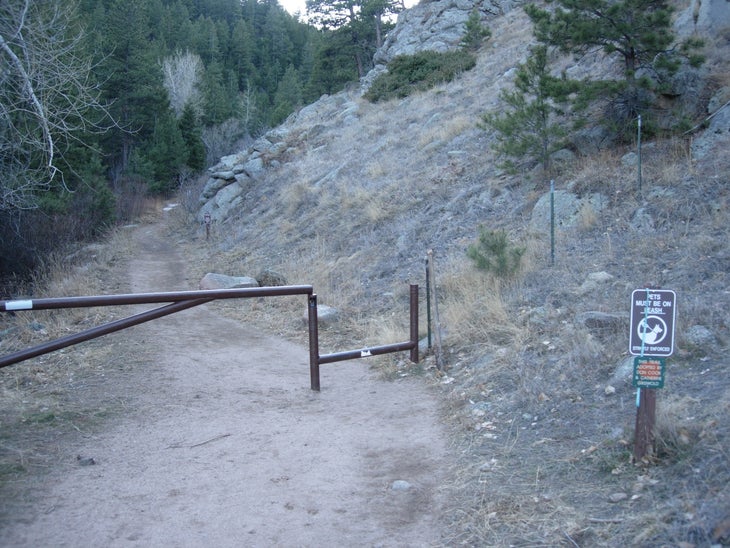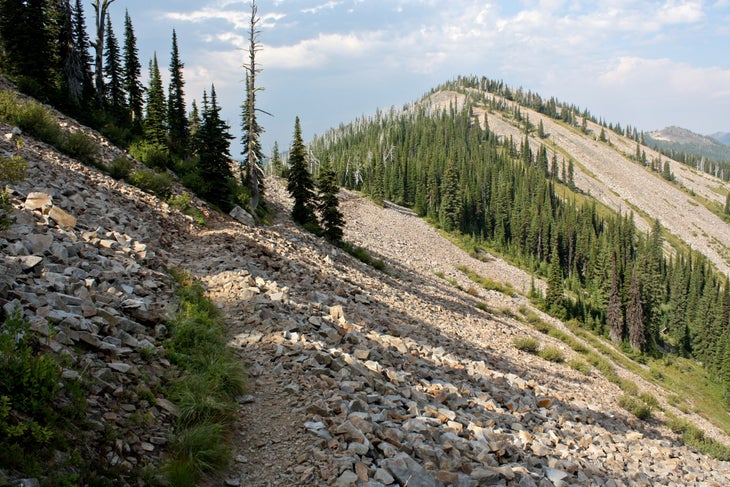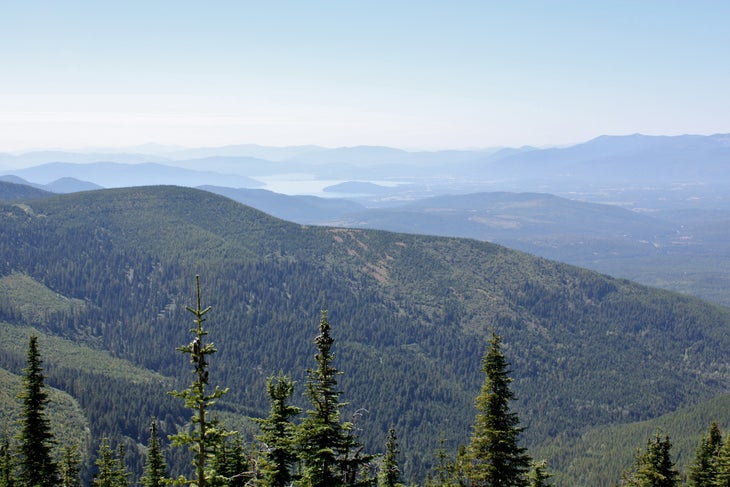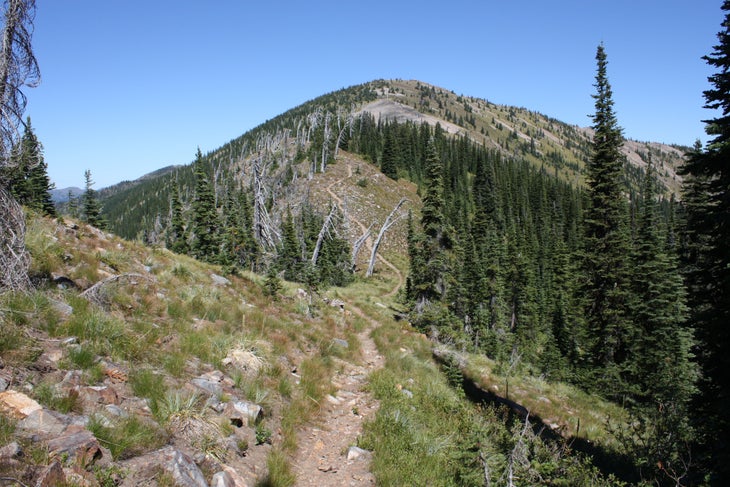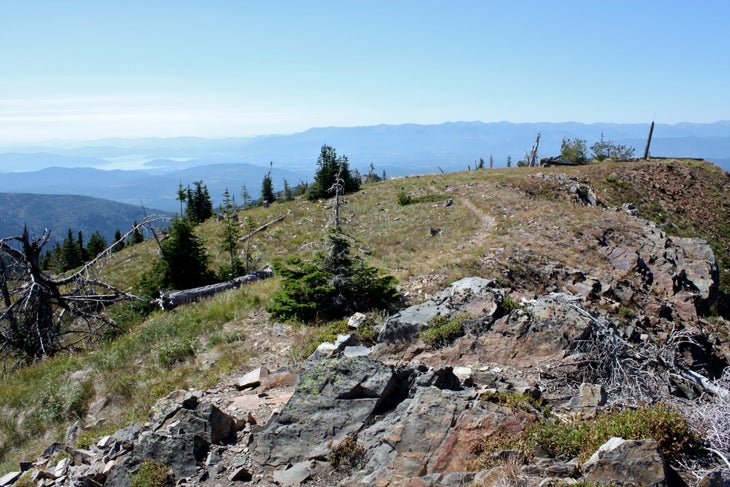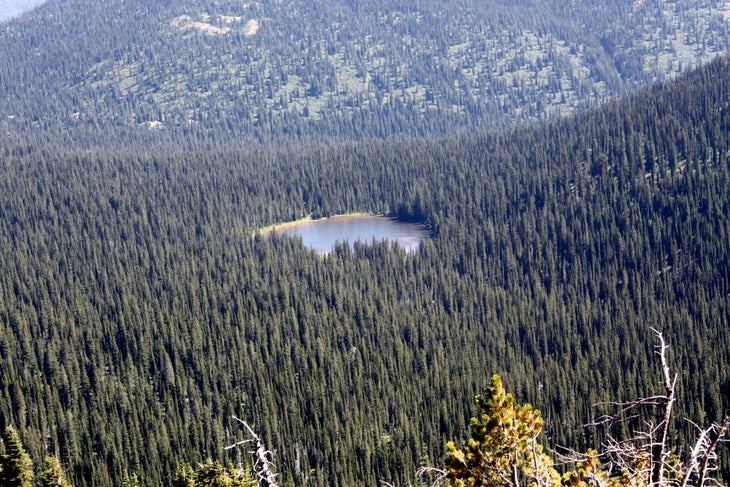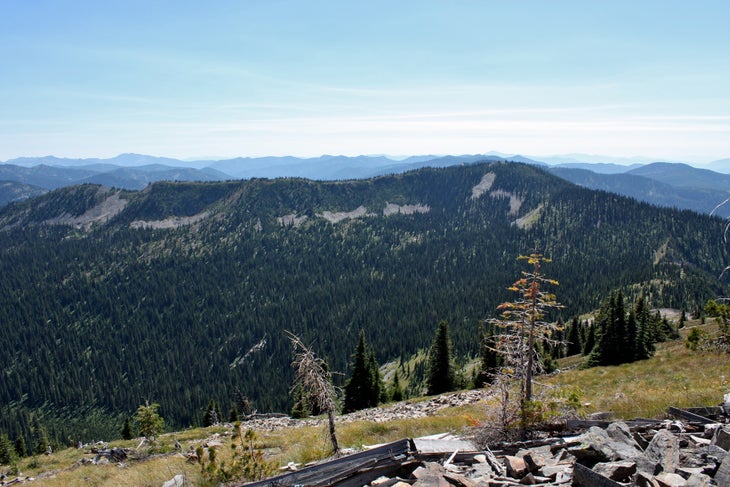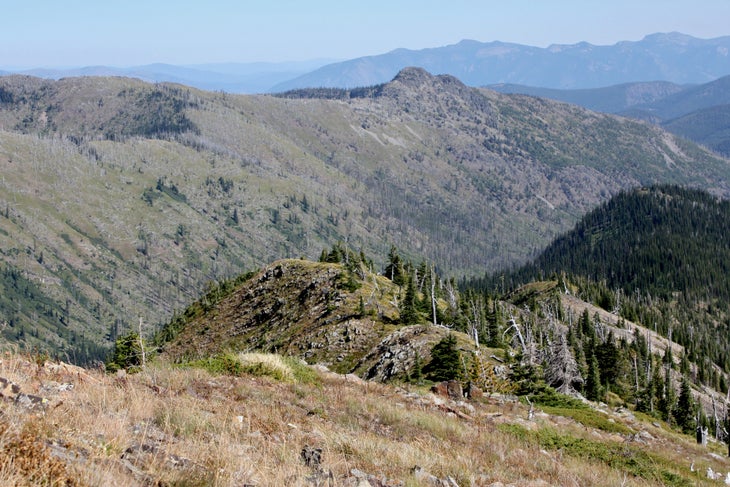 Trail Facts
Waypoints
POD001
Location: 48.376093, -116.192737
Parking is available in the dirt pullout at trailhead. Follow signs to the Pend Oreille Divide Trail.
POD002
Location: 48.377689, -116.190891
Cross through the first of the many talus fields along the hike.
POD003
Location: 48.386145, -116.188792
Cross through the hike's longest talus field.
POD004
Location: 48.396047, -116.182853
Bear left to stay on the Pend Oreille Divide Trail. The Gordon Creek Trail forks to the right.
POD005
Location: 48.406686, -116.183902
Trail switchbacks sharply to the right (east) here.
POD006
Location: 48.410203, -116.180549
Bear left to stay on the Pend Oreille Divide Trail. The right fork leads to Lake Darling (2 miles away east) on trails 52.1 and 52.2
POD007
Location: 48.415516, -116.177008
At the Y-junction, turn right to climb the remaining 0.1 mile to Mount Pend Oreille. The trail forking left connects to the Hemlock Trail and Bonners Ferry Ranger District.
Parking Area
Location: 48.376264, -116.192436
Parking is available along the shoulder of this 180-degree turn. The lower road connects to Trestle Creek Road, while the upper road leads to the Lunch Peak Lookout.
Trailhead
Location: 48.376777, -116.192179
Pick up the Pend Oreille Divide Trail and head north.
Scree Fields
Location: 48.381055, -116.190645
At various points throughout the hike, the Pend Oreille Divide Trail cuts through talus fields and scree-covered slopes.
Panorama
Location: 48.398636, -116.18499
Savor sweet panoramas from this switchback vantage point perched just above the Gordon Creek Trail junction.
Approaching Mount Pend Oreille
Location: 48.408071, -116.182373
Notch distant glimpses of Mount Pend Oreille as you push north.
Mount Pend Oreille: Fire Tower
Location: 48.415388, -116.175302
Remnants of an old fire tower are visible on Mount Pend Oreille.
Mount Pend Oreille: Lake Darling Panorama
Location: 48.415445, -116.175635
Look southeast for an aerial shot of Lake Darling. The lake is accessible via trails 51.2 and 52.2, which intersect with the Pend Oreille Divide Trail 0.5 miles to the south.
Mount Pend Oreille: Southwestern Panorama
Location: 48.415637, -116.175313
Look southwest for panoramas of a parallel ridgeline.
Mount Pend Oreille: Eastern Panorama
Location: 48.415498, -116.175163
Look due east from Mount Pend Oreille for a view of Smith Mountain.