San Luis Obispo, CA: Bishop Peak
Climb to the highest of Central California's Nine Sisters on this 3.5-mile out-and-back to Bishop Peak.
Heading out the door? Read this article on the new Outside+ app available now on iOS devices for members! Download the app.
Spanning the green-tinted coastal plains between Morro Bay and San Luis Obispo is a chain of 20,000,000-year-old volcanic peaks known as the Nine Sisters. Summit the highest of these dormant volcanoes on this 3.5-miler to Bishop Peak. There are three trailheads leading to Bishop: this route begins at the middle trailhead off Highland Drive. Start by heading north through a thick grove of trees featuring gigantic oak trees branching over the trail. At mile 0.2, you'll hit a Y-junction and connect with the Bishop Peak Trail, which curves around to the west before ducking back into the woods.
Emerge from the forest for a second and final time before circling through Bishop's open upper reaches. After negotiating a series of quick switchbacks near the summit, turn around for a southern view of Cerro San Luis Obispo flanked by Laguna Lake and the western outskirts of town. Continuing on, climb a short stretch of stairs before reaching Bishop's boulder-crowned peak. From the 1,560-foot summit, notch aerial views of Morro Bay and Morro Rock to the west, San Luis Obispo and Cuesta Grade to the east, and Laguna Lake to the south. Retrace the route you hiked in on to return to the trailhead. 
-Mapped by Travis Lesicka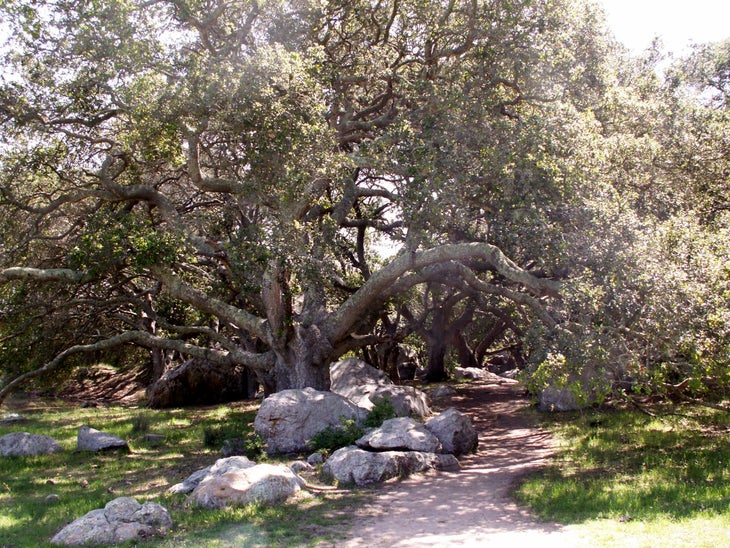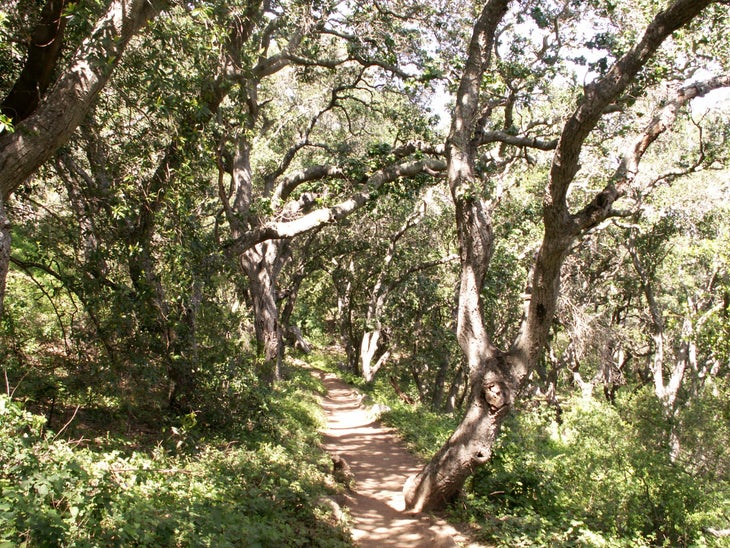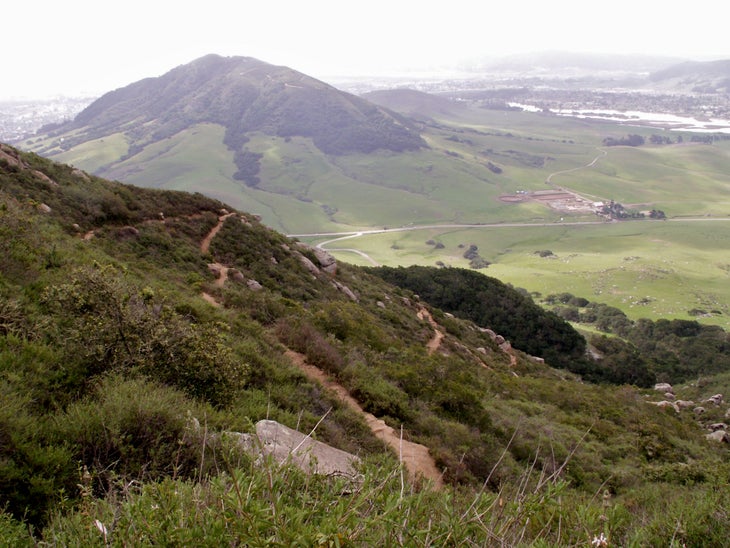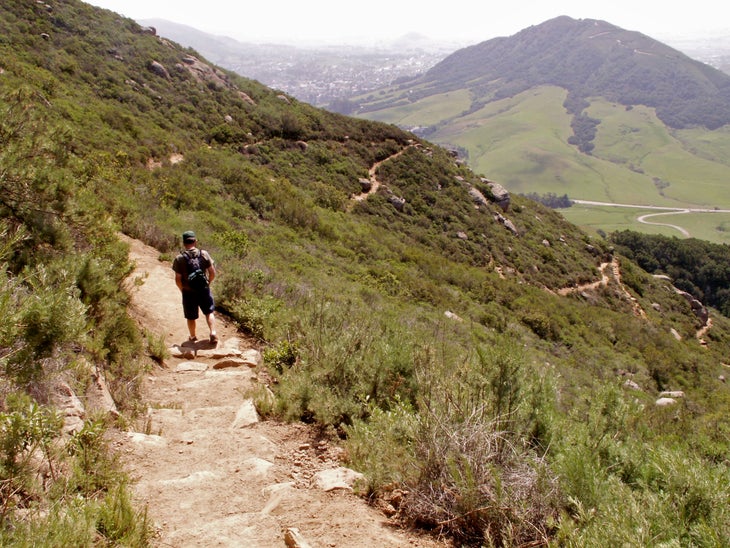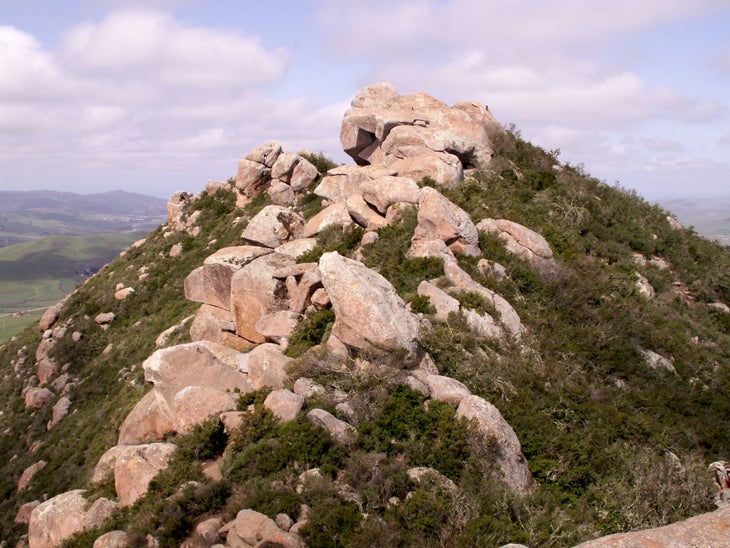 Trail Facts
Waypoints
BPK001
Location: 35.301156, -120.68917
Parking is available next to the trailhead off Highland Drive.
BPK002
Location: 35.301502, -120.690029
Head west into the trees for one of the hike's several shady stretches.
BPK003
Location: 35.303344, -120.691096
Bear left at Y-junction to connect to the Bishop Peak Trail. Right fork leads to lower trailhead at Patricia Drive.
BPK004
Location: 35.302286, -120.694052
Pass cliffs popular among top-ropers near mile 0.5.
BPK005
Location: 35.301173, -120.693379
Poison Oak lines the trail: proceed with caution.
BPK006
Location: 35.299162, -120.694429
Bear right to stay on the main trail. The left fork leads to an alternate trailhead at Foothill Boulevard.
Approaching Bishop
Location: 35.303249, -120.691842
Bishop Peak, seen from mile 0.3 of the trail.
Gigantic Oak
Location: 35.302656, -120.69078
Duck under the sprawling branches of a massive tree to break out of a brief stretch of forest.
Hallway Of Green
Location: 35.300859, -120.692829
Duck through a final stretch of woods before reaching the summit.
Cerro San Luis Obispo
Location: 35.300986, -120.697346
As you near the top of Bishop, look south for a view of Cerro San Luis Obispo. Laguna Lake and southwest San Luis Obispo are visible in the background.
Stairs
Location: 35.301638, -120.698011
Climb a quick series of stairs before reaching the peak.
Rocks
Location: 35.301967, -120.696917
Bishop Peak is adorned with a crown of scattered boulders.
Bishop Peak
Location: 35.302036, -120.69648
Reach the top of Bishop Peak. At 1,560 feet, it's the tallest of the Nine Sisters, a chain of volcanic peaks around the area.