San Diego, CA: Noble Canyon-Indian Creek-Pine Mountain Loop
No time for Pacific Crest thru-hiking? This 12-miler samples a section of the Pacific Crest Trail, passing mile-high peaks and desert vistas.
Heading out the door? Read this article on the new Outside+ app available now on iOS devices for members! Download the app.
Fresh mountain air, shrub-covered backcountry, jagged peaks, and a killer climbing workout aren't this route's only perks. An hour's drive from San Diego proper, this solitude-inducing dayhike tours pine and oak stands, recovering burn zones, wildflower meadows, and far-stretching canyons in the Laguna Mountains.
Call it a life-list loop for the SoCal workingman. As you head north along the Pine Mountain Trail, look west to see San Diego's second highest mountain, Cuyamaca Peak, jutting 6,512 feet skyward.
At mile 5, step onto the world-famous Pacific Crest Trail (PCT). Watch in awe as the Lagunas begin to take up the entire eastern horizon. For an optional side trip, the short but strenuous 2.4-mile climb to the summit of Garnet Peak (5,800 feet) lets you eat your lunch guilt-free while savoring the best Anza Borrego Desert views in San Diego County.
More views wait ahead as you continue southbound on the PCT. Walking across a 5600-foot-high ridgeline, look left to see the mountainside drop thousands of feet into the valley. Storm Canyon lies 3,000 feet below you to the east; Monument Peak (6,200 feet) becomes more and more visible to the south as you get closer to Oasis Springs and the finish.
-Mapped by Rajeev Jain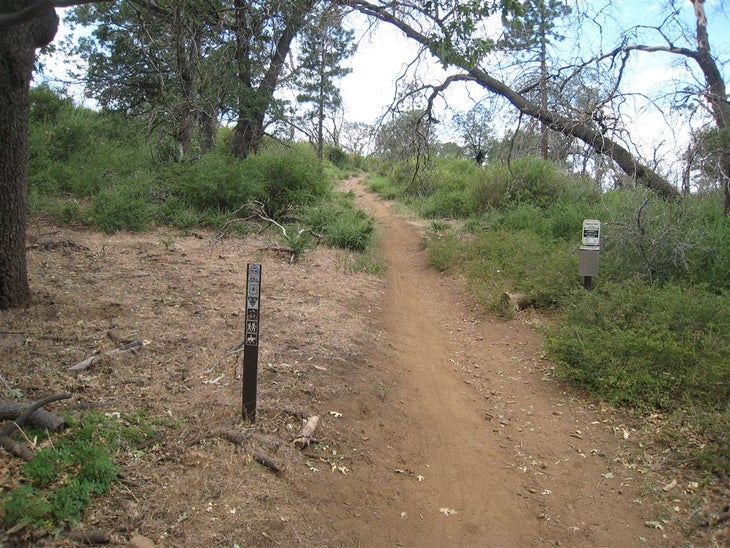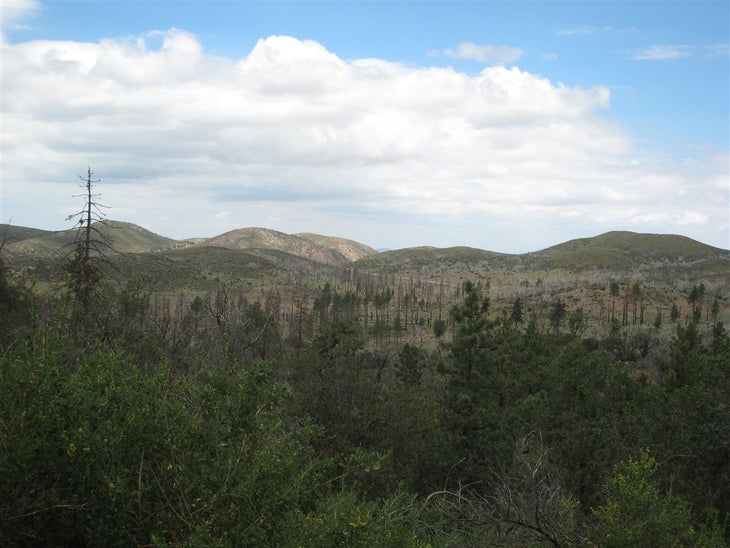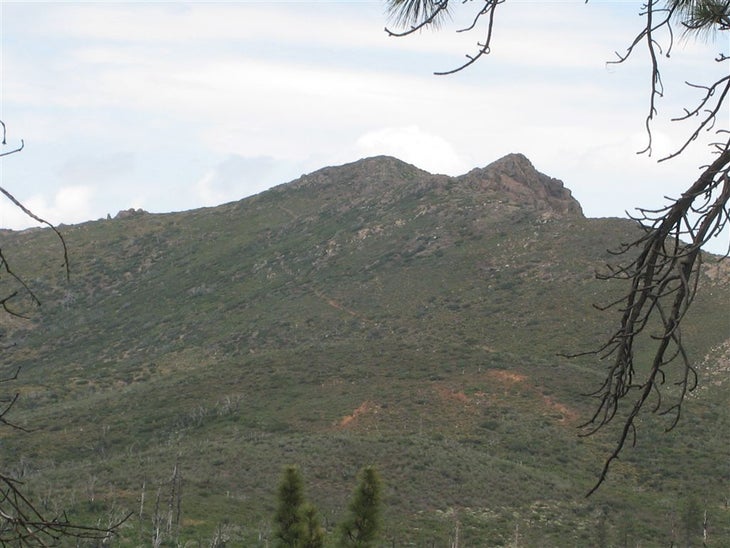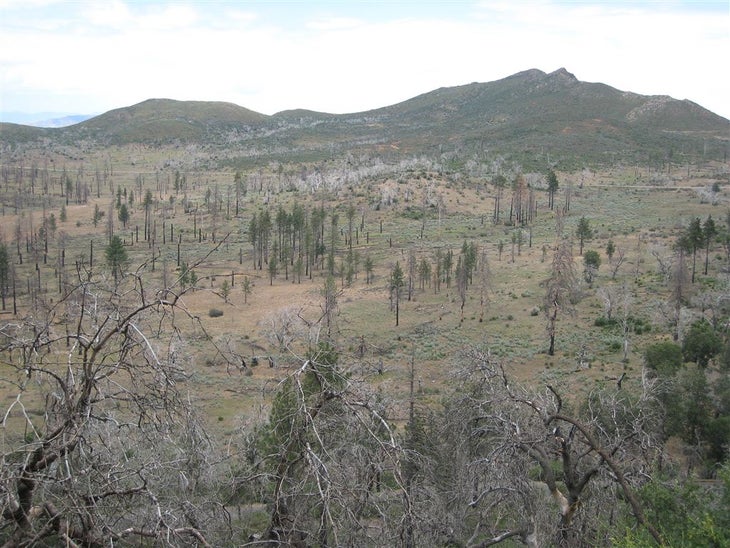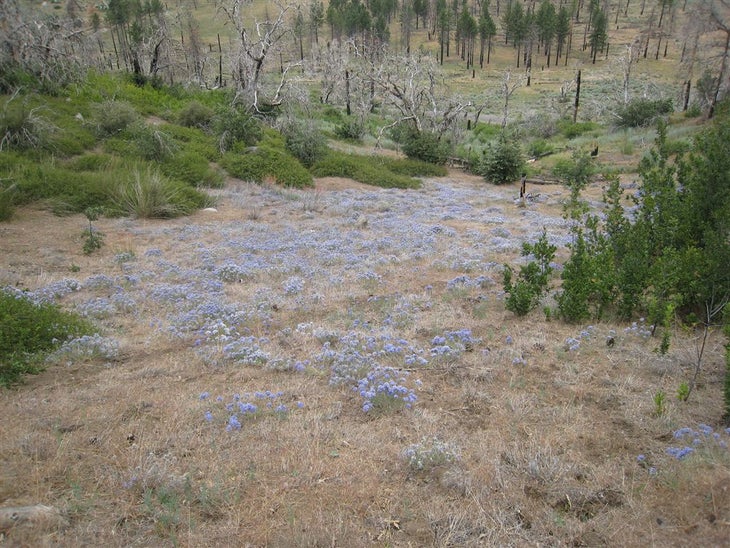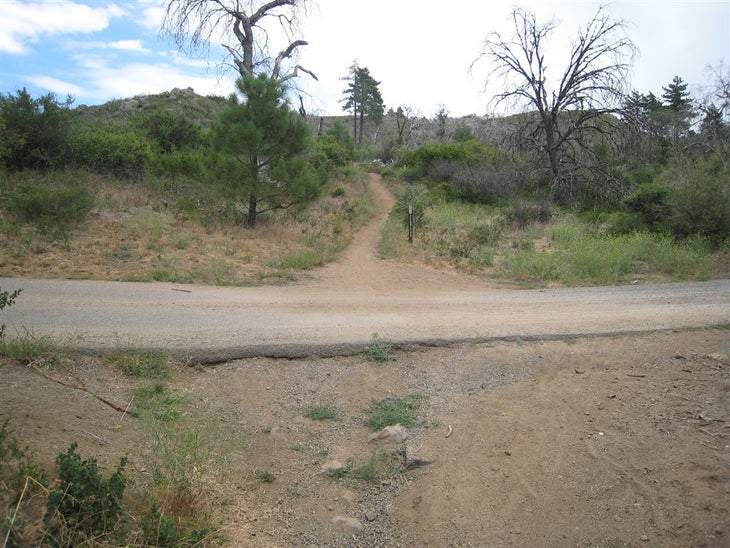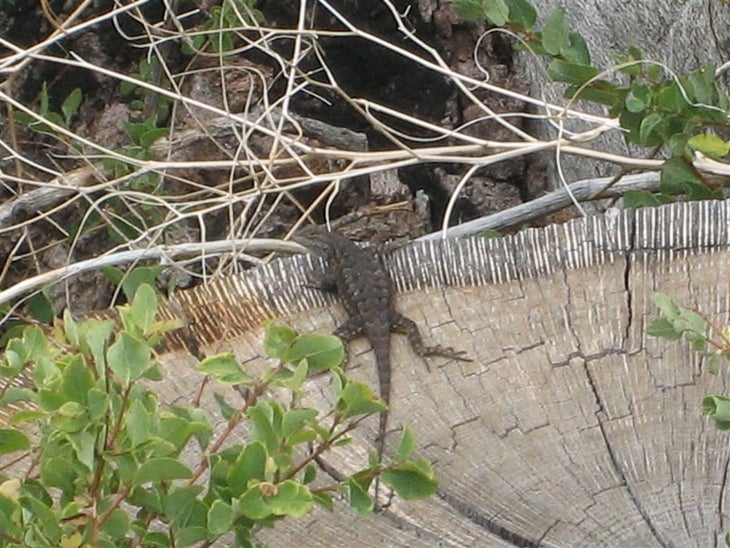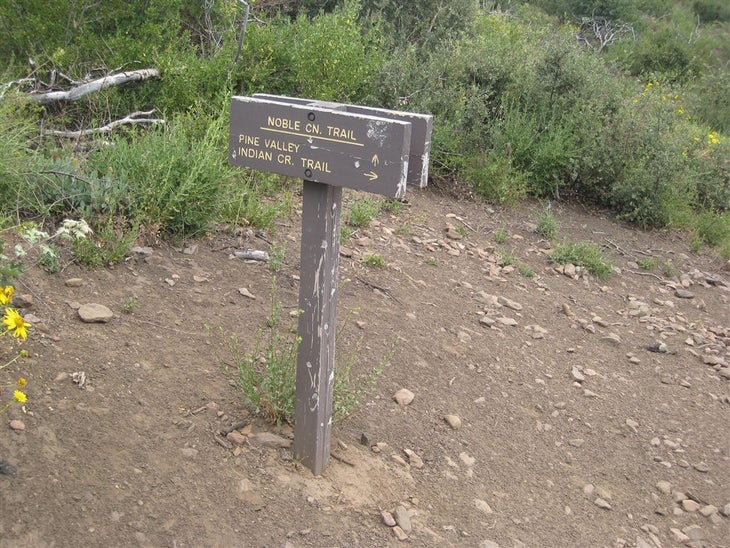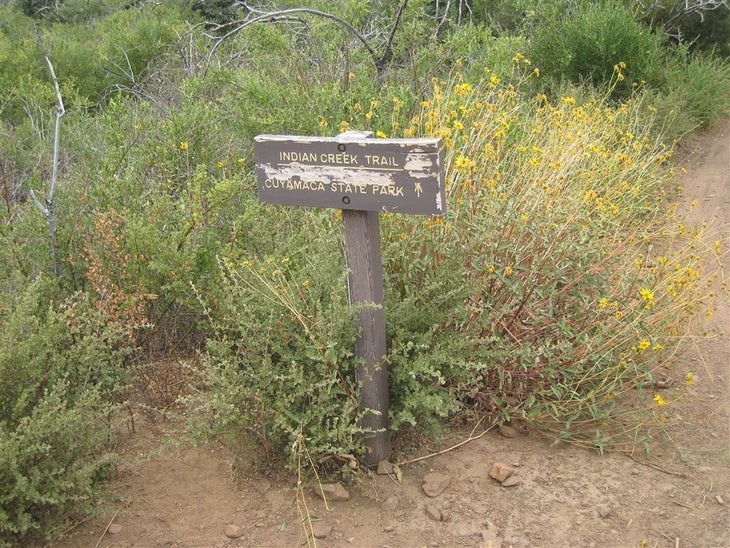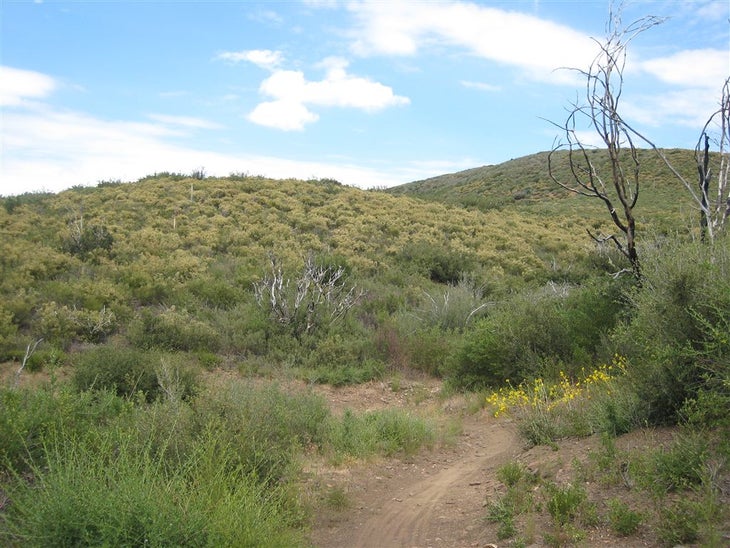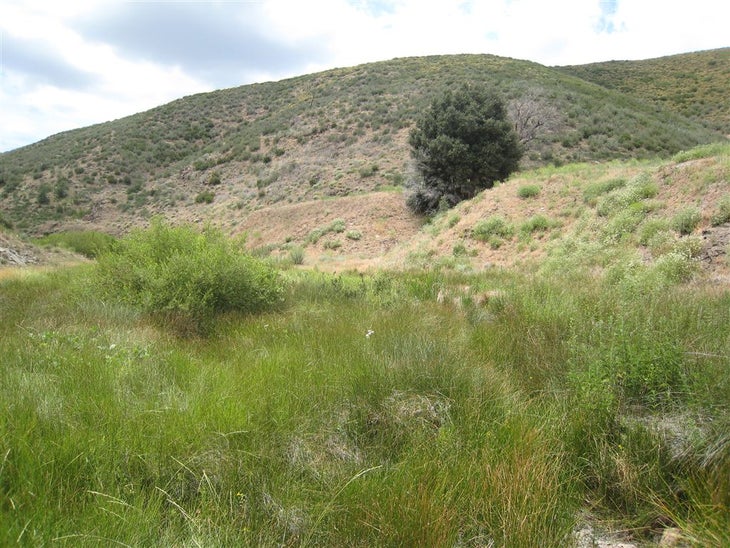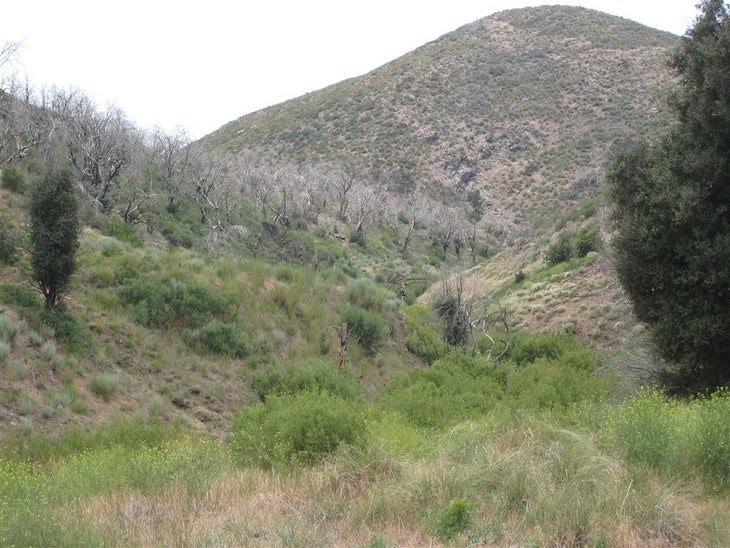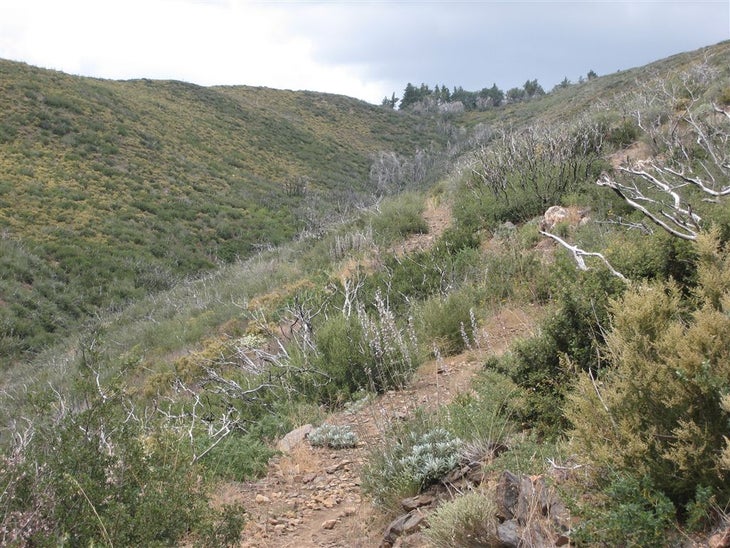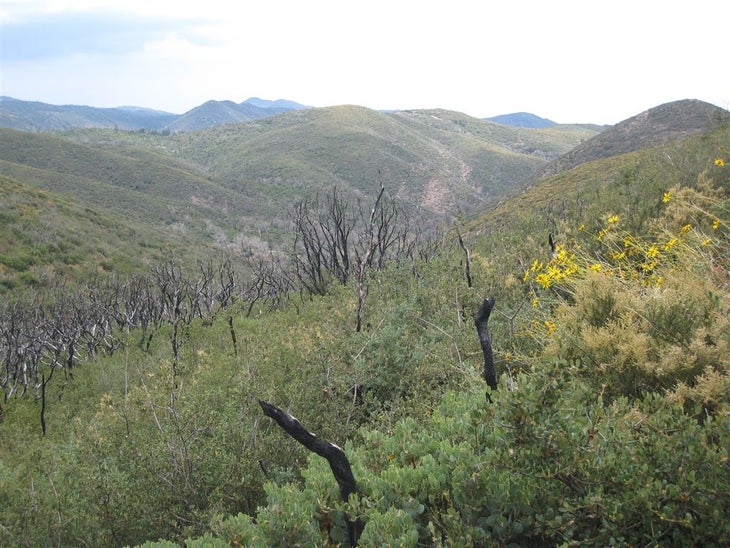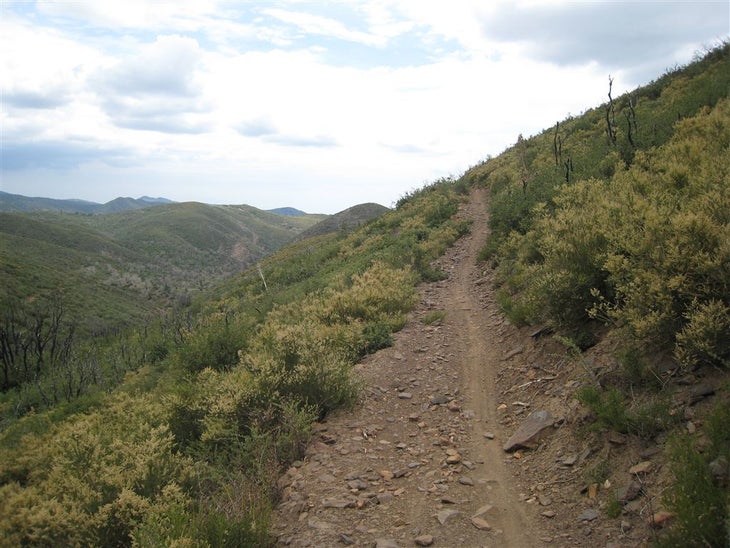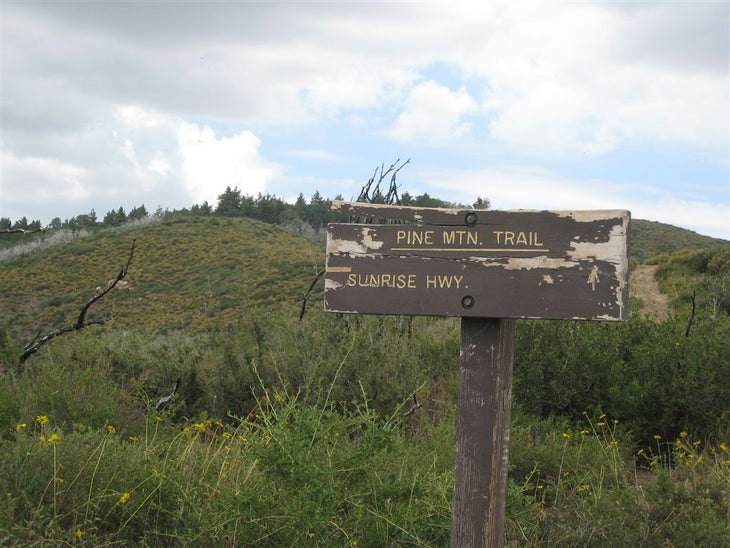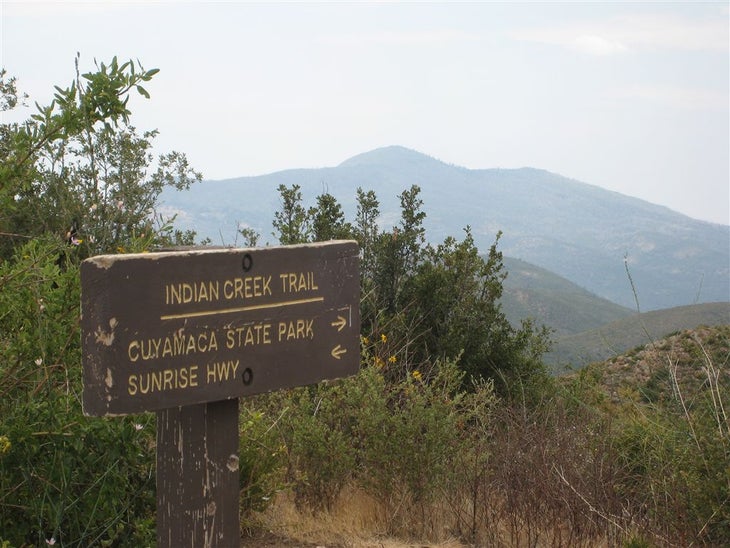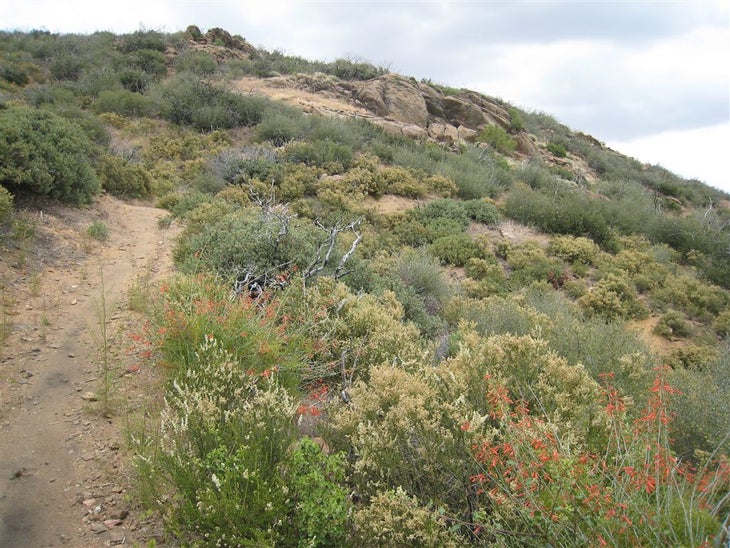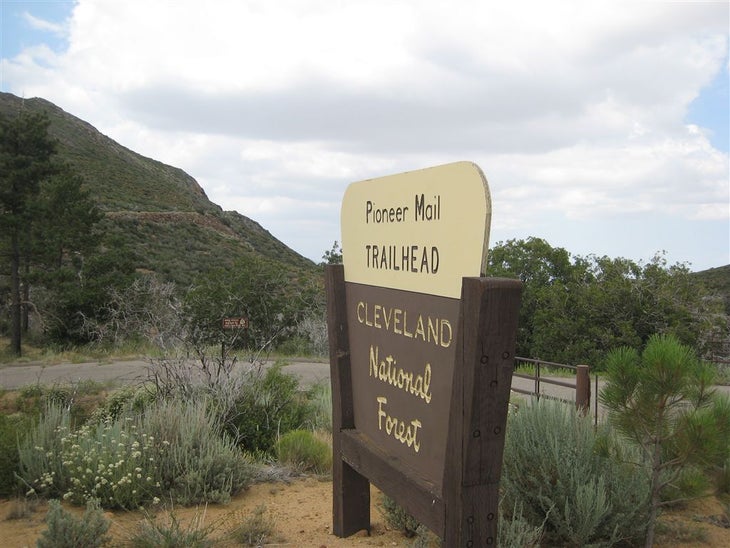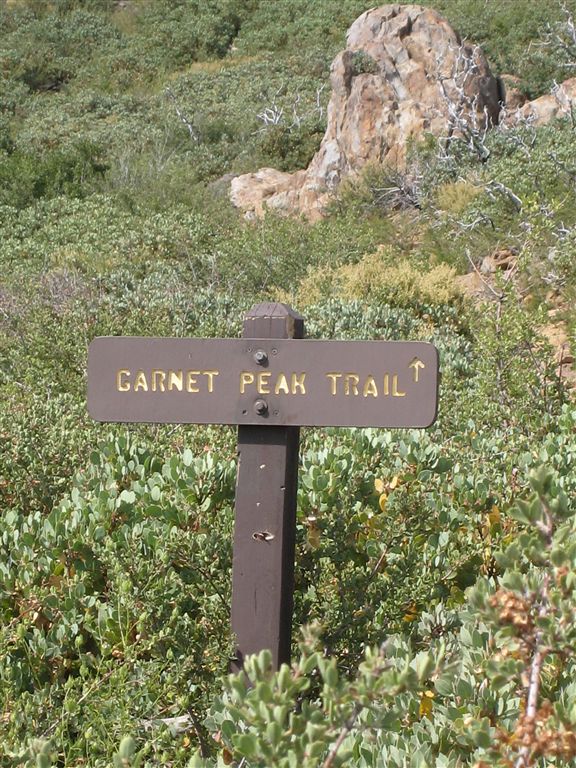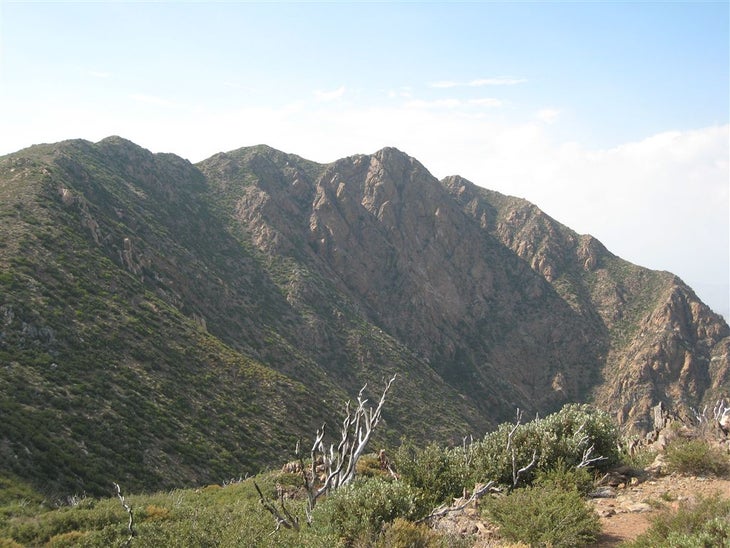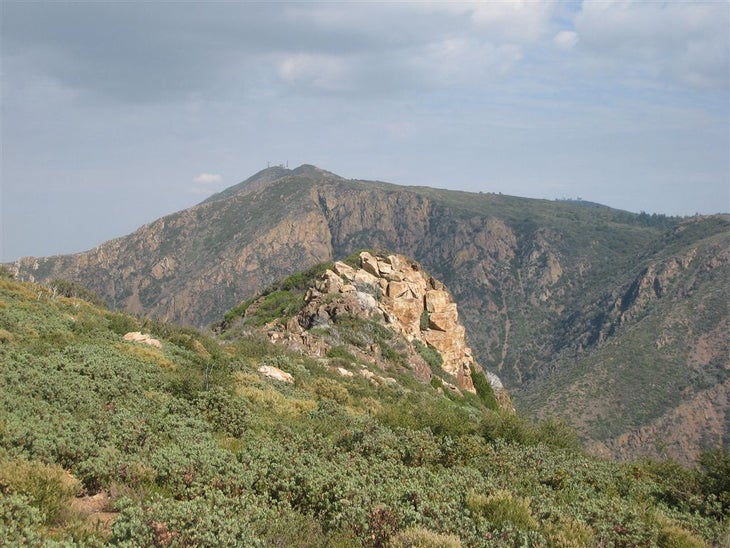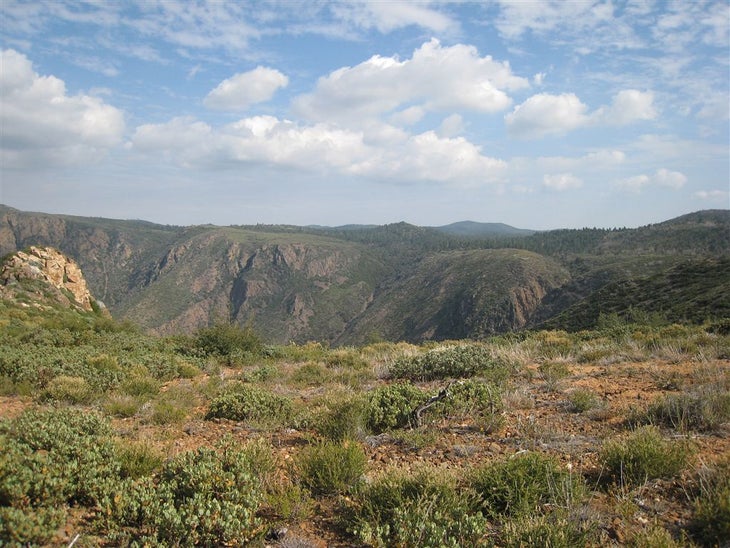 Trail Facts
Distance: 19.2
Miles from city center: 58
Waypoints
LML001
Location: 32.9059105, -116.4579391
Noble Canyon Trailhead. Used by hikers, cyclists, and horseback riders, the trail is mostly dirt with an occasional rock patch and low shrubs on both sides. The hillside is lightly covered with oak and pine trees. In the occasional break between the trees, views to the northeast reveal Garnett Peak.
LML002
Location: 32.9054222, -116.4591522
Bear right @ Y-junction and head west on the northern part of the hillside. As you continue to climb past this point, views open across the north. Garnett Peak becomes prominent on the horizon.
LML003
Location: 32.9048386, -116.4736633
Cross Filaree Flat Road N and head west. Sparse pines, oaks, and lots of waist high shrubs cover the hillsides.
LML004
Location: 32.9046681, -116.4744759
Cross Laguna Meadow Road and head southwest.
LML005
Location: 32.9041786, -116.4764175
Cross Laguna Meadow Road again and, this time, head west on Noble Canyon Trail.
LML006
Location: 32.9002762, -116.4848251
Bear right @ Y-junction and head northeast on Indian Creek Trail. After about a mile, cross Indian Creek and begin a steep climb up Pine Mountain.
LML007
Location: 32.9091263, -116.4971542
Turn right @ 4-way junction and merge onto Pine Mountain Trail. Heading north, you'll see San Diego's second highest mountain, Cuyamaca Peak, to the west.
LML008
Location: 32.9193382, -116.4911194
Cross the jeep road that runs perpendicular to Pine Mountain Trail and head northeast.
LML009
Location: 32.9244881, -116.48069
Cross Sunrise Highway to enter Pioneer Mail Picnic Area. After refilling water bottles and eating lunch, bear right onto the Pacific Crest Trail (PCT) and head east.
LML010
Location: 32.9197464, -116.4607162
Continue straight through the 4-way junction, staying on the PCT. Optional side trip: Turn left onto Garnet Peak Trail. Walk 1.2 miles, gaining 500 feet of elevation. Rest at the Garnet Peak summit (5,800 feet) and enjoy unmatched desert views of San Diego County.
LML011
Location: 32.9058914, -116.4564667
Exit the PCT and retrace your steps back to the parking lot.
Noble Canyon Trailhead
Location: 32.9060745, -116.4582443
©Rajeev Jain
Well-Worn Singletrack
Location: 32.9057007, -116.459465
Noble Canyon Trail is well-worn and defined from heavy hiking, biking, and horseback riding use. ©Rajeev Jain
Recovering from forest fire
Location: 32.9054184, -116.462326
Looking northeast towards S1, you can see the remains and growth from a forest fire that burned the hillside 5 years ago. ©Rajeev Jain
The road to Garnett Peak
Location: 32.9060287, -116.4661255
On the other side of S1, the dirt road that leads to Garnett Peak can be seen along the hillside. ©Rajeev Jain
Remains after the forest fire
Location: 32.906311, -116.4683838
With the Garnett Peak ridge line in the background, you get a clearer view of the forest fire remains and the area's regrowth. ©Rajeev Jain
Flora
Location: 32.9062614, -116.4698868
Purple wildflowers dot the hillsides. ©Rajeev Jain
Second road crossing
Location: 32.9048691, -116.4734039
©Rajeev Jain
Lizard
Location: 32.9048347, -116.4737396
©Rajeev Jain
Pine Valley-Indian Creek Trail Junction
Location: 32.900074, -116.4849319
©Rajeev Jain
Indian Creek Trail
Location: 32.9003754, -116.4850311
©Rajeev Jain
Hiking toward Indian Creek
Location: 32.903389, -116.4866104
©Rajeev Jain
Rollers before Indian Creek
Location: 32.9081306, -116.4892731
©Rajeev Jain
Near the creek
Location: 32.9080162, -116.4896088
©Rajeev Jain
After you cross Indian Creek, head uphill toward Pine Mountain
Location: 32.9075012, -116.4934692
©Rajeev Jain
Keep climbing
Location: 32.9107819, -116.494957
©Rajeev Jain
The singletrack to Pine Mountain
Location: 32.9105797, -116.4950562
©Rajeev Jain
Pine Mountain Trail meets Sunrise Highway
Location: 32.9088974, -116.4970856
©Rajeev Jain
Junction
Location: 32.9093132, -116.4972
Indian Creek Trail junction with Cuyamaca State Park and Sunrise Highway. ©Rajeev Jain
Walking across Pine Mountain
Location: 32.9194603, -116.4906616
©Rajeev Jain
Pioneer Mail
Location: 32.9240799, -116.4808578
Pioneer Mail trailhead and entrance to Cleveland National Forest. ©Rajeev Jain
More post-fire regrowth
Location: 32.9228745, -116.4747467
©Rajeev Jain
Garnett Peak Trail
Location: 32.9202614, -116.4606781
©Rajeev Jain
Mile-high mountains border the PCT to the east
Location: 32.9176102, -116.4562149
©Rajeev Jain
More mountain views to the east
Location: 32.9120636, -116.4527969
©Rajeev Jain
Nearing Oasis Spring
Location: 32.9117813, -116.452919
©Rajeev Jain