San Antonio, TX: Lost Maples State Park
Hold onto your pennies! This 4.8-mile loop passes a wishing well en route to a set of refreshing swimming holes in Lost Maples State Park.
Heading out the door? Read this article on the new Outside+ app available now on iOS devices for members! Download the app.
Lost Maples State Park
Autumn is a popular time to visit the Lost Maples State Park's bigtooth-maple crowded hillsides—especially vibrant after an early October cold-streak—but the swimming-hole payoff on this 4.8-mile route makes it a great year-round dayhike or overnight trip.
This clockwise lollipop loop follows the East Trail for 0.3 mile before turning left for a 1.25-mile rise through a maple-shrouded canyon, one of the park's best fall-color viewing areas. The rough trail criss-crosses a stream before turning sharply uphill for a short, steep climb that ends abruptly at a grassy hilltop overlook. Skirt 2 backcountry campsites before the steep descent into Mystic Canyon where you might spot exotic animals such as whitetail deer, wild pig, armadillos and the free-range Aoudad sheep, a big-game hunting species imported from Africa.
At mile 3, a kiddie-pool sized pond—the "wishing well"—makes a welcome resting point, but don't throw any pennies into its crystal-clear shallows… two wish-worthy swimming holes are just 0.7 mile farther down the West Trail. Next to a 20-tent backcountry campground, the second, larger (and cliff-shaded) pond is the popular choice for a refreshing dip. The loop's final mile crosses Can Creek 5 times as it descends toward the parking lot.
For an easier variation on this route: Follow the loop counterclockwise—the more popular direction—for easier, more gradual climbs. Bring your Texas State Park Pass, or expect to pay per-person day-use fees for anyone over the age of 13.
–Mapped by Melissa Stolasz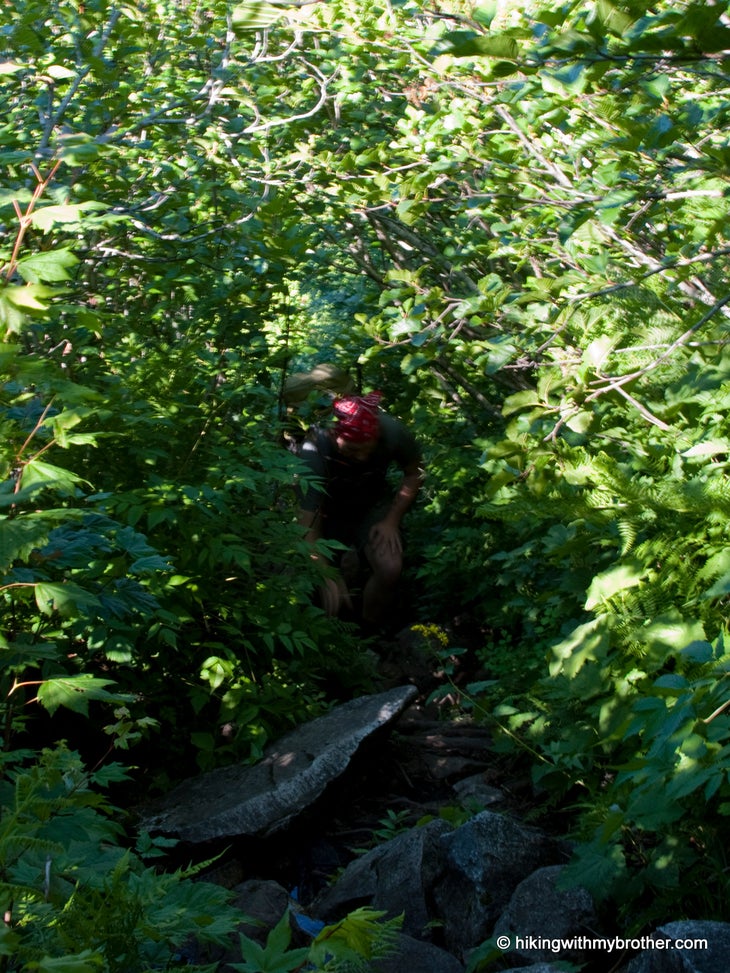 Hiking in Texas's Lost Maples State Park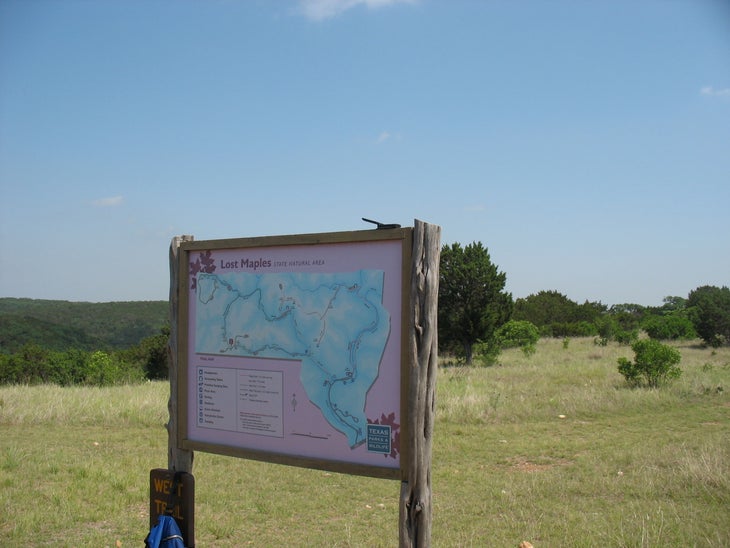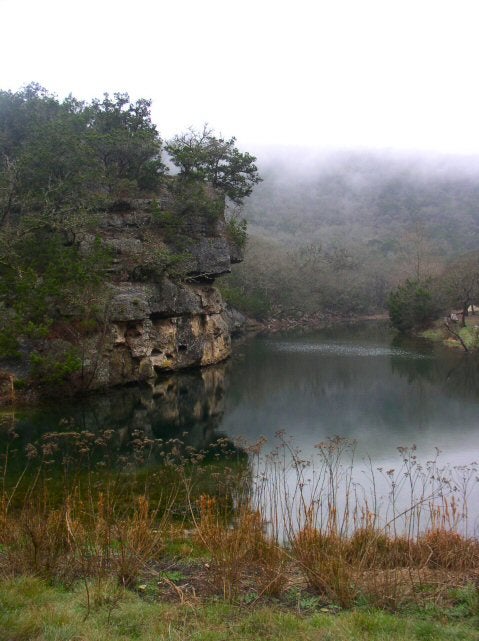 Trail Facts
Distance: 7.7
Miles from city center: 98
Waypoints
LMA001
Location: 29.8163049, -99.5767951
The East Trail begins at the north end of this small parking area. Especially in the spring, stop for a few minutes at the bird blind to eye the electric colors of the painted bunting, or several of its brightly-hued cousins.
LMA002
Location: 29.8192743, -99.5802069
Cross Can Creek and begin a 1.5-mile, rugged uphill through a heavily forested canyon, some of the park's best fall-color viewing.
LMA003
Location: 29.8206891, -99.589262
The West Trail follows a seasonal creek bed, but you're unlikely to get wet as you criss-cross this hike's puniest waterway. The trickling stream often dips underground and the path traverses several solid slabs of rock along the canyon floor.
LMA004
Location: 29.8203913, -99.6002054
Stop at the grassy summit to soak in the views of Texas Hill Country. This great resting spot sits between two backcountry campgrounds and has a trail system map and a composting toilet.
LMA005
Location: 29.8215455, -99.602952
The downhill into Mystic Canyon is this route's most rugged terrain. Watch your footing over loose gravel and rock on the steep 0.25-mile descent, but keep an eye out for exotic animals that frequent the park's western edge: free-roaming African sheep, wild pigs and wily armadillos.
LMA006
Location: 29.8294757, -99.5992613
Stay right to continue this mapped route, unless you're looking to add extra miles to your trip. Turning left at this 3-way junction puts you on a 2.5-mile loop toward the park's highest point (about 2,300 feet above sea level) through it's most rugged terrain.
LMA007
Location: 29.8304809, -99.5932102
Don't throw any pennies, but do stop for a rest on the limestone rocks surrounding the kiddie-pool sized "wishing well."
LMA008
Location: 29.8265252, -99.5860004
One of the parks most popular swimming holes, the second one after the wishing well is 15-feet deep, 150-yards long and flanked by steep bluffs on one side. For easy-access swimming in the 70-degree water, head to the backcountry campground on the ponds' eastern edge.
LMA009
Location: 29.8254083, -99.5851636
The well-maintained trail crosses Can Creek's shallow path several times along this scenic stretch of trail. Stepping stones make the easy crossings dry.
Trail
Location: 29.8202796, -99.5909786
The rugged, rocky trail is well-marked and easy to follow along the canyon floor. ©Melissa Stolasz
Summit
Location: 29.8197955, -99.5995188
Several trails converge on the summit, a great spot for a rest and a snack, but a trail map helps guide the way to Mystic Canyon. ©Melissa Stolasz
Swimming Hole
Location: 29.8265345, -99.5861292
This swimming hole is one of the park's most popular destinations, for obvious reasons, but there are few swimmers on cold, cloudy days. ©Melissa Stolasz