Salt Lake City, UT: Alexander Basin Trail to Gobblers Knob
Climb through the wildflower-peppered Alexander Basin en route to dazzling Salt Lake City panoramas from Gobblers Knob on this ferociously steep 5.5-miler.
Heading out the door? Read this article on the new Outside+ app available now on iOS devices for members! Download the app.
The highest point on the ridge dividing Mill Creek Canyon and Big Creek Canyon, Gobblers Knob towers 10,246 feet above sea level and serves up tremendous views of the Wasatch Mountains and Salt Lake City. Begin your out-and-back with a nasty ascent from the floor of Mill Creek to Alexander Basin. The climb crams nearly 1,000 feet of vertical into a mile, switchbacking through dense fir forest before culminating at the meadows of Alexander Basin. The basin, which explodes with color during late July and August, offers a somewhat milder grade along with increasingly revealing vistas of the Knob perched upon a cirque at its southern terminus.
At the edge of the basin, the grade spikes up again as you negotiate steep pitches through a final band of fir trees en route to the head of the cirque. Upon gaining the ridgeline comprising Big Cottonwood Canyon's northern border, churn through one last climb to reach Gobblers Knob. Uninterrupted panoramas of the surrounding alpine wonderland await: Mt Raymond to the southwest, Reynolds Peak to the east, Grandeur Peak and Salt Lake City to the west. To turn the trip into a lollypop loop, hiking further south toward the saddle between Gobbler and Raymond and head north on the Bowman Gulch Trail, which reconnects to Alexander Basin. Otherwise, return home via the route you hiked in on.
Note: there are no reliable water sources along this route during mid-to-late summer. 
-Mapped by Charlie Hart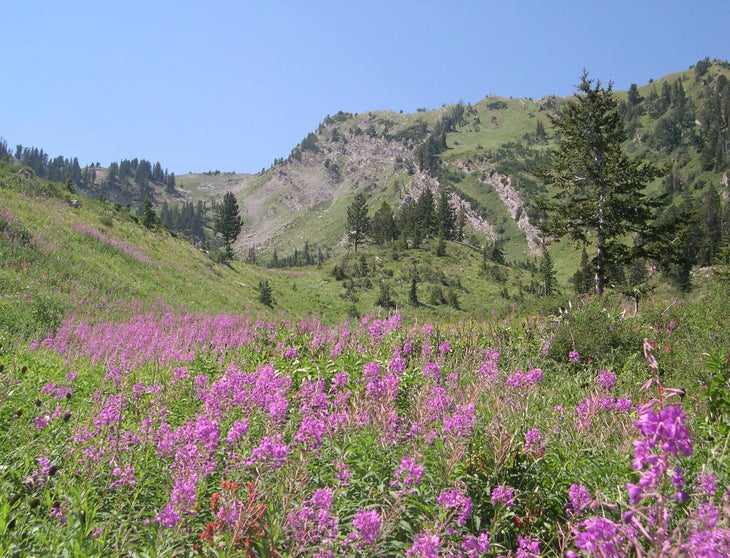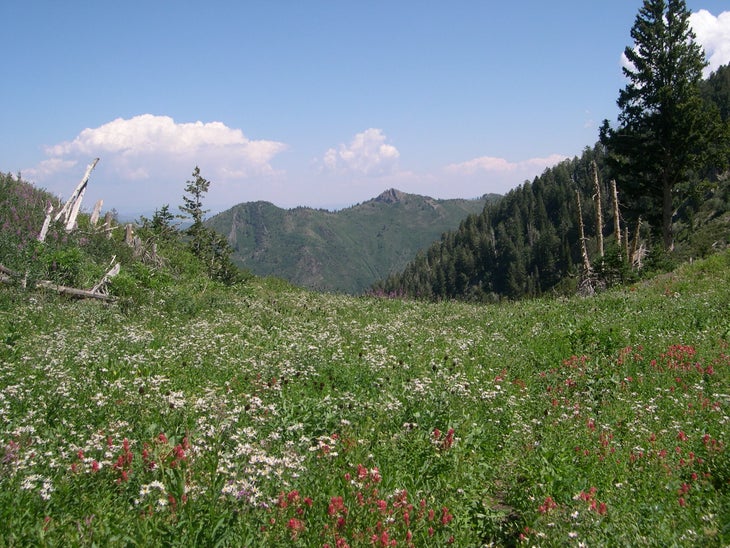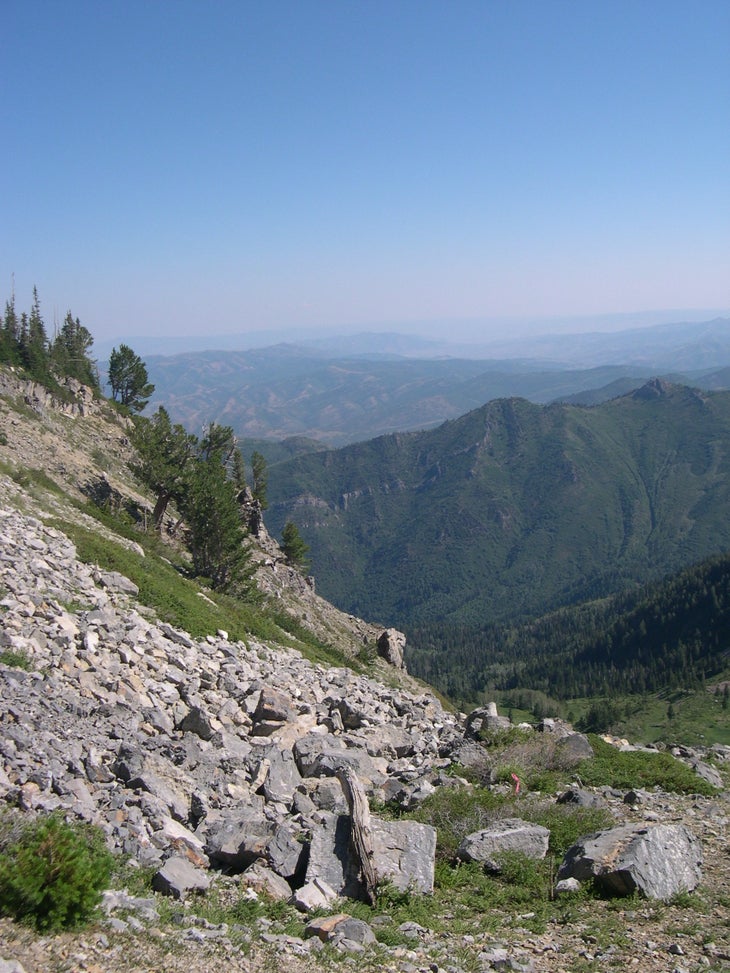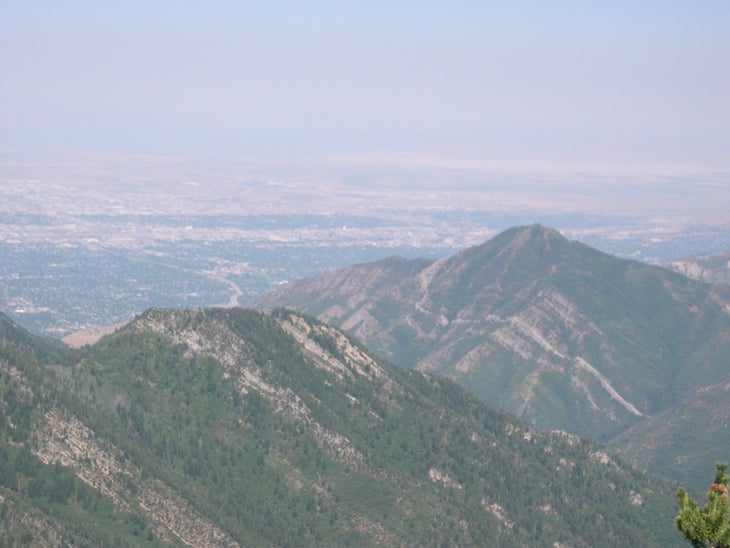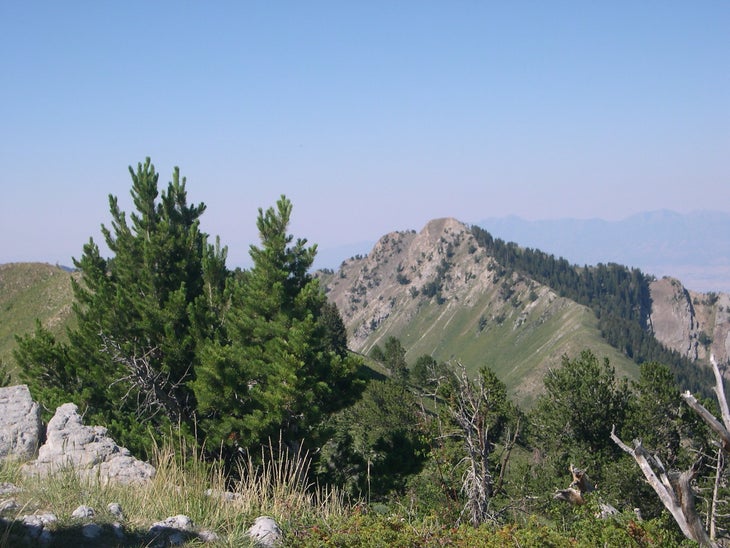 Trail Facts
Waypoints
ABT001
Location: 40.692839, -111.670372
Park alongside Mill Creek Road. Pick up Alexander Basin Trail on west side of road and head south to start. Grade is steep.
ABT002
Location: 40.68648, -111.674395
Gain the ridgeline and cross into Alexander Basin.
ABT003
Location: 40.685369, -111.674918
At Y-junction with Bowman Trail (elevation 8,080 feet), bear left to continue on Alexander Basin Trail.
ABT004
Location: 40.670687, -111.682827
Gobblers Knob: 10,246 feet.
Gobblers Knob From Trail
Location: 40.681549, -111.67654
Notch vistas of Gobblers Knob as you head south on Alexander Basin Trail.
Toward Mill Creek Canyon
Location: 40.679076, -111.676111
Wildflower meadows are backdropped by Mill Creek Canyon on this northern vista.
Upper Cirque
Location: 40.670776, -111.681347
Enjoy superb basin views from the upper cirque just below Gobblers.
Western Panorama
Location: 40.670768, -111.68272
Look west for a panorama of Grandeur Peak perched in front of Salt Lake City.
Gobblers Knob From Mt. Raymond
Location: 40.657983, -111.70229
Gobblers Knob viewed from nearby Mt. Raymond, which looms to the southwest at 10,197 feet.