Salem, OR: Shellburg & Stassel Falls Loop
With no shortage of waterfalls in the area, let the crowds go to Silver Falls, and hike this 4-mile lollipop loop that visits three waterfalls of its own on much quieter trail.
Heading out the door? Read this article on the new Outside+ app available now on iOS devices for members! Download the app.
From the small trailhead parking area a mile up Fern Ridge Road, round the gate, and start up gravel Shellberg Road for 1.25 miles through a combination of fir forest and open meadows. In summertime, a profusion of wildflowers lines the path; sweet pea, foxglove, oxeye daisies, and buttercups. in later summer, bring a container to collect blackberries along the way. Stick to the gravel road however, as the trail seen below the road is on private property.
Where the road crosses Shellberg Creek and 40′ Lower Shellberg Falls, look for a set of steps on the left. Before heading up the steps and starting the loop section, check out the Lower Falls from both sides of the bridge; a picnic table can be found on the east side with a nice view of the falls. Heading up trail (N), enter more Douglas fir forest, now decorated with bleeding heart and solomonseal. After an easy quarter-mile climb, fork left to the lower viewpoint of Upper Shellberg Falls, a 100′ curtain that spills over an ancient lava flow. Continuing up the trail, pass behind the falls through a cavern beneath the lava flow, eroded away by the falls.
On the opposite side of the river, climb a couple of gentle switchbacks to the plateau above Upper Falls, and continue along flat trail for a half mile to a trail detour sign turning to the right (E). Back at gravel Shellberg Road, turn right (S) and proceed down the road for 0.75 mile. Where the road takes a turn to the right (W), look for a dirt trail on the left and detour 0.25 mile, veering right at a fork, to a viewpoint above Stassel Falls pouring into a 200′ deep gorge. Return to the road, and continue heading down (W), passing the Lower Falls crossing, and returning along the same route to your starting point.
Mapped by Eli Boschetto Bosco Mountain Photo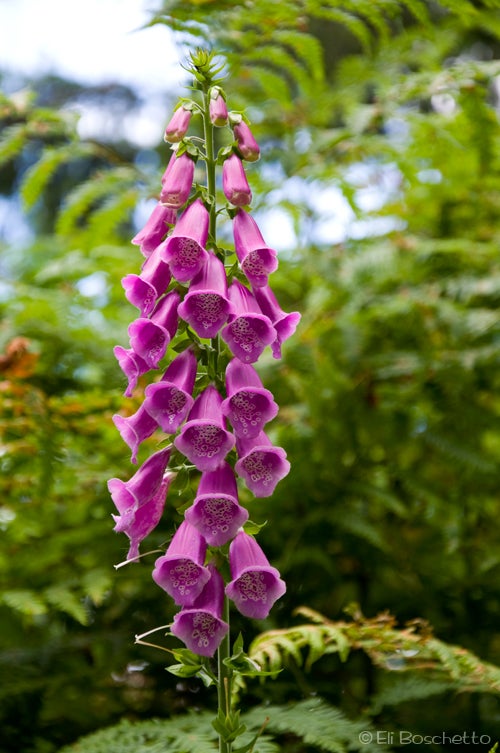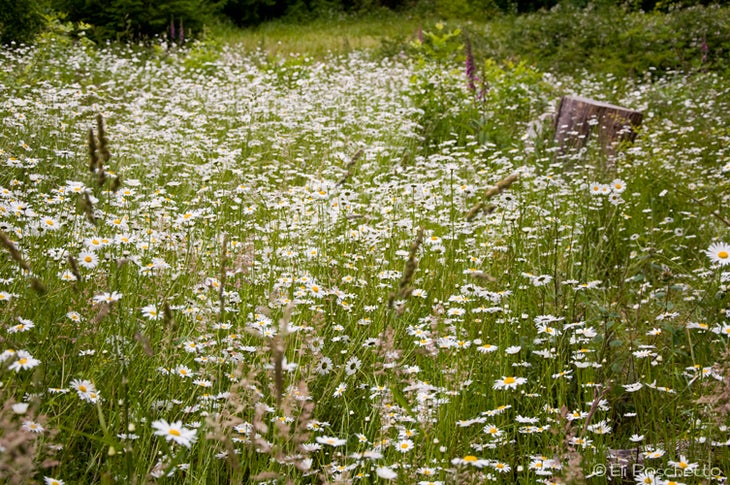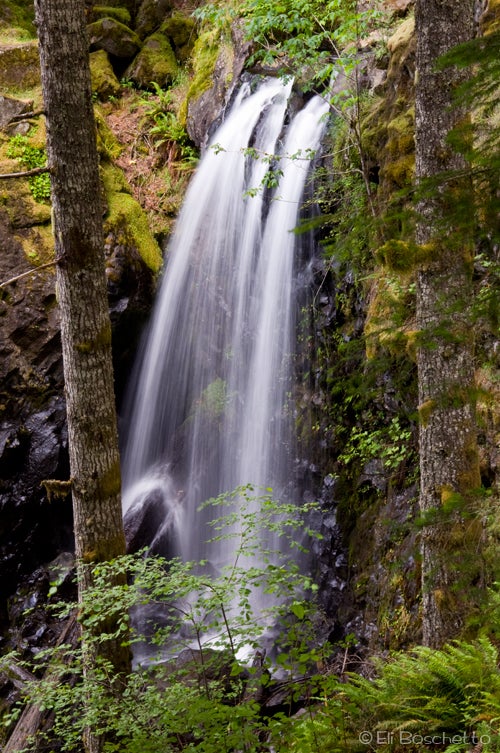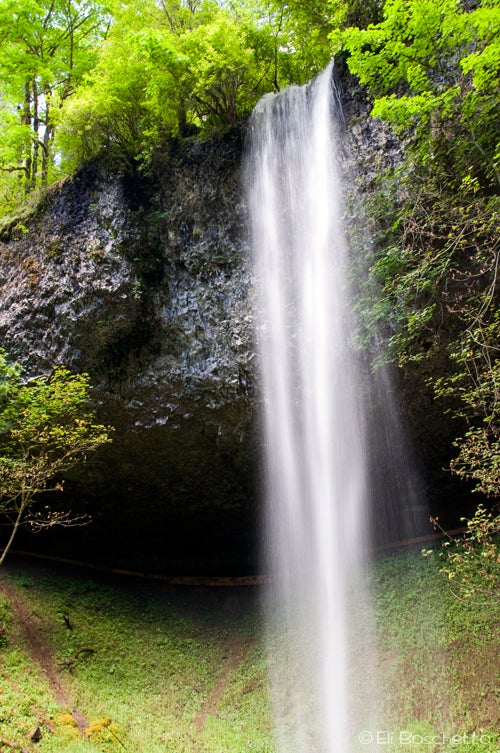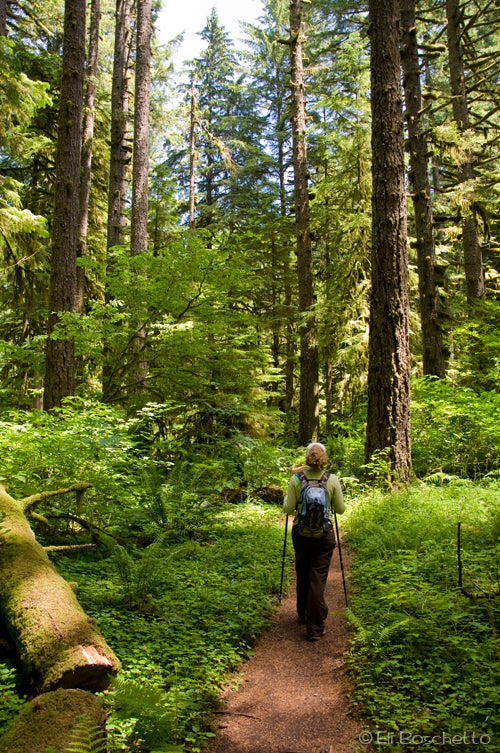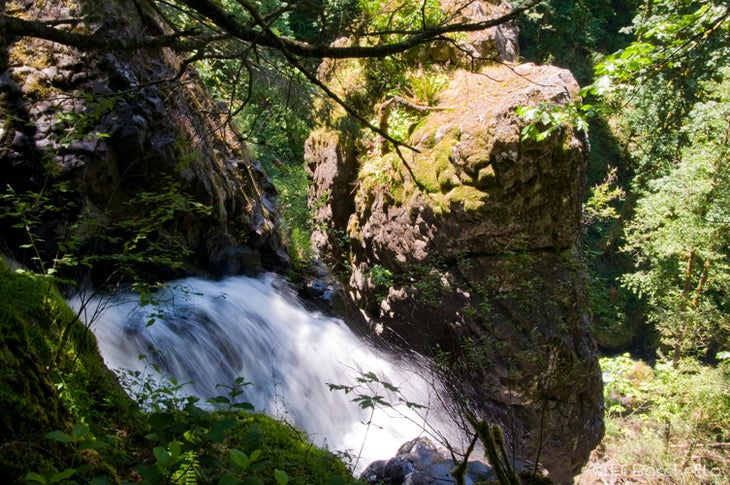 Trail Facts
Waypoints
SBG001
Location: 44.805384, -122.62741
Trailhead for Shellberg Falls; start up gated road.
SBG002
Location: 44.810357, -122.608226
Lower Falls crossing; turn left (N) up stairs to begin falls loop.
SBG003
Location: 44.81235, -122.608698
Upper Falls viewpoint.
SBG004
Location: 44.812741, -122.608645
Pass behind Upper Falls; viewing bench available to ponder the back side of water.
SBG005
Location: 44.813399, -122.609257
Cross Shellberg Creek.
SBG006
Location: 44.815165, -122.610388
Bridge washout ahead; detour right (E).
SBG007
Location: 44.815329, -122.609991
Shellberg Road; turn right (S) and walk down road. Restrooms available up road to left.
SBG008
Location: 44.816455, -122.610329
Restrooms at small campground.
SBG009
Location: 44.80989, -122.603452
Turn left (E) on light trail to Stassel Falls overlook.
SBG010
Location: 44.809483, -122.60114
Veer right to falls overlook; private property straight ahead.
SBG011
Location: 44.809217, -122.600979
Stassel Falls overlook.
SBG012
Location: 44.81026, -122.607749
Picnic table on east side of Lower Falls, and end of loop. Complete hike by returning along Shellberg Road.
Foxglove
Location: 44.803885, -122.621396
Tall stalks of foxglove line the path up Shellberg Road.
Daisies
Location: 44.804703, -122.616241
Summer brings an abundance of oxeye daisies to the meadows en route to Shellberg Falls.
Lower Falls
Location: 44.810301, -122.608023
The lower portion of Shellberg Falls, seen from the east side of the bridge crossing.
Upper Falls
Location: 44.812387, -122.608731
From the lower viewpoint, Upper Shellberg Falls spills over an ancient lava flow.
Upper Cavern
Location: 44.812737, -122.608564
Eroded away by centuries of flowing water, the upper falls created this cavern behind and underneath the upper lava flow.
EBoschetto_Shellburg_2817.jpg
Location: 44.814682, -122.609932
Stassel Falls
Location: 44.809217, -122.600936
Plunging into a 200′ deep gorge, Stassel Falls is a short detour off the Shellberg Falls loop.