Salem, OR: Duffy and Santiam Lakes
Go for a dayhike or an easy overnight to one of these quiet cascade lakes, both in the shadow of towering volcanic peaks.
Heading out the door? Read this article on the new Outside+ app available now on iOS devices for members! Download the app.
The Santiam Pass, 1.5 hours southeast of Salem, cuts through the heart of Oregon's Cascade Range, between Mt. Jefferson and the Three Sisters. The area is crisscrossed by an assortment of wilderness trails – including the PCT – and dotted with meadows and pristine sub-alpine lakes, all in the shadows of glacier-carved volcanic peaks and spires. A few miles east of North Santiam Hwy 22, the Duffy Lake trailhead is the kickoff for access to several of these.
From the trailhead at the top of the turnaround and parking area, fill out your wilderness registration slip, and note the camping regs for some of the lake destinations if planning an overnight. Follow the Duffy Lake trail east on a gently sloping track, passing several junctions that branch to the left and right in the shade of old-growth fir and hemlock, with bunchberry and Columbia windflower lining the route. After a couple miles, the tree cover gets thinner and the ground color changes to blue lupine, with spots of paintbrush, columbine, shooting star and cat's ear. The trail crosses the Santiam River, an easy rock-hop by mid-summer, but more challenging in early season, then comes to a 4-way junction just before Duffy Lake.
At the junction, head left for Duffy Lake, a pretty green lake under Duffy Butte, with several campsites scattered along the southern shore. Duffy Lake can get crowded on weekends, hence the camping limits, so keep heading east past the lake, either along the lakeshore trail or the meadow trail (they'll meet up again at the opposite end of the lake). Fork right at the next couple of junctions, now heading south to Santiam Lake, through several pocket meadows, and a couple creek crossings via the Santiam Pass trail. Cross the outlet for Santiam Lake and look for the second spur on the left to head for campsites on the northern shore, or continue on another 0.25 mile through a large meadow for another spur that leads to more sheltered campsites on the south shore with peeks of Mt. Jefferson's snowy summit; either side has spectacular views of Three-Fingered Jack across the lake.
Mapped by Eli Boschetto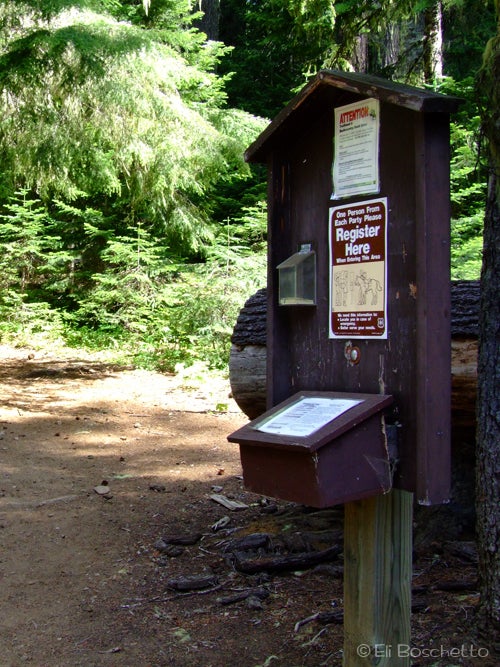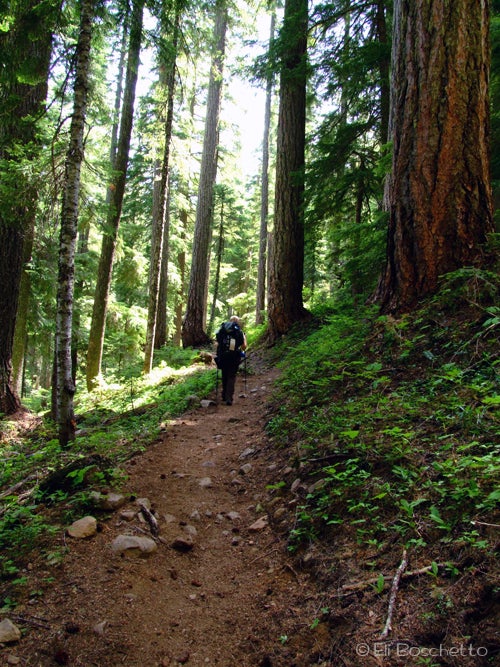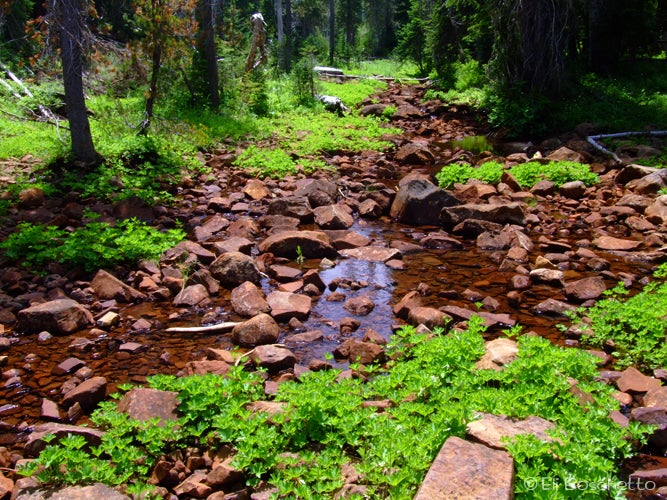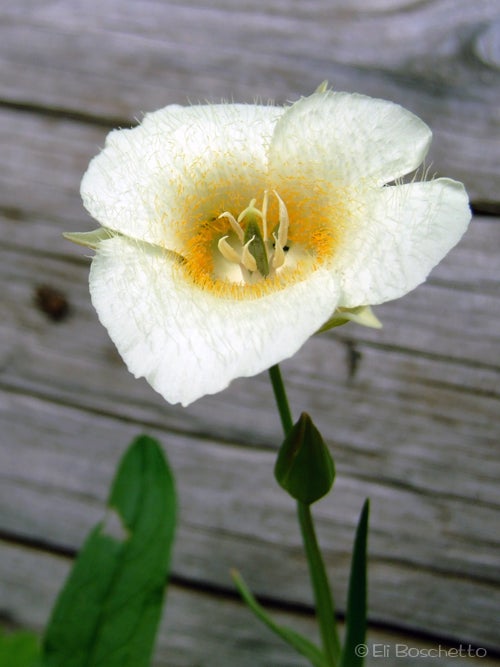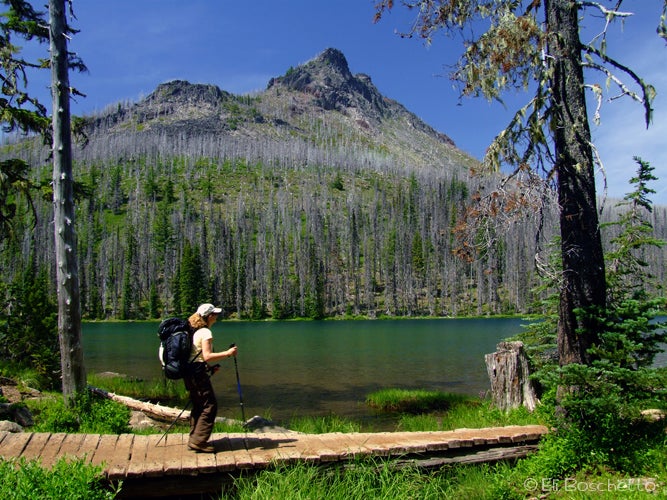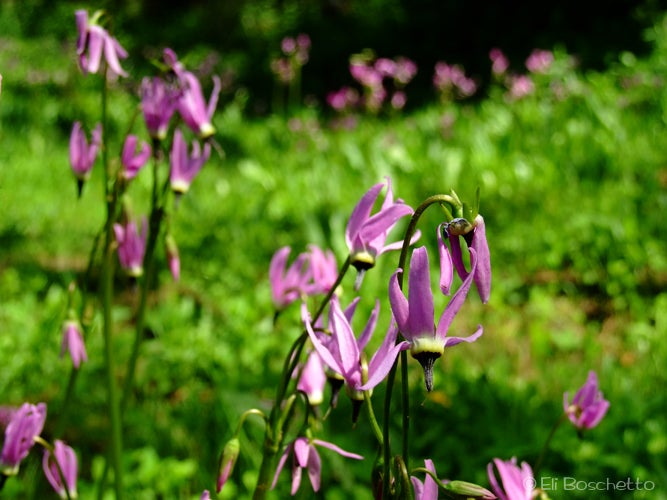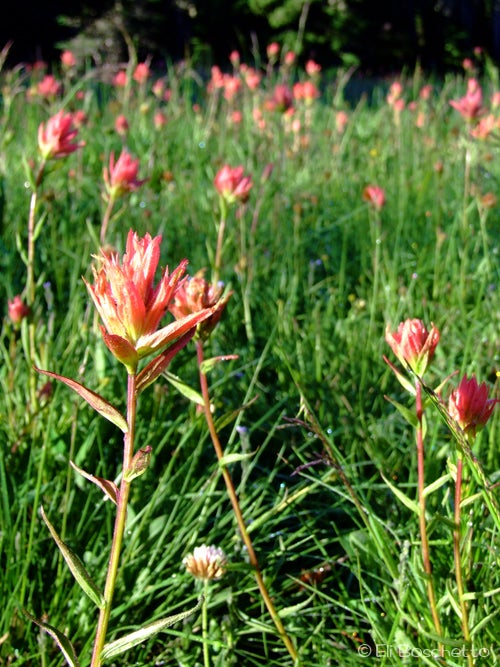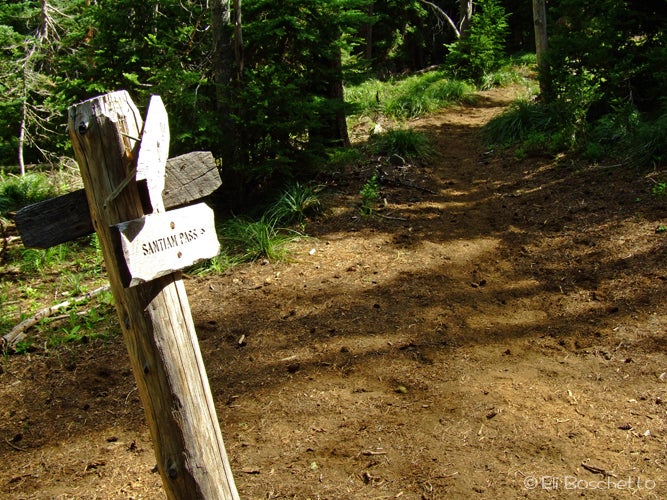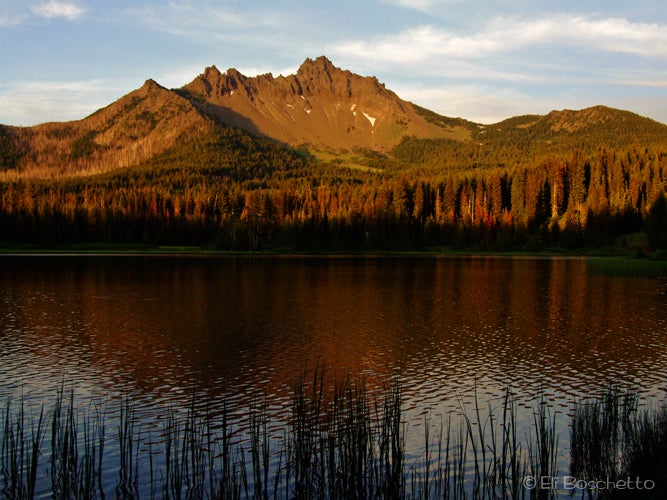 Trail Facts
Waypoints
DUF001
Location: 44.4912813, -121.9498141
Duffy Lake trailhead. Register at the signboard before heading in.
DUF002
Location: 44.4905947, -121.9475348
Junction with Big Meadows horse trail; keep straight.
DUF003
Location: 44.4950819, -121.9252252
1.7 mi. Junction with Turpentine trail; fork right.
DUF004
Location: 44.4889581, -121.911439
North Santiam River crossing.
DUF005
Location: 44.4883598, -121.9043645
3.3 mi. Junction with Maxwell Butte trail; keep straight.
DUF006
Location: 44.4908902, -121.9002054
3.6 mi. 4-way: turn left for Duffy lakeshore, right for meadow trail, straight for lake trail.
DUF007
Location: 44.4916533, -121.9011211
West shore of Duffy Lake, below Duffy Butte. Find several campsites with easy lake access.
DUF008
Location: 44.4910634, -121.893999
4.2 mi. Junction with Mowich Lake trail; fork left toward Santiam Pass.
DUF009
Location: 44.486575, -121.887077
4.8 mi. Junction with Eight Lakes Basin trail; fork left toward Santiam Pass.
DUF010
Location: 44.4807251, -121.8870682
Cross the outlet of Santiam Lake.
DUF011
Location: 44.480441, -121.8870681
5.4 mi. Take second spur on left to campsites on north side of Santiam Lake. For south shore access, avoid the blowdown on lakeside trail and continue 0.25 mi. to meadow spur.
DUF012
Location: 44.4792993, -121.8860793
Find several campsites along lakeshore.
DUF013
Location: 44.4765893, -121.8880749
Look for spur on left to south shore campsites on Santiam Lake.
DUF013
Location: 44.4773704, -121.8864541
Several campsites along south shore of Santiam Lake with great views of Three-Fingered Jack.
Check-In
Location: 44.4912706, -121.950345
Start the hike to Duffy and Santiam Lakes at the wilderness registration board. © Eli Boschetto
Duffy Trail
Location: 44.4899542, -121.9397879
The first two miles of the Duffy Lake trail climb gradually through stately old-growth. © Eli Boschetto
North Santiam
Location: 44.4888826, -121.9109488
Crossing the North Santiam River at low water. © Eli Boschetto
Cat's Ear
Location: 44.4876886, -121.906786
Find lots of this fuzzy lily between the river crossing and Duffy Lake. © Eli Boschetto
Duffy Lake
Location: 44.4922196, -121.9018936
Three-Fingered Jack seen from the western shore of Duffy Lake. Look for several campsites in this area. © Eli Boschetto
Duffy Butte
Location: 44.4909951, -121.8964863
Crossing the outlet of Duffy Lake, with Duffy Butte high overhead. © Eli Boschetto
Shooting Star
Location: 44.4881785, -121.8893623
This little pink flower populates several small meadows and creeksides. © Eli Boschetto
Paintbrush
Location: 44.4821469, -121.8860579
Several color varieties of paintbrush can be found in the numerous meadows near Santiam Lake. © Eli Boschetto
Trail Fork
Location: 44.4864946, -121.8867445
Follow the trail signs to Santiam Pass for quiet camping at Santiam Lake. © Eli Boschetto
Santiam Lake
Location: 44.4770027, -121.8861866
Sunset lights up Three-Fingered Jack over Santiam Lake. © Eli Boschetto