Sahale Arm/Cascade Pass
Hike to the edge of a glacier through some of the best views in the North Cascades.
Heading out the door? Read this article on the new Outside+ app available now on iOS devices for members! Download the app.
Follow the Cascade River road from Marblemount, driving 23 miles over a narrow, primitive road to the trailhead at the road's end (road is passable for 2WD). The views start straight from the parking lot: You'll have to crane your neck to look up at in your face views of Cascade Peak, the Triplets, and Johannesburg Mountain, hulking masses of granite that block out the sky, complete with hanging waterfalls coursing like thin ribbons down the cliffs. The trailhead begins opposite the bathrooms, switchbacking through forest for 2.6 miles. Just past mile 2.7 the trail leaves the forest, traversing open hillside until Cascade Pass at mile 3.3. From this vantage point at the pass, you can look southeast down the Stehekin River Valley and up to Magic Mountain and distant Glory Mountain. Many people stop here for lunch.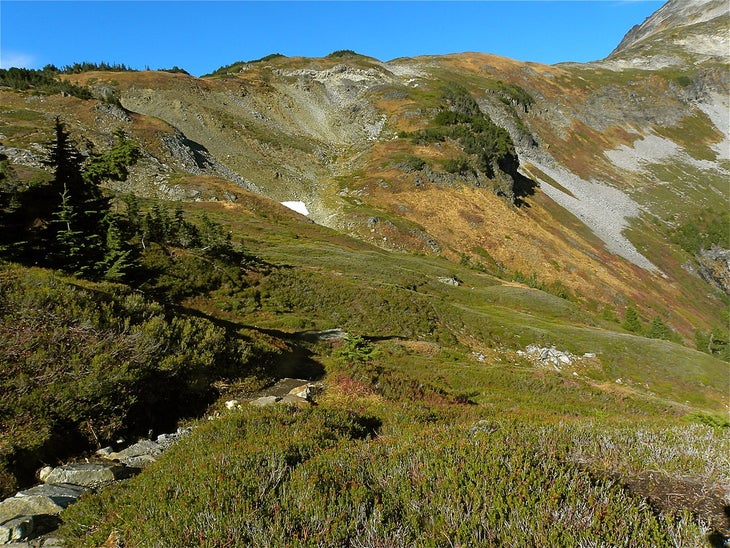 Head left from the pass up Sahale Arm, a rounded ridge that leads ever upward to the base of the Sahale Glacier. The trail winds up and through small alpine meadows that are filled with colorful blooms during wildflower season. Gradually, as you continue to gain elevation, the way becomes rockier, and the views become bigger. All along now, on either side of the arm, you can look east and west down opposing valleys and the mountains that surround them; sometimes you can hear icefalls dropping off the distant hanging glaciers. For the last 300 yards, or so, the trail peters out, becoming a scramble over jumbled granite with cairns as your guide. At mile 5.5, 7,600 feet above sea level, reach Sahale Arm camp, right at the base of Sahale Glacier. The campsites sit right on the rocky moraine, with small walls built around each to block out the wind. The views here are spectacular, with distant jagged peaks stacked up one after the other like waves on the beach, stretching endlessly to the horizon. The ascent up Sahale Peak makes a great day trip for those with scrambling and glacier travel skills.
Permit Required for overnight trips, only available in person from the Wilderness Information Center in Marblemount Contact North Cascades National Park