Rocky Mountain National Park: Twin Sisters
Climb 2,400 feet to twin peaks on Rocky Mountain National Park's east side. Aspen-shaded trails and unobstructed views of Longs Peak are just two rewards of this 7.2-mile out-and-back.
Heading out the door? Read this article on the new Outside+ app available now on iOS devices for members! Download the app.
From the Twin Sisters Trailhead begin hiking south along a well-maintained access road. At the circular turnout near mile 0.3, veer left onto the Twin Sisters Trail and immediately begin a gradual ascent through thick spruce and pine. Unobstructed views of Longs Peak unzip at the base of several switchbacks beginning 1.5 miles from the trailhead.
Continue ascending and pay no heed to the false summits looming above. Roughly 2.5 miles into the hike, the trail breaks treeline, and 180-degree views open to the north. Peer 2,000 feet down to Estes Park and the Stanley, an historic (and haunted) hotel.
As you continue climbing, look for a tall radio tower marking the saddle between the east and western summits. From the saddle, access either peak with a quick class 2 scramble to the top. Have a picnic lunch admiring the views before turning back on the same trail.
INFO For information on permits, current trail and camp conditions, and wilderness guidelines, go to nps.gov/romo/planyourvisit/backcountry.htm
PERMIT A wilderness permit is required for all overnight camping in the backcountry. Reservations accepted ($20 administrative fee for permits during peak season). nps.gov/romo/planyourvisit/backcntry_guide.htm
CONTACT Rocky Mountain National Park, (970) 586-1206; nps.gov/romo
-Mapped by Tim Shisler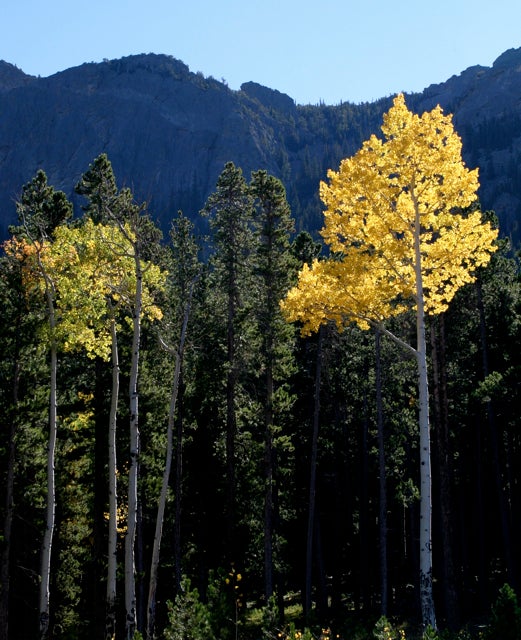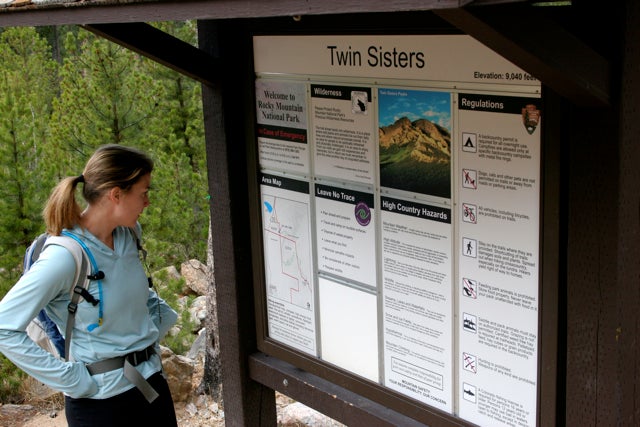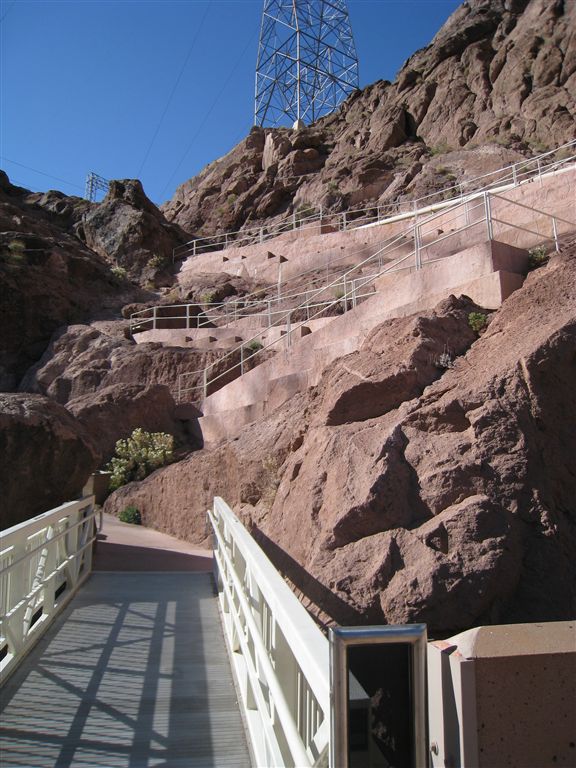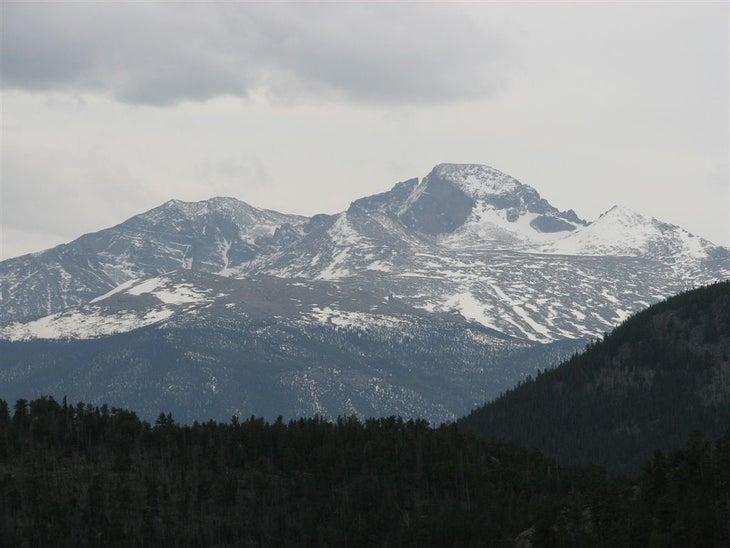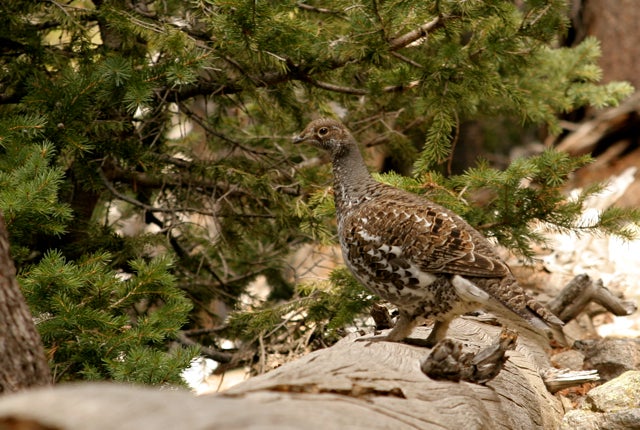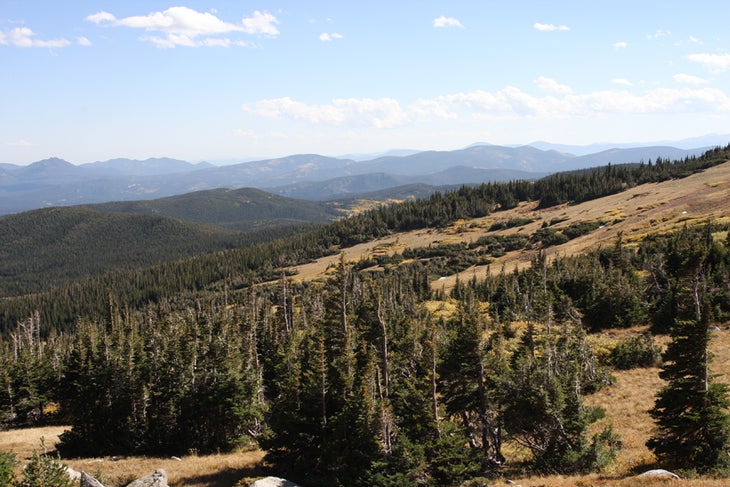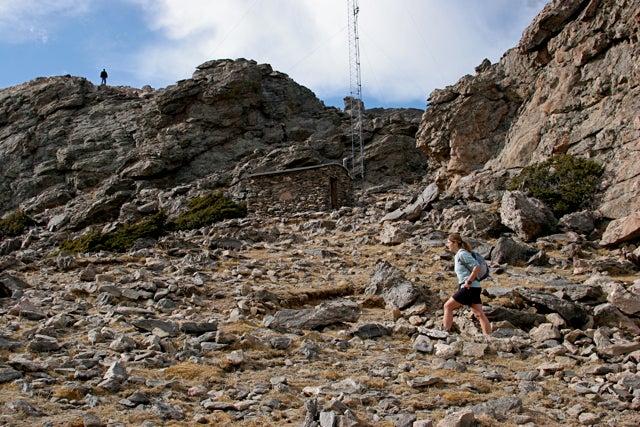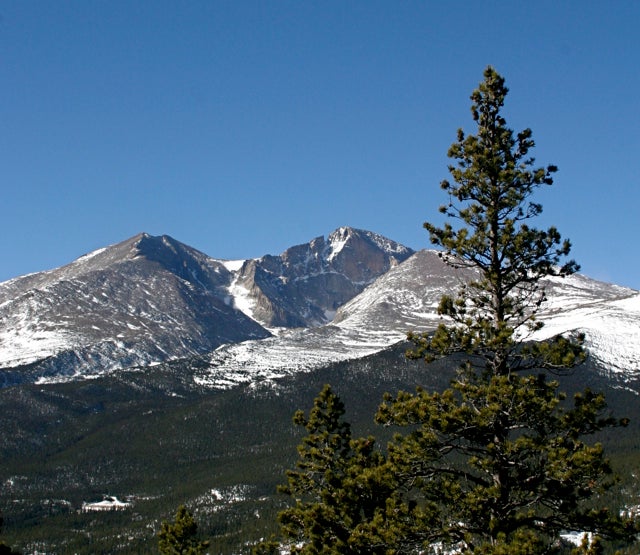 Trail Facts
Waypoints
TNS001
Location: 40.30639, -105.53676
Park on either side of CO-7 to access Twin Sisters trailhead and begin walking south on the access road.
TNS002
Location: 40.303199, -105.536595
About 0.3 miles from the trailhead, you'll pass another upper parking lot, begin hiking west along the Twin Sisters Trail. The trail is also an access point for hunters; so don't be surprised if you see a few rifles slung over the shoulders of fellow hikers.
TNS003
Location: 40.300064, -105.532178
This hike sits on an eastern extension of Rocky Mountain National Park. You'll cross the park's boundary at mile 1 and continue climbing gradually, weaving through thick pine and aspen with heavy underbrush.
TNS004
Location: 40.295713, -105.533006
Enjoy this break from the trees and the sweeping view of Longs Peak to the southwest. Longs Peak, the highest mountain in Rocky Mountain National Park (14,259 ft.), is also a hikers' favorite.
TNS005
Location: 40.292475, -105.530603
Begin a series of steep, but manageable switchbacks climbing toward treeline.
TNS006
Location: 40.295285, -105.525768
There are numerous false summits as you wrap about the northern side of Twin Sisters Mountain. Though they may look like high points as you approach them, at this point you're still a few hundred feet below the summit.
TNS007
Location: 40.293309, -105.522258
Expansive views of the Rocky Mountains begin to emerge to the west, but Longs Peak continues to dominate the skyline.
TNS008
Location: 40.292384, -105.521766
Unobstructed 180-degree views to the north emerge as the trail crosses treeline and begins the rugged final climb to the summit.
TNS009
Location: 40.289249, -105.518741
Twin Sisters Peaks sit near 11,430 feet above sea level. From the radio tower, scramble the class 2 rock face to reach both of the peaks.
TNS010
Location: 40.289118, -105.519342
West Summit: Savor impressive 360-degree views of northwestern Colorado and Longs Peak from this 11,413-foot vantage point. Descend back to TNS009 and turn right toward the second summit.
TNS011
Location: 40.288569, -105.517484
East Summit: Take in more views from this 11,428-foot peak. Retrace your route back to the lower parking lot.
Aspen Tree
Location: 40.305124, -105.537071
Aspens dot the approach from the trailhead.
Twin Sisters Trailhead
Location: 40.303127, -105.536513
Trail
Location: 40.298578, -105.532608
The trail passes through thick trees as it climbs.
Longs Peak
Location: 40.29537, -105.53278
Look across the valley to the southwest for this view of snow-covered Longs Peak.
Grouse
Location: 40.293733, -105.52763
Look for wildlife and birds, like this Blue Grouse.
Above Treeline
Location: 40.291835, -105.521107
Treeline in this area is over 11,000 feet above sea level. You'll reach that altitude and have even more stellar views around mile 2.6.
Saddle
Location: 40.288799, -105.517867
Cresting the rocky saddle for the final push to the summit.
Longs Peak
Location: 40.288565, -105.517448
From the summit, there's a spectacular view of Longs Peak and the surrounding mountains and plains.