Rocky Mountain National Park: Ouzel Lake
Amble along rushing creeks, waterfalls, and lichen-covered rock outcroppings on the way to a secluded alpine lake in Rocky Mountain National Park's Wild Basin.
Heading out the door? Read this article on the new Outside+ app available now on iOS devices for members! Download the app.
From the Wild Basin Trailhead, take the sandy Thunder Lake Trail. After a half mile, bear right on the spur trail to Upper and Lower Copeland Falls. Here, Sandbeach and North St. Vrain Creeks converge to form a small but frothy pair of falls.
More waterfall views are still ahead. Continue 1.5 miles to Calypso Cascades: a final resting place for fallen pine trees lodged between massive, rounded rocks. Hike another mile to Ouzel Falls. Taller and thinner than Calypso Cascades, the whitewater of Ouzel sprays onto algae-covered rocks. Large, flat boulders, situated just off trail, make for great rest stops.
Follow the rocky outcroppings and merge onto Bluebird Lake Trail. Unmatched views of Mount Meeker and Longs Peak are to the right; Ouzel Creek flows through the valley to the left. Bear left at the junction with Ouzel Lake Trail. A short distance along the headwaters of Ouzel Creek leads to the alpine lake. Copeland Mountain, Ouzel Peak, and Maharta Peak rim the western shore. When finished relaxing, retrace your steps.
INFO For information on permits, current trail and camp conditions, and wilderness guidelines, go to nps.gov/romo/planyourvisit/backcountry.htm
PERMIT A wilderness permit is required for all overnight camping in the backcountry. Reservations accepted ($20 administrative fee for permits during peak season). nps.gov/romo/planyourvisit/backcntry_guide.htm
CONTACT Rocky Mountain National Park, (970) 586-1206; nps.gov/romo
-Mapped by MacKenzie Ryan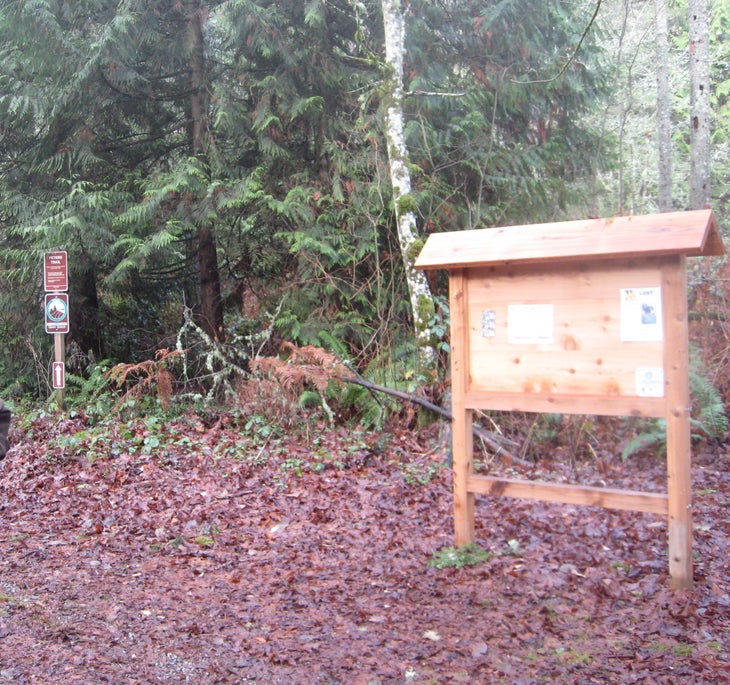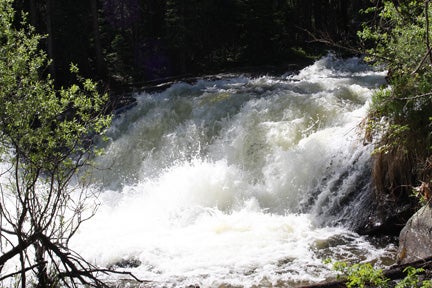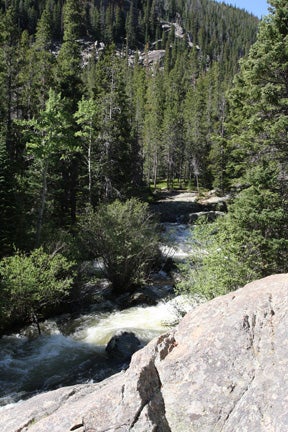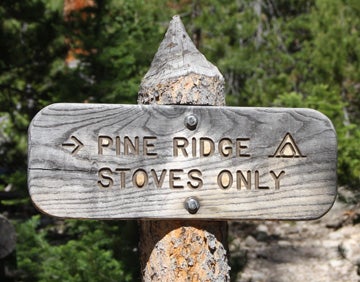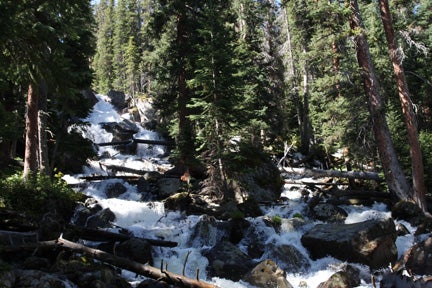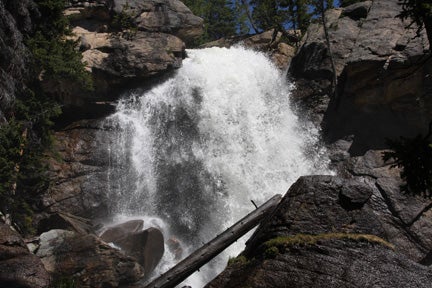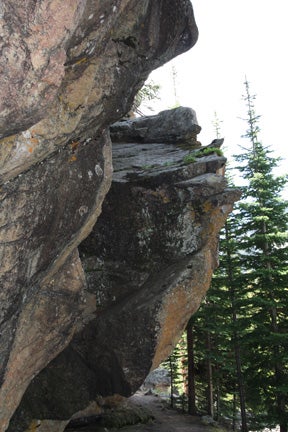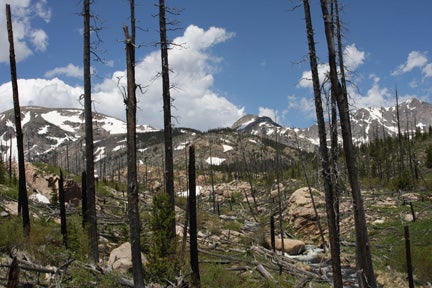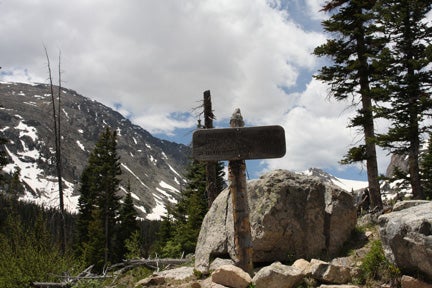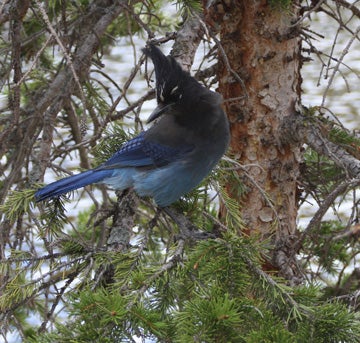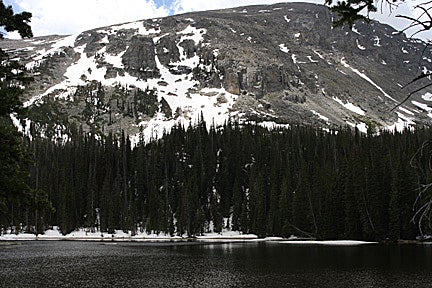 Trail Facts
Waypoints
OUZ001
Location: 40.208344, -105.566533
Wild Basin parking area, ranger's cabin, and bathrooms. In the winter time, park 1.1 miles up the road at the winter trailhead.
OUZ002
Location: 40.207748, -105.566551
Trailhead. Cross bridge and head southwest through a corridor of conifers and aspen.
OUZ003
Location: 40.206017, -105.570438
Cross the wooden bridge. St Vrain and Ouzel Creeks run alongside and, in certain places, across the trail to Ouzel Falls.
OUZ004
Location: 40.205124, -105.571335
Bear right @ Y-junction. Side trip: To see Copeland Falls, bear left @ junction and follow a rocky spur trail to lookout over Lower and Upper Copeland Falls. 15-foot boulders sit between aspens on right side of trail. Footing can be precarious here in the winter.
OUZ005
Location: 40.204182, -105.57283
Trail becomes rockier for a short section. Pass boulders to the left and cliffs rise to the right of the trail.
OUZ006
Location: 40.203968, -105.573135
Keep straight @ 3-way. The trail to the left leads to a longer sidetrip to Copeland Falls.
OUZ007
Location: 40.203049, -105.577347
Listen for the rushing creek.
OUZ008
Location: 40.200932, -105.582397
Creek comes into view; rock slab on right.
OUZ009
Location: 40.200748, -105.58297
Climb several rock steps as the trail turns away from the creek bed.
OUZ010
Location: 40.200333, -105.587913
Pass Pine Ridge campsite on right.
OUZ011
Location: 40.1996, -105.588364
Cross bridge over St. Vrain Creek. From here the grade of the trail ticks up a notch, gaining 500 feet of elevation in the next 1.2 miles.
OUZ012
Location: 40.195889, -105.590587
Turn right @ T-junction. Cross wooden bridge over creek. Calypso Cascades tumbles down rocky, forested slopes on the left.
OUZ013
Location: 40.195534, -105.590965
Cross bridge.
OUZ014
Location: 40.19661, -105.593462
Trail passes through an open glade clearing. Views of ridgeline and peaks to the north.
OUZ015
Location: 40.1978, -105.595665
Small overlook with views down the basin. From here, the trail ascends a series of switchbacks on the approach to the falls.
OUZ016
Location: 40.19865, -105.599716
Ouzel Falls: For closer views, turn left off trail to bottom of the falls.
OUZ017
Location: 40.201764, -105.60388
Bear left @ the Y-junction and take the Bluebird Trail through the valley. Ouzel Creek will be to the left.
OUZ018
Location: 40.202379, -105.625217
Bear left @ the Y-junction, merging onto Ouzel Lake Trail.
OUZ019
Location: 40.199747, -105.631104
Ouzel Lake! A great spot to stop for lunch, or, if you're brave, to dip your toes in the chilly water. Beware for birds. The park service strongly advises against feeding wildlife. You may find some unexpected flying visitors who show interest in your sandwich.
Trailhead
Location: 40.208278, -105.566511
©MacKenzie Ryan
Lower Copeland Falls
Location: 40.205263, -105.571071
©MacKenzie Ryan
Upper Copeland Falls
Location: 40.205116, -105.571178
©MacKenzie Ryan
Pine Ridge Campsite
Location: 40.200412, -105.587411
©MacKenzie Ryan
Calypso Cascades
Location: 40.195889, -105.590372
©MacKenzie Ryan
Ouzel Falls
Location: 40.198708, -105.599384
©MacKenzie Ryan
Rock walls along the Bluebird Trail
Location: 40.201264, -105.606165
©MacKenzie Ryan
Ouzel Creek with view of Longs Peak
Location: 40.203428, -105.616293
©MacKenzie Ryan
Junction to Ouzel Lake Trail
Location: 40.202362, -105.624983
©MacKenzie Ryan
Stellar's Jay
Location: 40.19956, -105.631013
©MacKenzie Ryan
Ouzel Lake
Location: 40.199609, -105.631378
©MacKenzie Ryan