Rocky Mountain National Park: Mount Ida and Gorge Lakes (Version 1)
Hike cross-country to explore this secluded chain of hanging lakes on this challenging point-to-point in Rocky Mountain National Park.
Heading out the door? Read this article on the new Outside+ app available now on iOS devices for members! Download the app.
Navigate a backcountry obstacle course of boulder fields, willow thickets, rushing creeks, and waterfalls on this 10.5-mile routefinding challenge into one of the park's most solitary lake basins. From Milner Pass, follow the Ute Trail through subalpine spruce forest. At mile .6, turn right at the T and climb past treeline into tundra backdropped by layers of peaked ridgelines.
For the next 3.6 miles, the route ascends grassy, alpine slopes just below the crest of the Continental Divide to 12,880-foot Mount Ida. (Scan rock piles at mile 1.4 for sun-bathing yellow-bellied marmots.) Top out on Ida's talus-covered summit at mile 4.7, and preview your upcoming route down the tiered Gorge Lakes basin (with eight topaz-colored pools).
Next, downclimb 500 vertical feet of class 3 boulders on Ida's southeast face to the saddle below, then descend scree and snowfields for another 400 vertical feet to the rock-strewn banks of stingray-shaped Azure Lake. At mile 5.5, cross Azure's outlet creek and drop down steep class 3 terrain to a lower rock bench that cups Inkwell Lake.
Scramble across car-size boulders and rock-hop across small cascades along Inkwell's northern shoreline before descending flatter, mellower slabs into the Arrowhead Lake basin; bushwhack around the west side of the largest Gorge Lake through stunted conifers.
Near mile seven, cross the top of a waterfall, the outlet stream of Arrowhead Lake. From here to Rock Lake (800 vertical feet and .8 mile away), choose your own adventure down steep slopes crowded with dense willows, conifer stands, and tiered waterfalls. After crossing marshy meadows by Rock Lake, continue a quarter mile and spend the night at Little Rock Campsite (mile 8).
The next day, descend northeast along the creek into Forest Canyon, negotiating stretches of downed trees. At mile 9.1, ford the Big Thompson River, lined with tall chiming bells and heartleaf arnica. The final grind to Trail Ridge Road scales 2,200 feet in 1.2 miles (tip: climb toward Rock Cut's fortress-like formations). Road-walk .2 mile west to your ride.
NOTE To check out a slight variation on this route, go to backpacker.com/hikes/988229.
INFO For information on permits, current trail and camp conditions, and wilderness guidelines, go to nps.gov/romo/planyourvisit/backcountry.htm
PERMIT A wilderness permit is required for all overnight camping in the backcountry. Reservations accepted ($20 administrative fee for permits during peak season). nps.gov/romo/planyourvisit/backcntry_guide.htm
CONTACT Rocky Mountain National Park, (970) 586-1206; nps.gov/romo
-Mapped by Kim Phillips and Rachel Zurer
TO TRAILHEAD
Shuttle car/Rock Cut: From Elkhorn Ave. and Moraine Ave. in Estes Park, drive south on US 36 W/Moraine Ave. In 6.7 miles, continue straight on US 34 W/Trail Ridge Rd. Follow it 13 miles to Rock Cut parking area.
To trailhead/Milner Pass: Continue on Trail Ridge Rd. another 8.4 miles to parking at Milner Pass.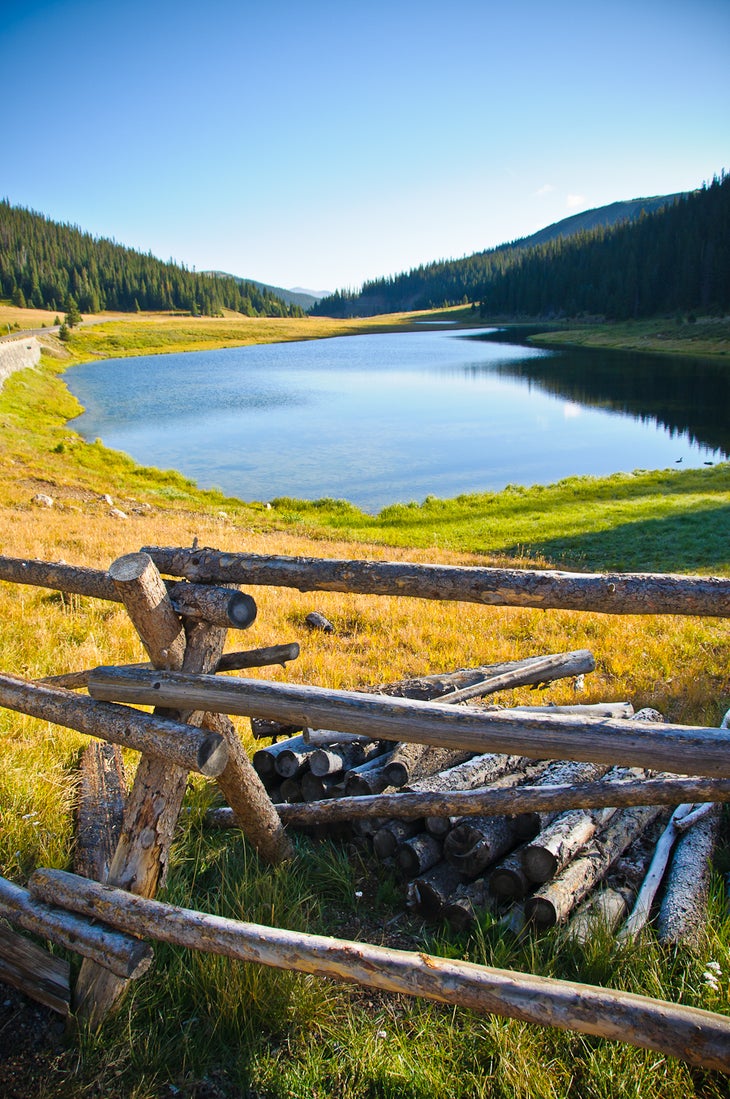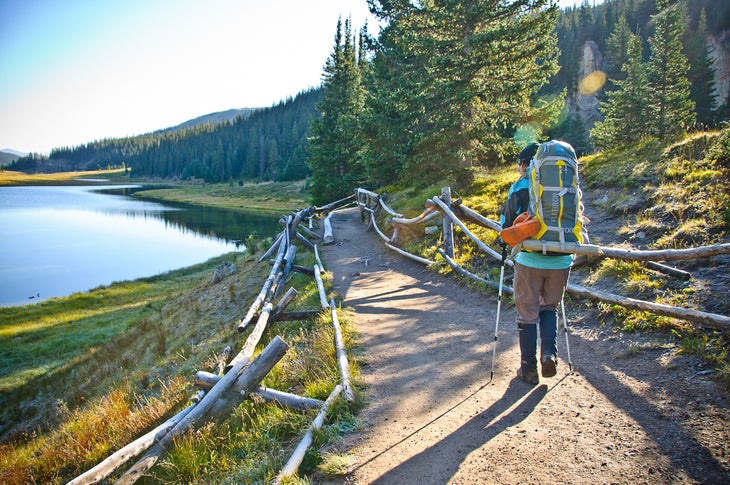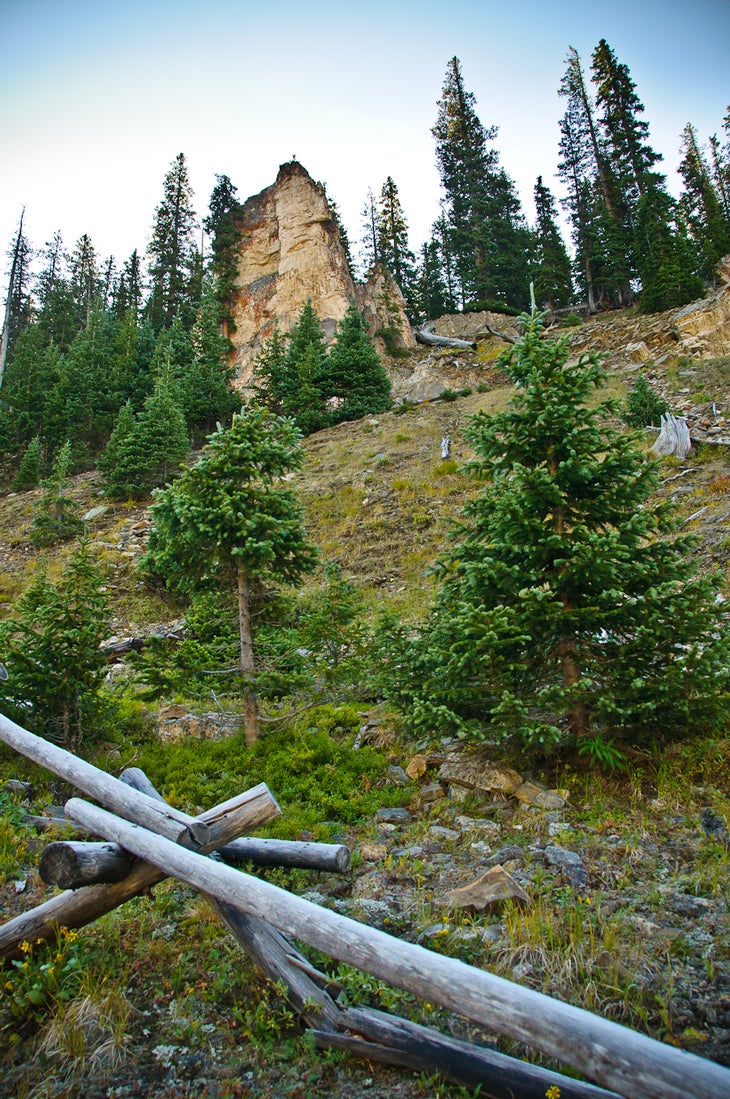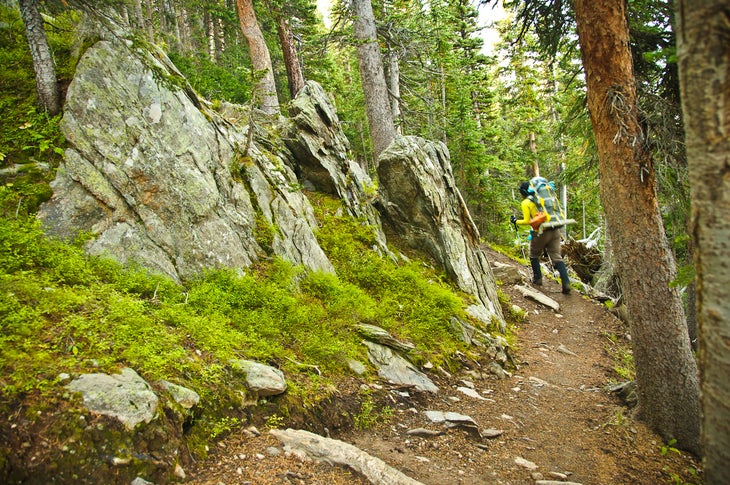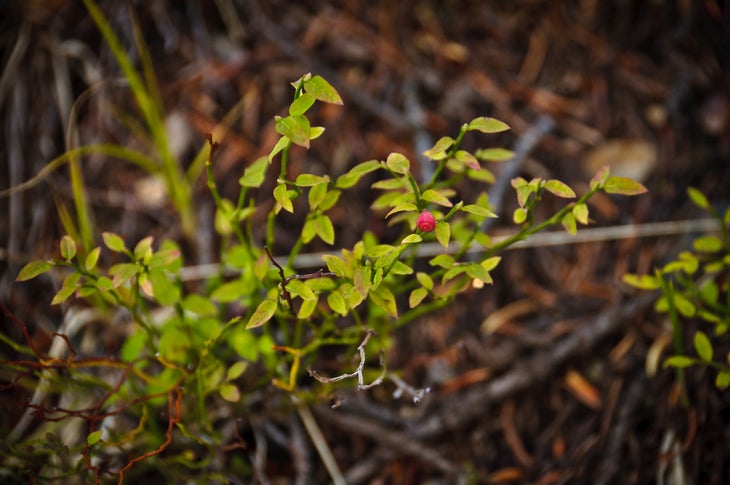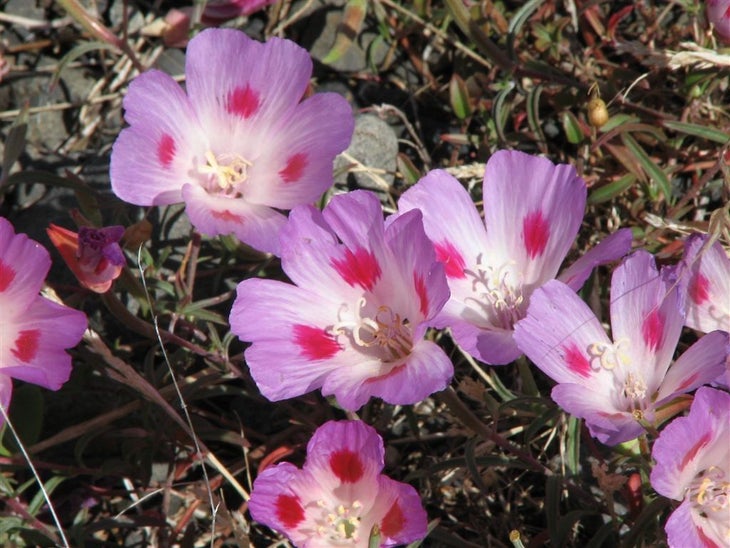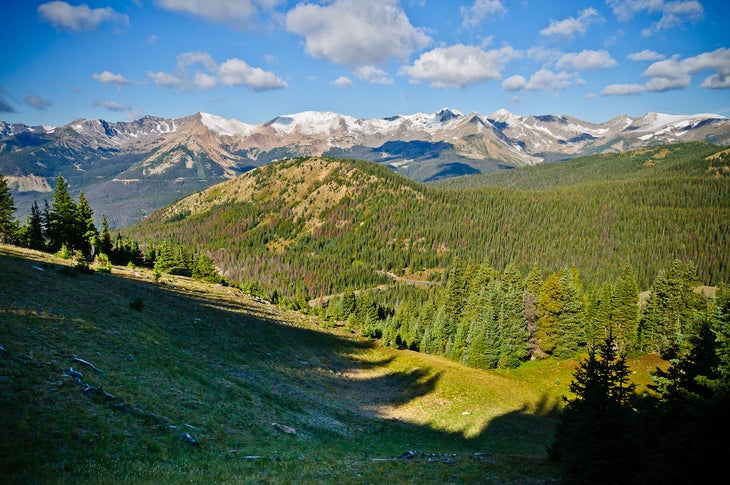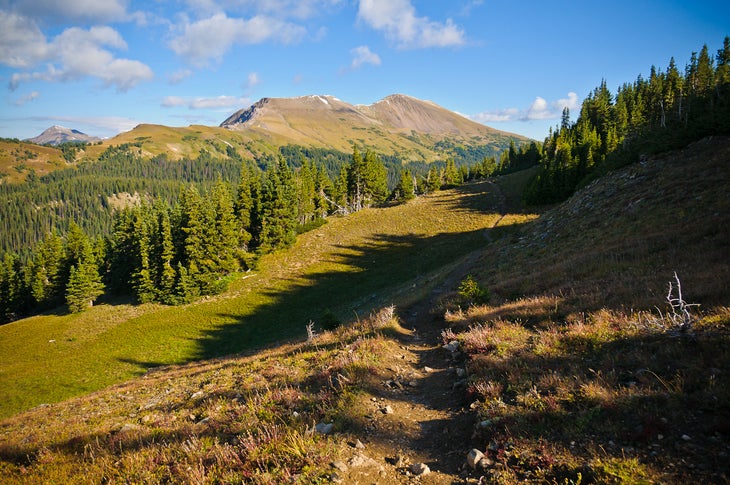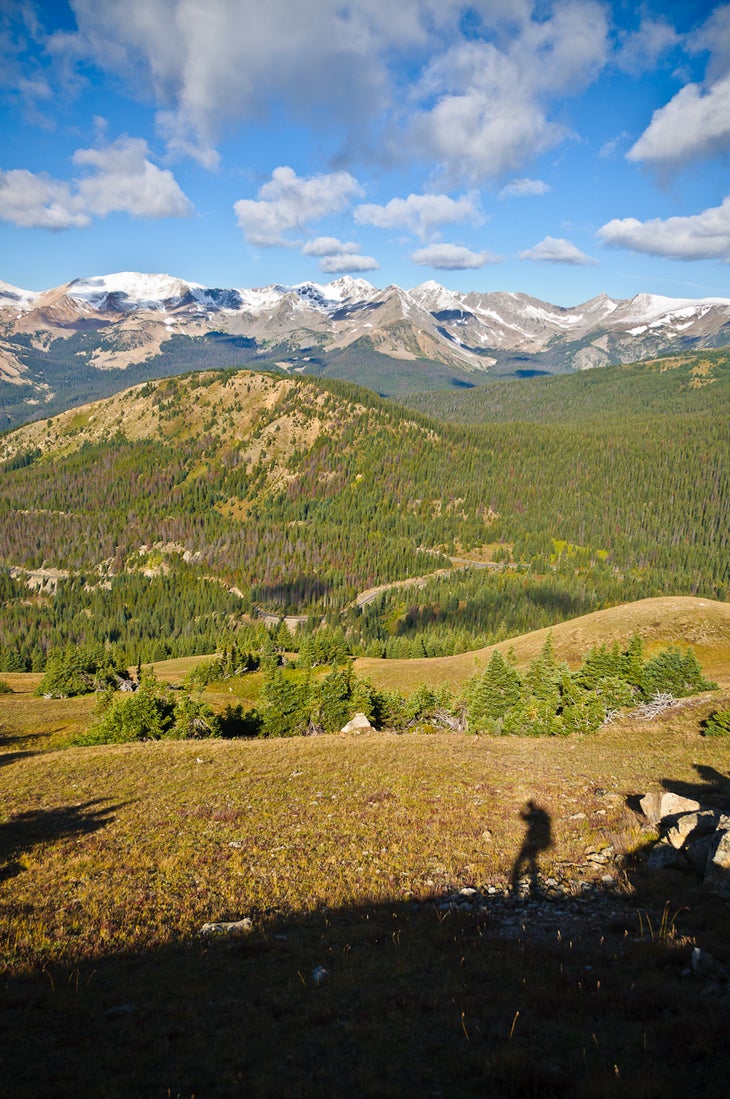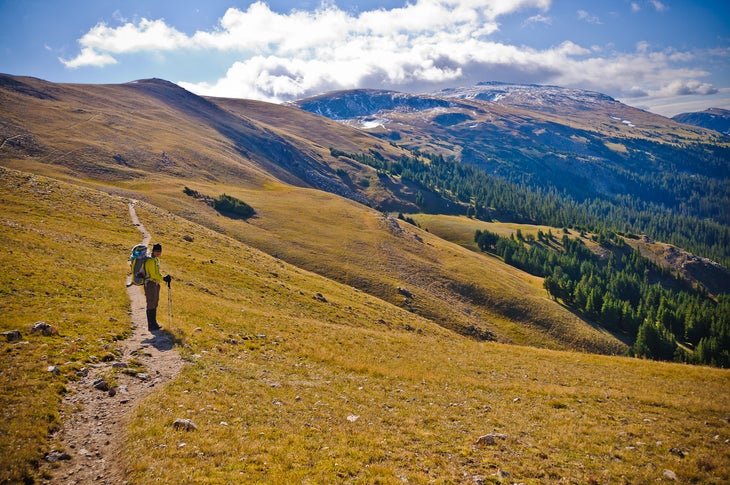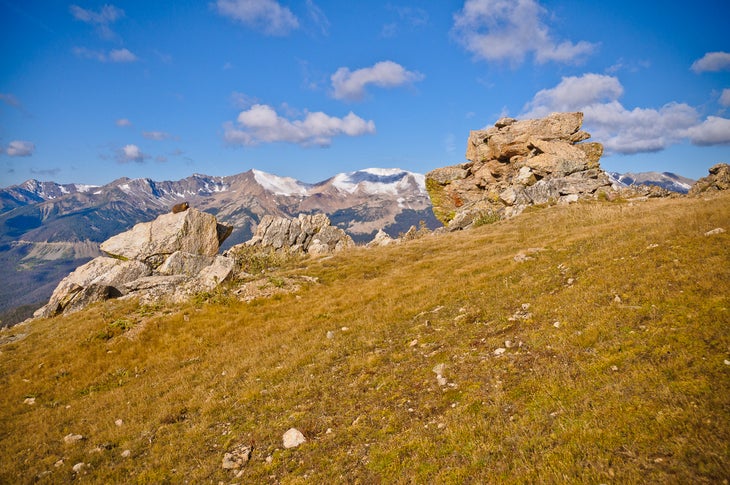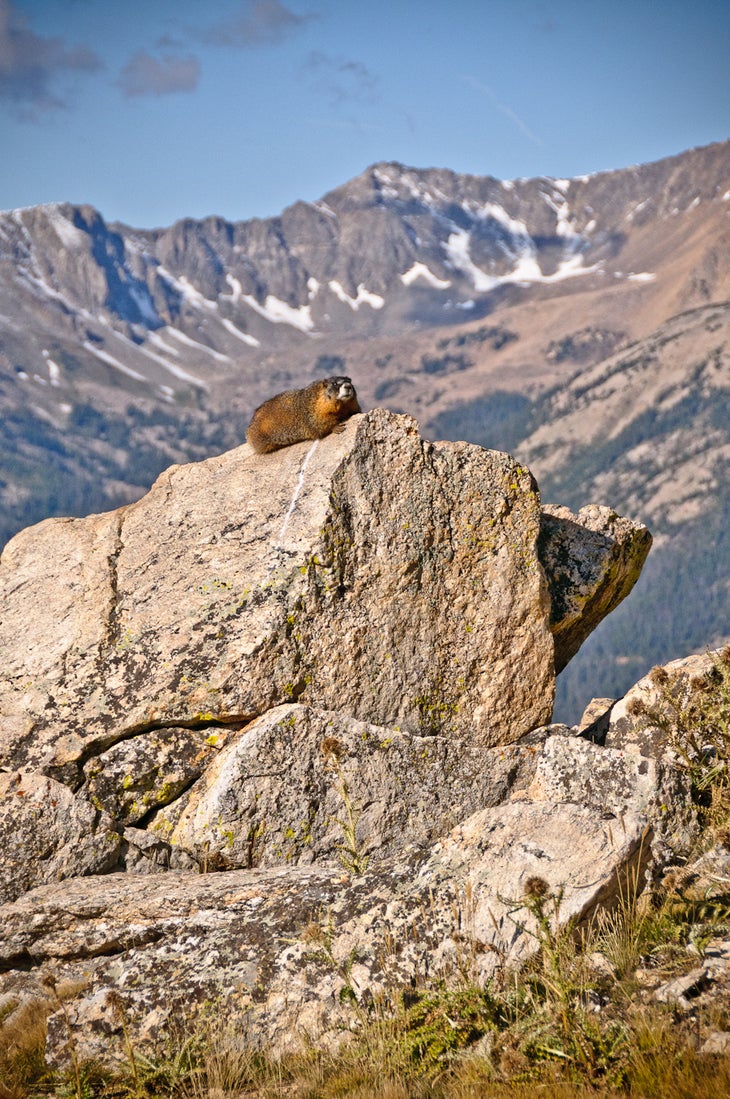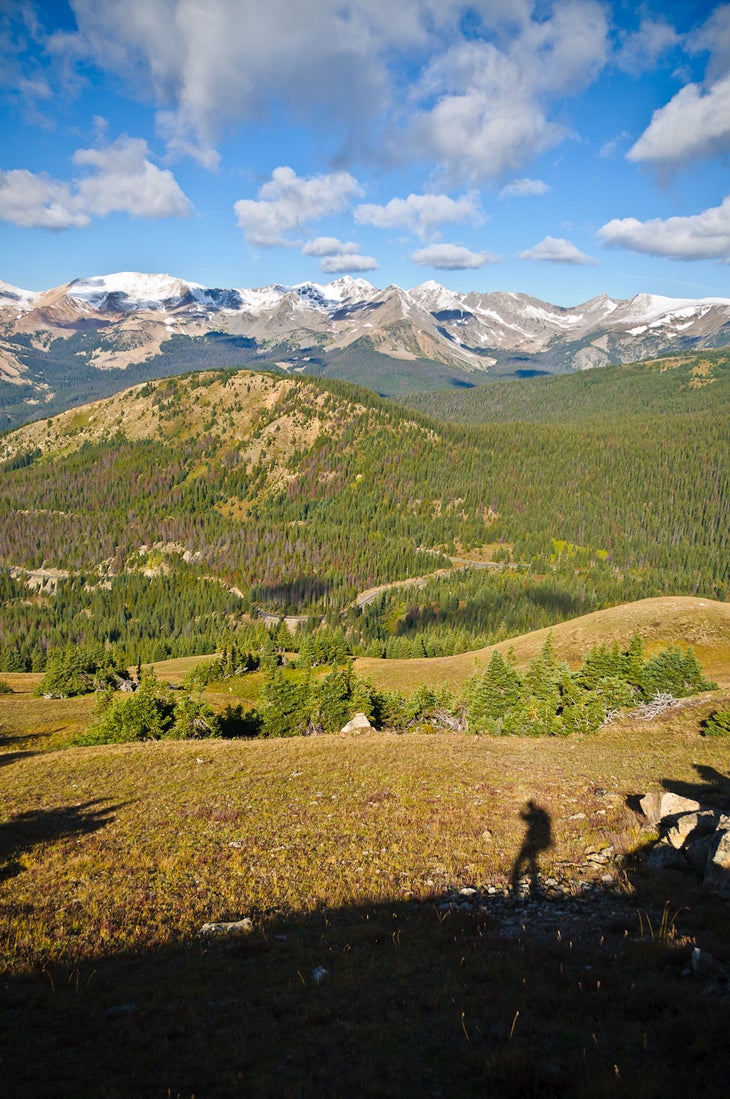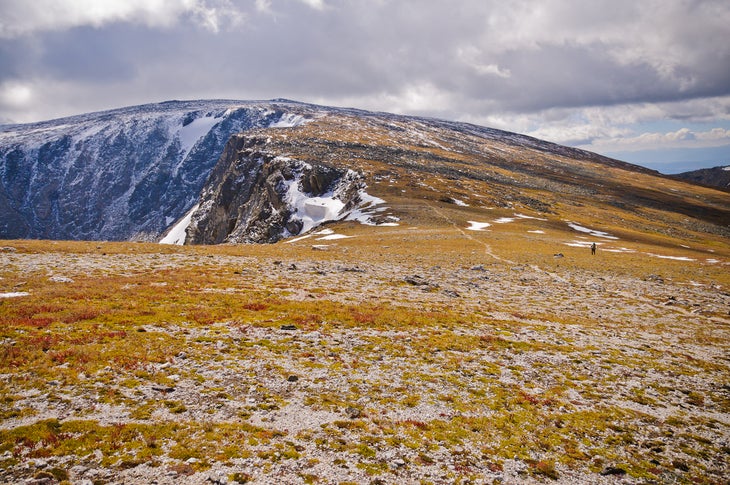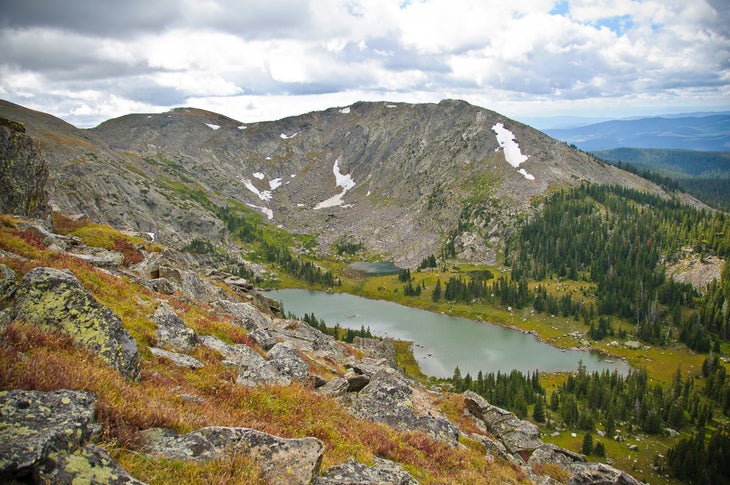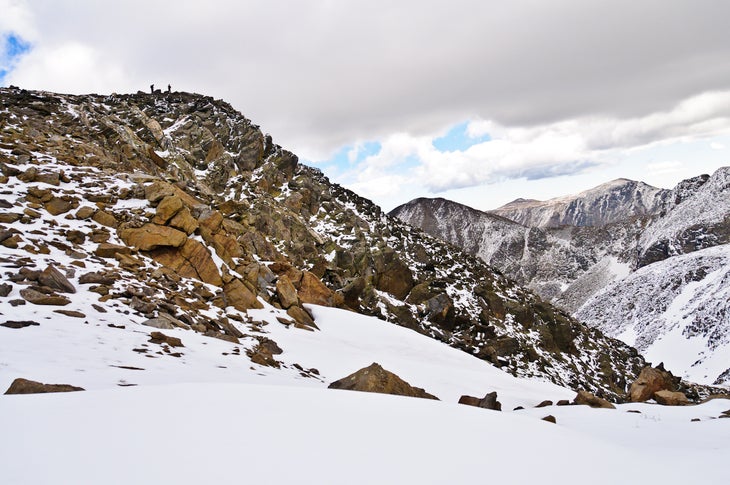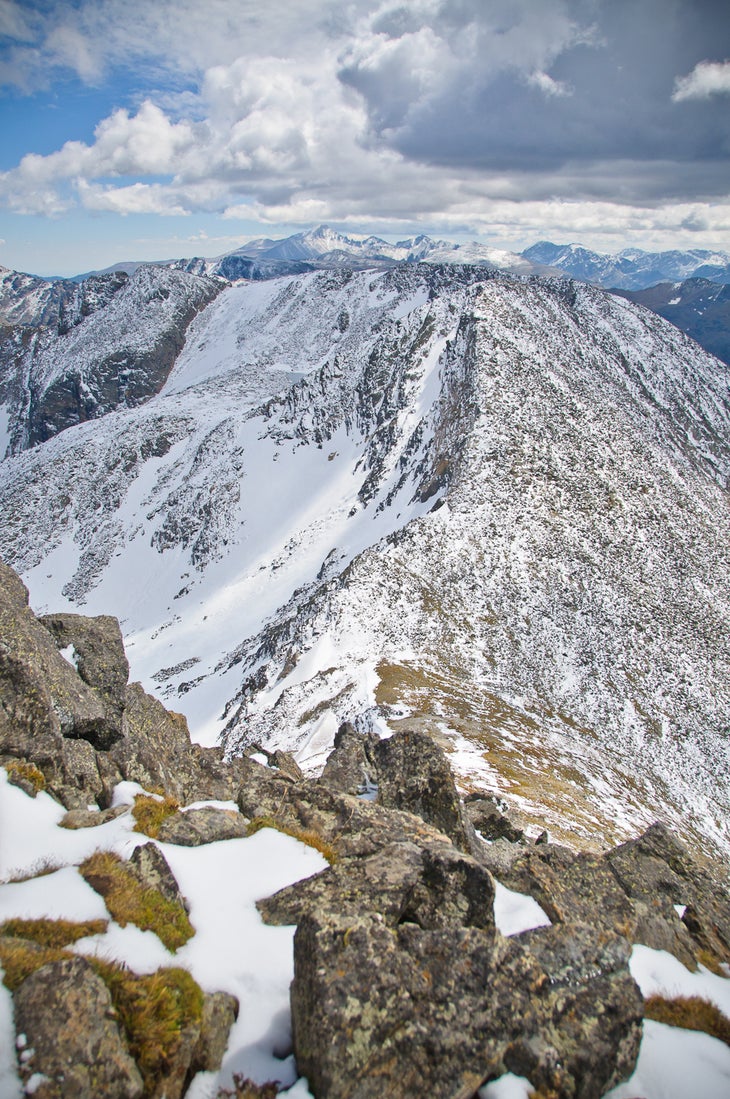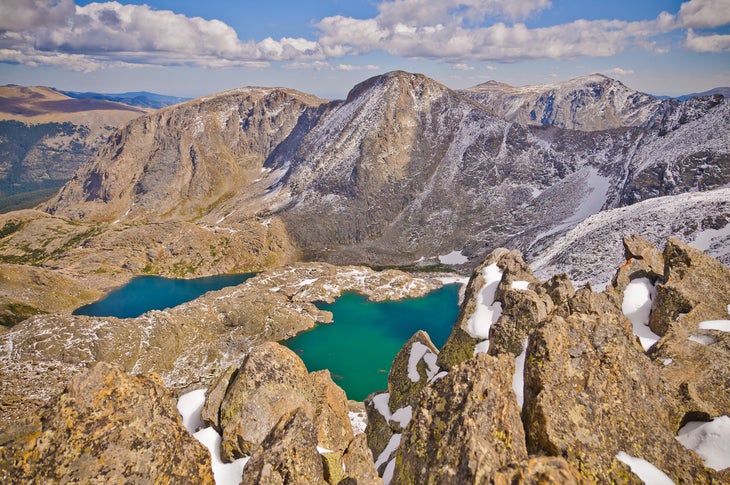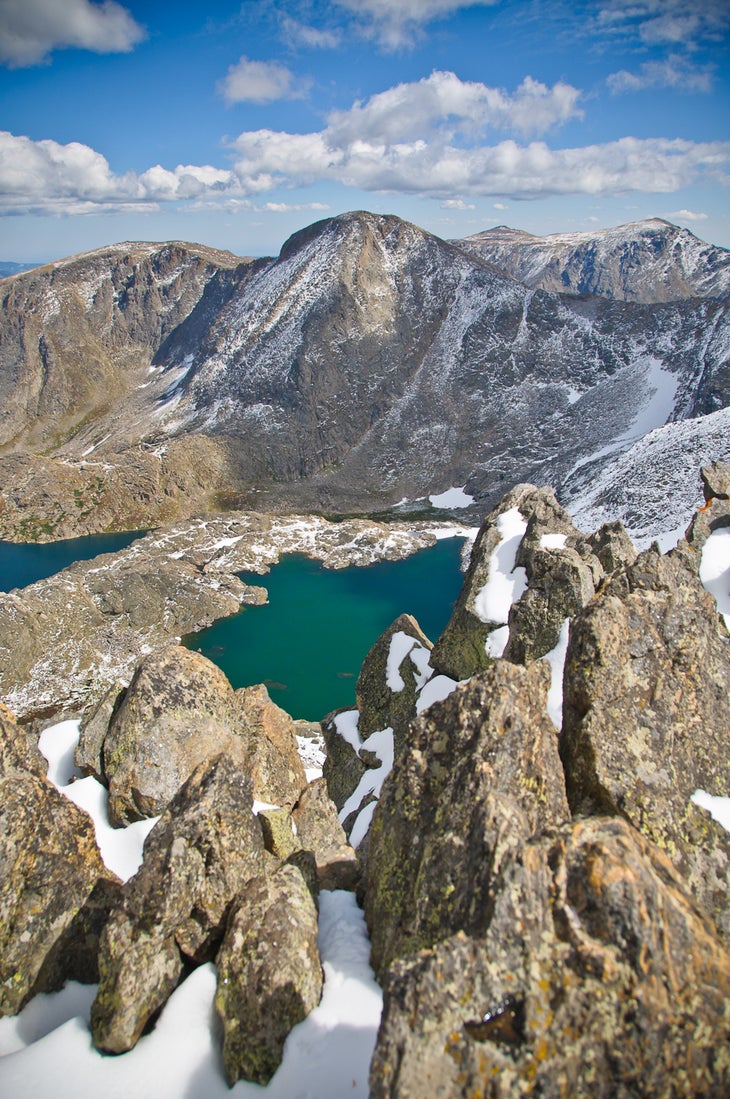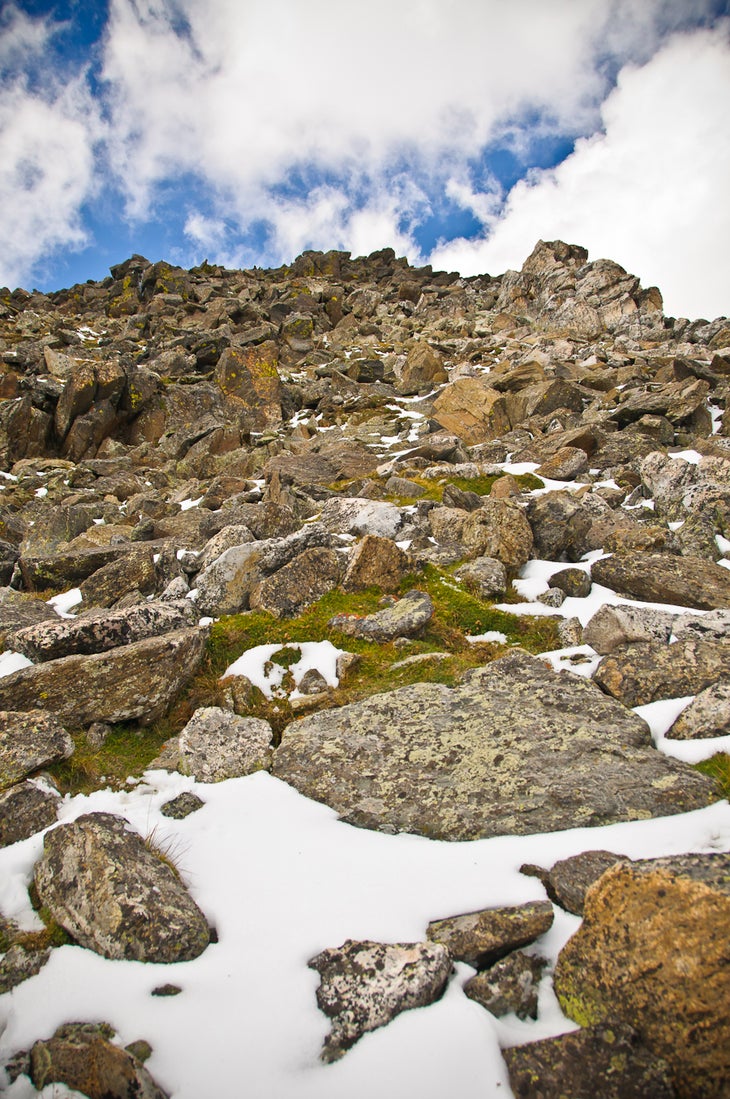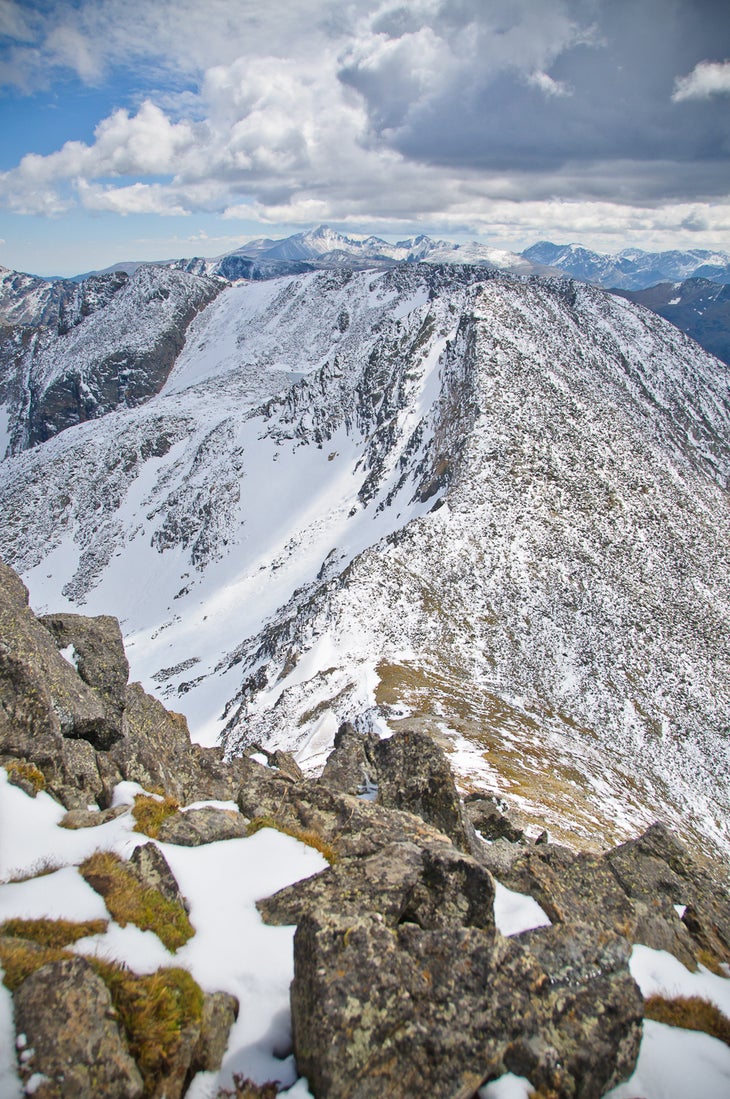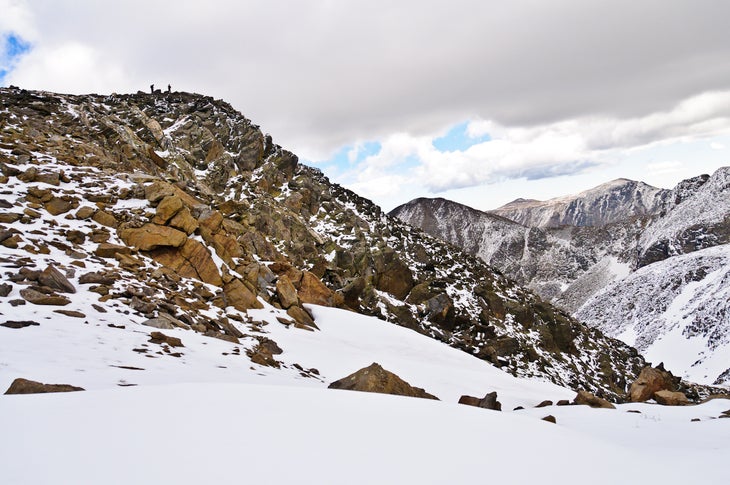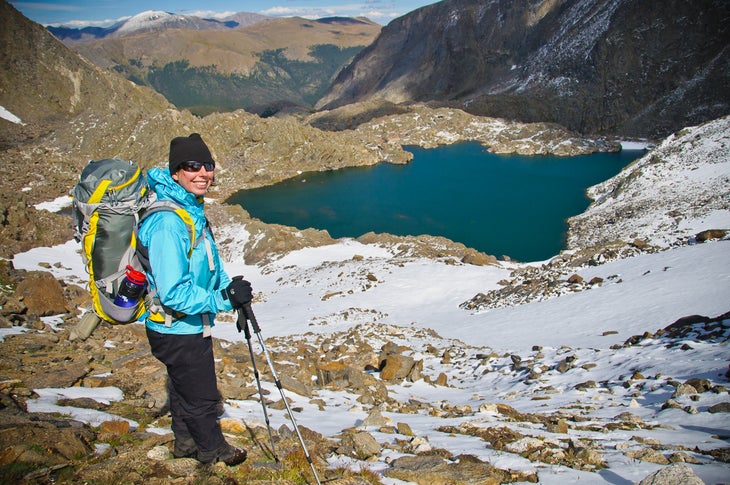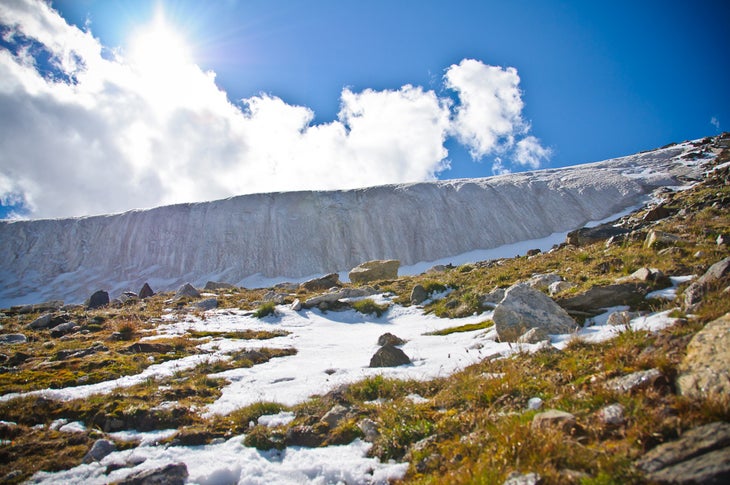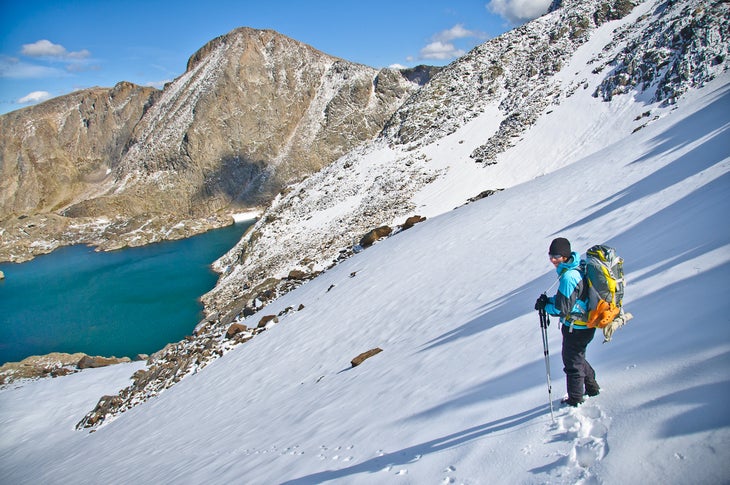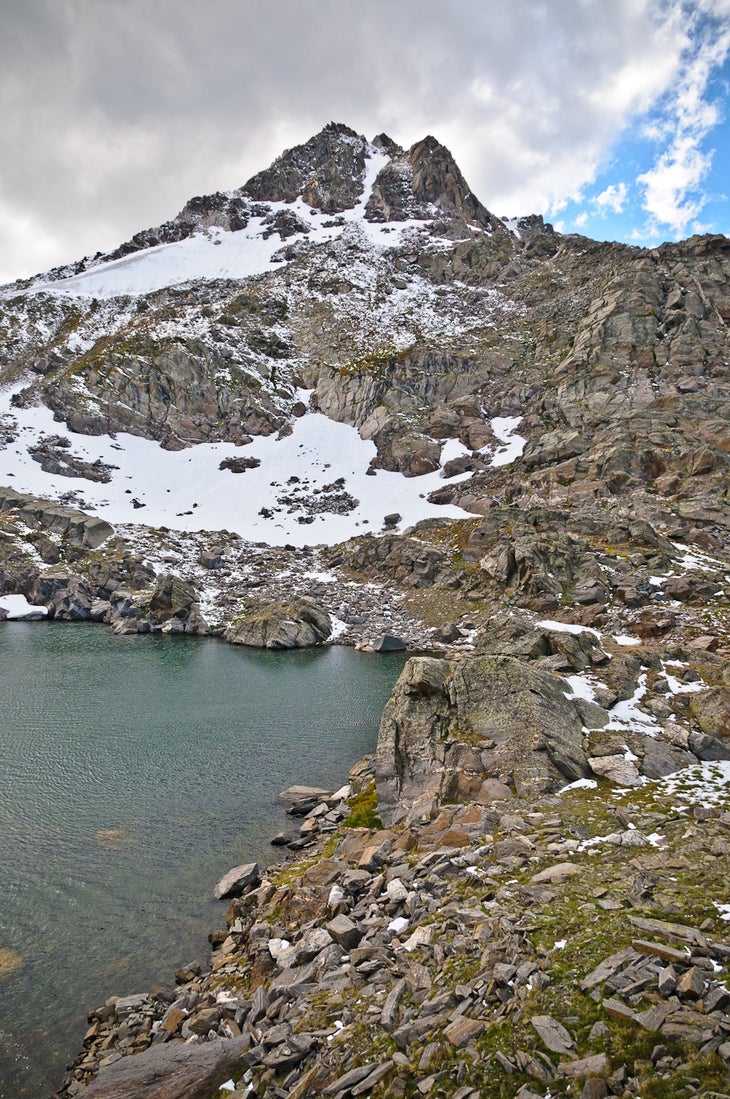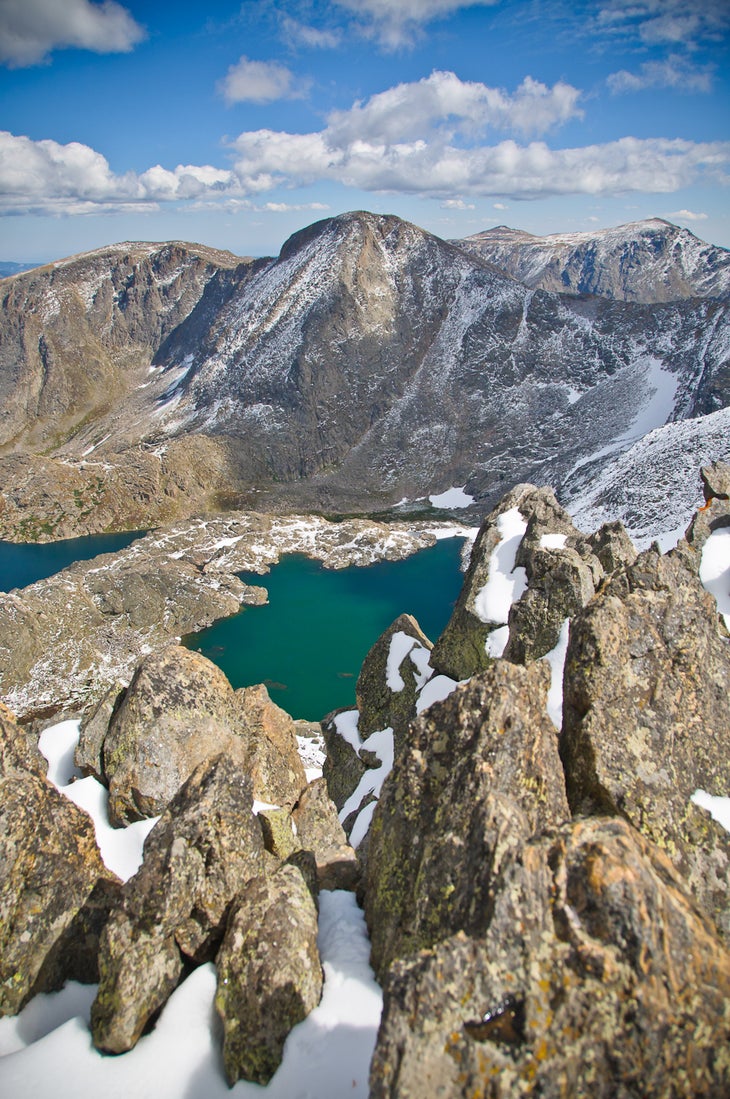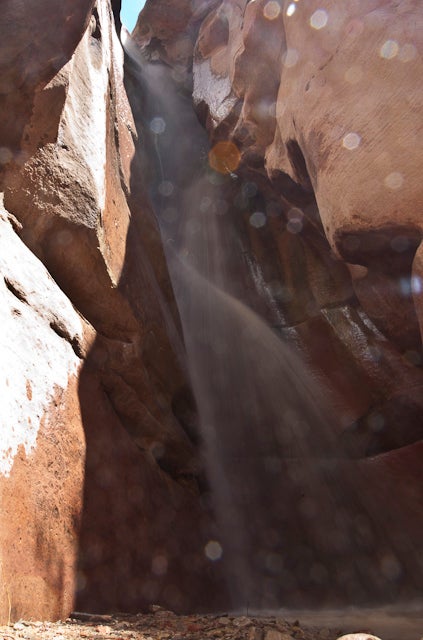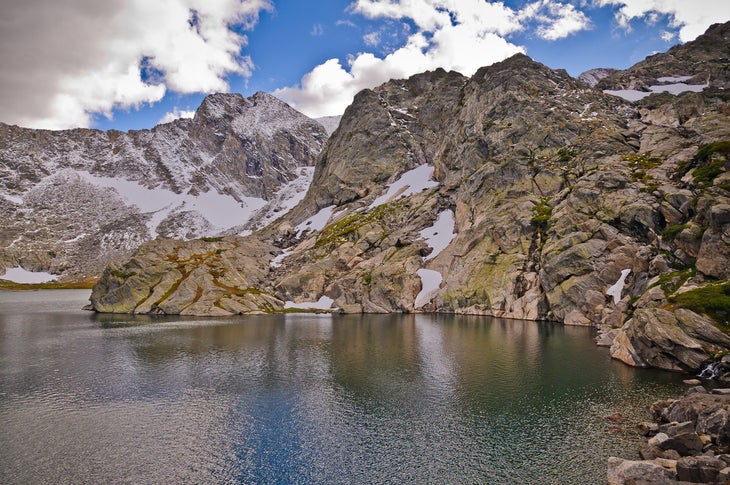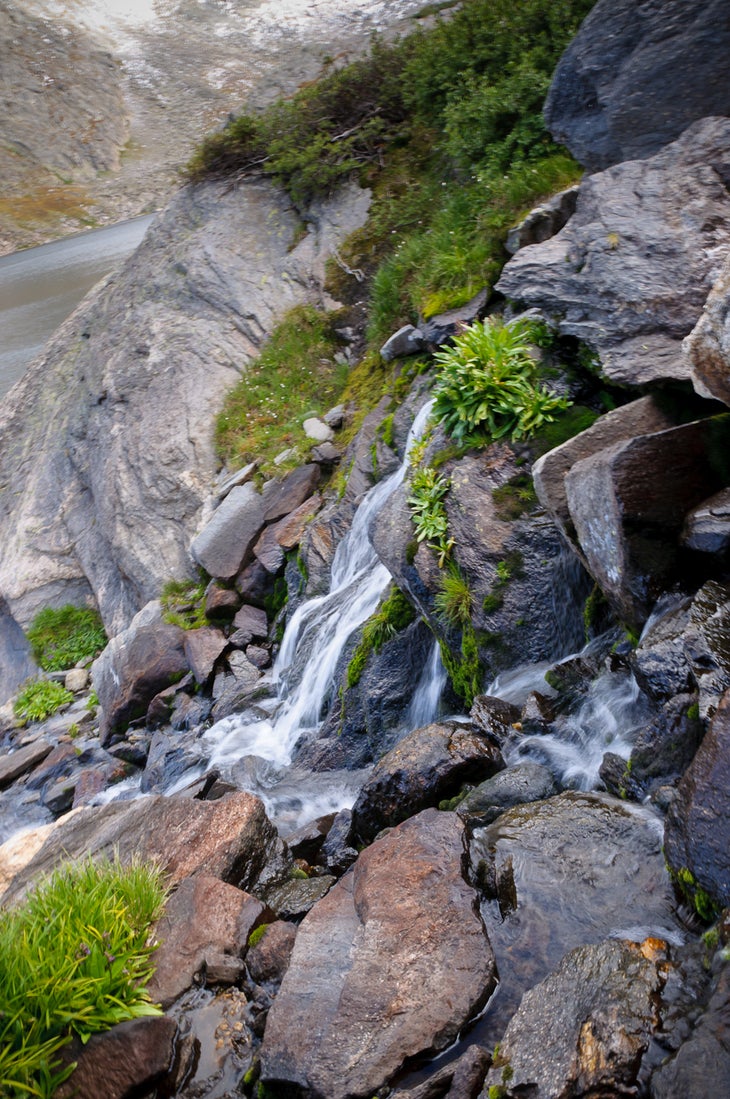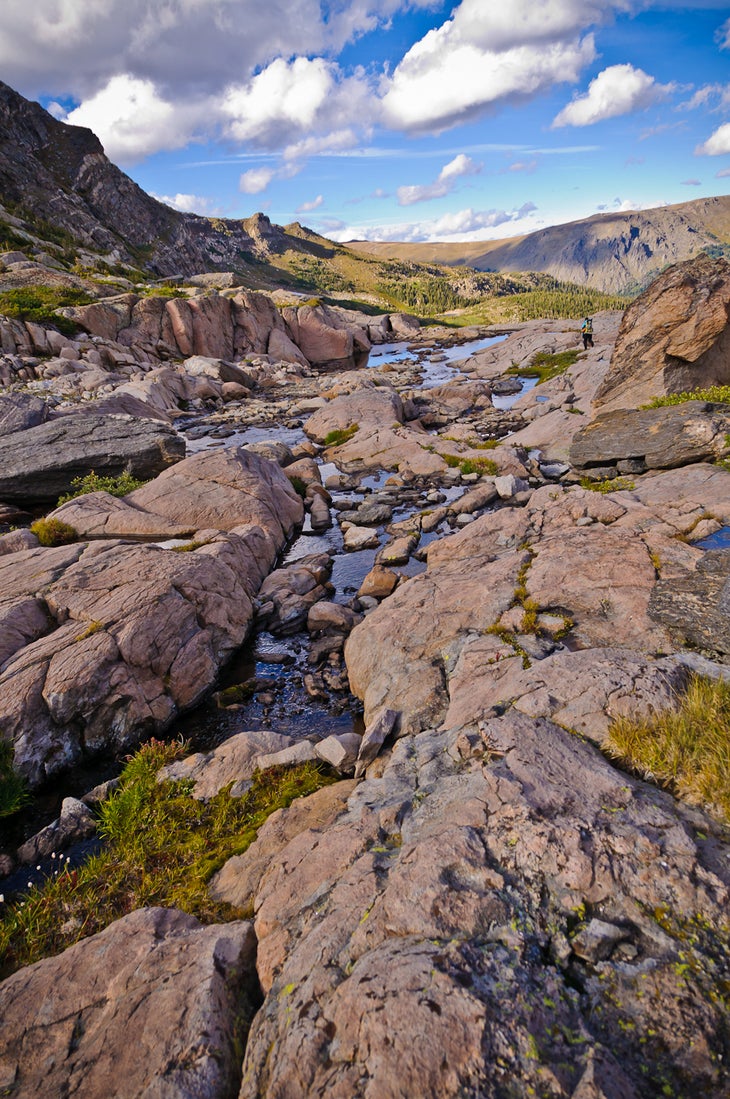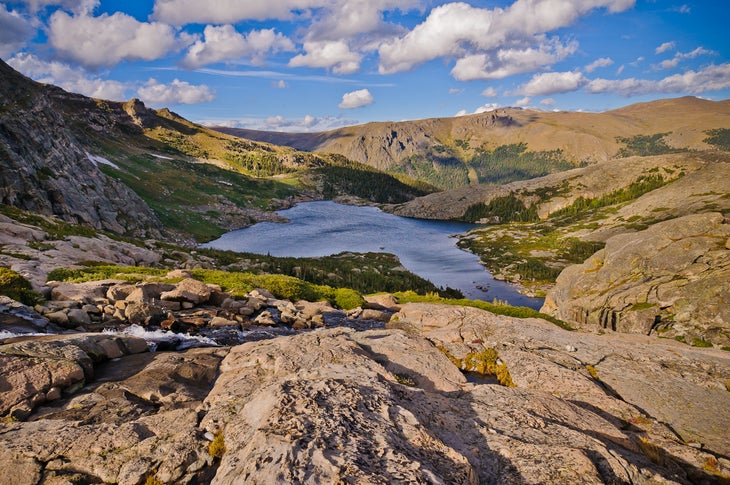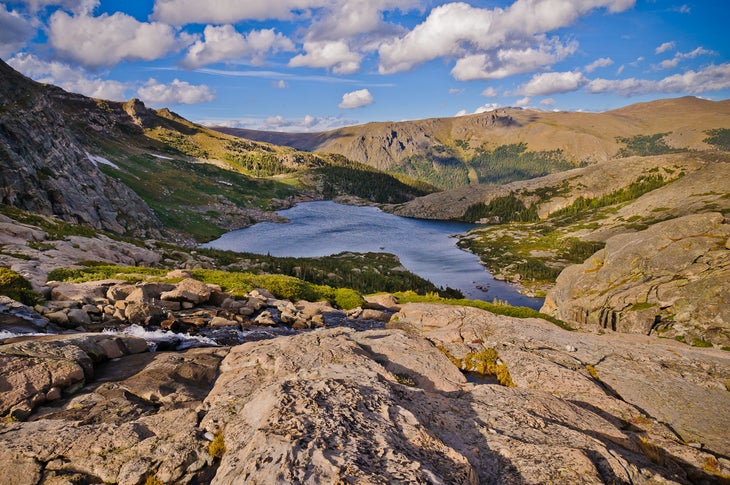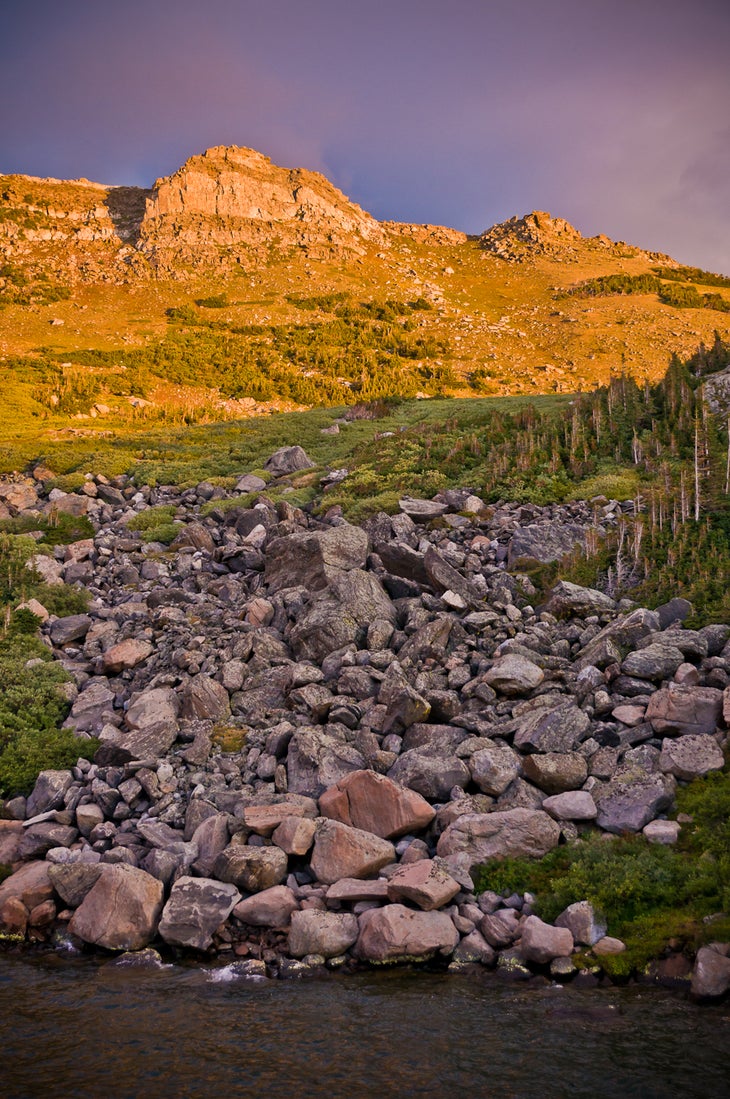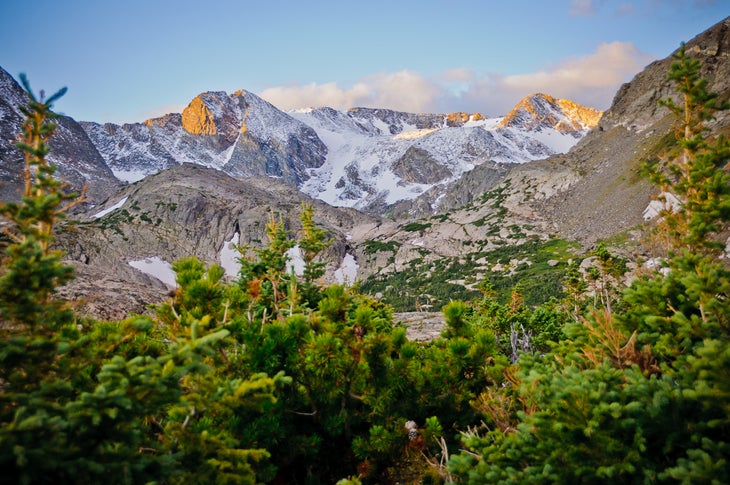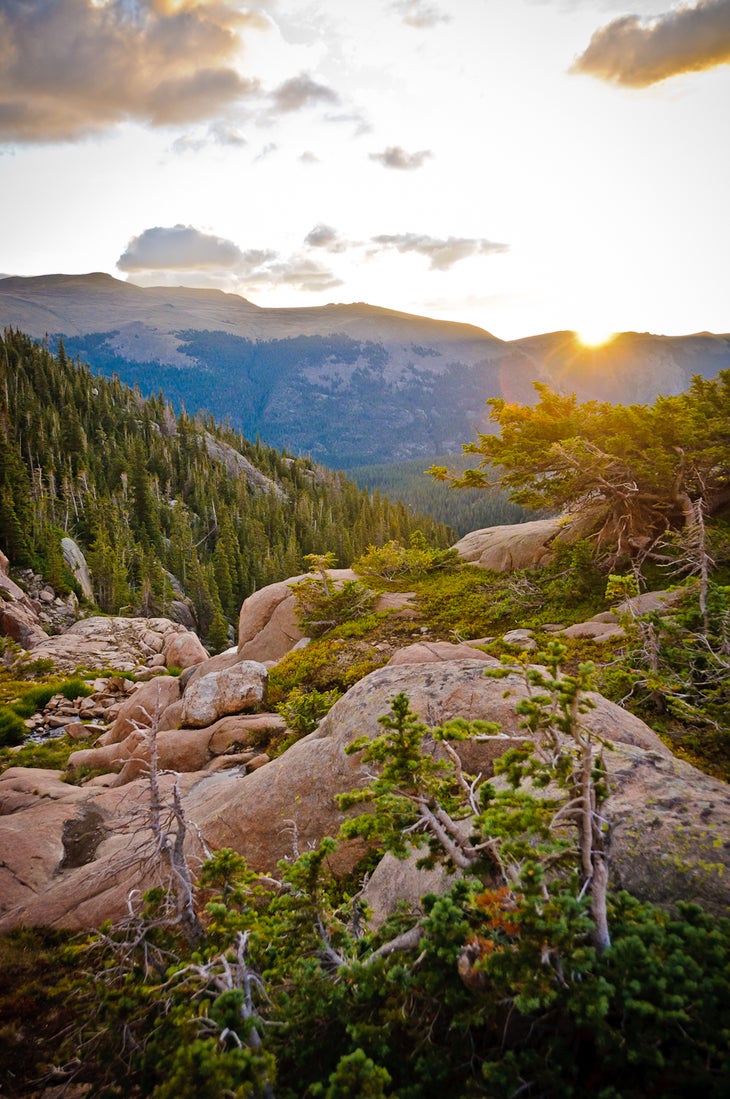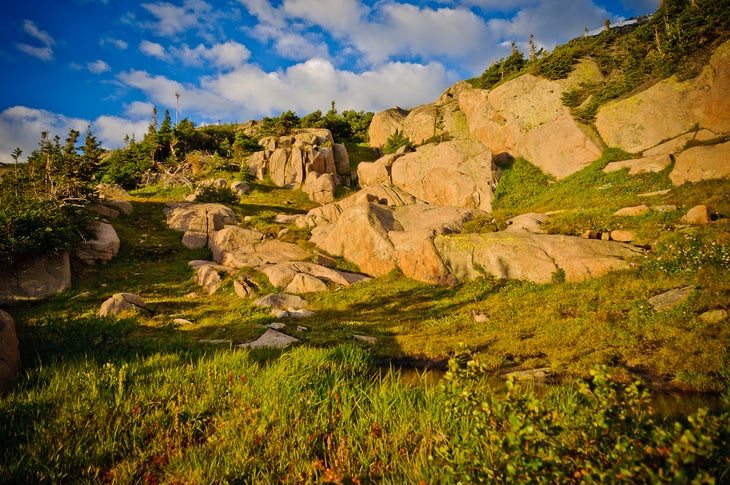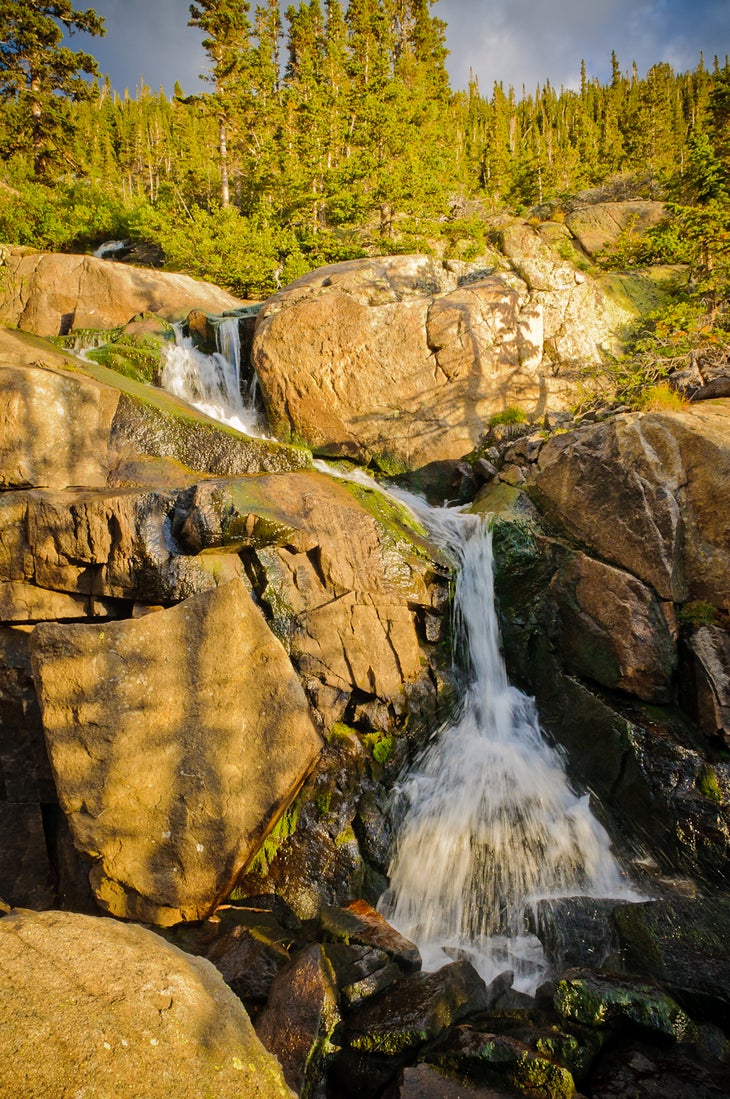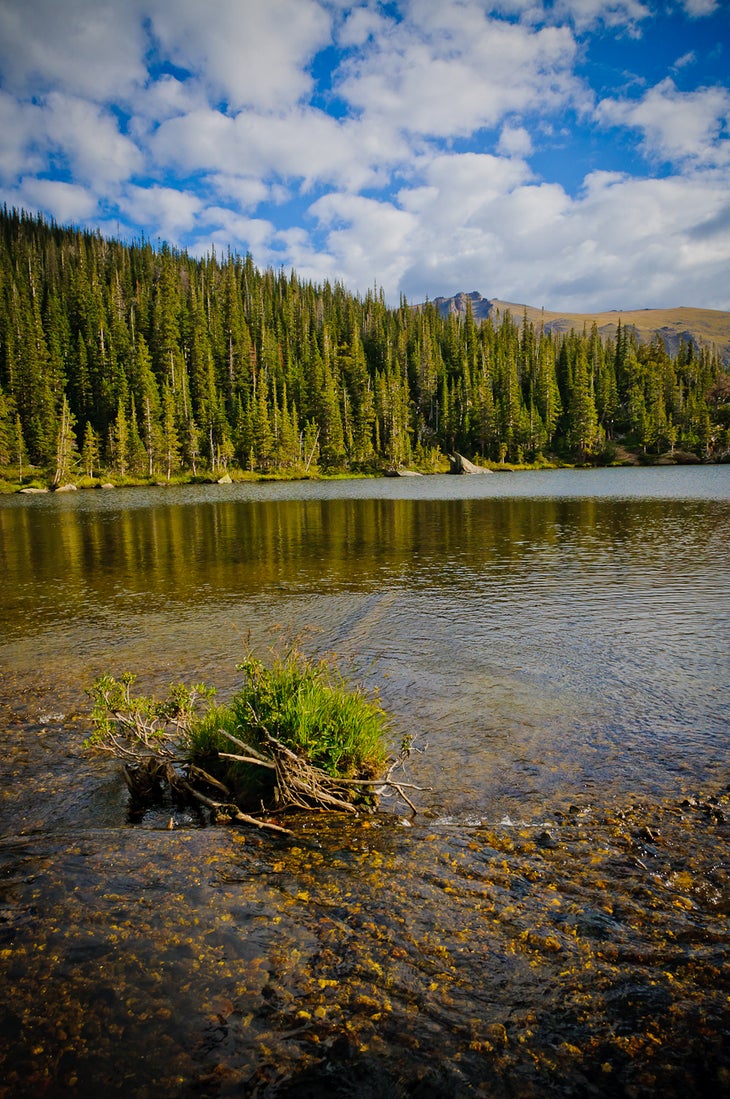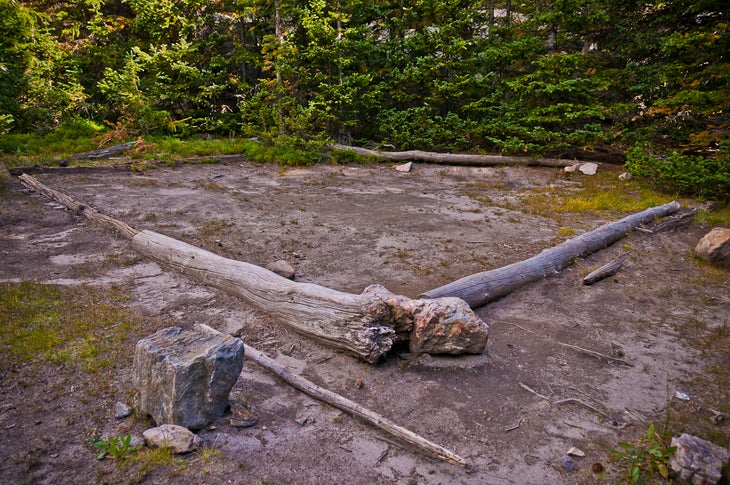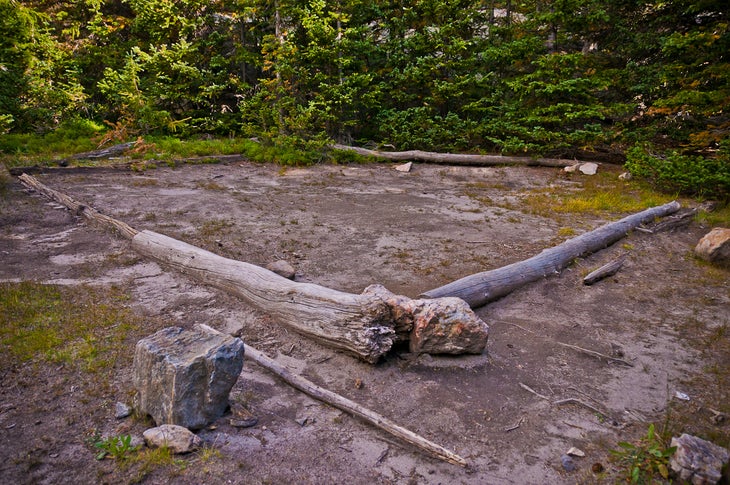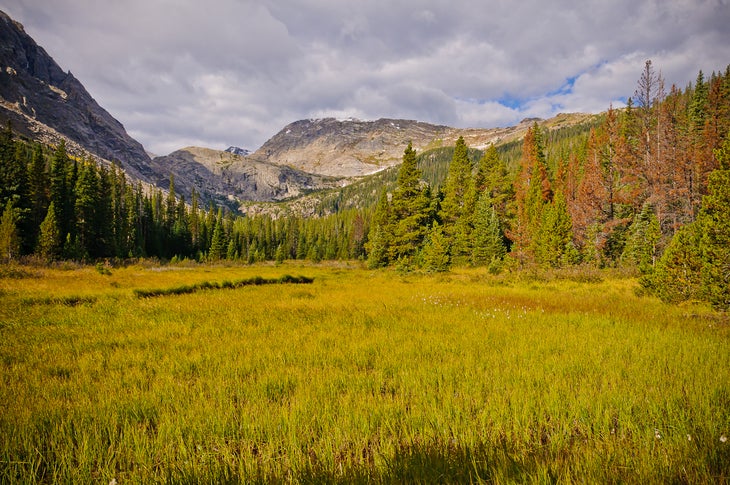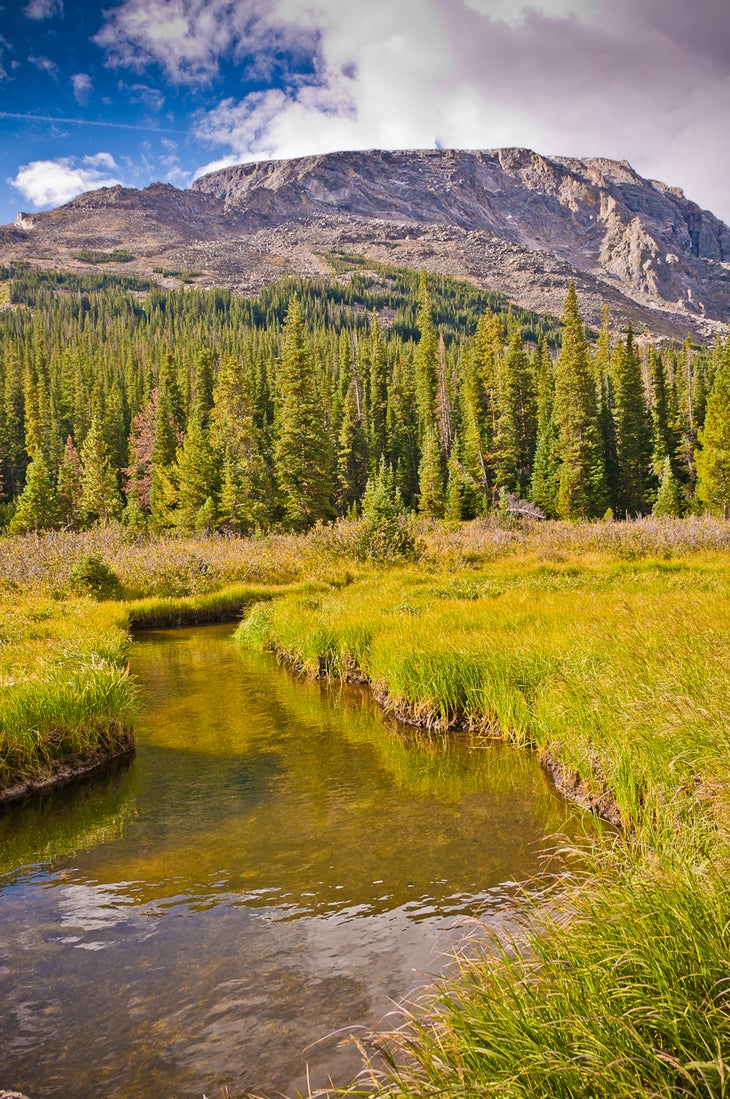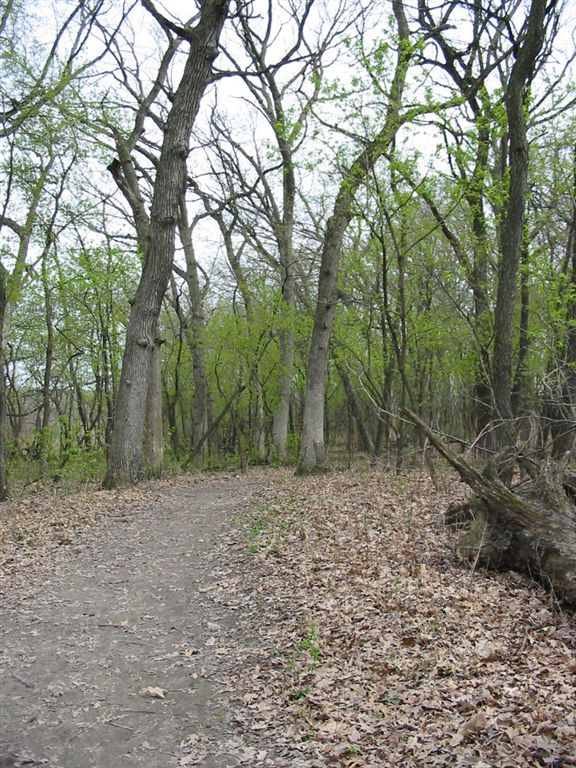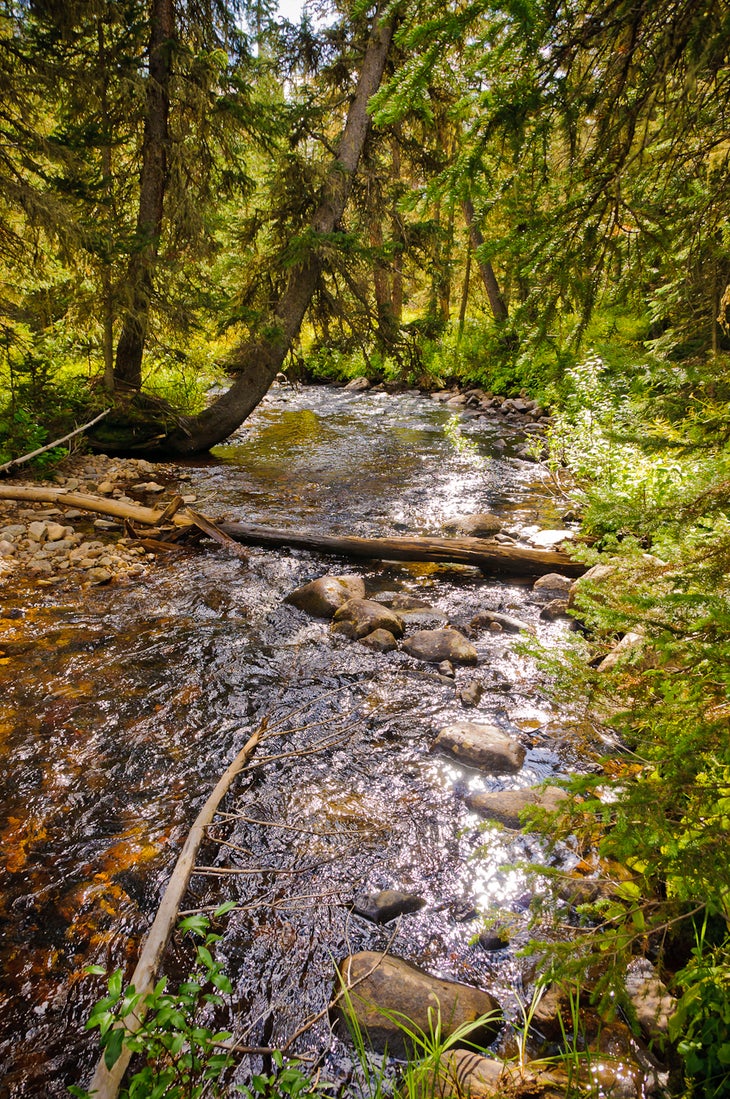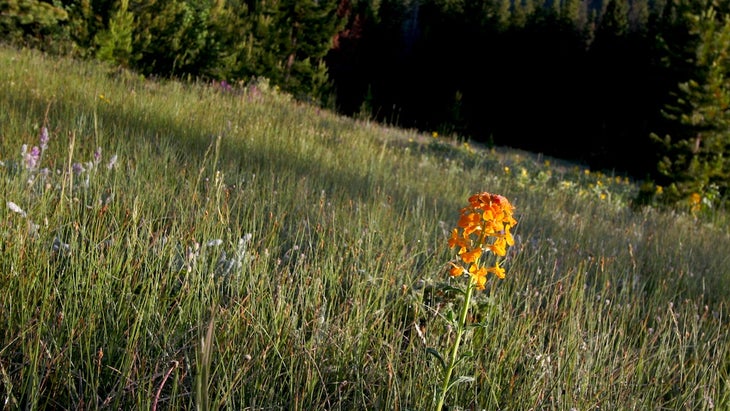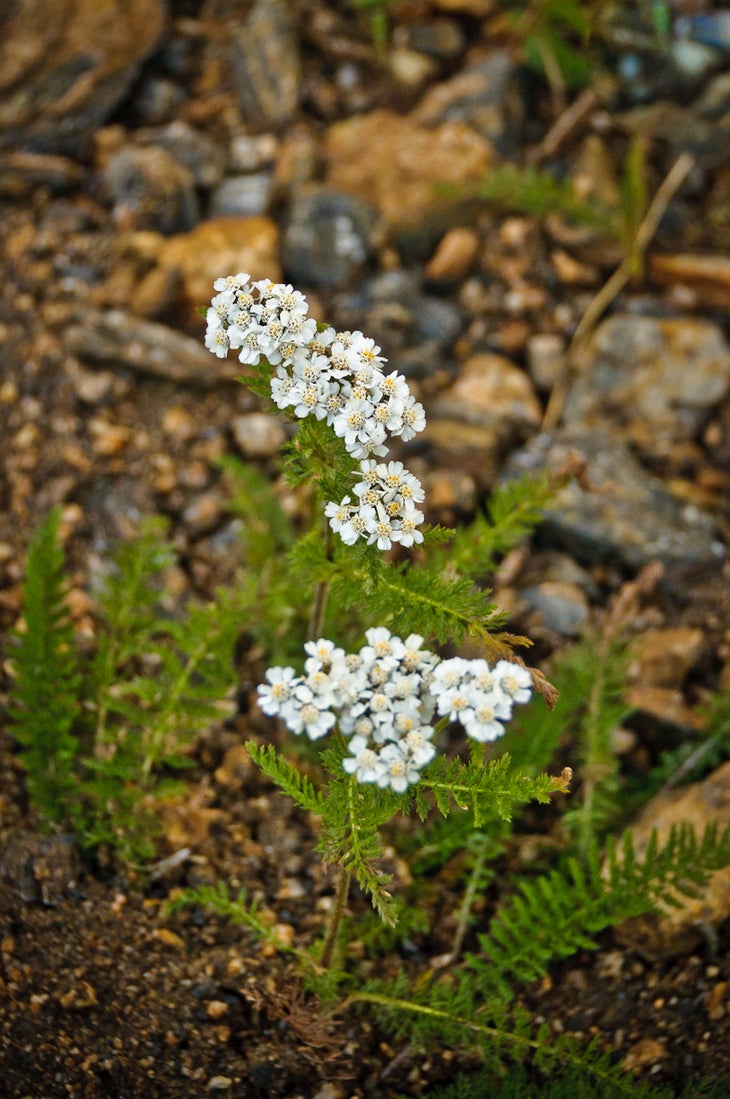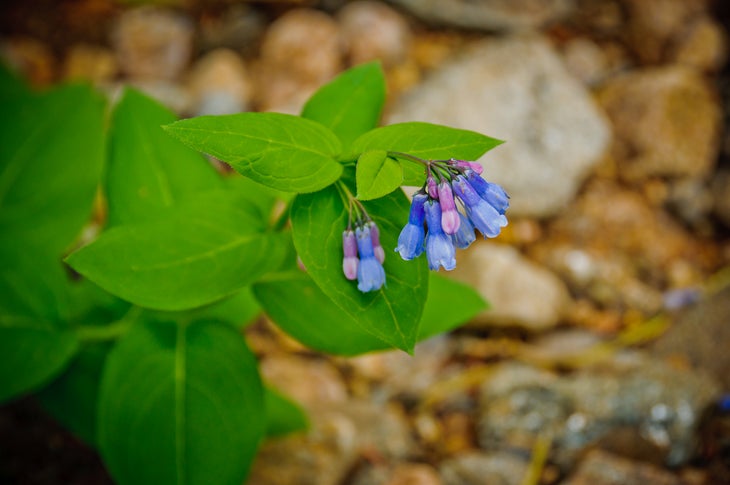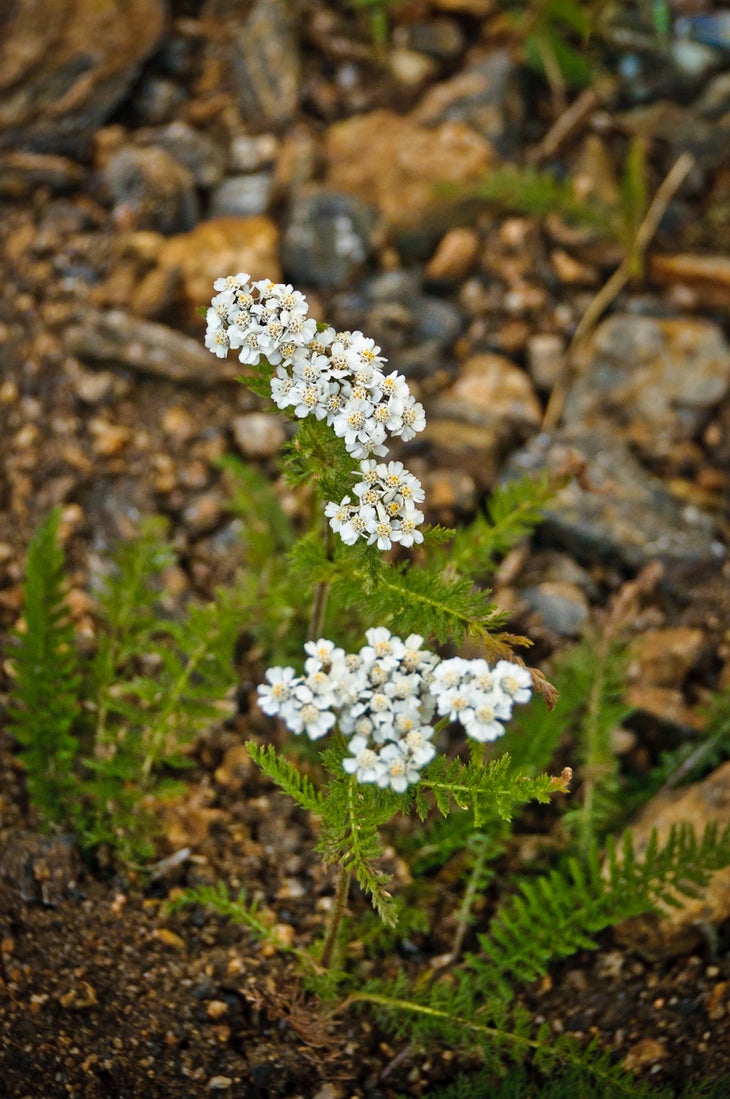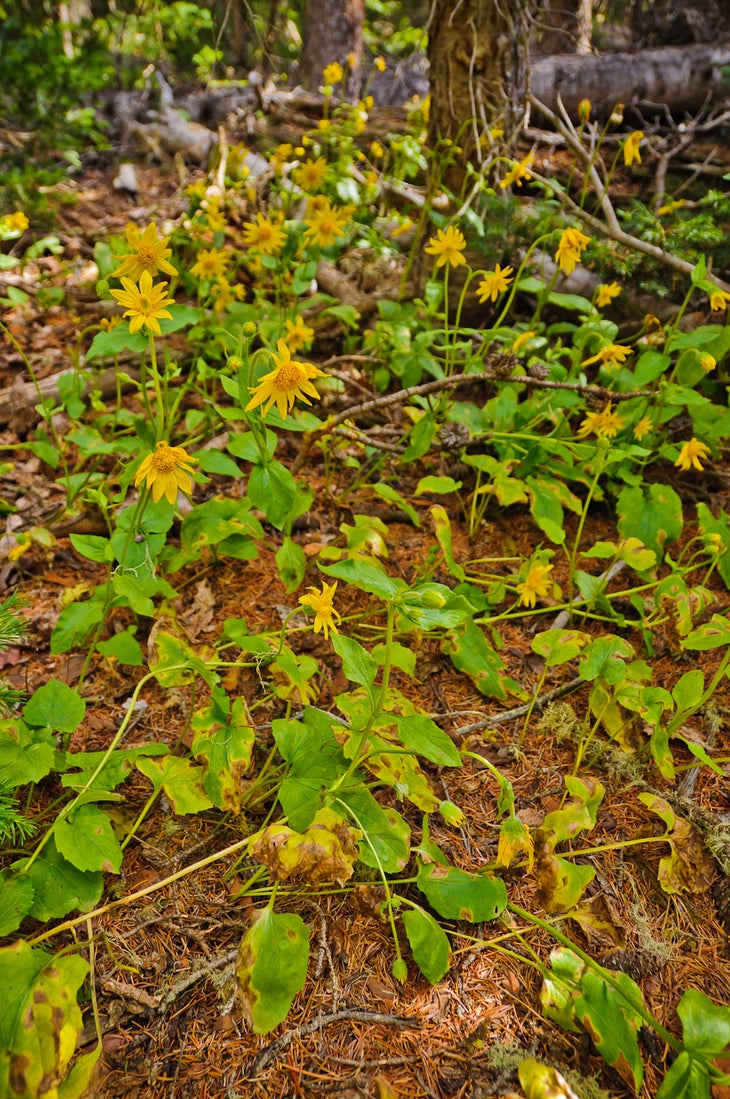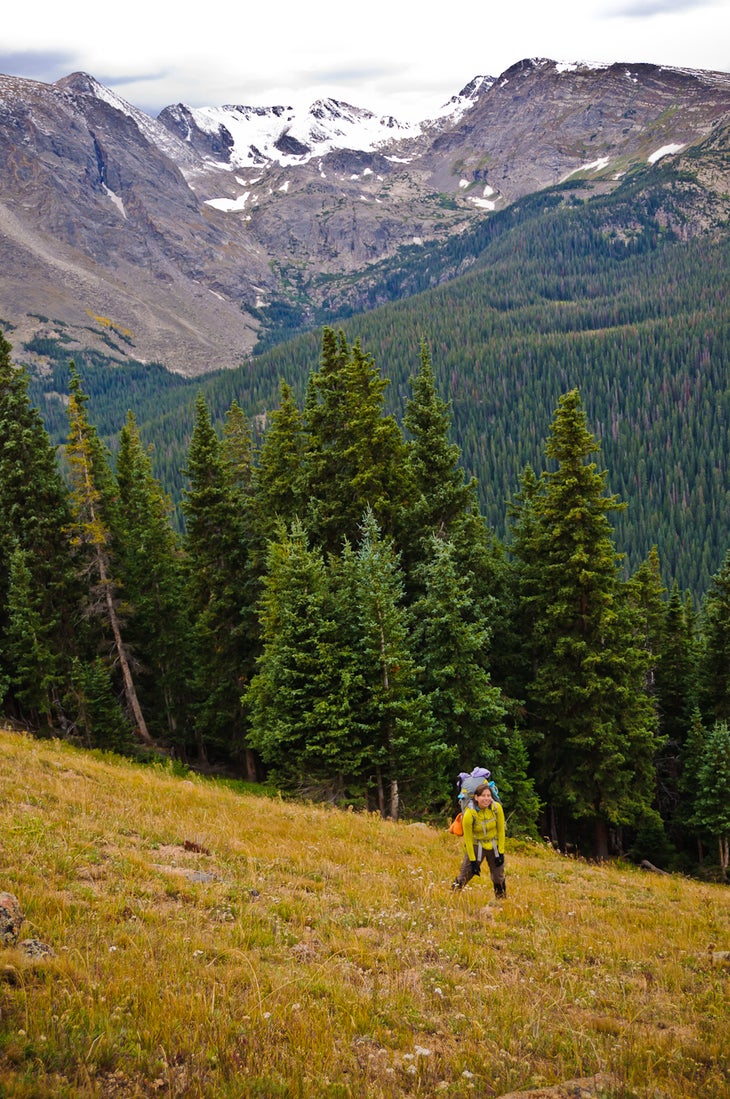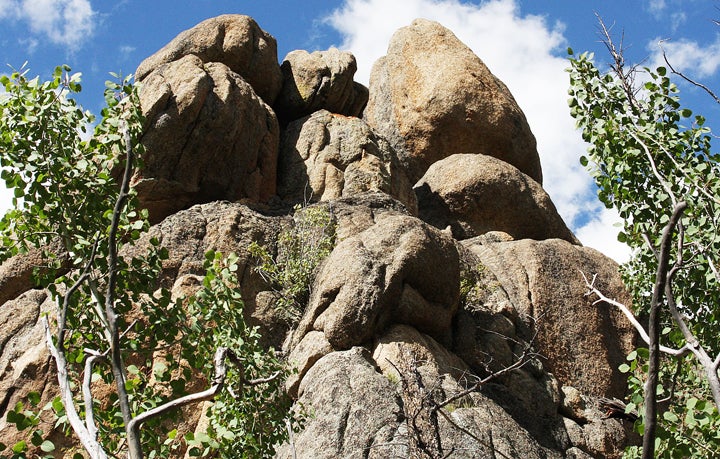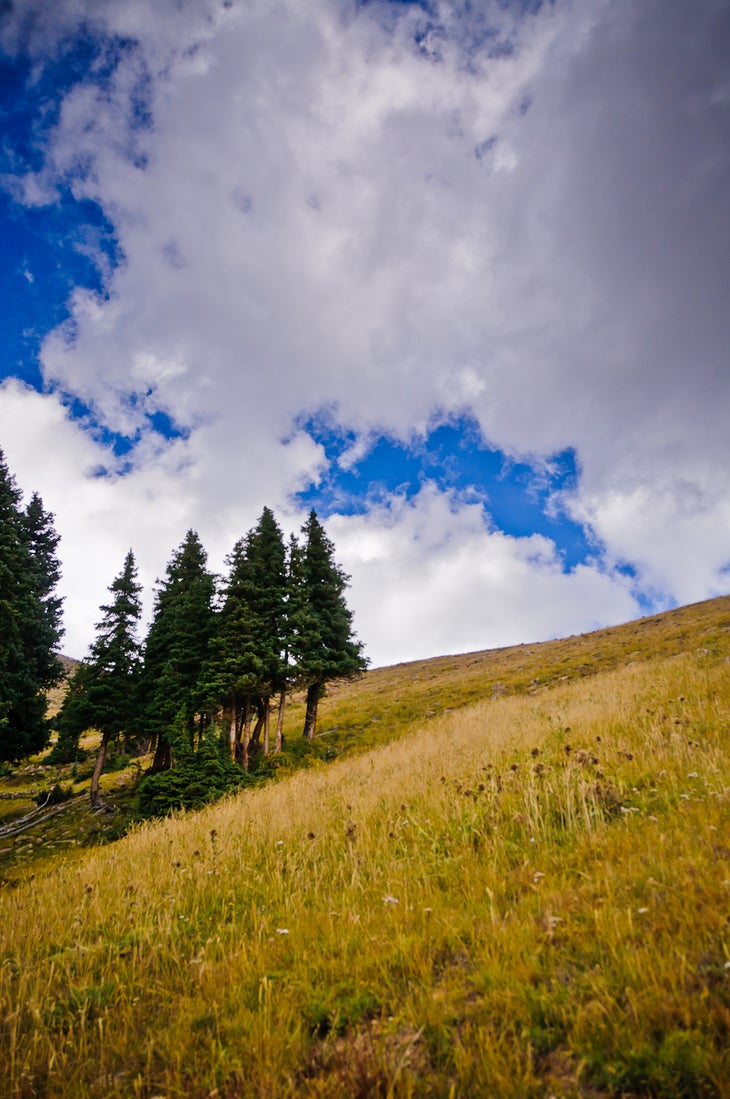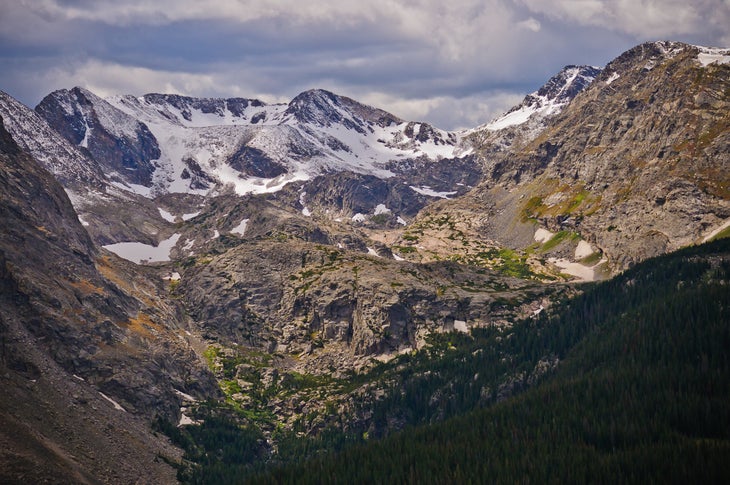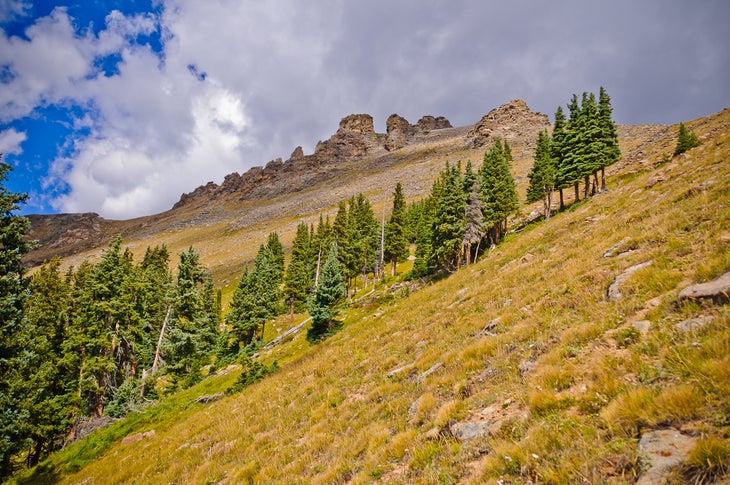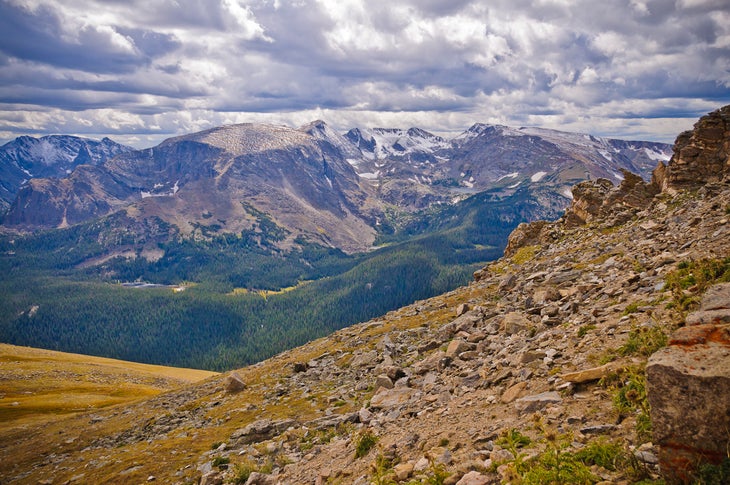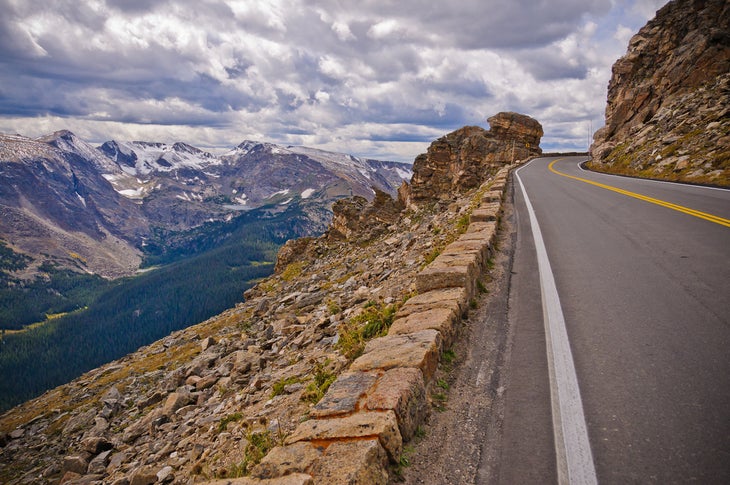 Trail Facts
Waypoints
GRG001
Location: 40.419887, -105.812094
Park at the Milner Pass parking pull-out on the east side of the road (pit toilets and interpretive signs located here). Pick up the maintained trail at the southern end of Poudre Lake, and follow it east to the first switchback.
GRG002
Location: 40.418797, -105.808189
Cross a split log footbridge.
GRG003
Location: 40.418199, -105.80821
Turn right at the T-junction, heading southwest.
GRG004
Location: 40.413607, -105.808347
The trail climbs past treeline into an alpine landscape. Ahead, the route travels just below the crest of the Continental Divide.
GRG005
Location: 40.409528, -105.804429
Stay straight on the main path where a faint trail veers off to the left. Traverse grassy slopes ahead.
GRG006
Location: 40.402716, -105.797149
Look to the right for views of a small lake.
GRG007
Location: 40.388694, -105.791349
Follow the path that ascends this ridge to Mount Ida.
GRG008
Location: 40.371855, -105.778808
Crest Mount Ida at mile 4.7. This wind-blown and rocky 12,880-foot peak rests on the Continental Divide and towers above the Gorge Lakes in the valley below. Mount Julian and Terra Tomah Mountain border the lakes on the east. Look south for views that extend to Grand Lake. Next, down-climb boulders on Ida's southeast face to reach the saddle below.
GRG009
Location: 40.370147, -105.776677
From the saddle connecting Mount Ida and Chief Cheley Peak, descend northeast to Azure Lake. Route-finding skills are required at this point. The best and most efficient route may change seasonally.
GRG010
Location: 40.372237, -105.773711
Pick a route along the left (west) edge of Azure Lake.
GRG011
Location: 40.373221, -105.771923
Traverse the southern slopes of this hillside, heading toward the outlet creek.
GRG012
Location: 40.373809, -105.769962
Cross the outlet creek and descend to Inkwell Lake.
GRG013
Location: 40.375808, -105.769348
Pass a small waterfall.
GRG014
Location: 40.376159, -105.768976
Climb over and across massive boulders that line Inkwell's shoreline.
GRG015
Location: 40.377105, -105.766074
Views of Trail Ridge Road appear to the north.
GRG016
Location: 40.377291, -105.765644
Maneuver across more boulders.
GRG017
Location: 40.377659, -105.765138
In September, this creek was partially covered by a small snowfield.
GRG018
Location: 40.380377, -105.764205
Descend past treeline.
GRG019
Location: 40.388017, -105.759469
Cross the top of a cascading waterfall, the outlet stream of Arrowhead Lake, and hike south for another 850 feet.
GRG020
Location: 40.386574, -105.759023
Game plan your next moves from this rock slab overlooking the landscape below.
GRG021
Location: 40.386738, -105.758876
Descend through small meadows.
GRG022
Location: 40.387619, -105.757952
Waterfalls cascade down on the left.
GRG023
Location: 40.38704, -105.756893
Marshy area
GRG024
Location: 40.386345, -105.755579
Crawl through downed trees into a meadow.
GRG025
Location: 40.386089, -105.754869
Push your way through this section of thick willows.
GRG026
Location: 40.38619, -105.754523
Catch views of Rock Lake and Little Rock Lake.
GRG027
Location: 40.385622, -105.753861
Use caution when down climbing these waterfalls; the rocks are extremely slick.
GRG028
Location: 40.386118, -105.753128
Down climb the creek on slippery rocks.
GRG029
Location: 40.387947, -105.750895
Your boots will get wet plodding through this marshy meadow next to Rock Lake.
GRG030
Location: 40.389333, -105.747558
Little Rock Campsite: Set up your tent on this flat dirt platform surrounded by trees.
GRG031
Location: 40.389055, -105.747448
Next day: Turn left at the sign post for Little Rock Campsite. Hike northeast along the creek.
GRG032
Location: 40.392241, -105.741172
Pass through a large meadow; the snaking creek should be on your right.
GRG033
Location: 40.393336, -105.739188
You may spot rusted old cans lying in the trees.
GRG034
Location: 40.394329, -105.738838
Prepare to slow your pace along this stretch of trail. You'll have to climb over and crawl under countless downed trees.
GRG035
Location: 40.397559, -105.736534
Ford the Big Thompson River, which was a small creek in mid-September.
GRG036
Location: 40.403837, -105.734689
Turn around for views to the south, including Mount Ida and the Gorge Lakes.
GRG037
Location: 40.405849, -105.733901
Look for the obvious Rock Cut formations through the gaps in the trees.
GRG038
Location: 40.406488, -105.733267
Trees open here into an alpine meadow. Climb north up steep, grassy slopes toward the road.
GRG039
Location: 40.410968, -105.729048
The route meets Trail Ridge Road at mile 10.3. Stay on the shoulder and hike west to the Rock Cut parking area.
GRG040
Location: 40.412096, -105.732841
Pick up your shuttle car at the Rock Cut parking area.
Poudre Lake
Location: 40.420322, -105.81144
Ute Trail
Location: 40.420322, -105.81144
Trailside rock formations
Location: 40.4203, -105.810143
Subalpine Forest
Location: 40.415398, -105.809341
Flora
Location: 40.41486, -105.809044
Wildflowers
Location: 40.414627, -105.808617
Western Views
Location: 40.413345, -105.808403
Views to the north
Location: 40.412228, -105.808762
Trailside Views
Location: 40.411133, -105.807793
Alpine Tundra
Location: 40.410057, -105.806259
Rock Piles
Location: 40.410057, -105.806259
Yellow-Bellied Marmot
Location: 40.409988, -105.806122
Trailside Views
Location: 40.409309, -105.803535
Continental Divide
Location: 40.388546, -105.791374
Timber Lake
Location: 40.3792, -105.795044
Mount Ida
Location: 40.371738, -105.780174
Chief Cheley Peak
Location: 40.372128, -105.778938
Gorge Lakes
Location: 40.372128, -105.778938
Azure Lake
Location: 40.372128, -105.778938
Southern slopes of Mount Ida
Location: 40.370694, -105.777719
Chief Cheley Peak
Location: 40.370598, -105.777077
Mount Ida
Location: 40.370064, -105.776306
The saddle below Mount Ida
Location: 40.370453, -105.776253
Snowfield
Location: 40.370533, -105.776222
Snowfield above Azure Lake
Location: 40.370594, -105.775879
Mount Ida from Azure Lake
Location: 40.373219, -105.771927
Azure Lake
Location: 40.373215, -105.771477
Waterfall
Location: 40.375957, -105.769234
Inkwell Lake
Location: 40.37645, -105.768654
Waterfall
Location: 40.37645, -105.768654
Rock slabs between Inkwell and Arrowhead Lakes
Location: 40.377739, -105.764923
Arrowhead Lake
Location: 40.378502, -105.76445
Arrowhead Lake
Location: 40.387847, -105.759375
Views to the north from Arrowhead Lake
Location: 40.387747, -105.759518
Southern views from Arrowhead Lake
Location: 40.387764, -105.759537
Eastern Views from Arrowhead Lake
Location: 40.387764, -105.759537
Boulders below Arrowhead Lake
Location: 40.386944, -105.758812
Outlet stream of Arrowhead Lake
Location: 40.387554, -105.757759
Rock Lake
Location: 40.388153, -105.750664
Little Rock Lake Campsite
Location: 40.38929, -105.747505
Little Rock Lake Campsite
Location: 40.389057, -105.747437
Meadow above Forest Canyon
Location: 40.392925, -105.739433
Rock Lake's outlet creek flows through the meadow
Location: 40.392925, -105.739433
Forest
Location: 40.396725, -105.737663
Big Thompson River
Location: 40.397545, -105.736656
Wildflowers
Location: 40.39761, -105.736435
Wildflowers
Location: 40.39761, -105.736435
Tall Chiming Bells
Location: 40.39761, -105.736435
Wildflowers
Location: 40.39761, -105.736435
Heartleaf Arnica
Location: 40.397869, -105.735947
Climb to Rock Cut
Location: 40.406643, -105.732613
Rock Formations
Location: 40.406643, -105.732613
Final Climb
Location: 40.406643, -105.732613
View of Gorge Lakes Basin
Location: 40.406685, -105.732544
Rock Cut
Location: 40.406742, -105.732307
Southern Views
Location: 40.411037, -105.729347
Trail Ridge Road
Location: 40.410946, -105.729424