Rocky Mountain National Park: Lumpy Ridge Loop
Go counterclockwise on this 10.2-mile loop touring the rocky cliffs and odd-shaped boulders of Lumpy Ridge to an alpine lake and several campsites in Rocky Mountain National Park.
Heading out the door? Read this article on the new Outside+ app available now on iOS devices for members! Download the app.
Lumpy Ridge rises above Estes Park, CO, concealing climbing routes, elk and deer herds, campsites, and an alpine lake. Get a full tour on this 10.2-mile dayhike or spend a night or two at one of the trailside campsites. From the trailhead, head up the Gem Lake Trail, winding through conifers. At mile 1.5 is Gem Lake, an alpine pool with no outlet stream, tucked under the rocky cliffs. In about a mile, turn right onto Balanced Rock Trail.
Ahead, the trail turns west and follows Cow Creek (and its namesake trail). Over the next few miles this loop passes three established campsites: Rabbit Ears (milepoint 4.2), Peregrine (milepoint 5), and Sundance (milepoint 7.8). Backcountry permits required. Turn left (south) after 6 miles and begin the loop back to the trailhead, passing through a short stretch of private property, under impressive cliffs, and long views to Longs Peak, the highest and the only 14,000-foot peak in Rocky Mountain National Park.
Hike Lumpy Ridge Loop
INFO For information on permits, current trail and camp conditions, and wilderness guidelines, go to nps.gov/romo/planyourvisit/backcountry.htm
PERMIT A wilderness permit is required for all overnight camping in the backcountry. Reservations accepted ($20 administrative fee for permits during peak season). nps.gov/romo/planyourvisit/backcntry_guide.htm
CONTACT Rocky Mountain National Park, (970) 586-1206; nps.gov/romo
-Mapped by Jeff Chow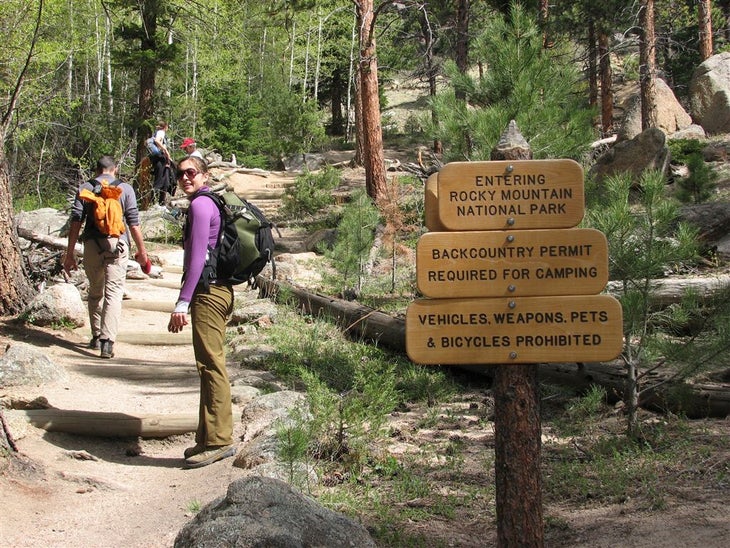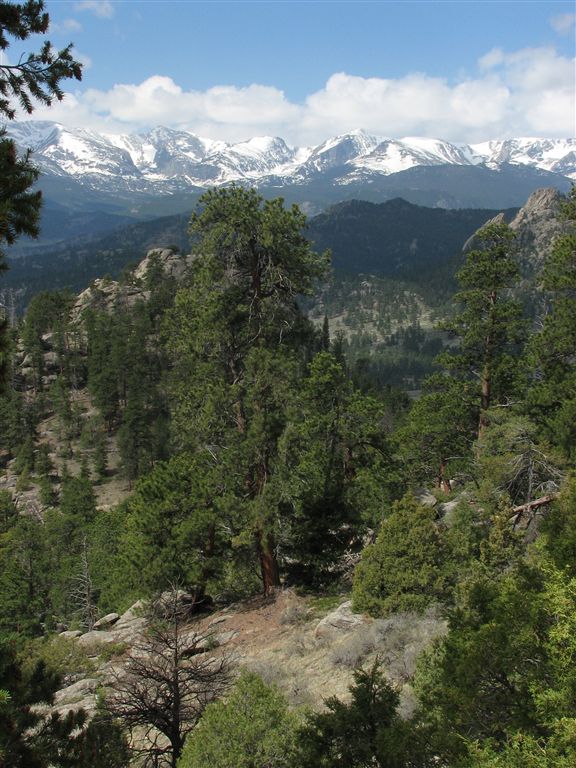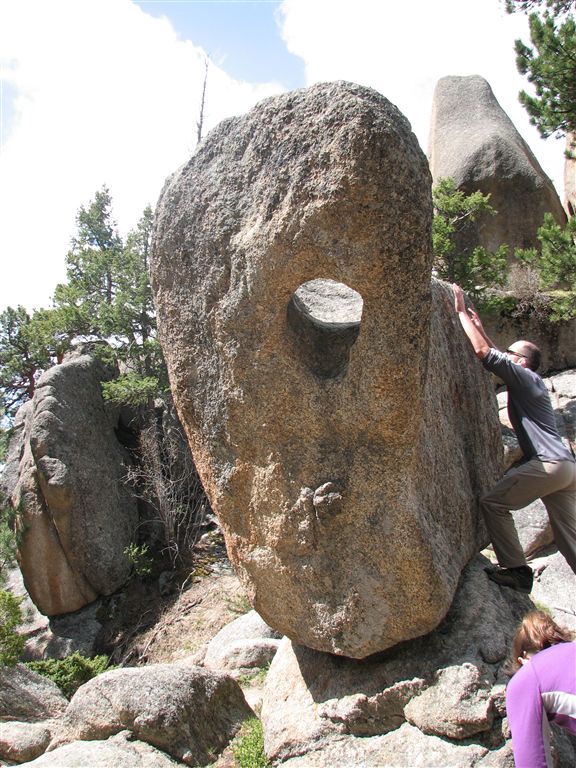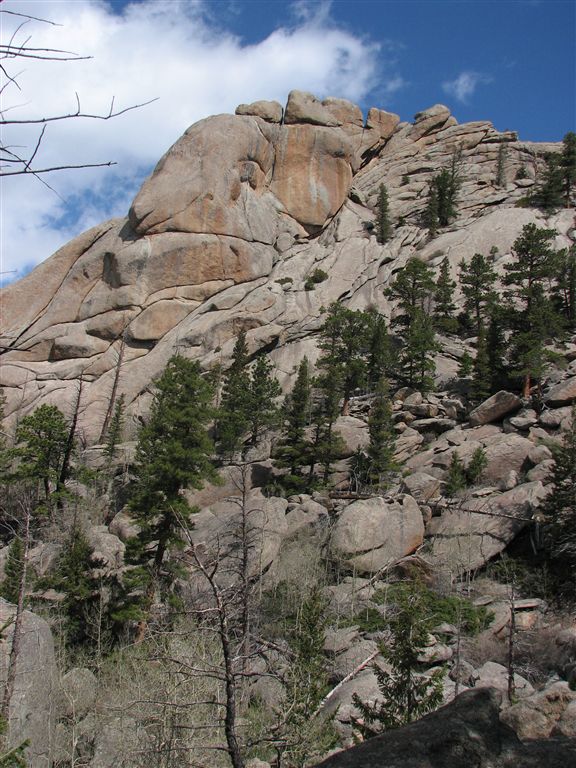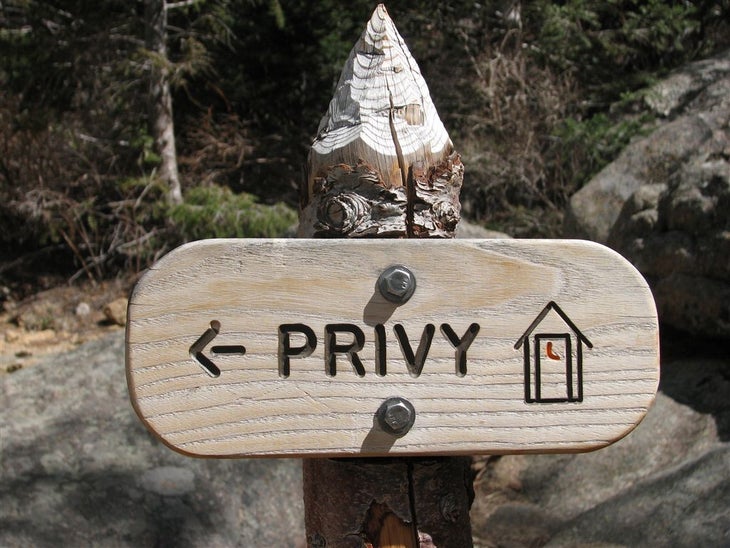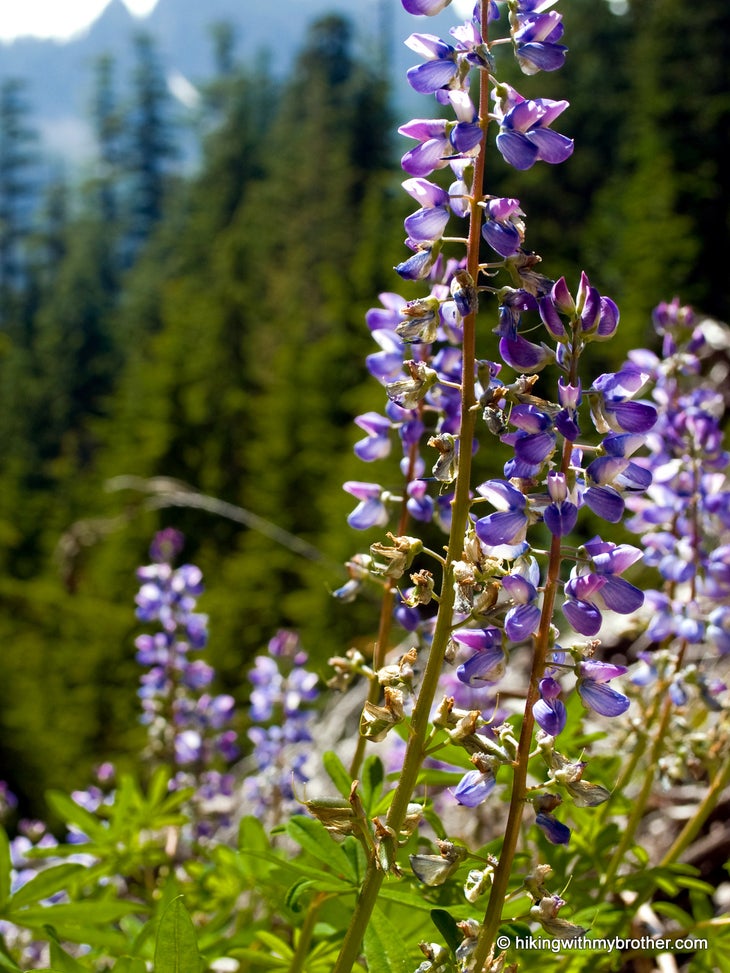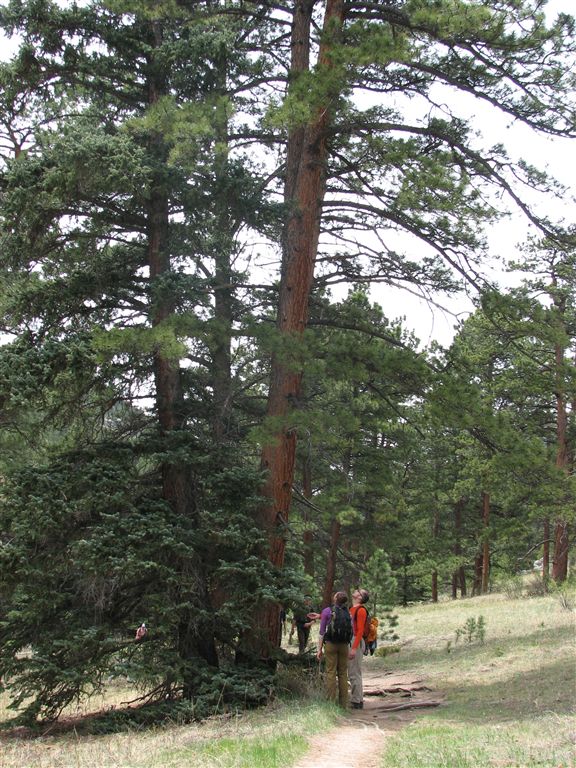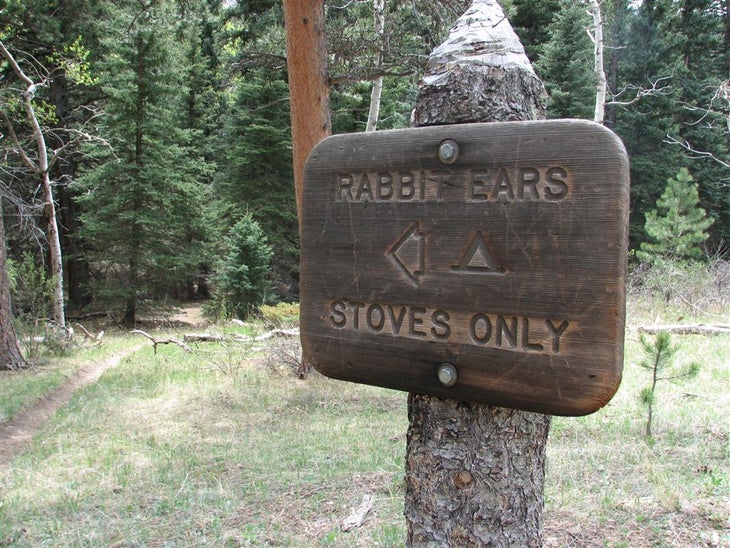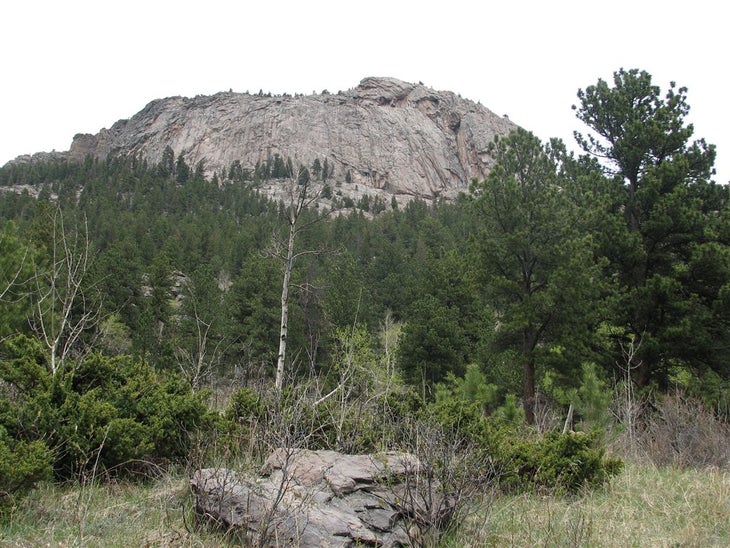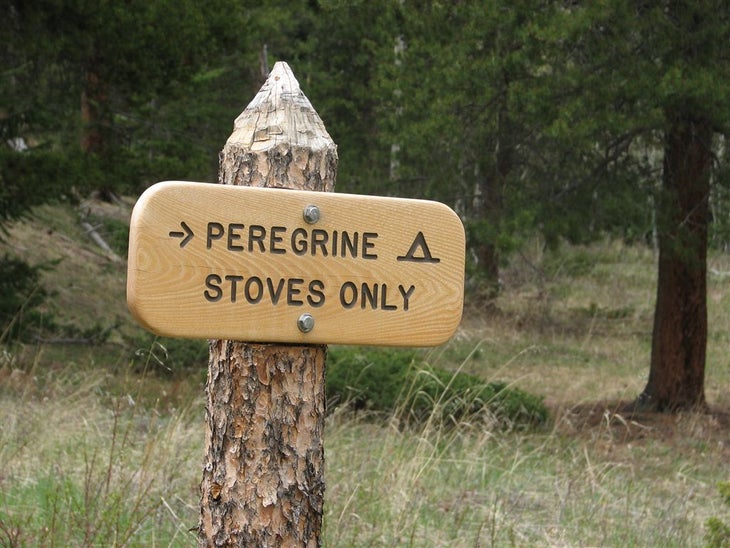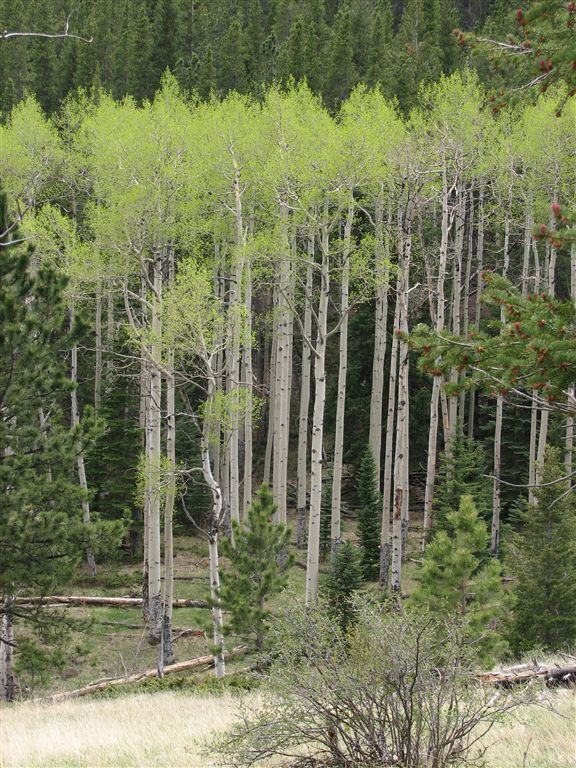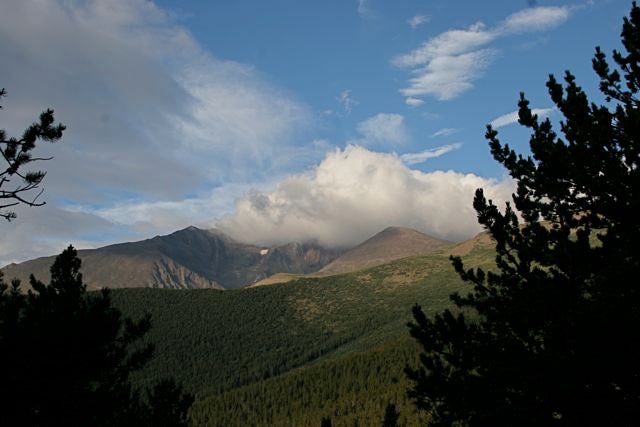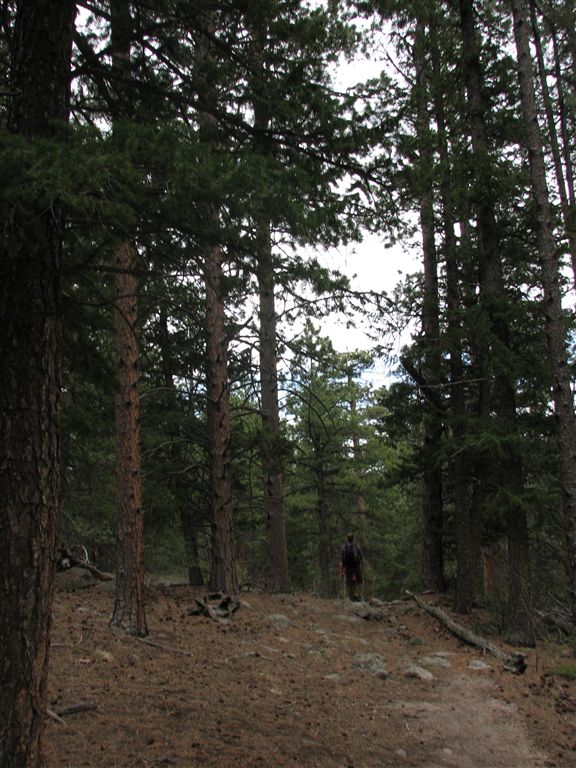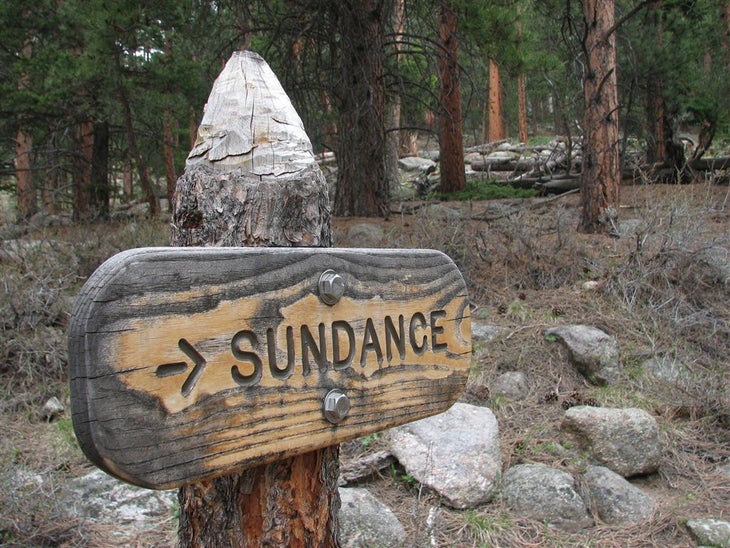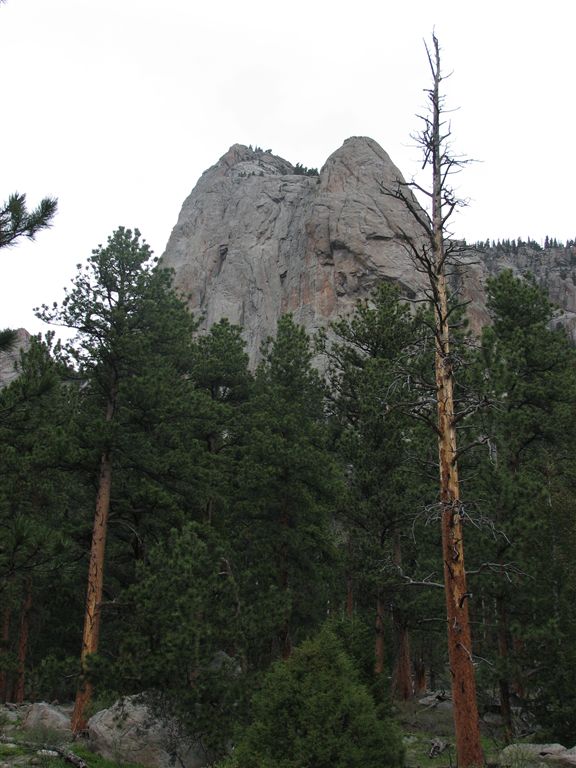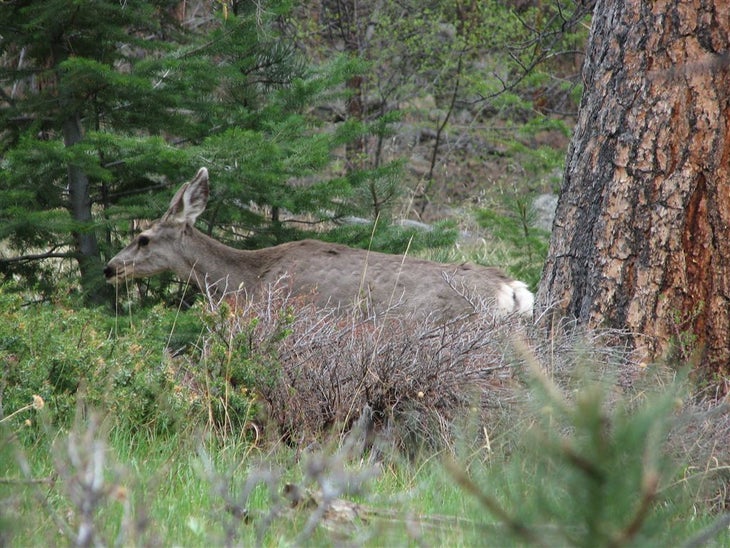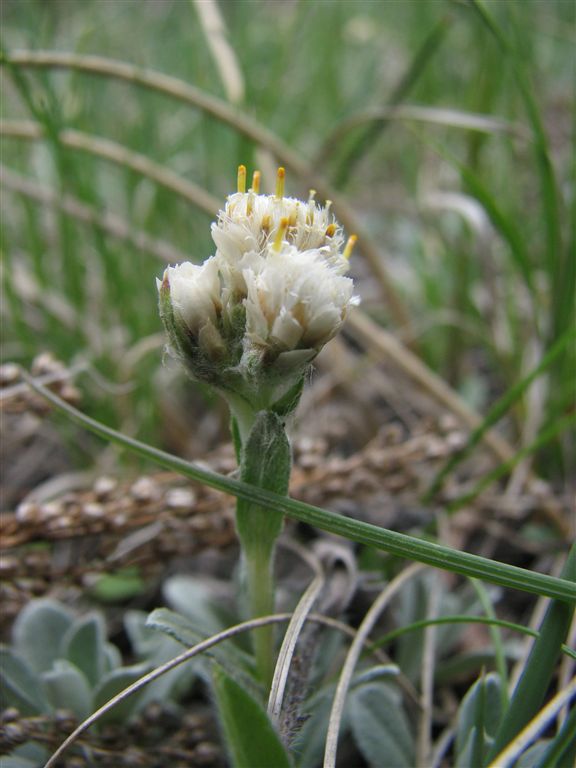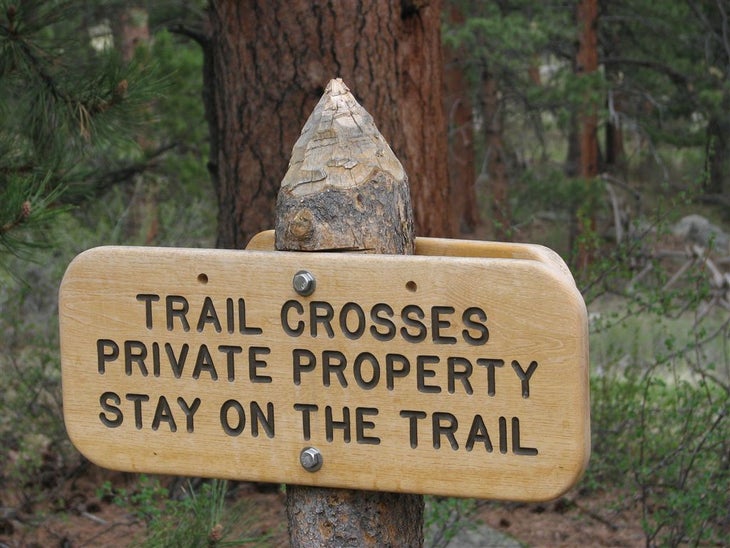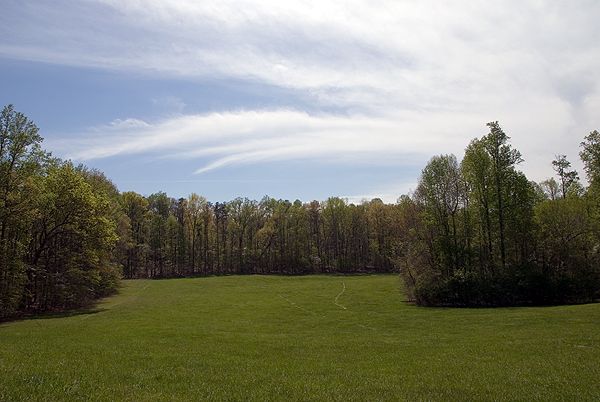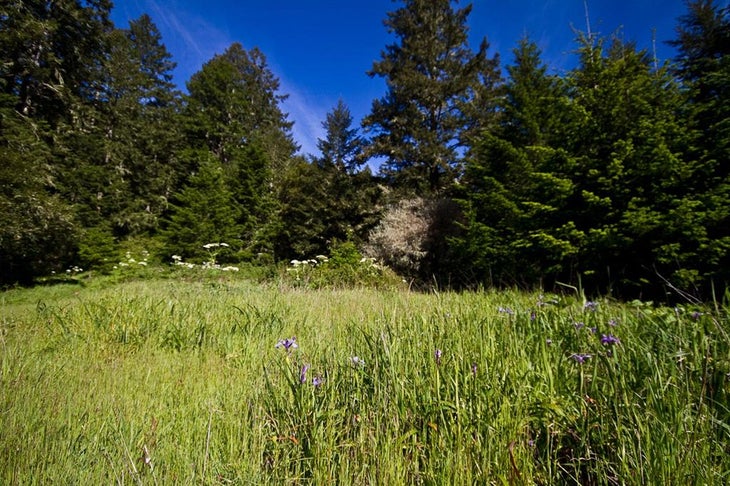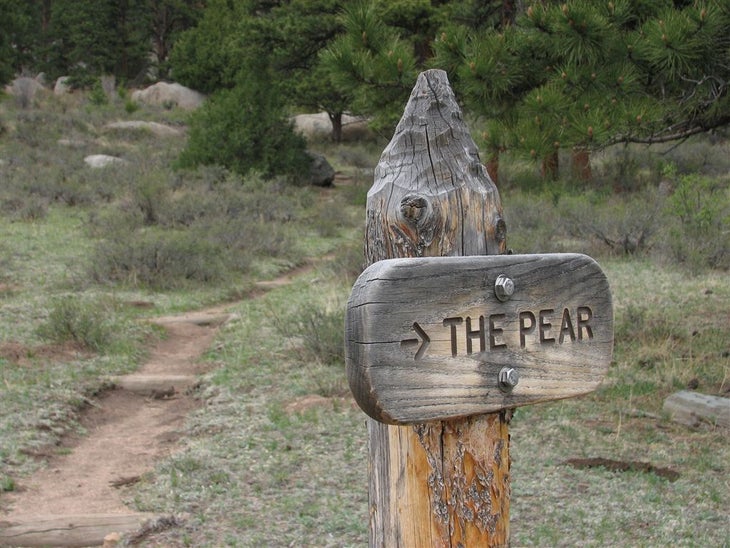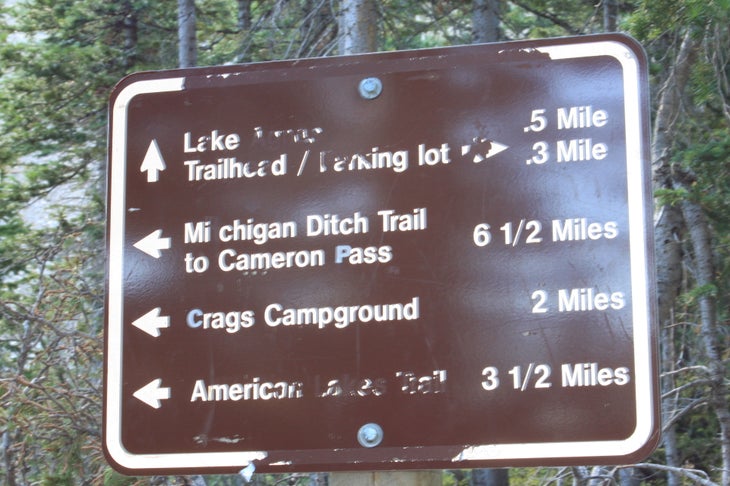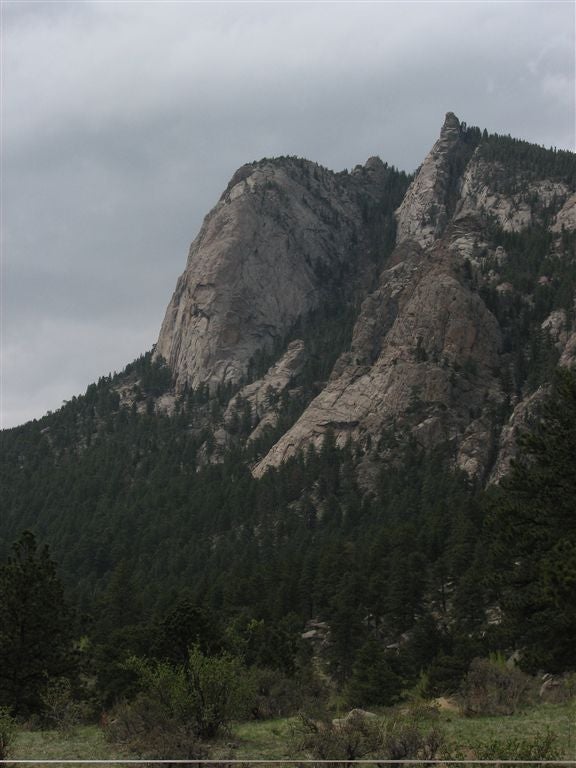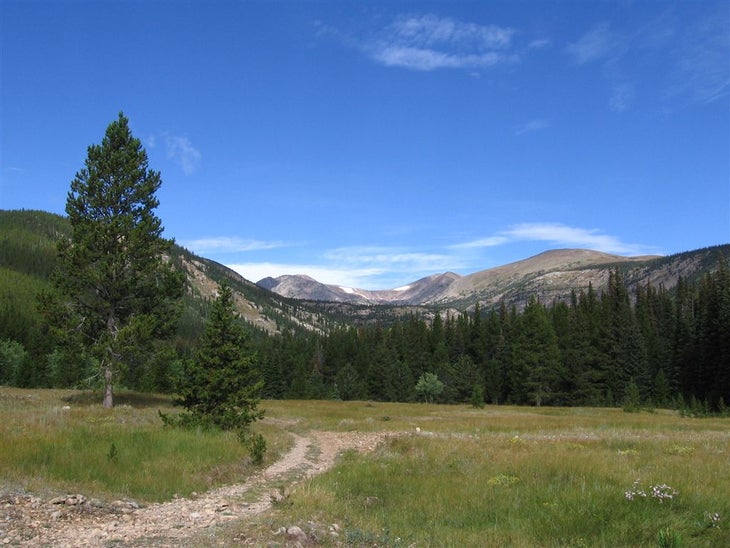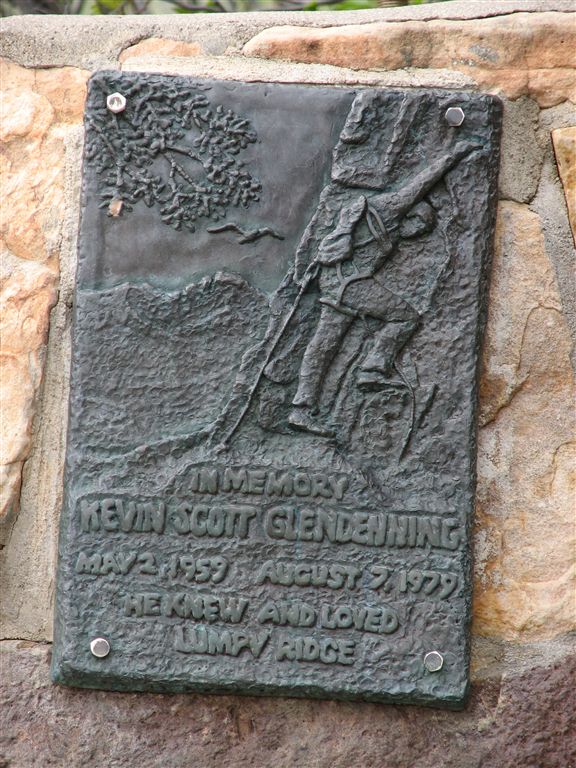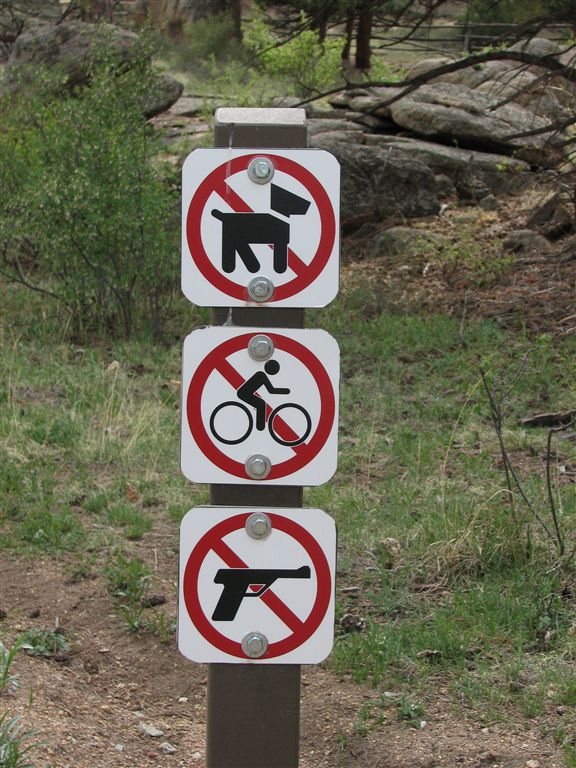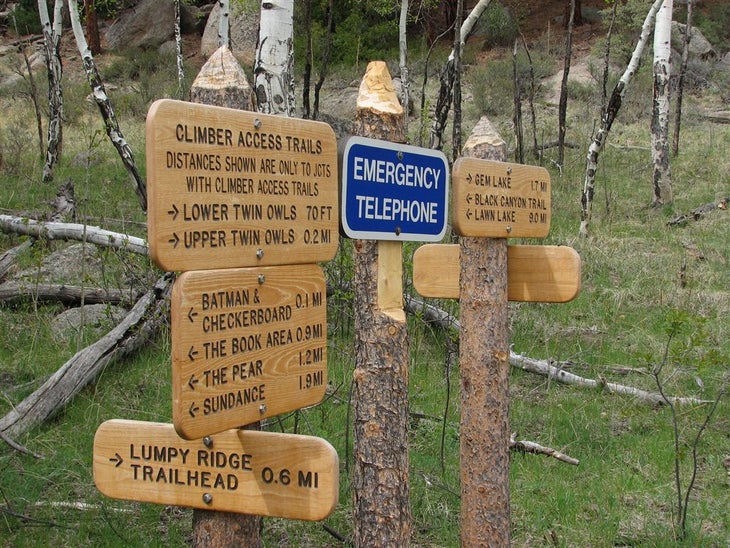 Trail Facts
Waypoints
WPT001
Location: 40.396721, -105.512741
Hike southwest from the Lumpy Ridge Trailhead. In 200 feet, turn right onto Gem Lake Trail to start loop.
WPT002
Location: 40.402, -105.51255
Turn right @ T-intersection. From here, begin the climb to Gem Lake on a sandy trail flanked by conifers.
WPT003
Location: 40.403801, -105.510117
Look to the south for 180-degree views across the park. Longs Peak's distinct diamond face rises in the distance.
WPT004
Location: 40.409882, -105.503998
Pass a privy with a view, then continue north toward Gem Lake.
WPT005
Location: 40.410416, -105.503715
Gem Lake: This small mountain pool (no outlet stream) is tucked at the foot of vertical rock cliffs. Watch out for the brave and hungry chipmunks that live here.
WPT006
Location: 40.418865, -105.508369
Turn right @ T-junction onto Balanced Rock Trail. Hike northeast.
WPT007
Location: 40.426998, -105.517899
Cross a narrow bridge over Cow Creek. Ahead, the trail enters a deep, open valley and gradually climbs along Cow Creek.
WPT008
Location: 40.42765, -105.52095
Turn left @ T-junction with Cow Creek Trail. Hike west.
WPT009
Location: 40.427166, -105.523918
Trail passes Rabbit Ears Campsite.
WPT010
Location: 40.42725, -105.534866
Stay left on Black Canyon Trail @ Y-junction to continue on the loop. Optional: Veer right @ Y-intersection for a 2-mile (round-trip) side trip to Bridal Falls.
WPT011
Location: 40.427517, -105.535881
Cross bridge over Cow Creek (separate trail for horses).
WPT012
Location: 40.427433, -105.537933
Pass the Peregrine Campsite.
WPT013
Location: 40.422482, -105.560799
Crest a saddle with a small clearing and head west.
WPT014
Location: 40.422268, -105.562485
Turn left @ 3-way junction, heading south. The trail that continues straight leads to Lawn Lake and Mummy Mountain.
WPT015
Location: 40.408382, -105.550697
Pass Sundance Campsite.
WPT016
Location: 40.405117, -105.543701
Walk through a gate and follow the trail across open fields with views of the valley. Note: This section travels through private property. Stay on the trail.
WPT017
Location: 40.403969, -105.540001
Continue straight @ 3-way junction with the Pear Trail.
WPT018
Location: 40.401585, -105.535286
Pass through a gate and continue hiking southeast.
WPT019
Location: 40.401531, -105.535217
Pass trail to the Book Area, a climber access.
WPT020
Location: 40.401482, -105.525032
Cross bridge and pass through gate, leaving private property.
WPT021
Location: 40.401501, -105.521034
Cross the gravel road that leads to NPS staff housing.
WPT022
Location: 40.401718, -105.520386
Turn right (southeast) @ T-junction to return to the Lumpy Ridge Trailhead. Ahead, pass a couple of gates and bridges.
Rocky Mountain National Park Boundary
Location: 40.4002, -105.51152
Trailside Views
Location: 40.402515, -105.510048
Boulders
Location: 40.407635, -105.50618
Rock Walls
Location: 40.408733, -105.505882
Privy Sign
Location: 40.409382, -105.504051
Gem Lake
Location: 40.410751, -105.503677
Beach at Gem Lake
Location: 40.410751, -105.503677
Gem Lake
Location: 40.410751, -105.503685
Wildflowers
Location: 40.426518, -105.514
Towering Trees
Location: 40.427601, -105.521301
Rabbit Ears Campsite
Location: 40.427383, -105.522415
Towering Cliff
Location: 40.426968, -105.52877
Peregrine Campsite
Location: 40.427399, -105.535683
Aspen Grove
Location: 40.427566, -105.538917
Longs Peak
Location: 40.416065, -105.561699
Conifer Forest
Location: 40.409168, -105.55265
Sundance Campsite
Location: 40.4091, -105.552467
Cliffs
Location: 40.408615, -105.551285
Deer
Location: 40.408184, -105.550034
Flower
Location: 40.4058, -105.545647
Private Property
Location: 40.405766, -105.545448
Grassy Meadow
Location: 40.405434, -105.54435
Meadow
Location: 40.405033, -105.543282
The Pear
Location: 40.404732, -105.541786
Trail Sign
Location: 40.402416, -105.536484
Rocky Cliffs
Location: 40.401901, -105.535751
Mountain Views
Location: 40.400566, -105.526184
Memorial
Location: 40.401482, -105.52227
Prohibited
Location: 40.397202, -105.515182
Cluster of Signs
Location: 40.4016, -105.521713