Rocky Mountain National Park: Lily Lake to Sprague Lake Loop
Traverse exposed ridgelines and thick pine forests for postcard views of Rocky Mountain National Park on this 20.6-mile lollipop loop.
Heading out the door? Read this article on the new Outside+ app available now on iOS devices for members! Download the app.
This all-day loop on the park's east side cruises 3 miles from Lily Lake to Stormy Pass before dipping south toward an abandoned mine and rounding the eastern slope of Longs Peak. The long climb toward treeline continues through alpine meadows and is interrupted with viewpoints of the Colorado plains and Long Peak's east face. Watch for elk—and signs of approaching thunder storms—as the trail approaches mile 8.6 and the route's high point at Granite Pass. You'll skirt a backcountry campsite near mile 12 that's located before the a rugged downhill section to the bottom of the Boulder Brook Trail. There is another 1,400 feet of climbing from the flats near Sprauge Lake to Storm Pass where you'll close the 14-mile loop.
Note: The threat of lightning looms most of the summer and can force you to lower elevations by mid-day. If you get a late start, consider taking off from the Longs Peak Trailhead to hike the highest elevations first and stay below treeline in the later part of the day.
INFO For information on permits, current trail and camp conditions, and wilderness guidelines, go to nps.gov/romo/planyourvisit/backcountry.htm
PERMIT A wilderness permit is required for all overnight camping in the backcountry. Reservations accepted ($20 administrative fee for permits during peak season). nps.gov/romo/planyourvisit/backcntry_guide.htm
CONTACT Rocky Mountain National Park, (970) 586-1206; nps.gov/romo
-Mapped by Tim Shisler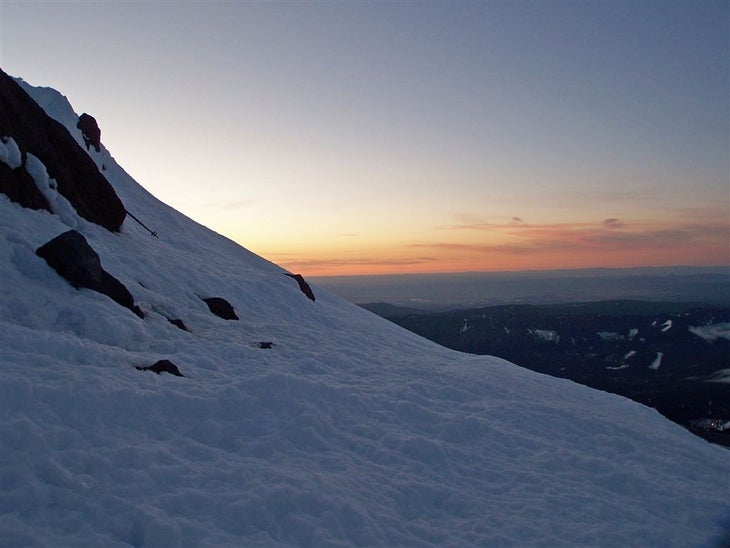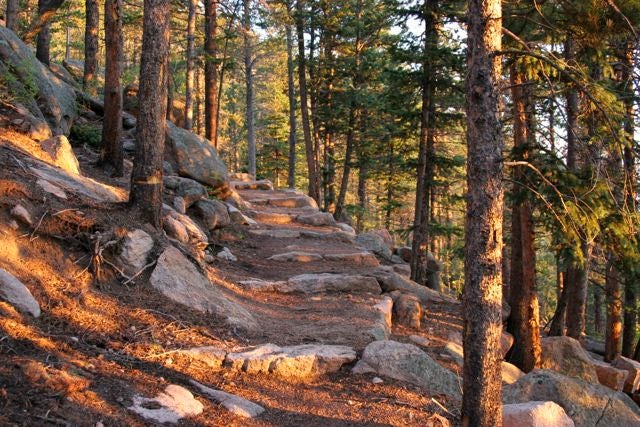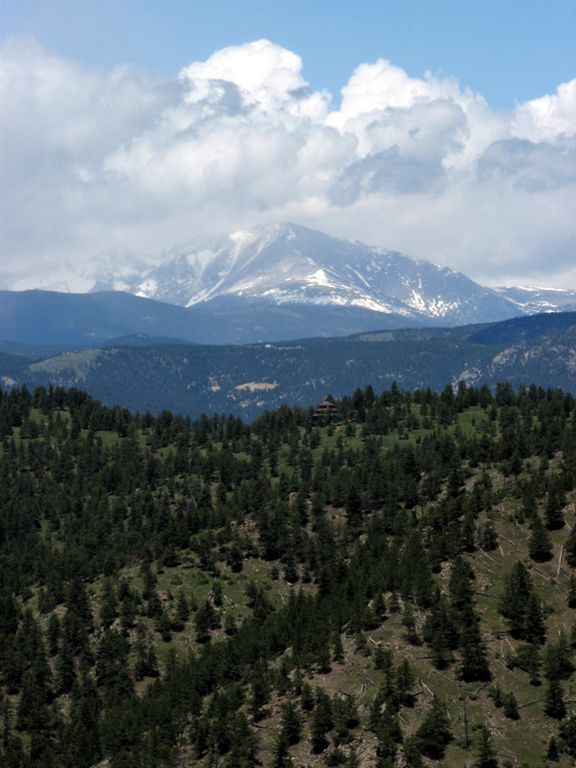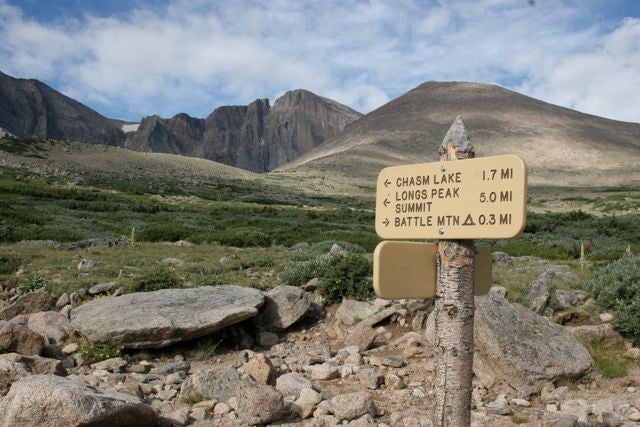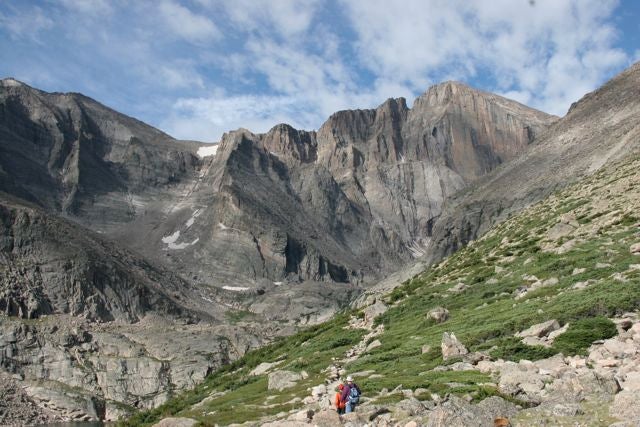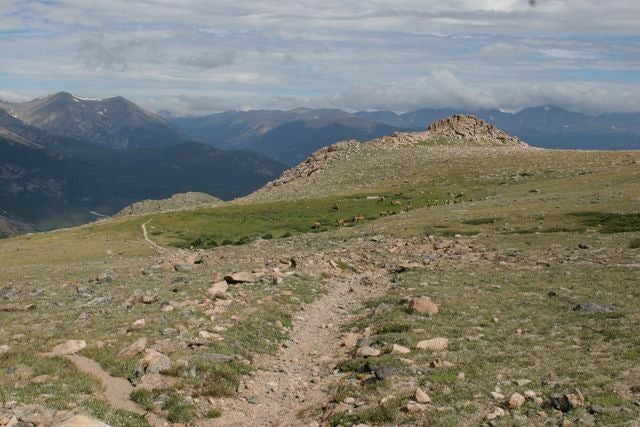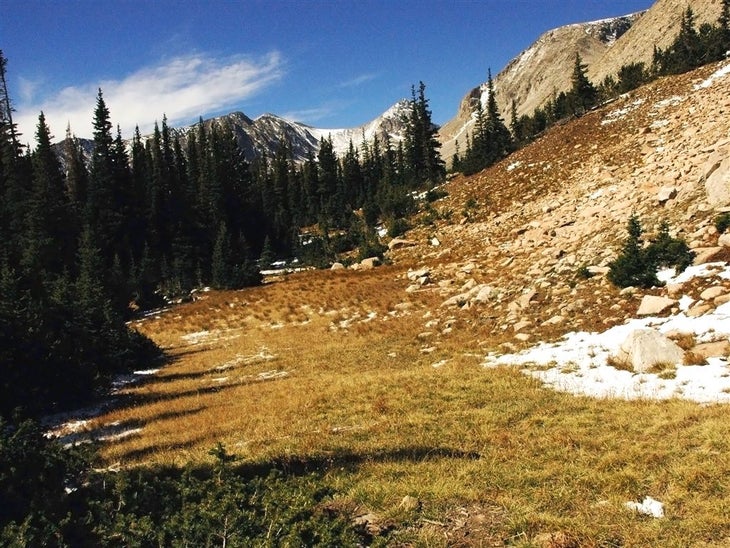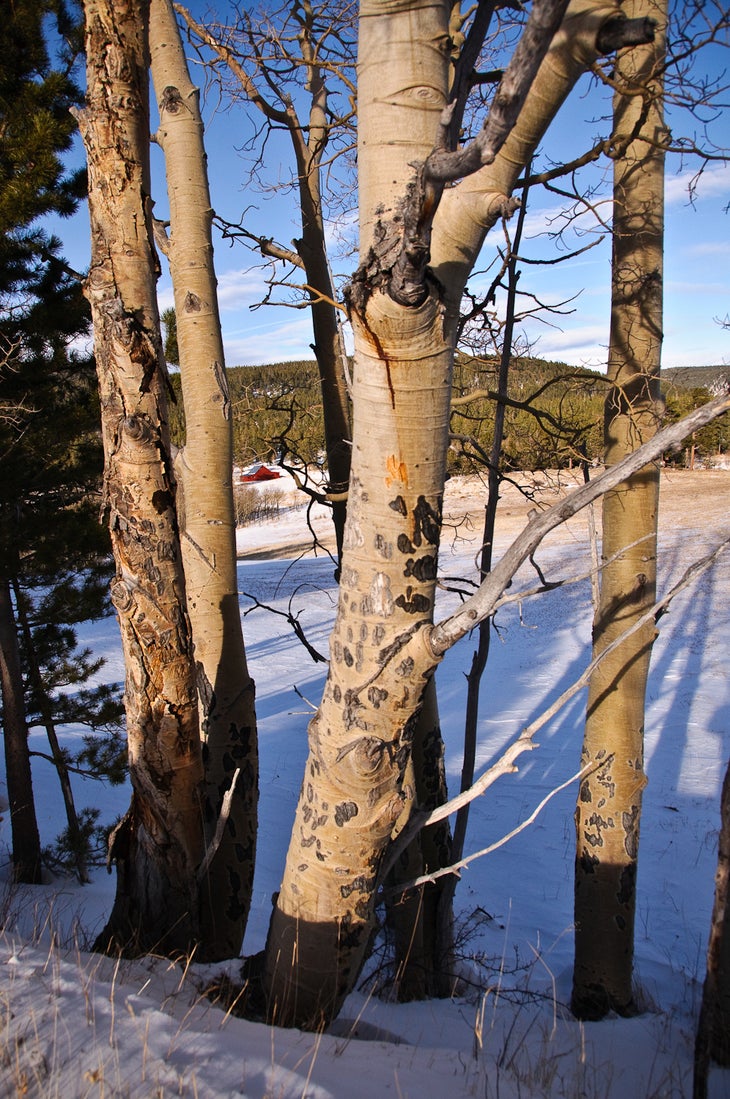 Trail Facts
Waypoints
LSL001
Location: 40.306596, -105.537844
From the parking lot, follow the Storm Pass Trail toward Estes Cone. The path skirts Lily Lake before veering south towards Longs Peak.
LSL002
Location: 40.304823, -105.540172
Bear left at Y-junction and turn downhill toward Aspen Brook.
LSL003
Location: 40.300574, -105.545418
Go straight at 4-way junction and continue along Storm Pass Trail. You'll cross a bridge and begin climbing towards Estes Cone.
LSL004
Location: 40.292952, -105.573587
This route's clockwise, 14.6-mile loop begins with a left turn at the 4-way junction near mile 3. The trail drops and crosses several small streams heading toward the Longs Peak Trailhead.
LSL005
Location: 40.286974, -105.564741
Turn right at 3-way junction with Eugenia Mine Trail.
LSL006
Location: 40.286652, -105.56811
There is a campsite on either side of the trail and a privy at the Moore Park backcountry campground area just before the mine.
LSL007
Location: 40.284076, -105.571876
You'll cross intermittent Inn Brook before reaching an interpretive sign and ruins of an old well at the Eugenia Mine site where the trail opens up.
LSL008
Location: 40.275086, -105.564255
This junction is just 0.5 mile from an alternative access point: the Longs Peak Trailhead. Turn right at T-junction onto the East Longs Peak Trail to continue the loop.
LSL009
Location: 40.272812, -105.56985
There are 6 backcountry campsites and a pit toilet at Goblins Forest Campground on the south side of the trail.
LSL010
Location: 40.273428, -105.580006
Cross Larkspur Creek and continue climbing above treeline. If you got a late start, or see storm clouds approaching, consider turning around, this route is exposed and above treeline for the next several miles.
LSL011
Location: 40.270751, -105.584278
Bear left at the Y-junction and ascend the Mills Moraine on the main trail.
LSL012
Location: 40.265626, -105.592561
This 3-way junction is a good resting spot. There's a privy to the left and a well-marked trail heading toward Columbine Falls and Chasm Lake. Next: Turn right and continue up the rocky trail toward Granite Pass.
LSL013
Location: 40.27432, -105.605425
Turn right at the 3-way junction near the pass and continue along the ridgeline of the North Longs Peak Trail. Look for elk and dramatic 50-mile views before dipping back into the trees.
LSL014
Location: 40.287735, -105.612699
Near mile 11.4, Boulder Brook's reliable flow is usually adequate for refilling water bottles (treat water before drinking).
LSL015
Location: 40.289085, -105.616937
Turn right at this 3-way onto the Boulder Brook Trail. The trail narrows quickly and follows an old stream bed littered with lose rocks, deep ruts, and exposed roots.
LSL016
Location: 40.291974, -105.617441
Bypass access trails leading to Boulder Brook campsites #1 and #2.
LSL017
Location: 40.305696, -105.617042
Alongside Boulder Brook, expect dense aspen and lush vegetation that offer cool temperatures and glowing autumn colors.
LSL018
Location: 40.316749, -105.615746
At this mile 13.7 junction, turn right and begin a long steady climb toward Storm Pass.
LSL019
Location: 40.314876, -105.612023
Turn right at Y-junction onto Storm Pass Trail. Ahead, stay right at the 3-way junction in 0.6 mile to bypass East Portal bound trails.
LSL020
Location: 40.307285, -105.600072
The upper reaches of the Wind River are generally reliable. Depending on the time of year, this might be the last available water before Storm Pass.
LSL021
Location: 40.296042, -105.582961
Bear left at this clearing to continue ascent. You'll close the loop at the 4-way junction atop the pass and just below Estes Cone.
Sunrise
Location: 40.305713, -105.538444
Getting an early start on this hike will give you time to finish before afternoon storms roll in and provide spectacular light.
Light
Location: 40.30352, -105.550075
Longs Peak
Location: 40.291442, -105.568292
Look left for stunning views of Longs Peak.
Signs
Location: 40.270685, -105.583077
This popular and well-maintained trail system is signed and easy to follow.
Longs Peak East Face
Location: 40.265634, -105.592443
The Chasm Lake junction offers a spectacular view of Long's East face.
Elk
Location: 40.281425, -105.600082
The alpine tundra below Longs Peak is a favorite lounging ground for elk.
Meadow
Location: 40.297727, -105.617151
The pine and spruce-fir forests below treeline are occasionally interrupted by open, flower-filled meadows.
Aspen
Location: 40.314221, -105.616722
In the lower reaches of the trail and alongside streams, you can also expect to see aspen groves.