Rochester, NY: Finger Lakes Trail, Letchworth State Park
Tour sycamore forests to over-gorge views above the Genesee River on this branch trail off the Finger Lakes Trail.
Heading out the door? Read this article on the new Outside+ app available now on iOS devices for members! Download the app.
Sure, you could cover these 13.1 meandering miles by lunchtime, but take the whole day to savor the views and explore hidden picnic spots in what locals call "The Grand Canyon of the East."
Begin the lollipop loop at the trailhead on the east side of the Genesee River and head west and north through classic, western upstate New York forests. Don't skimp on the sidehikes: Short excursions from the Finger Lakes Trail (like the one at mile 1.6) lead to panoramic views of the main gorge and the Genesee surging through it. At mile 2.3, turn left onto the Finger Lakes Trail, scanning trailside for red fox and whitetail deer. Note: Deer hunting is allowed in the park in late fall, so avoid this hike then if the presence of hunters–or the evidence of their success–gives you the howlers.
At mile 3.7 turn left onto the .2-mile (one-way) Seneca Trail for a quick out-and-back to a river overlook–and some unspoiled picnic spots. Return to the FLT and follow yellow blazes northeast, crossing several shallow creeks. At mile 5.4 stay left and reach a three-sided shelter in .1 mile. Hike 1.6 miles alongside cedar and hickory until a left turn onto the .5-mile Sycamore Trail, the turnaround point. Follow the same path back until mile 10.8, where you'll stay left on the FLT. At mile 12.6, turn right onto trail 9 and follow it .5 mile to the trailhead.
If you still got gas in your tank, check out the historic developed areas of Letchworth State Park, like the Glen Iris Inn overlooking Middle Falls.
-Mapped by Steffan Fay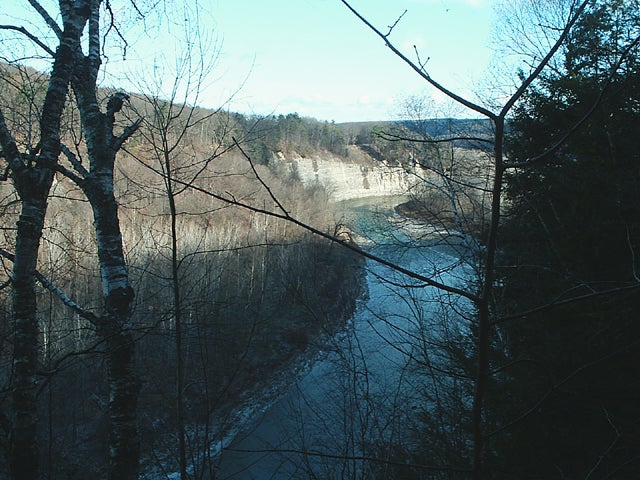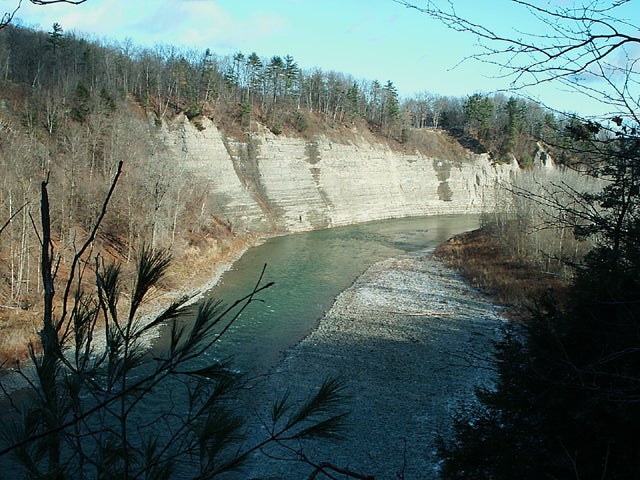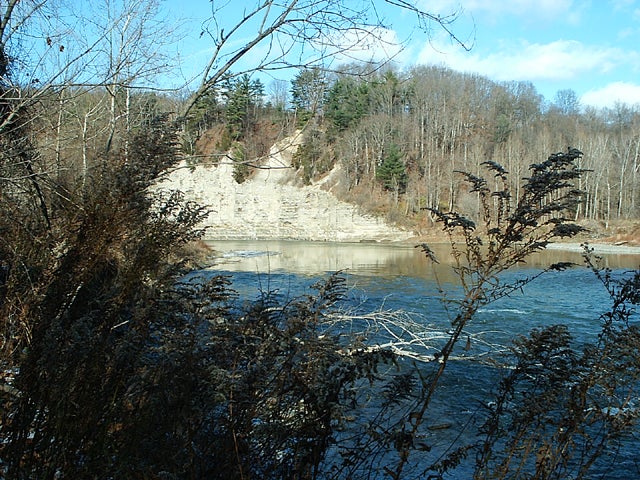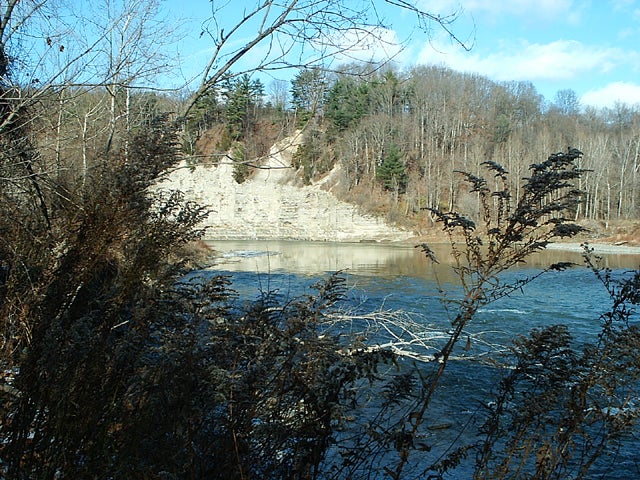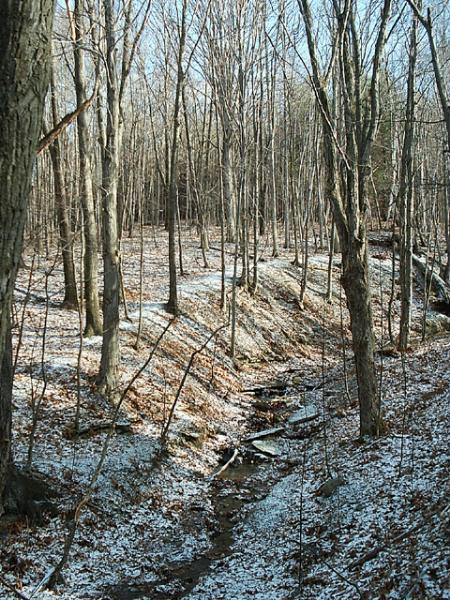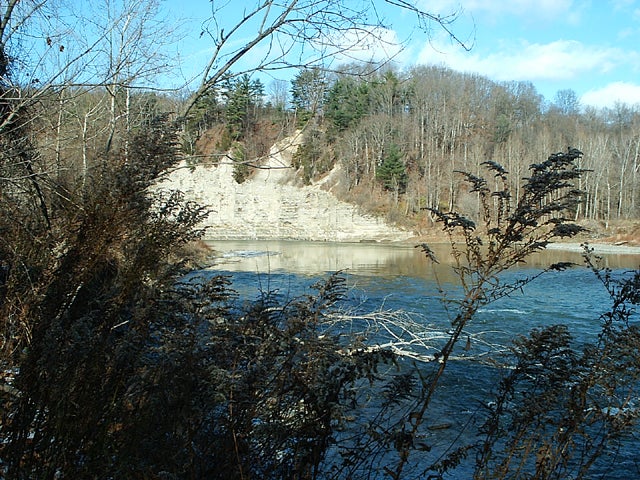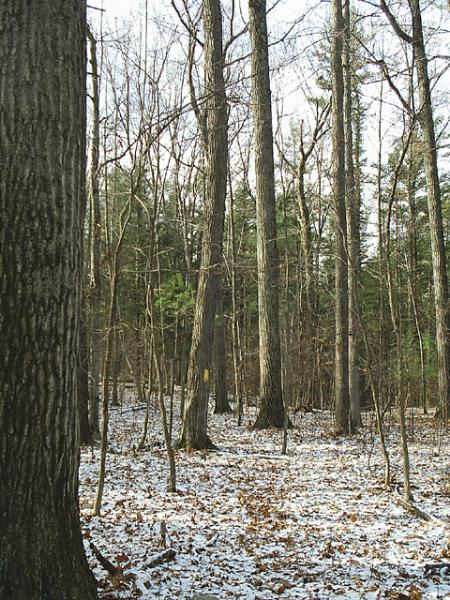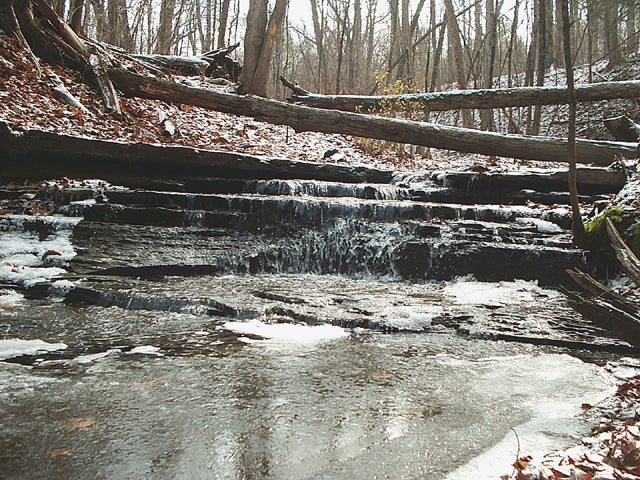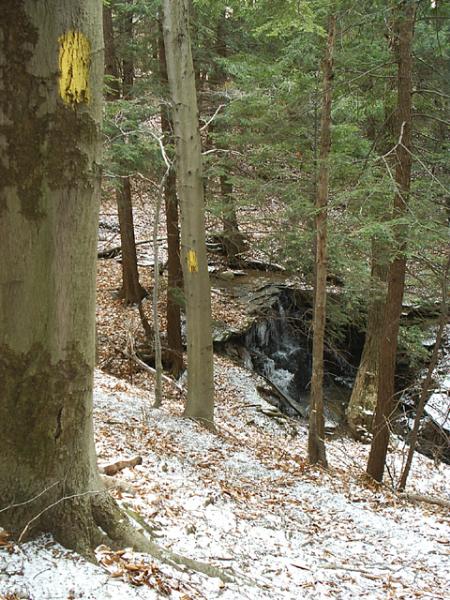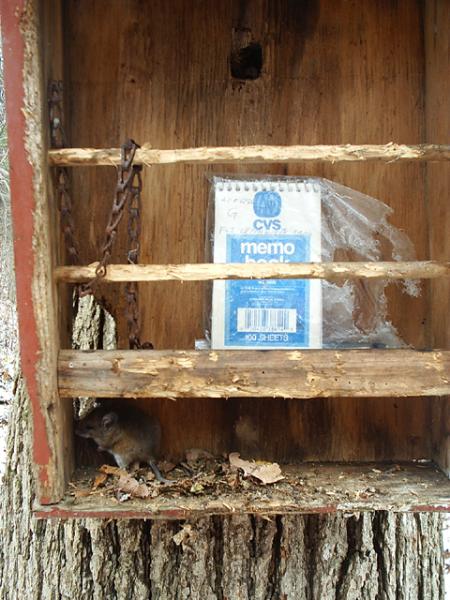 Trail Facts
Waypoints
FLL001
Location: 42.600254, -77.999783
Trailhead. From Cabin Area "E" head northwest along road.
FLL002
Location: 42.601205, -78.002817
Turn right at T onto dirt road through hardwoods.
FLL003
Location: 42.608967, -78.004199
Leave road at curve, and follow trail towards gorge edge.
FLL004
Location: 42.613111, -77.994
Head out to the river's edge for an overwater view, then return to this junction and head left (east) on the main trail.
FLL005
Location: 42.612964, -77.993432
Crossing Dishmill Creek can be tricky if you want to avoid wet feet – look for narrow spots or bridge fallen trees.
FLL006
Location: 42.609128, -77.987909
Outbound: Turn left onto the Finger Lakes Trail.
FLL007
Location: 42.617298, -77.980192
Outbound: Go left at the X-intersection for a sidetrip down the Seneca Trail with great views at end.
FLL008
Location: 42.618484, -77.984455
Pick your way through mature woods to the edge of the gorge where views and pleasant picnic spots abound.
FLL009
Location: 42.624649, -77.976605
Stay left at the Y-intersection.
FLL010
Location: 42.626001, -77.976559
Arrive at an Appalachian-style shelter complete with picnic table.
FLL011
Location: 42.640888, -77.964341
Outbound: Go left at the X-intersection for side trip down the Sycamore Trail, a former logging road.
FLL012
Location: 42.645449, -77.970059
Reach the northern turnaround point, with stay-awhile views of the river through the trees.
FLL013
Location: 42.608281, -77.987588
Go right at the Y-intersection signed "9" for a tiny sideloop or follow blazes to stay on FLT.
FLL014
Location: 42.607967, -77.988585
Rejoin FLT.
FLL015
Location: 42.602936, -77.993659
Turn right at the X-intersection onto trail 9 (leaving the FLT).
FLL016
Location: 42.60374, -77.994575
Cross Dishmill Creek (bridge may be washed out). Continue up draw directly ahead.
FLL017
Location: 42.602699, -77.997877
Veer right at the Y-intersection to stay on trail 9.
Genesse River Gorge
Location: 42.610276, -78.002954
Genesee River Gorge
Location: 42.612236, -77.999554
Genesee River
Location: 42.614405, -77.993062
Genesee River
Location: 42.614401, -77.992879
Northeastern Hardwoods
Location: 42.613422, -77.984835
Northeastern hardwoods, gently rolling terrain and frequent small stream crossings characterize this section of the Finger Lakes Trail.
Genesee River
Location: 42.619896, -77.986937
The author surveys the Genesee River and evidence of a former bridge crossing. Turn around here and head back for a shorter version of this hike.
Yellow Blazes
Location: 42.618358, -77.979621
Yellow tree blazes provide essential aide for following the Finger Lakes Trail at this time of year.
Stream Crossings
Location: 42.619842, -77.977619
Most stream crossings like this one are not bridged, but with a little thought and care you shouldn't have too much trouble finding a way across without getting wet feet.
Cedar and Pine
Location: 42.634204, -77.969634
This portion of the trail is characterized more by cedar and pine forest. Yellow blazes are invaluable.
Trail Register
Location: 42.62479, -77.976051
Trail register complete with sleepy resident.