Roanoke, VA: McAfee Knob
The reward on this famous, 7.5-mile hike is a sweeping ridgeline view of the Catawba Valley framed by a striking rock ledge.
Heading out the door? Read this article on the new Outside+ app available now on iOS devices for members! Download the app.
This popular loop on Catawba Mountain shows off the best of Virginia's Appalachian Trail: valley views, rocky ridgelines, forested slopes, trailside shelters, rippling creeks, imposing stone monoliths, and one award-winning outhouse. From the McAfee Pass parking area, cross VA 311 and pick up the AT heading north. The white-blazed trail shoots up a series of wooden steps then angles right for a gentle mountainside ramble above VA 311.
Traverse four wooden bridges, then look for John's Spring Shelter (aka "The Boy Scout Shelter") after one mile. Below the shelter is a sturdy loo-with-a-view, a 1992 gold award winner according to the plaque on the door. The trail crosses roots, rocks, and five more wooden bridges before switchbacking away from the road. Another mile brings you to a spring and a section of moss-bordered trail that soon passes a short spur trail to Catawba Shelter. At the campsites straight ahead, turn left and continue to the fire road. Cross and follow the stone-dappled path up a few easy switchbacks.
After a tantalizing first view of Catawba Valley, the trail swings away from the ridge then winds through a cluster of boulders. Just beyond, a short spur trail leads to McAfee Knob at 1,397 feet. Grab your camera for a stunning view that extends across Catawba Valley, Tinker Cliffs, and North Mountain. On your return, turn right at the fire road. Follow the rutted path as it follows the mountain's spine back to the parking area.
-Mapped by Amy C. Balfour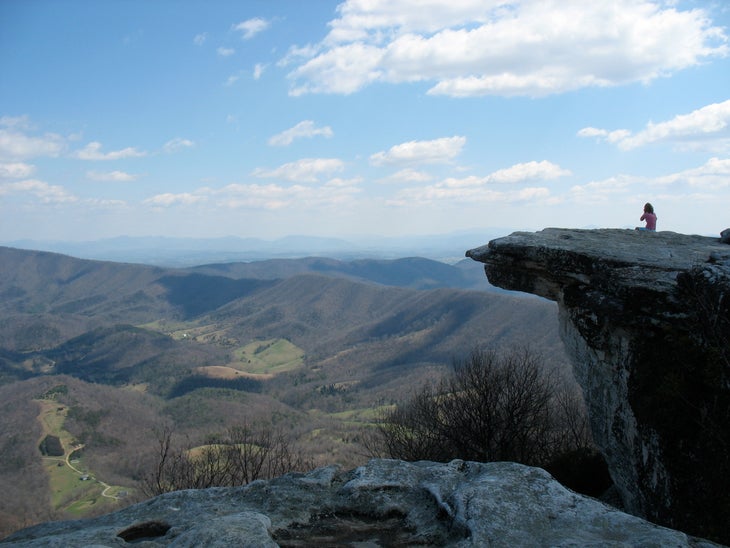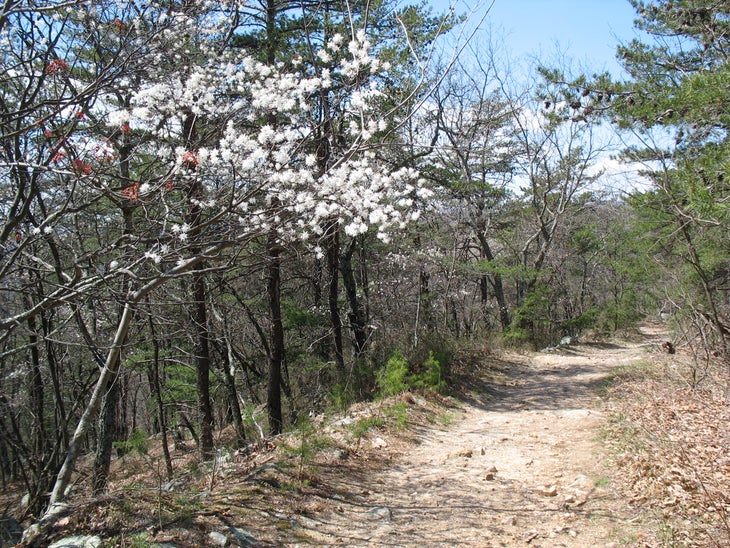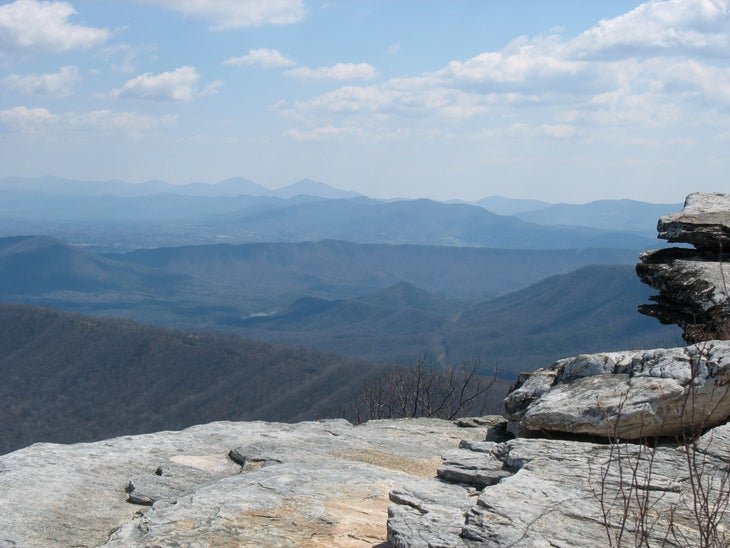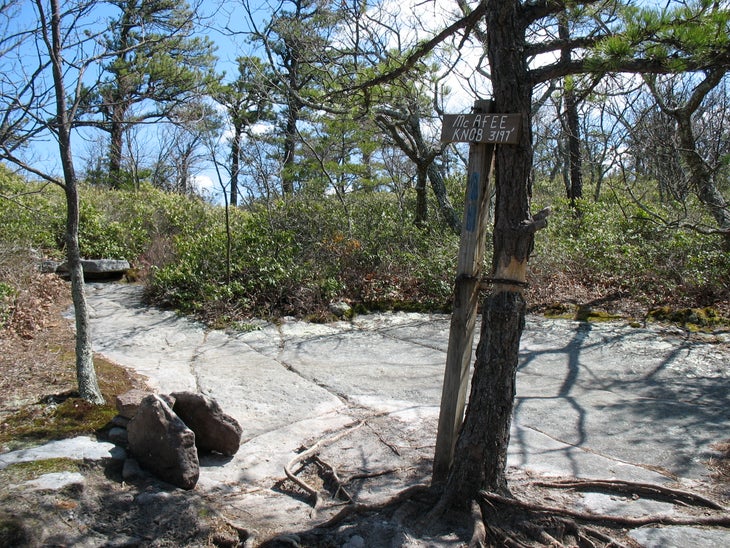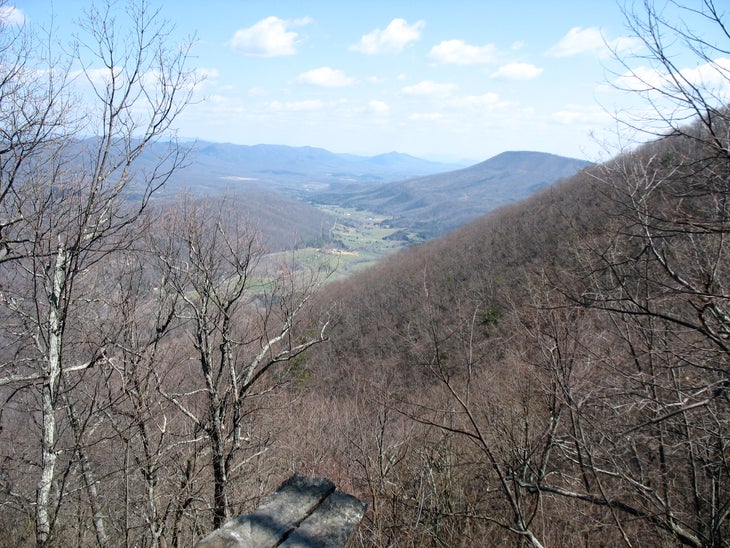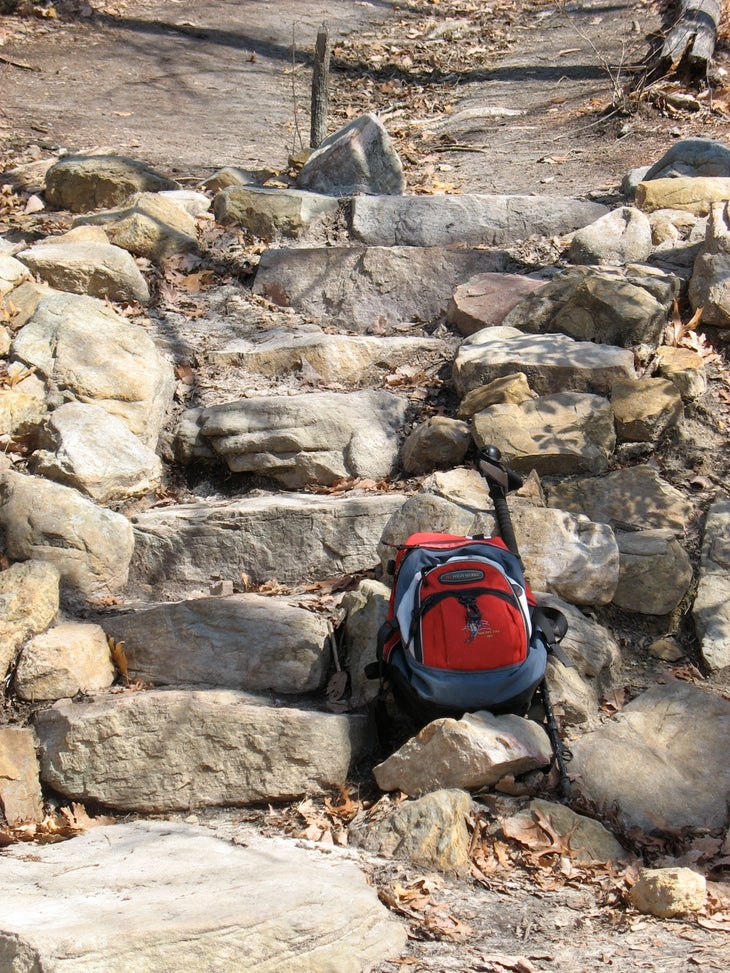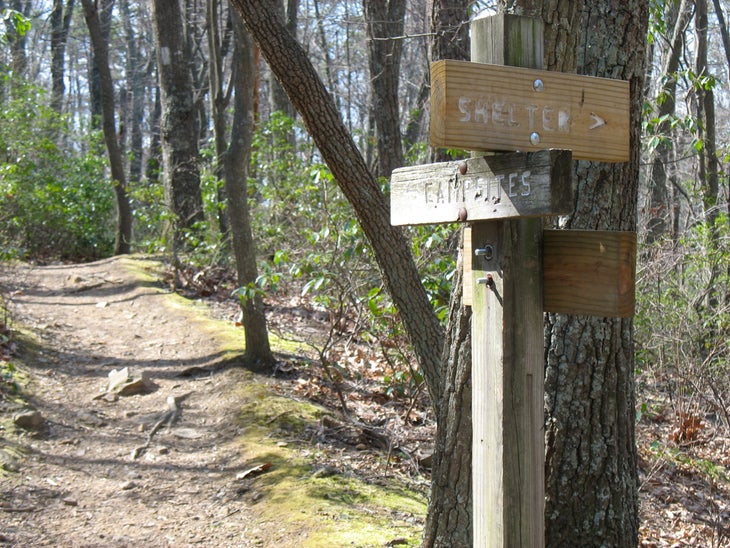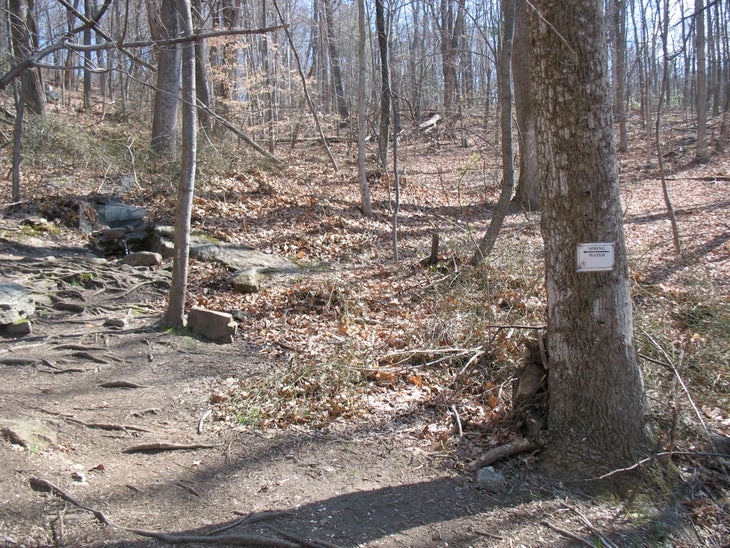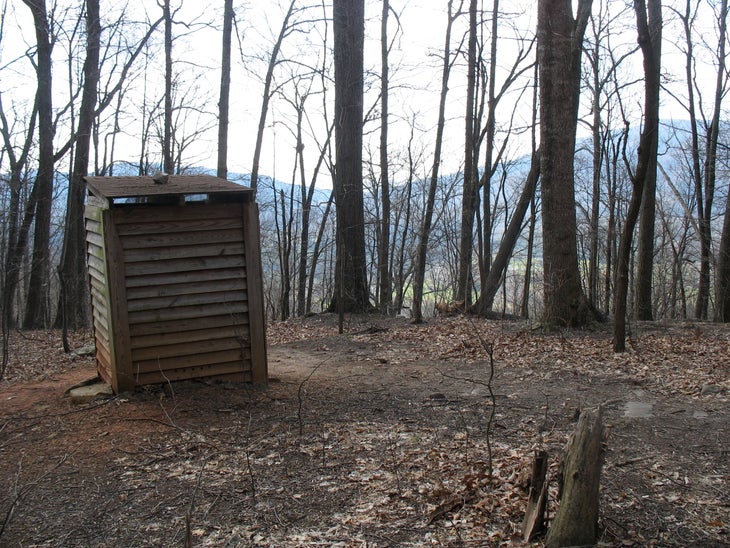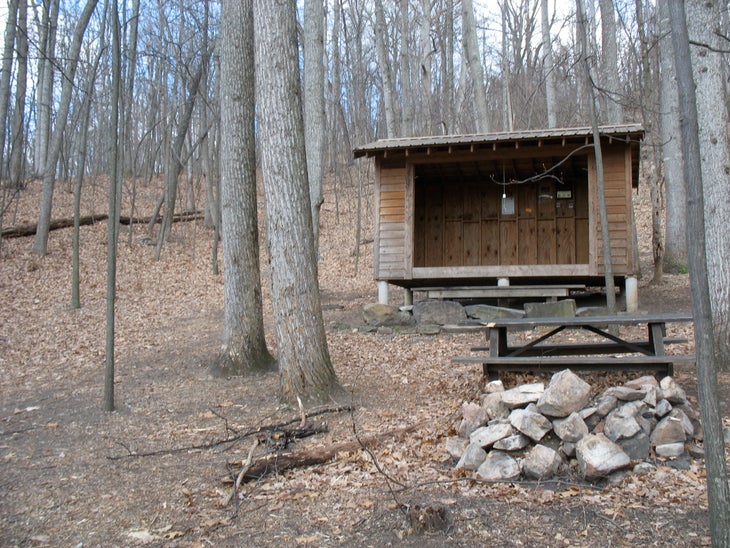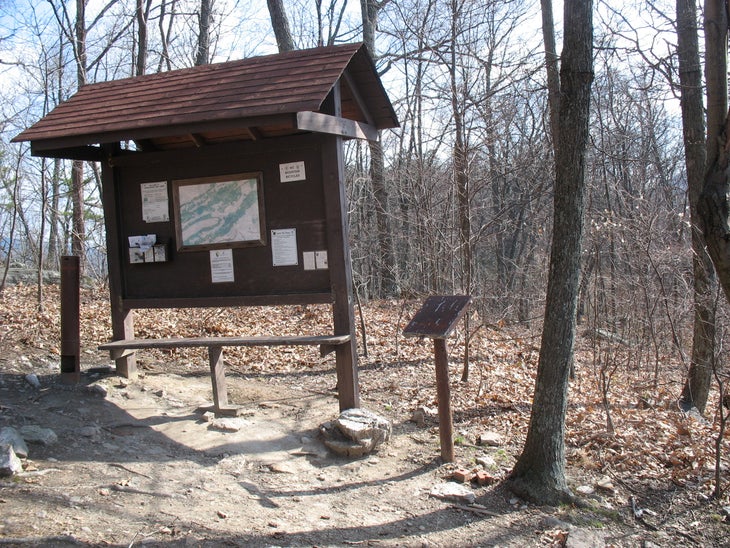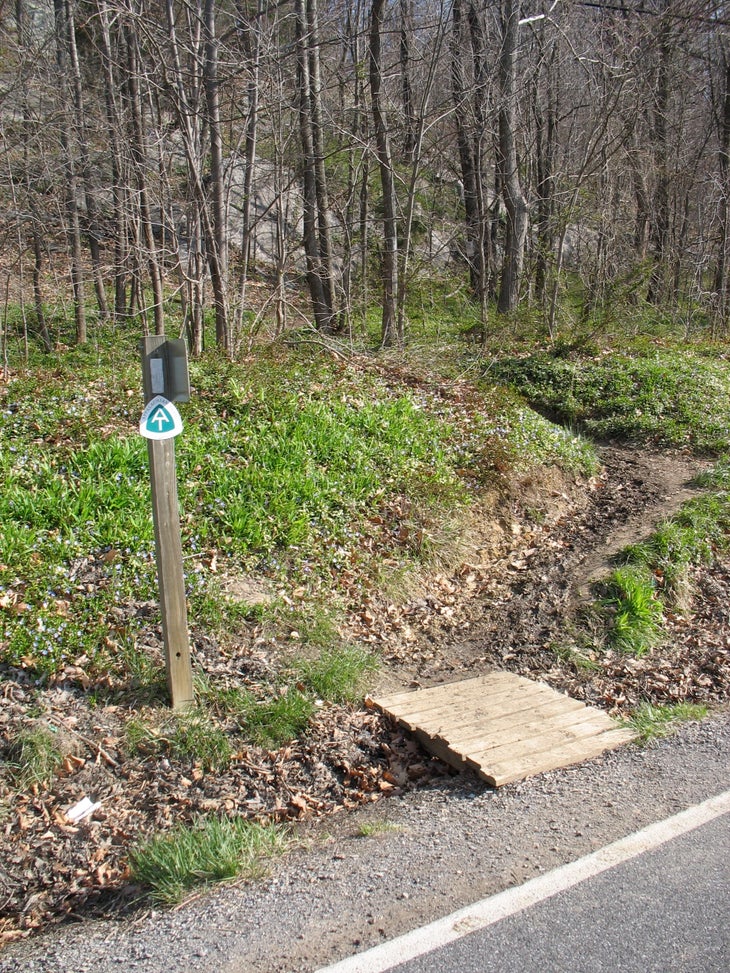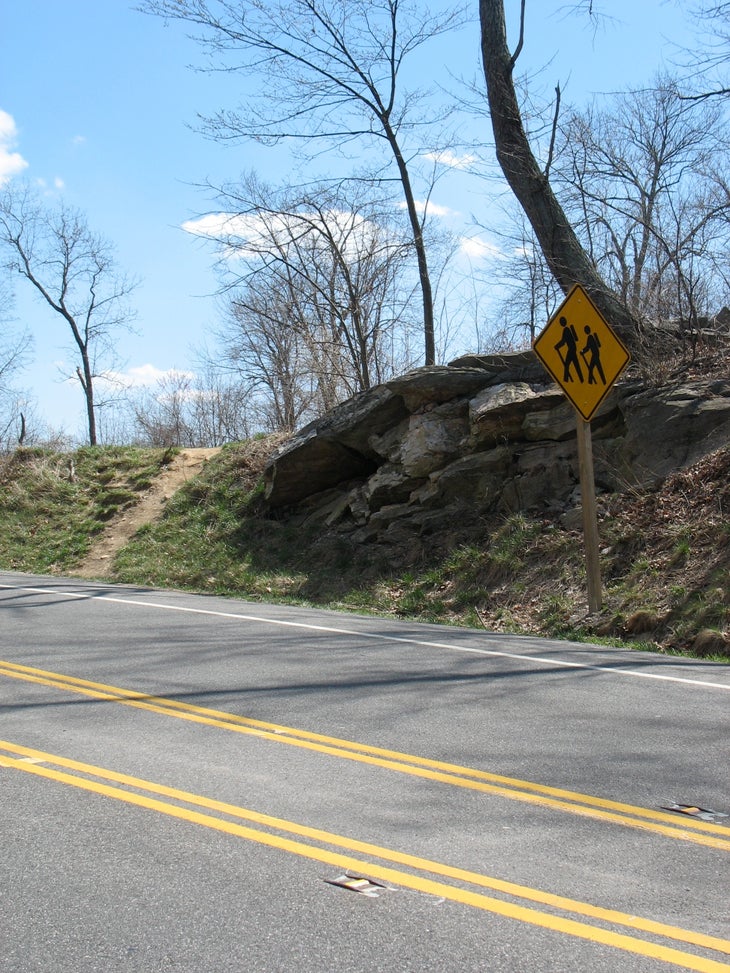 Trail Facts
Waypoints
MCK001
Location: 37.3801496, -80.0897473
The parking area at McAfee Pass fills fast on warm-weather weekends. Get there before noon to nab a spot.
MCK002
Location: 37.3802519, -80.0894362
The Appalachian Trail (AT) is across VA 311 and to the right. Caution: Look and listen before crossing the highway. Cars and light trucks barrel over the pass and can be hard to see around the sloped curves.
MCK003
Location: 37.3813666, -80.0886664
At the information board with pamphlets and mileage chart, turn right to continue on the white-blazed AT.
MCK004
Location: 37.3841053, -80.0808021
Cross the first of nine wooden bridges built over rough spots in the trail. From here, the path runs roughly parallel to VA 311 along the mountainside. In spring, you might spy a morel hunter looking for the prized mushroom in these parts.
MCK005
Location: 37.3857506, -80.0742817
Pass John's Spring Shelter just shy of one mile in. There's a picnic table and a wooden outhouse (with views of Mason Cove and Fort Lewis Mountain) just below it. Check the snazzy plaque on the privy door.
MCK006
Location: 37.3861939, -80.0609136
Trail curves away from VA 311.
MCK007
Location: 37.3888109, -80.058285
As the trail dips, look just ahead on your right through the trees for your first view of Catawba Shelter.
MCK008
Location: 37.3889388, -80.0570619
A sign marks the location of a spring to the left. Turn right to continue on the AT.
MCK009
Location: 37.3884785, -80.0568902
At the junction with the short trail to Catawba Shelter, continue straight along the AT for McAfee Knob.
MCK010
Location: 37.3876473, -80.056504
Turn left at marker just before campsites.
MCK011
Location: 37.3879329, -80.0524941
Continue straight across fire road.
MCK012
Location: 37.3905499, -80.0474918
Cross powerline right-of-way. Look out for whitetail deer.
MCK013
Location: 37.3924081, -80.0434148
First clear views of Catawba Valley. From here, the trail swings east a bit before curving back to the ridge.
MCK014
Location: 37.3914108, -80.0408399
Turn left at junction with rutted path.
MCK015
Location: 37.3923144, -80.0410116
Wander through a cluster of imposing stone monoliths. Stay left to remain on trail.
MCK016
Location: 37.3928292, -80.0378264
Junction with McAfee Knob Spur Trail; turn left.
MCK017
Location: 37.3929281, -80.0371492
McAfee Knob: A quartzite and sandstone formation jutting horizontally from the ridge. Red-roofed farmhouses, dilapidated barns, and winding country lanes are visible below in Catawba Valley. Tinker Cliffs, 5 miles ahead on the AT, can be seen to the northeast. Enjoy the view before backtracking to Waypoint 11/18.
MCK018
Location: 37.387935, -80.0525236
Turn right at the un-blazed gravel road to return along the spine of the mountain. The trail runs roughly parallel to the AT, which travels a few hundred feet below on the mountainside. If you listen carefully you can occasionally hear hikers on the nearby trail.
MCK019
Location: 37.3877709, -80.0673938
During the winter, the valleys on both sides of the mountain are visible from this spot on the road. As you descend, look for short paths that lead to scenic trailside viewpoints.
MCK020
Location: 37.3853329, -80.0782192
From boulders on your left, look down the slope to see hikers on the AT.
MCK021
Location: 37.3848555, -80.0800216
Pass a second information kiosk.
MCK022
Location: 37.3823116, -80.0851192
Stay right to return to VA 311 via the fire road. The dirt trail to the left climbs a short hill to the first information kiosk.
MCK023
Location: 37.3804011, -80.0902301
Cross VA 311 to return to parking lot and complete the loop.
MCK024
Location: 37.3801496, -80.08964
Hungry? From the parking lot, take a left and drive west on VA 311 to the bottom of the mountain. For a hearty Southern-style meal, pull into the driveway for The Home Place restaurant just ahead on your left.
View of McAfee Knob
Location: 37.3928429, -80.0368702
Catawba Valley unfurls below the knob.
McAfee Knob Trailhead
Location: 37.3803628, -80.0893182
Information Kiosk
Location: 37.3813623, -80.0886288
John's Spring Shelter
Location: 37.3857421, -80.0741422
Loo with a View
Location: 37.3856313, -80.0740457
Spring Water
Location: 37.3889558, -80.0569224
Junction with Catawba Shelter Spur Trail
Location: 37.388487, -80.0567615
Stone Steps at Fire Road
Location: 37.387935, -80.0524592
First Look at Catawba Valley
Location: 37.3924081, -80.0432861
McAfee Knob Spur Trail
Location: 37.3928343, -80.0376856
View North from McAfee Knob
Location: 37.3929025, -80.0370097
From here, the AT continues along the spine of the mountain in the foreground and passes Tinker Cliffs.
Fire Road Rolling toward VA 311
Location: 37.3877368, -80.0660741
Trail Crosses VA 311
Location: 37.3803969, -80.0901067