Roanoke: Pine Mountain Loop
Scattered along this 11.3-mile dayhike (or overnighter) is a bumper crop of mountain views, considered some of the best in southern Virginia.
Heading out the door? Read this article on the new Outside+ app available now on iOS devices for members! Download the app.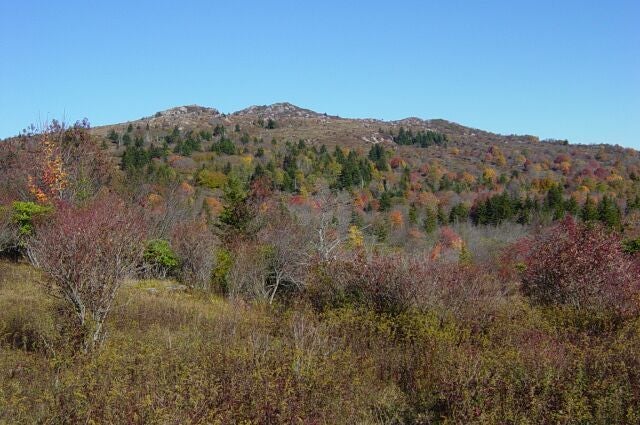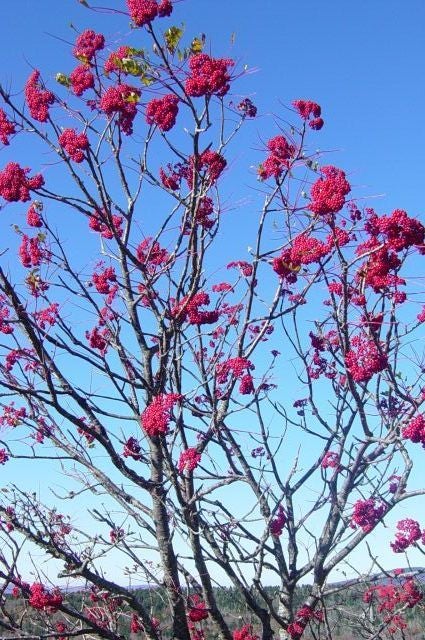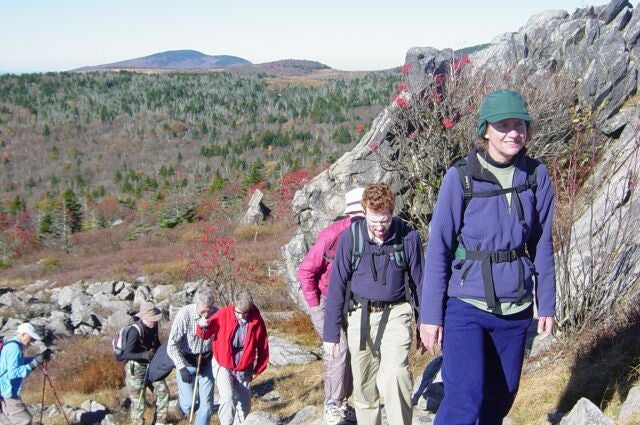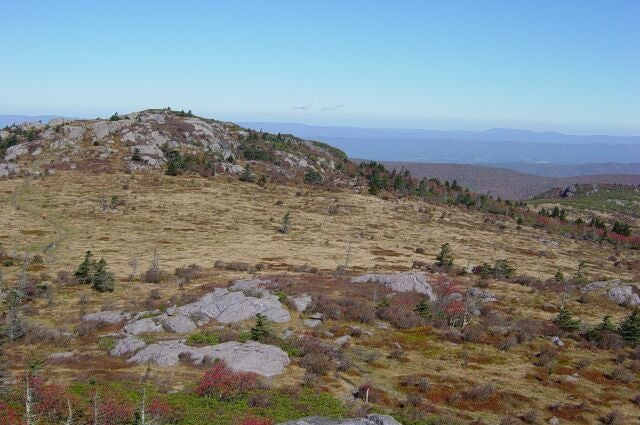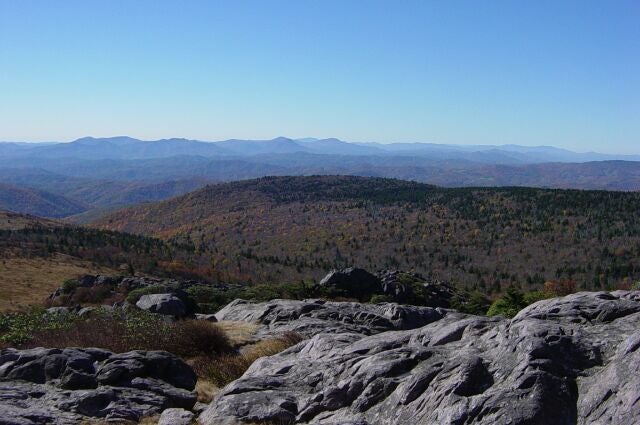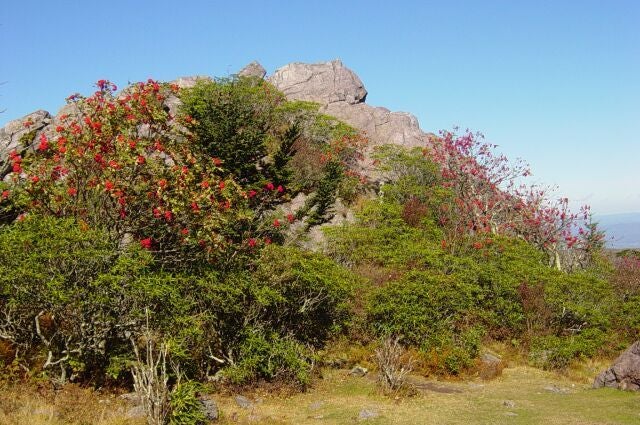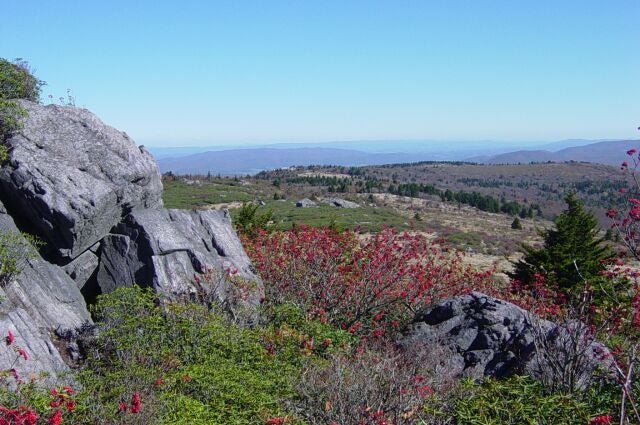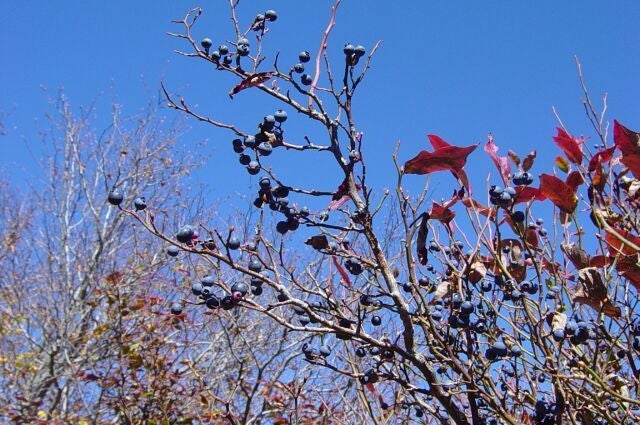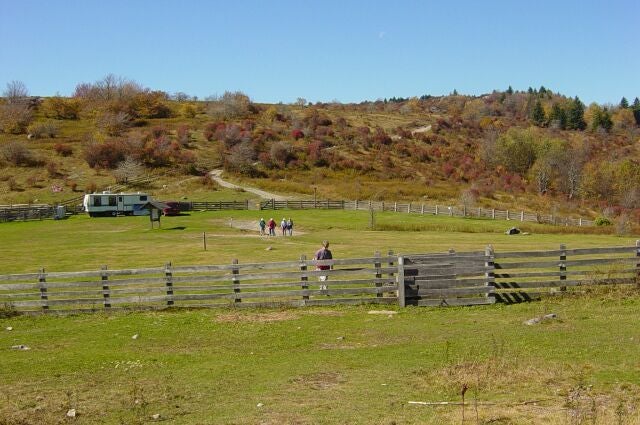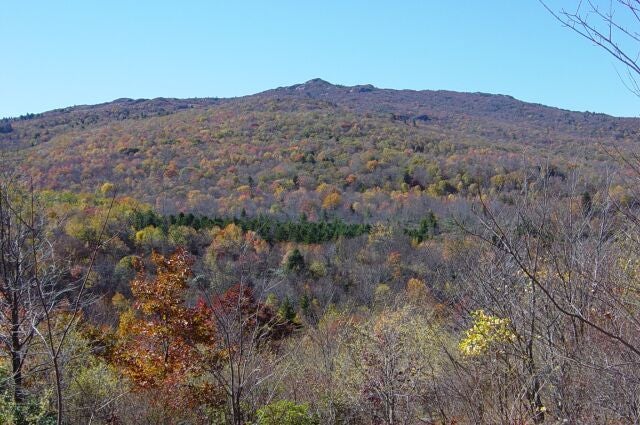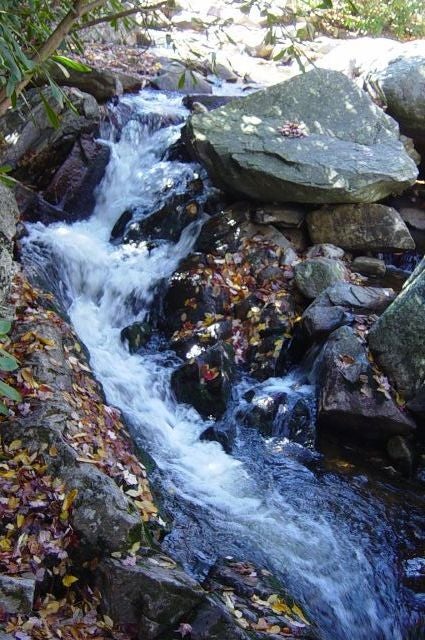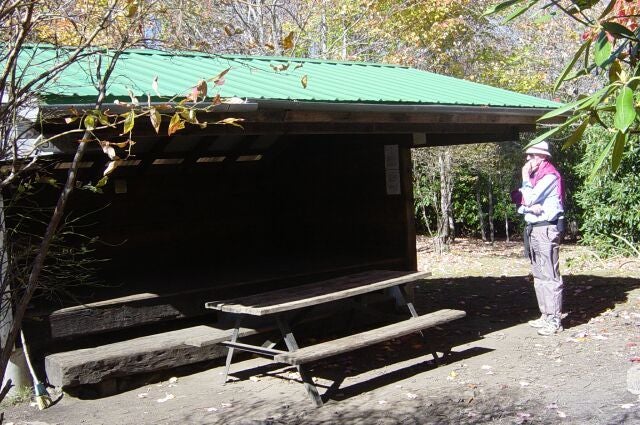 Trail Facts
Waypoints
Hikers crossing field
Location: 36.6338768005371, -81.5089340209961
Hikers departing from trailhead toward Massey Gap. © Collins Chew
Distant mountain
Location: 36.6394233703613, -81.5091934204102
Wilburn Ridge from Massey Gap. ©Collins Chew
Tree with red berries
Location: 36.6505126953125, -81.5172500610352
American Mountain Ash with red berries after the leaves have fallen. © Collins Chew
Climbing Wilburn Ridge
Location: 36.6520729064941, -81.5176010131836
Carol and Matt lead the way up one peak of Wilburn Ridge. © Collins Chew
Balds of Wilburn Ridge
Location: 36.6531982421875, -81.5178604125976
Open land and distant valley along Wilburn Ridge. © Collins Chew
North Carolina from Wilburn Ridge
Location: 36.6538047790527, -81.5184631347656
Far-off mountain skyline of North Carolina from rocky tops of Wilburn Ridge. © Collins Chew
Large Rock
Location: 36.6580505371094, -81.5219345092774
A large rock (meta-volcanic ash) at Rhododendron Gap. Take the Pine Mountain Trail which turns right just in front of the rock. © Collins Chew
Rcoks and fields
Location: 36.6688766479492, -81.5127487182617
Large rock and view of Stone Mountain from Pine Mountain Trail before you reach Lewis Fork Trail. © Collins Chew
Huckleberries.
Location: 36.6700897216797, -81.5120544433594
October huckleberries on a big bush just loaded. © Collins Chew
Corral at The Scales
Location: 36.6702651977539, -81.486930847168
© Collins Chew
Wilburn Ridge from AT on Stone Mountain
Location: 36.6700057983398, -81.4861526489258
More mountain skylines. © Collins Chew
Rushing cascades
Location: 36.6551895141602, -81.497673034668
Big Wilson Creek from AT bridge. © Collins Chew
Wise Shelter
Location: 36.6541519165039, -81.4978485107422
Ken inspects the friendly confines of Wise Shelter. © Collins Chew
PML001
Location: 36.63330078125, -81.5088119506836
Climb N on blue-blazed Rhododendron Trail
PML002
Location: 36.6375312805176, -81.5081787109375
Straight @ T
PML003
Location: 36.63916015625, -81.5093231201172
Massey Gap: L @ T onto white-blazed Appalachian Trail. Free-roaming but semi-tame ponies graze the grassy balds
PML004
Location: 36.6424713134766, -81.5158920288086
Continue N (white blazes). Breezy plateau viewpoints look over the very photogenic, popular Lewis Fork Wilderness
PML005
Location: 36.6454811096191, -81.5163192749024
R onto Wilburn Ridge Trail (light-blue blazes) and a rolling ridgeline
PML006
Location: 36.6478805541992, -81.5164337158203
Rejoin the Appalachian Trail; continue N
PML007
Location: 36.6579284667969, -81.5221862792969
Rhododendron Gap is saddle between Mt. Rogers (VA's tallest; no views) and Pine Mtn. (better views). R onto Pine Mtn. Trail
PML008
Location: 36.6692695617676, -81.5124664306641
Cross Lewis Fork Trail; clouds roll in and out, briefly unveiling the famous Blue Ridge 70+ mi. away
PML009
Location: 36.6763496398926, -81.5012893676758
R onto Appalachian Trail
PML010
Location: 36.6698989868164, -81.4871520996094
Open gate and cross bald contours of Scales Corral and Stone Mtn.
PML011
Location: 36.6557197570801, -81.4794769287109
Straight @ 4-way, swing W, and briefly enter Little Wilson Creek Wilderness
PML012
Location: 36.654899597168, -81.4945373535156
Straight @ 4-way
PML013
Location: 36.6551818847656, -81.498046875
Cross Big Wilson Creek, pass Wise Shelter, and follow Quebec Branch
PML014
Location: 36.6433486938477, -81.500617980957
Continue W, ending loop @ WPT 3. Return to car