Rip & Go: Zaleski Backpack Trail, Zaleski State Forest, OH
Escape into tranquil, rolling woods in the foothills of the Appalachians.
Heading out the door? Read this article on the new Outside+ app available now on iOS devices for members! Download the app.
Think Ohio's all corn farms and soybeans? Think again. Zaleski's 27,000 hardwood acres offer a dose of true wilderness. This mellow, two-night, 19.9-mile loop—with sandstone outcrops and wild edibles—is perfect for beginners or quick getaways.

1. Head clockwise1 on the orange-blazed trail.

2. (.2) Go left.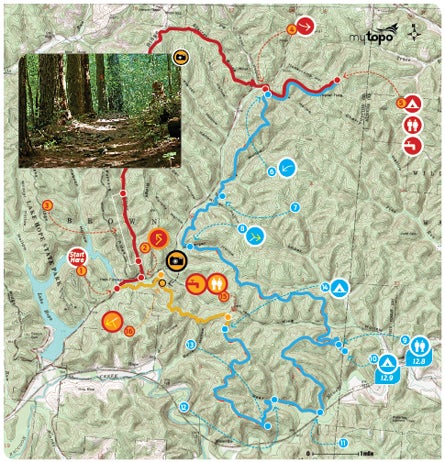 3. (.5-1.3 miles) Trailside sandstone has been carved out by the small but steady streams of iron-rich water flowing down the hillsides. Look for orange water oozing from the base of the rock walls.
4. (5.3) Turn right toward the North Loop.
5. (6.3) Set up your tent under the hickories, oaks, and maples at Campground H.
6. (7.3) Next day, retrace your steps a mile and turn left to head south on the Middle Loop.
7. (8.9) Cross a creek surrounded by wild ginger, a low-lying perennial with hairy, heart-shaped leaves and small, inconspicuous, rusty-red flowers (blooming spring to fall). Despite the name, it's not edible.
8. (9.9) Veer left.
9. (12.8) Latrine
10. (12.9) Campground D
11. (14.6) Pass an unnamed, cottonwood-lined pond, once a water source for an 1870s-era mining town.
12. (15.2) Keep an eye out in the low area for paw- paw fruits (ripe in late summer), which look like small mangoes. The yellow, custardy flesh has a tropical flavor, like a combination of mango, pineapple, and banana.
13. (15.7) A rocky outcrop provides views toward an old railroad grade, which leads southwest to the supposedly haunted Moonville tunnel (it's less than a mile away). Explore by picking your way off-trail about .3 mile to the grade.
14. (17.7) Campground C has large, flat sites.
15. (17.9) Latrine and water
16. (19.1) Turn left.
Trip Planner

Get there From Athens, take OH 56 11.3 miles west. Turn left to head south on OH 278. In 4.8 miles, park at the trailhead across from Hope Furnace.
Gear up The Pedaler & The Packer, 432 Richland Ave., Athens. (740) 592-4630; pedaler.com
Season Year-round, though trails get muddy in wet weather.
Permit Register for first-come, first-serve campsites at the parking lot kiosk.
Contact (740) 596-5781; ohiodnr.com