Rip & Go: West Clear Creek Canyon, Coconino National Forest, AZ
Rock-hop and wade your way down a wild sandstone corridor.
Heading out the door? Read this article on the new Outside+ app available now on iOS devices for members! Download the app.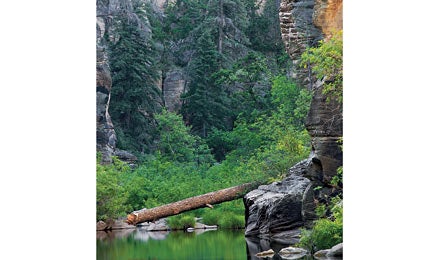 Ponderosa pines & coconino sandstone above the creek (Matt Hoffman)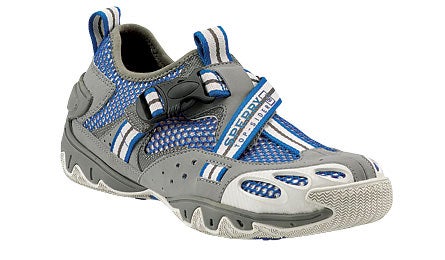 Sperry SON-R Buckle ($90, sperrytopsider.com)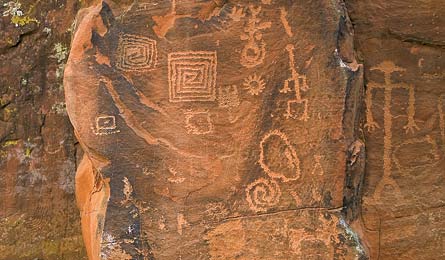 Sinagua rock art (Zach Schierl)

Do it

You'll get wet on this hike through a rugged gorge cut in Coconino sandstone, but that's the point (and the payoff when Arizona temps soar). The 9.4-miler is also a great intro to non-technical canyoneering. But don't let the distance deceive you: Numerous creek crossings and a bit of bushwhacking make this point-to-point a rough haul.
At the left side of the parking area at the end of FR 142E (1), locate an unsigned trail that descends steeply north to West Clear Creek. When you reach the mellow trickle in .3 mile (2), drop gear on a sandy bench in this 125-foot wide section of the canyon, grab dayhike essentials, and head upstream (east). In 100 yards, wander into a side canyon on your right (3) that boasts a 200-foot pour-off (usually dry). A Sinagua Indian petroglyph panel lies less than two miles farther up the main canyon on a prominent use path on the north side, between cairns for the Tramway (4) and Maxwell (5) Trails.
After admiring the art, retrieve your pack and head downstream. Dense stands of alder and willow make travel tricky, as do slippery, algae-covered rocks; to speed progress, look for sporadic stretches of trail. Water levels vary throughout the canyon, from ankle-deep to 10 feet. A little more than a mile from where you entered the canyon, a 40-foot rock spire (6) on the north side is your cue to start scanning upper banks for trails to fire rings among the ponderosa pines.
Next day, point your feet downstream. As the canyon widens, vegetation grows thicker. Avoid the densest stuff by veering right toward a faint, mile-long path. Look for your exit up Calloway Butte Trail #33 (7), marked by a large sandstone cairn on your left (west) and a switchbacking path ascending from water level, 4.7 miles from where you entered the canyon. Climb the unmaintained trail up 550 feet to the canyon rim (or see "Locals Know," next page, to extend your trip to the legendary White Box and the lower canyon's Supai sandstone). Crest the canyon lip and head to your car (8).
Trip Planner
Get there From Sedona, take AZ 179 to I-17 S to AZ 260 E. In 3.1 miles, connect FR 144, FR 149, FR 142, and FR 142B (4WD) to drop a shuttle car at the Calloway Butte Trail. Backtrack to FR 142; turn left on FR 142E and go 2.7 miles to the lot.
Gear up Canyon Outfitters, 2701 West State Route 89A, Sedona, AZ. (928) 282-5293
Season May/June and late August through October (July through September has higher risk of flash floods)
Key Gear: Water Shoes

Nearly half of your steps on this route will land in water, so having shoes that maintain grip from sandy trail to rocky creek bottoms and back is important. Best bet: an amphibious shoe like the Sperry SON-R Buckle ($90, sperrytopsider.com). A siped outsole (wavy razor-thin slits across the tread) bends and flexes to create more edges to grip slick and variable trail surfaces (a similar process is used on car tires). "These latch onto wet rock better than traditional hikers, and the toe guard protected against stubs in deeper water," says our tester. Bonus: With large mesh panels and more than a dozen drainage ports, the shoes don't hold water so your feet dry quickly. The SON-R's work best with loads of 30 pounds or less. Keep gear dry too by packing it in waterproof stuffsacks—try Sea to Summit's Editors' Choice winning eVac Drysacks ($18-$40, seatosummit.com).
See This: Sinagua Rock Art

The Southern Sinagua people (ancestors to the Hopi tribe) chiseled geometric patterns and zoomorphs—typically antelope, deer, lizards, or birds—into these canyon walls. Experts speculate that the drawings served as "I was here" signposts. The Sinagua departed for unknown reasons around 1425 A.D. Modern descendants are unsure about specific petroglyphs' meanings, though it's assumed that a spiral denotes migration and animals are taken at face value. Find them near overhangs and in darker layers of rock.
Locals Know

This overnight is sure to get you hooked, so next time plan on four to six days to do the full 25-mile advanced route to Bull Pen Ranch. Drop a shuttle car in the cul-de-sac at the end of FR 215 and drive back to the trailhead at the end of FR 142E. Trek 10 miles into the canyon (five miles past the Calloway Butte Trail) to the Coconino sandstone-walled White Box, named for its pale walls. This 300-foot long stretch is the canyon's narrowest section and requires a swim, with water more than six feet deep, even in spring. Only .5 mile farther, splash around in Showerbath Springs (pictured) before continuing 6.7 miles to Supai Falls (locals call it Maiden Falls). Here, the water's blue hue contrasts vividly against the area's blood-red Supai sandstone, the distinctive rock for which Sedona is so well known. Snap a pic of the 25-foot cascade before cruising the last 7.5 miles to Bull Pen Ranch along a marked and maintained trail.
On The Menu
Breakfast 1

On the road

Lunches 1 & 2

PB & honey on bagels

Dinner 1

Sinagua Salad

Breakfast 2

Biscuits de Coconino

Snacks

Dried mangoes, granola bars, mixed nuts

Sinagua Salad

Protein, Southwest style
1 can black beans (pre-drained and packed in a zip-top bag)

1/4 cup diced green chiles

2 green onions, chopped

1 teaspoon ground cumin

2 limes

4 pitas
Dump beans into a bowl and stir in green chilies, onion, and cumin. Quarter limes and squeeze juice over mixture. Wrap in pitas. Serves two.
Biscuits de Coconino

A spicy breakfast treat

1 1/2 cups biscuit mix

1/2 cup cornmeal

2⁄3 cup milk, from powder

1 tsp chili powder

1/2 cup shredded Monterey Jack cheese

1/4 cup diced green chiles
Stir first five ingredients together. Mix in cheese and green chilies. Oil pan and spoon in batter. Cook until brown and flip. Makes eight biscuits.
The Grocery List (Aisle # in Nearest Store Below)

[ ] green chiles (produce)

[ ] green onion (produce)

[ ] limes (produce)

[ ] dried mango (produce)

[ ] pitas (3)

[ ] bagels (3)

[ ] Monterey Jack cheese (4)

[ ] nuts (11)

[ ] cornmeal (13)

[ ] powdered milk (13)

[ ] peanut butter (13)

[ ] honey (13)

[ ] biscuit mix (14)

[ ] granola bars (14)

[ ] black beans (15)

[ ] chili powder (15)
Pack Olive oil, ground cumin, salt and pepper
NEAREST GROCERY STORE

SAFEWAY

2300 West Highway 89A, Sedona, AZ

(928) 282-0118
PIT STOP
Grab a Superphatmojolatte, Sedona Bike and Bean's version of a chai espresso, to get caffeinated before canyoneering. 6020 Highway 179, Sedona, AZ; (928) 284-0210; bike-bean.com