Rip & Go: Under-the-Rim Trail – Bryce Canyon National Park, UT
Dupe the daytrippers on this rugged trail to brilliantly colored backcountry cliffs and hoodoos.
Heading out the door? Read this article on the new Outside+ app available now on iOS devices for members! Download the app.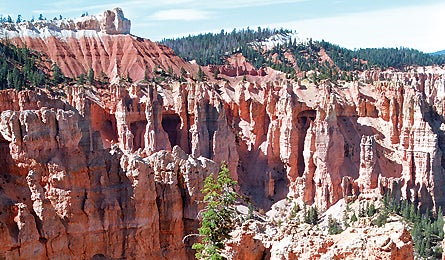 A view from the last day (www.waterfallwalks.com)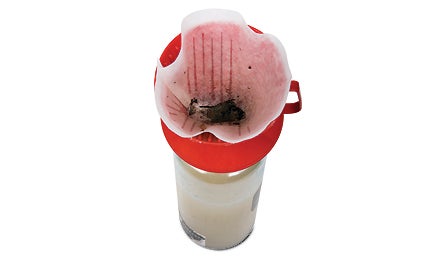 (Photo by Julia Vandenoever)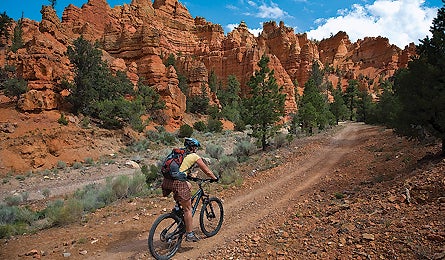 Casto Canyon (Whit Richardson)
Do it

This three-day, 22.1-mile trek drops 1,000 feet from Bryce's overlooks into spire-filled basins, then arrows south away from the crowded dayhike loops to 9,115-foot Rainbow Point, the park's highest spot. From Bryce Point trailhead, keep right, following signs for the Under-the-Rim Trail (1). You'll hike southeast across a timbered bench, then drop steeply to the Hat Shop (2), a series of improbable white boulders perched atop dirt pedestals at mile 1.9. Pass through the first campsite at Yellow Creek's right fork (3) and curve north along Yellow Creek, one of two reliable water sources on the trek. You'll reach Yellow Creek Campsite (4) at mile four, a great camp for night one. It's creekside; top up water here before taking off, because the trail is bone dry for the next 12 miles.
From camp, the path climbs south, then veers west on a traverse to Pasture Wash (5), then up and over a series of steep passes to the Sheep Creek Campsite (6) and the Right Fork of Swamp Canyon Campsite (7). Keep trekking 1.7 miles up Swamp Canyon, wrapping around Swamp Canyon Butte onto a tilted plateau where you'll pass a junction with .9-mile Whiteman Connecting Trail (8). At mile 14, you'll come to a sandy ridgeline (9) that's an excellent lunch spot with reliable breezes and long views. Pass ponderosa stands and the Natural Bridge Campsite (10) (sidehike west to see the bridge) before taking another twisty climb to a junction with Agua Canyon Connecting Trail (11). Ahead, spot the intricate traverses you'll follow around the headwaters of Willis and Black Birch Creeks over the next 2.4 miles to Iron Spring Campsite (12). Iron Spring is the last reliable water source. The next morning, drop down to Black Birch Creek–before a 1,200-foot, 2.9-mile climb to the end at Rainbow Point.

Trip Planner

Driving Bryce lies on UT 12 between Panguitch (25 miles west) and Escalante (50 miles east). Turn south on UT 63 from UT 12, and drive 3.8 miles to the park. It's 18 miles to Rainbow Point. Leave a car or bikes here for your shuttle (pack cable locks), then park at Bryce Point.
Permit Park entry is $20/vehicle. Backcountry overnight permits are $5/one- to two-person party.

Gear up Ruby's Inn General Store has fuel, food, first-aid supplies, and basic hiking gear.

1000 South UT 63, Bryce Canyon City; (866) 866-6616
Key Skill | Purify Scummy Water Water is rare in Bryce Canyon, so you take what you can get. Sources will likely be silty, algae-filled, or downright manky, particularly in Iron Spring at mile 19. This is filter-clogging territory; here's how to beat the grime and stay hydrated.
1) Gather water in a large pot or water bag. Let silt settle for an hour. If the silt is really fine (water looks cloudy), boil the untreated water to help bring the particles out of suspension, then let it settle.

2) Pour the settled water into a Nalgene or reservoir using a standard conical coffee filter and paper inserts. Don't filter the muddy dregs. Pack two paper filters for every planned water stop.

3) If boiled, the water is good to go. Otherwise, filter through a pump, add chemical purification, or treat with UV. 4) Don't like the treatment's chemical aftertaste? Add a drink mix (a tart citrus flavor works best).

5) Drink up. Start each day with a gallon per person for drinking. Consider packing another gallon if it's extremely hot, or if your next camp might be dry.
See This

Clark's Nutcracker This foot-tall, white-and-gray member of the jay family was first seen by William Clark (of Lewis and Clark fame). It uses its long beak to cache and eat pine nuts, and though its brain is smaller than a piñon seed, it finds 75 percent of its caches in winter.
Locals Know

You can't mountain bike in Bryce Canyon National Park, but you can in its identical twin, nearby Casto Canyon. Head west on UT 12 11.6 miles from the UT 12/UT 63 junction, and drive 2.8 miles north on the graded dirt road to the signed trailhead. Start with the 14.4-mile Casto-Fremont lollipop loop, with its broad, gravelly trail and numerous shallow stream crossings. Within a mile of starting you'll be rolling between castellated Pink Cliffs and the very same layers you'd see exposed in Bryce. Then you'll diverge onto singletrack through aromatic ponderosa stands before descending back into hoodoo country. Head to utahmountainbiking.com/trails/casto.htm to download a GPS map and tracklog.
On The Menu
Breakfast 1

Grab a quick one at Ruby's Inn, then shop for groceries.

Snack 1 Goldfish

Lunch 1 Flour tortillas and cheese

Dinner 1 Bryce Burgers and Chips

Breakfast 2 Oatmeal

Snack 2 Moon Pies

Lunch 2 Energy bars and gorp

Dinner 2 Tuna-mac

Breakfast 3

Bagel Bombs

Snack 3 Oatmeal cookies
Bryce Burgers and Chips

Real food, real easy
2 frozen hamburger patties per person

1 pack hamburger buns (divide at trailhead)

Several packets of condiments

1 bag tortilla chips

1 jar salsa (repackage in water bottle or small Platypus)
Bury frozen patties deep in your pack and insulate them with clothing. Carry tortilla chips atop pack load. Fry patties in pan over stove (medium heat, no fires). Garnish to taste.
Bagel Bombs

Ruby's Inn ain't no Whole Foods, but that doesn't mean you can't start the day with a deli-style breakfast.
1 bagel per person, sliced

2 ounces butter

2 cream cheese packets
Split and butter bagel. Fry halves separately, face down in pan, until golden brown. Spread one cream cheese packet on each half-bagel. Enjoy, and remember that hiking helps control cholesterol.
The Grocery List

[ ] 6-oz. package Goldfish

[ ] 2 tortillas

[ ] 1 lb. cheddar cheese (cooler)

[ ] 4 hamburger patties (freezer)

[ ] 4 buns

[ ] tortilla chips

[ ] 12-oz. jar salsa

[ ] 2 packs oatmeal

[ ] 9-oz. pack trail mix

[ ] 4 Moon Pies

[ ] 8 energy bars

[ ] 2 bagels

[ ] 1 stick butter

[ ] 1 pack oatmeal cookies

[ ] 6 condiment packs (microwave table)

[ ] 1 box mac-n-cheese

[ ] 1 pack tuna
(All items are between aisles 5 and 11; stocking varies)
NEAREST GROCERY STORE

Ruby's Inn General Store 1000 South UT 63 (just outside the park); (866) 866-6616