Rip & Go: Two Gorges Loop – Gorges State Park, NC
Trace the watery divide between the Carolinas.
Heading out the door? Read this article on the new Outside+ app available now on iOS devices for members! Download the app.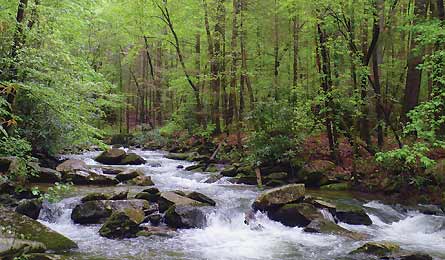 Toxaway Creek (Photo by Peter Rives)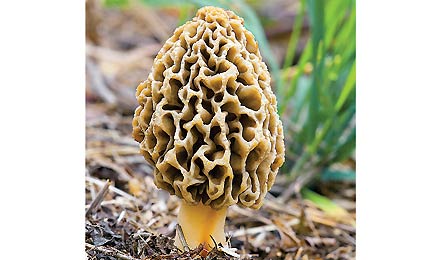 Morel (Photo by Michael P. Gadomski)
Do it

Savor a rare slice of temperate Carolina rainforest on this 16.8-mile loop over rivers, though gorges, and up to soaring ridgetops in an area gone green with more than 130 species of plants, including a handful of ferns usually found only in the tropics. From the Frozen Creek trailhead, cross the namesake creek (1) via a wooden footbridge and pick up the Auger Hole Trail (2). In .6 mile, turn left (southeast) onto the Canebrake Trail (3) and enter a forest dominated by the rich scent of damp Eastern white pine needles. Ramble up through miles of beech, azalea, poplars, and hemlocks to the northernmost arm of Lake Jocassee (4). (Anglers alert: State records for redeye, smallmouth, and spotted bass, plus brown and rainbow trout, were all caught here.)
Continue west onto the Foothills Trail ("Locals Know," next page) and cross the 225-foot suspension bridge (5) over the Toxaway River at mile 5.3. Halfway into the ensuing 730-foot climb, you'll hear the murmur of a cascade that drops out of sight. After a one-mile traverse of Grindstone Mountain's flank, drop 300 feet back to the forest floor. Head back up a gentle climb on an old fire road, past the turnoff for the Auger Hole Trail (6), and continue .5 mile to Bear Gap (7) with camping.
Next morning, return to Auger Hole Trail and climb 500 feet in .5 mile before switchbacking down into Turkeypen Gap. Stay on the Auger Hole Trail as it heads northeast, descending deep into the labyrinthine heart of the park's namesake gorges. Ford knee-deep Bearwallow Creek (8) just downstream from a 15-foot, triple-cascading falls. In .9 mile, reach a thigh-deep (but slow), 40-foot-wide ford of the Toxaway River (9). (Tip: Check water levels by calling the park office.) The final 4.5 miles generally trace Auger Fork Creek to its headwaters, which pool below the 2,900-foot Blue Ridge Mountains and the Tennessee Valley Divide. Hit a left onto the Canebrake Trail (10) to close the final .8 mile.



Trip Planner
Get there From Greenville, take SC 183 N 18 miles to US 178. Drive west 24 miles to US 64 W. Turn left onto Frozen Creek Rd. and park in 4.5 miles.
Gear up Half-Moon Outfitters, 1420 Laurens Rd., Greenville. (864) 233-4001; halfmoonoutfitters.com
Map Free; ncparks.gov/Visit/parks/gorg/pics/parkmap.pdf
Permit Free; self-register at entrance stations.
Key Skill
Staying dry
Gorges State Park gets more than 80 inches of rainfall each year distributed pretty evenly between months, and the air can get so thick with humidity it's like backpacking in a greenhouse. Here's how to avoid an uncomfortable and soggy trip: 
On the trail
» Problem The combination of rain, warm temps, and high humidity presents a formidable challenge. Hike hard in 80°F temps and 100-percent humidity, and you'll get wetter from the inside (sweating under a shell) than from out.
» Solution Carry a lightweight umbrella (we like the Davek Traveler, $79, davekny.com) or rig it to your pack. Bonus: You have a protective dome for bathroom runs and camp chores.
In camp
» Problem Pooling water, constant dew
» Solution Pack a tarp for a cooking area, and choose a well-drained campsite under trees—sheltered spots are less prone to morning dew. Beware widowmakers: The saturated ground accelerates root decomposition on dead standing trees.
In your tent
» Problem Condensation and rain-soaked gear
» Solution Bring a pack towel to sponge up condensation. Rig a clothes line inside your tent to dry soggy gear, or bring them inside a synthetic sleeping bag.
See This
MORELS
Looking like a cross between a spearhead and brain tissue, but tasting divine ("On the Menu," below), morels draw salivating, amateur mycologists to the Gorges' wet forests from mid-April to the first freeze. Spot the fungus by its looks (yellow, gray, or black and typically standing between one and eight inches), and location (well-drained soil at the base of apple, elm, ash, and maple trees, and trailside on ascents or descents). Important: Morels are tasty, but similar-looking false morels are poisonous. Slice one open to tell the difference: Morels are hollow from tip to stem, false morels are solid. Still unsure? Found Fungi Farfalle (see "On the Menu," below) is always safe sans the 'shrooms.
Locals Know
Want to make your weekend last a little longer? Continue west on the 77-mile Foothills Trail from Bear Gap (mile 9.7) and wend past ancient petroglyphs of unknown origin, travel an early pioneer wagon road, explore 19th-century homesteads, and reach South Carolina's highpoint, 3,560-foot Sassafras Mountain. You'll travel from rocky outcroppings with long vistas to deep, forested valleys that murmur with the passing of cool mountain waters (many with pools and waterfalls that are perfect for a dip). End at Oconee State Park, near the Georgia border if you're tackling the whole thing. For the best weekend-length addition, add on 33 more miles of remote hiking through the 33,000-acre Jocassee Gorges Management Area to SC 130. The FHT is maintained by the Foothills Trail Conference (foothillstrail.org), which also produces maps and a trail guide.
On The Menu
Breakfast 1
On the road
Lunches 1 & 2
Avocado, pepperoni, Cheddar, and ranch tortillas
Dinner 1
Found Fungi Farfalle
Dessert 1
Blue Ridge Bananas
Breakfast 2
Instant cheese grits
Snacks
Chocolate-covered raisins
Found Fungi Farfalle
Five-star forage without the fuss
½ pound morels (substitute portabella mushrooms off-season)
3 tablespoons margarine
3 cloves garlic, minced
1 small onion, chopped
1 cup shredded Cheddar cheese
8 ounces bowtie pasta
Cook pasta to al dente and set aside. Meanwhile, sauté onion, garlic, and morels until slightly browned. Mix with drained pasta, cover with shredded cheese, and heat until cheese is melted.
Serves two.
Blue Ridge Bananas
Sweet and salty for real
1 tablespoon margarine
2 bananas (firm)
1 bar dark chocolate
1 teaspoon sea salt
aluminum foil
Peel and slice bananas (a great recovery food), place in foil with margarine, and sprinkle with salt and pieces of chocolate. Wrap foil loosely, sealing the edges.
Place foil packet over fire for three minutes. No fire? Pan fry, covered.
Serves two.
The Grocery List (AISLE # IN NEAREST STORE BELOW)
[ ] avocado (produce)
[ ] portabella mushrooms (produce)
[ ] bananas (produce)
[ ] onion (produce)
[ ] sliced pepperoni (meat)
[ ] margarine (dairy)
[ ] shredded Cheddar cheese (dairy)
[ ] dark chocolate (2)
[ ] chocolate-covered raisins (2)
[ ] ranch dressing cups (2)
[ ] instant grits (3)
[ ] bowtie pasta (5)
[ ] flour tortillas (5)
Pack Butter, garlic, aluminum foil, sea salt
PIT STOP Follow the fried mac 'n cheese wedges with a wood-fired bruschetta pizza and wash it down with a Sapphire High Red Ale at Sapphire Mountain Brewing Company. Still hungry? Chocolate Pizza. 50 Slicers Ave., Sapphire, NC; (828) 743-0220; sapphiremountainbrewingcompany.com