Rip & Go: Twin Valley Trail – Five Rivers MetroParks, OH
Ramble along a wide river to quiet, old-growth hollows.
Heading out the door? Read this article on the new Outside+ app available now on iOS devices for members! Download the app.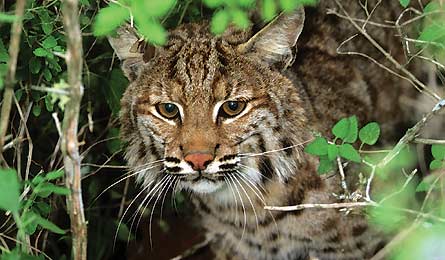 Bobcat (Photo by ISTOCK)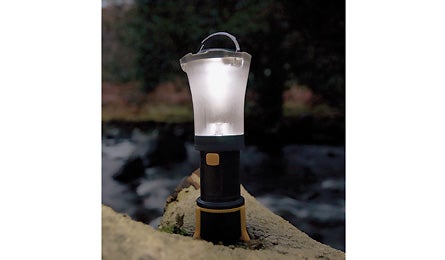 Black Diamond Orbit (Photo by Steve Howe)
Do it 
New hikes anywhere are rare enough. A new weekend route into the heart of an old-growth forest beside a sizable Midwestern city? Now you're talking about a class of one: The 26.3-mile Twin Valley Trail, which accesses forest, prairies, meadows, and wetlands near Dayton, was opened in 2008. Drive to the parking lot (1) off Eby Road and follow the mowed path down through a cedar glen. After passing through a gate (follow the brown hiker icon to stay on track), take the wide path bordering a horse farm. Reach Sugar Street (2) and hike alongside the road, skirting the edge of Germantown.
Reenter the hardwoods with the 70-foot-wide Twin Creek on your left, and pass the Cedar Ridge Backcountry Campsite (3) at 4.4 miles. Cross the earthen Germantown Dam (4), with its open viewshed. You're likely to hear tufted titmice, chickadees, and brown creepers working in the tall shagbark hickories, American beeches, and white oaks. Reach the Nature Center (5) at 8.9 miles, and exit onto the quarter-mile, elevated boardwalk for the squirrel's-eye view of the upland forest. Back on solid ground, look along the edges of the trail (April and May) for Dutchman's-breeches, a white flower that resembles tiny pants. Reach Manning Road (6) at 10.6 miles. In .2 mile, turn right into a forest with wild ginger edging the path and Ohio buckeye trees all around. Follow the connector trail to the Cedar Ridge Backcountry Campsite (7) at 14.9 miles.
Next day, weave back past Germantown to Twin Creek MetroPark. At 20.5 miles, pass the Hopewell Earthworks (8) ("Local Know," next page), and wander out onto a prairie. Tank up at the trailside spigot (9) at 21.9 miles. Hike .3 mile to the Pine Ridge Backcountry Campsites (10), or continue another 4.4 miles to the end. Pass Dogwood Pond (11) at 24.3 miles—where you may scare a great blue heron stalking his next meal—and return to the pavilion (12) at mile 26.3.
Trip Planner

Get there

From Dayton, take OH 4 south 13.6 miles and turn south onto Eby Rd. Park in .2 mile.
Gear up

Great Miami Outfitters, 80 S. Main St., Miamisburg, OH. (937) 847-8787; greatmiamioutfitters.com
Permit

Required; free. Call Five Rivers MetroParks up to four months ahead. (937) 277-4374; metroparks.org
Conditions

Call (937) 277-4374 for river levels.
Key Skill: Creating Ambiance

Fires are prohibited at all campsites in Five Rivers MetroParks, but that doesn't mean you have to chill in the dark after a long day's hike. Here are two ways to add a pleasant atmosphere to your kitchen area and tent.
DIY: Wrap your headlamp lengthwise around your Nalgene bottle with the light pointing in at the bottom. This lantern casts a wide light that works best when elevated. Tip: A white Nalgene provides the best illumination; an orange or yellow one partially filled with water creates faux fire.
Buy: For a few bucks ($30), several ounces (4.4 with 4 AAA batteries), and less pack space than a Coke can consumes, you can have reliable, dimmable light in a package so strong it won an Editors' Choice Award in 2009. The Black Diamond Orbit lasts 11 hours on its brightest setting, and provides enough illumination for everything from candlelight dinners to poker games. blackdiamondequipment.com

See This: Bobcat

If you see the silhouette of a large, tailless housecat slipping by your campsite around dusk, consider yourself lucky—you might have seen a bobcat. Extirpated from Ohio by 1850 by loss of habitat and relentless hunting, these crepuscular omnivores are making a comeback. Bobcats are usually solitary except during mating season, which begins in December and crescendos—with chasing and ambushing behavior—in April and May. Bobcats feed on anything from insects to small mammals.

Locals Know: The Hopewell Earthworks

Low, wavy earthen berms visible at mile 20.9—are a rare enduring remnant of the Hopewell culture, an Atlantic Ocean-to-Rocky Mountains trading network of Native American tribes. Through this network, which thrived from 100 B.C. to 500 A.D., various exotic items such as obsidian, copper, sharks' teeth, and seashells found their way to landlocked Ohio.
Although the Hopewell encompassed a wide range of economic, political, and spiritual beliefs, a common thread throughout the culture was the design and construction of elaborate earthworks like the walls found here. Look closely at the formations. Erosion and the passage of time have dulled and shortened these once-elaborate, 2,000-year-old geometric designs and filled them in with forest plants. Scholars believe the walls were used for ceremonies and as a calendar to chart the progression of seasons.
On The Menu
Breakfast 1 On the road

Lunches 1 & 2

Tuna wrap with cheddar and chips

Dinner 1

Gem City Mushroom Penne

Breakfasts 2 & 3

Oatmeal with dried cherries

Dinner 2

Lentils by the Creek

Snacks

Trail mix, dried fruit, pretzel nuggets
Gem City Mushroom Penne

Big carbs for long miles
8 ounces penne

½ cup dried mushrooms (sliced)

½ cup Parmesan cheese

2 tablespoons butter (pre-packed in a zip-top bag)

¼ teaspoon garlic powder
Boil 4-6 cups of water and cook penne per package instructions. With 4 minutes left, add the mushrooms. When pasta is done, pour off water but reserve a cup. Stir in the butter and dry ingredients and salt and pepper to taste. Serves 2.
Lentils by the Creek

Relax with this belly warmer
1 cup lentils

1 packet instant tomato soup

1 tablespoon chili powder

1 tablespoon dried onion

1 teaspoon oregano

1 teaspoon garlic powder Cheddar (cubed)
Add all ingredients except cheese to 4 cups of water and bring to a boil. Simmer for 15 minutes (until lentils are soft). Top with cheese cubes to taste. Serves 2.

The Grocery List (Aisle # in Nearest Store Below)

[ ] dried fruit (produce)

[ ] dried cherries (produce)

[ ] dried mushrooms (produce)

[ ] tuna (2)

[ ] lentils (2)

[ ] instant tomato soup mix (3)

[ ] penne (3)

[ ] instant oatmeal (4)

[ ] pretzels (11)

[ ] trail mix (11)

[ ] potato chips (11)

[ ] cheddar (12)

[ ] butter (12)

[ ] Parmesan cheese (12)
Pack: Garlic powder, chili powder, dried onion, oregano

PIT STOP After your hike—or during it if you want to hike 1.1 miles (each way) on Main Street—hit The Florentine and try the blackened tilapia. 21 W. Market St., Germantown, OH; (937) 855-7759
NEAREST GROCERY STORE

GERMANTOWN IGA PLUS

2313 OH 4, Germantown, OH

(937) 855-7797