Rip & Go: Trapper Creek Wilderness Loop – Gifford Pinchot National Forest, WA
Climb through towering evergreens to in-your-face Cascade views.
Heading out the door? Read this article on the new Outside+ app available now on iOS devices for members! Download the app.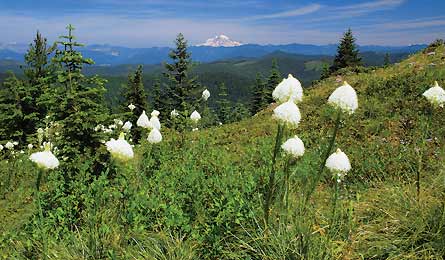 View of Mt Rainier from Observation Peak (Cheryl Hill)
ReviveX Spray-On Water Repellent ($14, mcnett.com)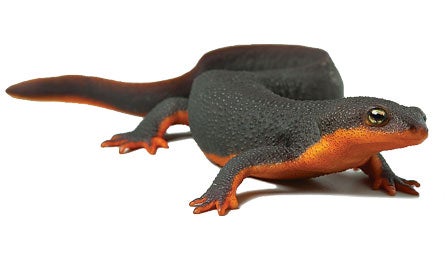 Rough-skinned newt (Dan Suzio)

Do it

This off-the-radar pocket wilderness benefits from its proximity to the Cascades: The crowds go there, not here. So you can have your solitude and old-growth too on this 14.7-mile loop. And with elevations below 4,500 feet, the route often stays snow-free through October. From the Trapper Creek trailhead (1), bear left onto Trapper Creek Trail #192. Climb through temperate rainforest past waist-high ferns. Pass the Big Slide Trail (2) at mile 2.6; it's a rough route built by the Mazamas. Stay left and descend into a gallery of towering hemlock, fir, and cedar. After a bridged crossing of Trapper Creek at mile 4.7 (3), the trail rockets upward in a series of switchbacks, climbing 900 feet in .7 mile. Gassed? An off-trail rock slab to the right near mile 4.9 (4) is a perfect rest stop, with views of a 100-foot waterfall.
The route soon flattens into a thicket of huckleberries (ripe in July and August) (5), then dips to an easy ford of Trapper Creek at mile 5.4 (6). Hang a right up the steep, deadfall-choked Shortcut Trail #132B at mile 6.3 (7) to join the Observation Peak Trail #132A in .3 mile (8). Drop packs and bear right for the half-mile climb to the 4,207-foot summit (9), where a meadow offers near 360-degree views of Mts. St. Helens, Rainier, Adams, and Hood. To end the day at Berry Camp, retrieve your gear and continue .4 mile down the Observation Peak Trail to a junction. Turn right (10) to reach the site's bear hang, fire ring, and pipe spring in .1 mile.
The next day, follow the Big Hollow Trail #158 down through spruce and alder for 2.8 miles to join the Dry Creek Trail #194 (11). Just beyond, ford Bourbon Creek (12) (usually simple and calf-deep; use care after heavy rain). Second-growth forest lines the mellow Dry Creek Trail, and ornate moss carpets the trees. Watch your step: The remaining 3.7 miles are prime rough-skinned newt territory. Look for the tangerine-bellied amphibians marching across the trail. Head back to the parking lot after rejoining the Trapper Creek Trail (13).

Trip Planner

Get there From Stevenson, go three miles east on WA 14, then left on Wind River Rd. In 14.4 miles, turn left on Mineral Springs Rd. Go .4 mile, then right on FR 5401.

Gear up REI; 1405 NW Johnson St., Portland, OR. (503) 221-1938; rei.com
Maps Green Trails Lookout Mountain #396 and Wind River #397 ($7, greentrailsmaps.com)
Permit Trailhead parking requires a Northwest Forest Pass ($5/day or $30/year; discovernw.org)
Key Skill: Waterproof your gear

It's no mystery why the Trapper Creek Wilderness is so lush: 120 inches of annual rain. Here's how to whip old jackets into storm shape.
Test your raingear with a spray bottle. If water doesn't bead up easily, it's time to recharge the fabric's durable water repellent (DWR) finish. The DWR keeps the material from absorbing water ("wetting out") and feeling cold and heavy.
>> First, throw the shell in the dryer on medium heat for 15 minutes, or iron it on low (put a towel between the shell and the iron). This "melts" the DWR and redistributes it across the shell.
>> Still absorbs water? Apply a spray-on (best for shells with wicking liners) or wash-in (best for unlined shells) waterproofer, such as ReviveX Spray-On Water Repellent ($14, mcnett.com). If using a spray-on product, pay special attention to the shoulders, hip areas, front zipper, and cuffs.
Head to toe Don't forget to waterproof your boots (we like Nikwax) at least 24 hours before heading out.
See This: Rough-Skinned Newt

Scan the undergrowth along the Dry Creek Trail for this fiery-bellied wriggler, common from southeast Alaska to Northern California. The large (up to eight inches long) amphibian is one of the few newts you're likely to see on the crawl during daylight hours. Why? It has few natural predators, thanks to a potent neurotoxin called tetrodotoxin in its skin, muscles, and blood. Similar to the poison found in puffer fish, the toxin in just one newt could kill up to 8 adult humans if they were foolish enough to eat it. Only the common garter snake has evolved enough resistance to safely snack on the rough-skinned newt (the newts themselves eat insects and other invertebrates). Though the newts can be spotted year-round, they're most active when temps are moderate and the ground is wet.
Locals Know

Want to go wilder, tougher, and steeper than the already-demanding Trapper Creek Loop? You'll love the Mazamas Trails. This network of connector paths lacing the wilderness is known for serving up tricky navigation and intense elevation gain—intentionally. The primitive paths are maintained by a dedicated group of volunteers with the Portland-based mountaineering group Mazamas (a 19th-century word for "mountain goats"). Mazamas Trails are rough by design, with downfall often left in place and only occasional blazes: "It's to give people that additional level of adventure and routefinding challenge," says Trail Tending Subcommittee Chair Rick Pope. "You can't just walk along in your sleep." The organization officially spearheads "maintenance" duties on about six trail miles in the Trapper Creek Wilderness by request of the Forest Service (and tends another 24 miles or so ranging from Mt. Hood to Portland's Forest Park). Test your mettle on the Mazamas' Sunshine Trail #198, which angles east off of the Trapper Creek Trail at mile 3.7 and climbs 1,700 feet in a mile. Link it with the also-primitive Rim Trail #202 and the Observation Peak Trail #132 for a shorter—but harder—route to the summit.
On The Menu
Breakfast 1

On the road

Lunches 1 & 2

Tuna and cheese on bagels with mustard

Dinner

Trapper Creek Salmon Pasta

Breakfast 2

Rainforest Crêpes

Snacks

Apples, energy bars, trail mix, jerky
Trapper Creek Salmon Pasta

Pasta with sea-to-river zing
1 package Knorr Italian Sides Creamy Garlic Shells

½ cup sun-dried tomatoes

3-ounce pouch salmon

2 ounces Asiago cheese

Salt and pepper

1 pinch red pepper flakes
Pour boiling water over tomatoes and soak until soft, about 10 minutes. Cook pasta according to package directions. Add salmon and heat. Drain tomatoes and stir into pasta, along with the cheese. Spice to taste. Serves two.
Rainforest Crêpes

A sweet morning treat
1 ½ cups pancake mix

1/3 cup Nutella

2 apples, sliced
Combine mix with 1-1/3 cups water in a gallon zip-top bag. Squish until mixed. Cut a small hole in a corner of the bag; squeeze batter onto a hot, lightly greased skillet. Cook two to three minutes per side. Let cool a little, spread Nutella over pancake, then cover with apple slices. Fold like a taco. Serves two.
The Grocery List (Aisle # in Nearest Store Below)

[ ] bagels (bread aisle)

[ ] Nutella (bread aisle)

[ ] jerky (meat)

[ ] apples (produce)

[ ] pancake mix (7)

[ ] energy bars (8)

[ ] trail mix (8)

[ ] Knorr Creamy Garlic Shells (10)

[ ] salmon (10)

[ ] tuna (10)

[ ] Asiago cheese (11)

[ ] Cheddar cheese (11)

[ ] mustard (13)

[ ] sun-dried tomatoes (13)

Pack Oil, salt and pepper, red pepper flakes

PIT STOP

Toast a hike well done at Walking Man Brewing, whose Runaway IPA and Old Stumblefoot barley wine earn rave reviews from brewery-obsessed Portlanders. 240 1st St., Stevenson, WA; (509) 427-5520
NEAREST GROCERY STORE

A&J Select Market

265 2nd St., Stevenson, WA

(509) 427-5491; ajmarket.com