Rip & Go: Three Sisters Loop – Lava Beds National Monument, CA
Discover hidden wonders in a cave-riddled wilderness.
Heading out the door? Read this article on the new Outside+ app available now on iOS devices for members! Download the app.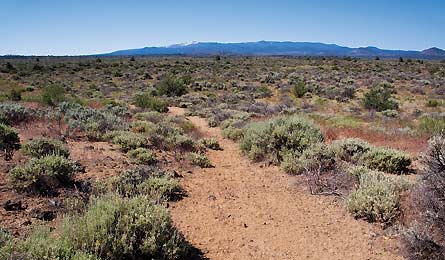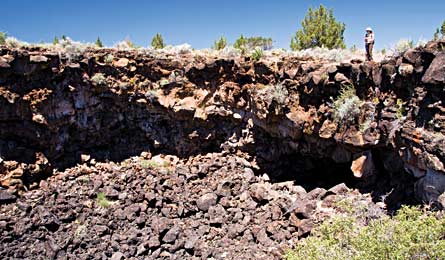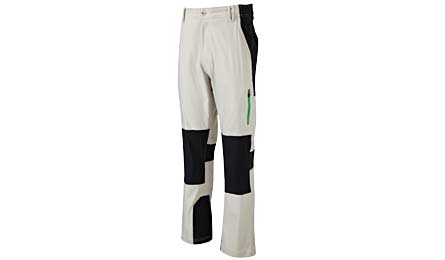 Do it

Scramble over—and under—30,000-year-old lava flows on this 10.4-mile loop at the edge of the Medicine Lake shield volcano. Bonus: Access dozens of backcountry lava tube caves and score some of the best stargazing in the U.S. Make sure to tank up on water before you start (a gallon per person per day), as this route is always dry. Begin at the Skull Cave parking lot (1) (ice lingers year-round in the nearby cavern, one of the park's 25 enhanced with paths and ladders). Hike northeast across a sage-studded plateau on the Lyons Trail, an old homesteading road. The first unmarked cave appears on your right in .3 mile (2); look for a sinkhole with a faint trail you can follow into the rocky depths. Explore safely: Go in a group, bring extra lights, and protect your head with a bike helmet or bump cap ($6, visitor center).
Cross into the park's wilderness area (3) and turn right onto the Three Sisters Trail (4) in another .6 mile. Wind past gravelly trenches where lava tubes have collapsed, watching the rock piles for obvious openings. At mile three, a log below a solitary juniper tree (5) serves as a lunch seat with a view of the 100-foot-high Three Sisters cinder cones to the north. Crunch into an area of old-growth juniper beginning at mile 4.2 (6). Find your campsite in this stretch of soft earth and shade. Note: At mile 4.5, the trail crosses into Modoc National Forest (7) where you need a permit to use your stove. After dark, take in the blazing night sky ("See This," next page).
Day 2: Enter the national forest and continue through the junipers to a right turn onto an old jeep road .2 mile later (8). Follow the trail southwest to reenter the Monument at mile 5.2 (9). Two miles later, pass a field of smooth, ropy pahoehoe lava (10). At mile 8.7, bear right toward Indian Wells Campground (11). Across from site B-7 (12), find the gate to the Bunchgrass Trail. Continue northwest for .5 mile to the Missing Link Trail (13), then wind a dusty .7 mile north to the Symbol Bridge trailhead (14). From here, it's a .1-mile road walk back to your car.
Trip Planner

Get there From Klamath Falls, take OR 39 south 15 miles; go right on Merrill Pit Rd. In two miles, turn left on Stateline Rd. 161, then left onto Hill Rd. In 18 miles, go left on Lyons Rd. to the Skull Cave parking area.

Contact (530) 667-8113; nps.gov/labe
Gear up The Ledge, 369 S. 6th St., Klamath Falls, OR; (541) 882-5586
MapLava Beds Monument Topographic Map ($8, at the visitor center)
Key Gear: Indestructible pants

The Monument conceals nearly 800 lava tubes, dozens of which are accessible from this route. But exploring them often requires scrambling across piles of apparel-shredding basalt rubble. Your best defense? One of the toughest pants we've ever tested. Craghopper's Bear Survivor Full Stretch Trousers ($85, us.craghoppers.com) are made with a stretchy nylon-spandex blend with reinforced cuffs, which adds durability without inhibiting range of motion. Our tester, a spelunker from North Carolina, used them for three straight months without one tear. Note: They run small in the waist. Order up a size.

See This: Andromeda Galaxy

Lava Beds' high altitude (4,500 feet), dry air, and remote location (40 miles from a town of more than 1,000) mean world-class stargazing. November is the perfect time to spot this neighboring galaxy, which at 2.5 million light years away is the most distant thing you can see with your naked eye. Start by finding Cassiopeia's big W, about halfway up from the eastern horizon at 8 p.m. on November 1. The right half of the W points like an arrow toward Andromeda, two outstretched fists away: Look for a faint, elongated smudge. If you're eager for more, the Leonid meteor shower will rain 10-15 shooting stars per hour in the predawn darkness of November 18, though the moon's glare promises to interfere this year.
Locals Know

It's hard to tell where the Monument's cinder cones and lava tubes come from. That's because the Medicine Lake shield volcano doesn't look or act like its showier cousins in the Cascade Range. In place of a central cone that erupts with a bang, the low, sloping Medicine Lake Volcano oozes from multiple vents across a 700-square-mile area. The Monument covers only 10 percent of that, yet it's home to some of Medicine Lake's most convoluted terrain. Starting in 1872, its trenches and tubes helped 60 native Modoc fighters confound 600 U.S. soldiers for months. When cut off from water, the tribe survived on ice inside caves. Add a dayhike through the heart of the Modoc's rocky defenses on the 1.5-mile Captain Jack's Stronghold Trail.

On The Menu
Breakfast 1

On the road

Lunch 1

Canned salmon and cucumber sandwiches

Dinner

Lava Tubes Ragu

Breakfast 2

Shield Volcano Cakes

Lunch 2

Salmon and goat cheese sandwiches

Snacks

Almonds, dried apples, trail mix
Lava Tubes Ragu

Tubes you can eat.
8 ounces penne

2 ounces sun-dried tomatoes

1 medium zucchini, chopped

1 medium onion, chopped

1 tablespoon olive oil

¹⁄³ cup shredded Parmesan

Salt and pepper

Cook pasta and dried tomatoes in four cups boiling water. Sauté the zucchini, pepper, and onion in a pan until tender. Add the vegetables to the pasta. Sprinkle with cheese, add salt and pepper to taste. Serves two.

Shield Volcano Cakes

Tasty rounded domes
2 small apples, chopped

1 cup pancake mix

½ cup milk, from powder

¼ cup trail mix

¼ teaspoon cinnamon

1 tablespoon olive oil
Heal oil in pan. Stir milk, apple chunks, trail mix, pancake mix, and cinnamon in a bowl. Spoon batter into pan to form 4-inch cakes, flipping when bubbles form and edges dry. Cook another 1-2 minutes. Serves two.


The Grocery List (Aisle # in Nearest Store Below)

[ ] sun-dried tomatoes (produce)

[ ] cucumber (produce)

[ ] onion (produce)

[ ] zucchini (produce)

[ ] apples (produce)

[ ] dried apples (produce)

[ ] goat cheese (deli)

[ ] Parmesan cheese (1)

[ ] penne pasta (1)

[ ] canned salmon (2)

[ ] powdered milk (4)

[ ] almonds (4)

[ ] pancake mix (5)

[ ] trail mix (6)

[ ] wheat rolls (18)
Pack Olive oil, cinnamon, salt and pepper
PIT STOP

Refuel at Mia & Pia's Pizzeria and Brewhouse in Klamath Falls. Ten dollars get you a 12-beer sampler to wash down your pie; choose toppings from Alfredo sauce to zucchini. 3545 Summers Lane; (541) 884-4880; miapia.com
NEAREST GROCERY STORE

Safeway

2740 S. 6th St.

Klamath Falls, OR

(541) 273-3510