Rip & Go: Superior Hiking Trail, Beaver Bay to Gooseberry Falls State Park, MN
Wander through maple-birch-pine forest with pace-slowing views of the world's largest freshwater lake.
Heading out the door? Read this article on the new Outside+ app available now on iOS devices for members! Download the app.
The Superior Hiking Trail stretches 286 miles from Duluth to Canada, following the state's most beautiful lakeshore. But you don't have to quit your job to see one of its finest chunks, this 16.5-mile section boasting tranquil forests, commanding ridgetop vistas, and an easy-plan shuttle.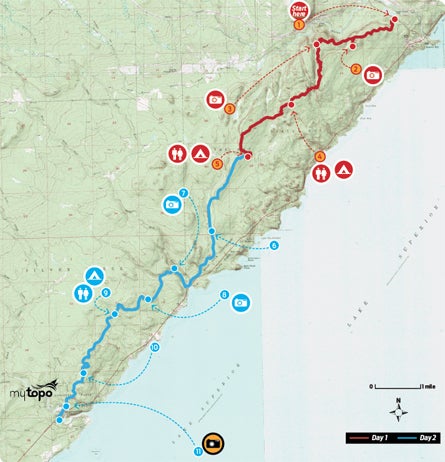 1. Take off on a single-plank boardwalk through aromatic balsam forest. Lake Superior flashes through the trees.
2. (Mile 1.4) Cove Point spur: Drop your pack and climb 200 yards to big lake views from atop a basalt dome.
3. (2.6) Fault Line Ridge offers edge-to-edge views of the 300-foot-deep valley. Feast on trailside blueberries (July and August) as you descend.
4. (5.1) Pass Beaver Pond campsite. Keep going to better camping in less than two miles.
5. (6.7) Camp at Chapins Ridge in the shelter of 90-foot pines.
6. (8.9) Cross Split Rock Creek via a wooden bridge and continue on a grassy ski trail, short-cutting the main SHT (which meanders several miles inland).
7. (10.8) Rejoin the SHT at an idyllic grotto where soaring cedars surround a 20-foot waterfall.
8. (11.9) Score the trip's best panoramas on Bread Loaf Ridge, an open, weather-beaten rim of rock with clear-day views of the Apostle Islands, 30 miles away.
9. (13.1) Descend past Blueberry Hill campsite and cross into an immense birch forest.
10. (15.1) Pass through a clearcut area (private property) and into Gooseberry Falls State Park.
11. (16.2) Cross a pedestrian bridge over 80-foot Middle and Lower Gooseberry Falls. Continue .3 mile to the visitor center. Bonus: The beach at the lower parking area offers easy access to a post-hike swim.

Trip Planner
Get there Shuttle car: From Duluth, head north 40 miles on MN 61 to Gooseberry Falls State Park. Trailhead: Continue north 12 miles to Beaver Bay, then go west .5 mile on Lax Lake Rd. to trailhead parking.

Shuttle Superior Shuttle (218-834-5511; superiorhikingshuttle.com)

Gear up Trailfitters, 600 E. Superior St., Duluth, MN; (218) 722-6776; trailfittersduluth.com

Contact (218) 834-2700; shta.org

Trip databackpacker.com/hikes/1672468