Rip & Go: Spider Glacier – Glacier Peak Wilderness, WA
Stroll through wildflower-filled meadows to a frozen slice of the Cascade Range.
Heading out the door? Read this article on the new Outside+ app available now on iOS devices for members! Download the app.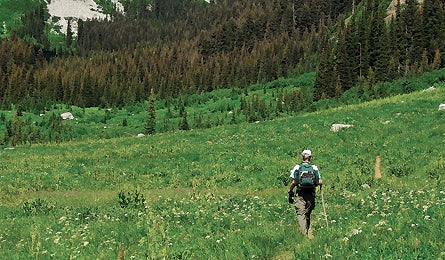 Spider Meadow (Alan Bauer)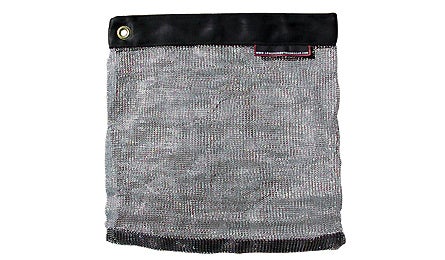 Ratsack Cache Bag (Courtesy photo)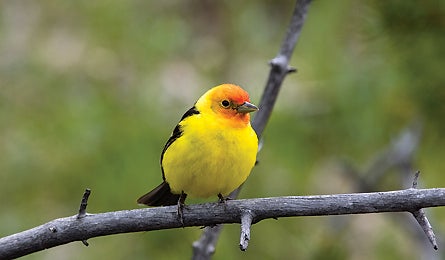 Western Tanager (Michael H. Francis)
Do It

Let Type A hikers have their monster mileage. If you're more Type B–long lunch breaks, photo detours, early campsites–this 14.2-mile out-and-back is for you. The path meanders through lush, knee-high grasses and avalanche lilies and passes countless dreamy tent sites as it gains just 1,700 feet to the foot of a glacier. Late July has the best blooms. From the Phelps Creek trailhead (1), 2.5 hours east of Seattle, follow an old roadbed lined with salmonberry bushes (and dive-bombing hummingbirds), northeast. You'll pass the Carne Mountain Trail in .2 mile (2) and enter the Glacier Peak Wilderness 2.3 miles later (3). The landscape quickly transitions from a rocky, fading roadbed to a dirt singletrack punching into the heart of a colorful, flower-filled meadow. About one mile later, rock-hop across Leroy Creek's rushing waters (4) (drop your pack and head upstream 100 yards off-trail to see a hidden multi-tiered falls). Dry out in the next two miles, climbing steadily through pine forests and intermittent flower gardens. At mile 5.2 (5) you'll reach the first of several idyllic campsites at the edge of wide, U-shaped Spider Meadow, at the foot of 7,646-foot Red Mountain. It's one mile across the meadow to a couple more campsites. From here, the route ascends to higher meadows and crosses Phelps Creek (6).
Bear left at the next Y-junction (7) and scan for the last (and best) campsite on the route. It's sheltered from wind, near water, and has a bald eagle's view of sprawling Spider Meadow and craggy Seven Fingered Jack in the distance. Set up camp, then climb sharply to 7,100-foot Spider Gap. Just .6 mile beyond is the foot of Spider Glacier (8). A creek flows from its base and cascades here at your feet. Return the way you came, an all-downhill amble back to the trailhead.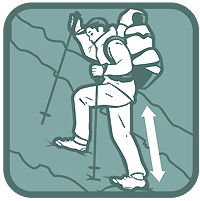 Trip Planner

Driving From Seattle, take I-405 nine miles north to WA 522 and go east 14 miles to US 2. It's 72.4 miles east to WA 207. Turn left, and in 4.5 miles, turn right on Chiwawa Loop Rd. Go .4 mile to a left on NFD 62/Chiwawa River Rd. Drive 22 miles to Phelps Creek Trailhead Rd.
Permit

A Northwest Forest Pass is required year-round ($5/day, $30/year). (800) 270-7504, naturenw.org Gear up Der Sportsmann has maps, fuel, gear, and expert local knowledge: 837 Front St., Leavenworth, WA; (509) 548-5623, dersportsmann.com
Key Gear

Rodent-proof food bag

This section of trail teems with chipmunks, squirrels, and hoary marmots, according to local rangers. The rodents are fun to watch but are known to wreak havoc, targeting campsites for food and scraps. Even hanging your fare isn't foolproof. Empty your pack and unzip all zippers to keep marmots or chipmunks from chewing through the material, and don't bring any food into your tent. Package all food, cooking gear, and scented items like toothpaste and chapstick in a bear canister if you have one (they're not required here), or a chew-proof stuffsack like a Ratsack Cache Bag ($30-$40, armoreoutdoorgear.com). "Squirrels and mice try–and quickly fail–to chew through the steel mesh," says Maine reader Kathy Landry. "I've used mine on weeklong trips in the most rodent-infested shelters along the Appalachian Trail–with no breaches."
See This

Western Tanager Consider yourself lucky to spot this stunning–yet shy–red-and-yellow songbird, which often perches on the edges of Spider Meadow. Its coloration comes from a diet of plant-eating insects. The bird then converts pigments from the vegetation. This tanager breeds farther north than any other member of its mostly tropical family. Got an iPhone? Get the iBird Explorer Western App ($10, apple.com) to play its call and lure one in.
Camp Chat

See that summit to the south with the huge crater? That's 8,365-foot Mt. St. Helens, the liveliest of Washington's five active volcanoes. In the most destructive volcanic event in recorded U.S. history, it famously erupted nearly 30 years ago, killing 57 people, destroying 250 homes, burying 185 miles of highway, and reducing the peak's elevation by 1,312 feet. According to local Native American legend, the two sons of Tyhee Saghalie, the chief of all gods, both fell in love with the beautiful maiden Loowit. They fought so viciously over her that they created what is now the Columbia Gorge. As punishment, Saghalie turned all three of them into mountains. Loowit became Mt. St. Helens. Discuss: Would you live within 50 miles of this fuming, love-torn peak?
On The Menu
Breakfast 1

On the road

Snacks

Apples with peanut butter and granola bars

Lunches 1 and 2

Cucumber slices and cheddar on a tortilla with spicy mustard

Dinner 1

Wenatchee

Salmon Pesto

Breakfast 2

Volcanic Breakfast Burrito
Wenatchee Salmon Pesto

Carbs, the Northwest way
8 ounces fettuccine

7 ounces pink salmon

2 ounces pesto

1 clove garlic, minced

3 ounces pine nuts
Boil water and cook pasta until al dente. Drain. Add pesto, garlic, pine nuts, salmon, salt, pepper, and olive oil to pasta. Stir and enjoy.
Volcanic Breakfast Burrito

A trail-Mex blast of flavor
1 large tortilla

1 cup Egg Beaters

1/3 cup instant hash browns

3 strips precooked bacon

2 ounces cheese

1/2 teaspoon chili powder
Put hash browns in a bowl, add one cup boiling water, and let sit for five minutes. Oil pan and fry hash browns until golden. Stir in Egg Beaters. Fry. Sprinkle chili powder, and add bacon. Scoop into tortilla; add cheese.
The Grocery List – (Aisle #) in nearest store below
1 box granola bars (1)

1 jar peanut butter (2)

1 squeeze bottle spicy mustard (2)

1/2 tsp. chili powder (2)

1 package of tortillas (3)

1 box instant hash browns (4)

7-oz. pink salmon pouch (4)

8 oz. fettuccine (4)

4 oz. Egg Beaters (deli)

8 oz. cheddar (deli)

1 tube pesto (deli)

1 pack precooked bacon (meat dept.)

2 apples (produce)

1 cucumber (produce)

1 onion (produce)
Pack spices, olive oil
NEAREST GROCERY STORE

Dan's Food Market

1329 US 2, Leavenworth, WA; (509) 548-5611
PIT STOP

Go for the white chili at The Soup Cellar in Leavenworth. Except on a Friday or Saturday night; then dig into a special all-you-can-eat prime rib dinner. 815 Front St., Leavenworth, WA; (509) 548-6300