Rip & Go: Soldier Creek Loop – Fort Robinson State Park, NE
Explore an unknown Nebraska wilderness for a surprising dose of rolling hills, wildlife, and solitude.
Heading out the door? Read this article on the new Outside+ app available now on iOS devices for members! Download the app.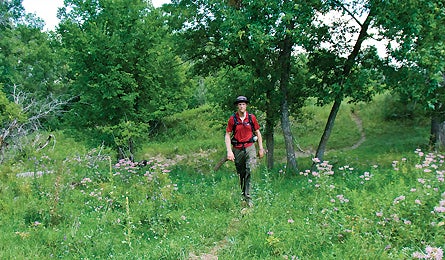 Near the Soldier Creek Trailhead (Ben Fullerton)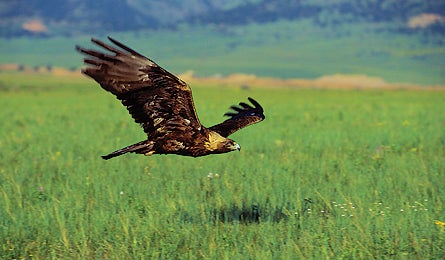 Golden Eagle (Tom & Pat Leeson)
Do It

With Wyoming and Colorado as neighbors, it's no wonder Nebraska gets overlooked. But the northern panhandle has a pocket of rugged hills with tricky routefinding and a genuine feel of wilderness exploration. And because the crowds will be a state away, you can have it all to yourself on this 11-mile figure-eight loop. From the parking area at the North and Middle Fork trailheads (1), walk 500 feet northwest to the Trooper Trail (2). Go through the gate (close it behind you), cross Soldier Creek, and hike to a pine grove where you'll cross the Boots and Saddle Trail (BST) (3). (Several game trails intersect the path in the first three miles; when in doubt, maintain a northwest course.)
Go straight into a vast shortgrass prairie, and soon reach another grove. The Trooper Trail cuts south here, but two use trails continue east. Take the trail on the right (4), to begin a 2.2-mile off-trail loop to access seldom-tramped grasslands with great camping. In .6 mile, pitch camp (5) in an open field near a trickling stream. The next day, hike cross-country northwest and cross a dry riverbed (6), then make your way toward the slope straight ahead (it'll be covered with sunflowers in July). Gain the top and continue south-southeast until you crest a third hill (7), where you'll encounter a barbed-wire fence; follow the ridge east and close the loop by rejoining the Trooper Trail (8).
Now, backtrack southeast .7 mile to the BST (9) to start a second loop. From here, you'll roll along gentle hills with side-cut ravines (and little shade) to a creek crossing (10). The trail turns left here, forks at mile 8.1 (11), and traces its way around the fingers of a ravine system. Gain one last highpoint at mile nine (12), then enjoy a long descent through wild plum and grape (blooming in June) to the trailhead.
Trip Planner

Driving From Crawford, take US 20 three miles west to Fort Robinson State Park. Turn right onto Soldier Creek Rd., the first right after entering the park. Drive seven miles to the trailhead (4WD recommended).
Map USGS quad Smiley Canyon ($8, store.usgs.gov)
Gear Up Herren Brothers True Value Hardware on 2nd St. in Crawford has white gas and duct tape. (308) 665-1600
Contact Fort Robinson State Park: (308) 665-2900, ngpc.state.ne.us/parks
Map Plus Send a topo, photos, and route info to your cell by texting "imap 490445" to 32075. Or find the trip on download the trip at backpacker.com/hikes/490445. Key Gear Sun Protection Despite the lush grasses and wildflowers, hiking through Fort Robinson is strikingly similar to desert hiking: There's precious little shade. Here are four key pieces of gear for staying unbaked.
Key Gear

Sun Protection
Sun hat Choose one that protects the top of your dome, ears, and the back and sides of your neck. The Outdoor Research Sun Runner Cap ($30, outdoorresearch.com) provides complete coverage, but it's more versatile than most: Remove the skirt, and it's a normal lightweight cap.
Long-sleeve shirt A lightweight, loose-fitting nylon with

SPF protection shields your skin and helps minimize

convective moisture loss from hot wind. REI's new Sahara Shirt ($50, rei.com) is featherlight and sports multiple, well-hidden vents.
Bandanna It has myriad uses. Turn any cap into a sun hat. Keep sweat out of your eyes. Shade your neck. Dunk it in a creek and use it to cool your head and neck.

Sunscreen Go for a cream instead of gel-based lotions or sprays. Creams moisturize; gels often have skin-drying alcohol as an ingredient. Our longtime choice: A one-ounce tube of Dermatone Skin Protection Creme with Zinc Oxide, SPF 36 ($5, dermatone.com).
See This

Golden eagle

Soldier Creek's remote, grassy plains provide ideal hunting grounds for predatory birds. The shrill call you'll hear is likely a red-tailed hawk (look for them high in trees). But the real prize here is the golden eagle, which is dark brown with golden accents on the neck and wingtips. A golden uses its huge wingspan (up to eight feet) to ride thermals upward for a high-and-wide view of its vast hunting grounds. A master of soaring, it can go hours without flapping its wings. After spotting prey, it can tuck its wings and swoop in for the kill at speeds up to 200 mph.
Locals Know

Fort Robinson, now a state park, was first built as a temporary frontier outpost in 1874 to monitor Indian activity. It grew to be the largest military base on the northern Plains and was used as a U.S. Army training ground through World War II. It once held a herd of 12,000 horses, a K-9 Corps training center, and a weapons-testing field where soldiers put experimental cannons, like the multibarreled Hotchkiss Gun, through their paces. "It's a historical treasure," says Dave Nixon, retired 25-year curator of the on-site Trailside Museum. "And the best view is from Red Cloud Buttes to the north. Bighorn sheep were introduced to this area in the 1970s, and they huddle on the north side." To gain this vantage and spot sheep, hike a six-mile out-and-back on an unmarked but well-worn trail from where Soldier Creek Road turns to dirt.
Camp Chat

In 1989, a wildfire sparked by a single lightning bolt torched 48,000 acres in the Soldier Creek Wilderness and neighboring Fort Lewis State Park. It denuded the landscape of grasses and trees and burned so hot that even minerals in the soil were destroyed, thus delaying regrowth. Previous programs to suppress fires jacked up the level of destruction by creating more fuel: The overgrown forest canopy burned longer and hotter than if the trees had been allowed to blaze over the years. Discuss: Should the park work to balance prescribed burns and fire suppression, or just let Mother Nature handle it?

On the Menu

Lunch 1

Peanut butter and honey sandwich

Dinner 1

Fort Robinson Ramen

Breakfast 2

Oatmeal with raisins

Lunch 2

Cheyenne Cayenne Tortillas

Snacks

Granola bars, bananas, peanut butter
Fort Robinson Ramen

Take-out flavor in camp
2 packs chicken ramen

1 package precooked chicken

1/2 tablespoon garlic pepper

3 tablespoons olive oil

3 tablespoons soy sauce

3 tablespoons peanut butter
Cook noodles per directions, then cover to keep warm. Add oil to fry pan and sauté chicken. Once browned, add soy sauce, peanut butter, and ramen seasoning packet. Stir until creamy. Add to noodles.
Cheyenne Cayenne Tortillas

A spicy bean burrito
3 tablespoons tomato paste

3 tablespoons powdered milk

1 cup instant refried beans

Dash chili powder

8 ounces cheese, cubed

2 flour tortillas
Mix tomato paste, powdered milk, and instant beans together. Boil two cups water and pour into mixture while stirring. Add seasoning and cheese cubes. Spoon onto tortillas.
The Grocery List (Aisle # in Nearest Store Below)

[ ] 2 bagels (2)

[ ] 2 flour tortillas (2)

[ ] 3 granola bars (2)

[ ] Raisins (2)

[ ] Garlic pepper,

chili powder (3)

[ ] Honey (3)

[ ] 3 Tbs. olive oil (3)

[ ] 2 packs instant

oatmeal (3)

[ ] 2 packs ramen (4)

[ ] 1 pack precooked

chicken (4)

[ ] 1 C. refried beans (4)

[ ] 3 Tbs. tomato

paste (4)

[ ] 8 oz. peanut butter (5)

[ ] 3 Tbs. powdered

milk (5)

[ ] 3 Tbs. soy sauce (5)

[ ] 8 oz. cheese (5)

[ ] 2 bananas (produce)


NEAREST GROCERY STORE

Absalon Food Center

202 Main St., Crawford, NE;

(308) 665-2772
PIT STOP

Head to the Fort Robinson Restaurant inside the park's main lodge. They've got the best bison bacon burgers and iced tea in the region. 3200 NE 20; Crawford, NE; (308) 665-2900