Rip & Go: Snowy Range Loop, Medicine Bow National Forest, WY
See snaggly summits and hook trout galore on a high-alpine trek.
Heading out the door? Read this article on the new Outside+ app available now on iOS devices for members! Download the app.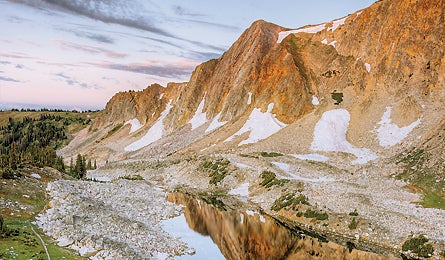 At the foot of Medicine Bow Peak. (Brett Deacon, www.brettdeacon.com)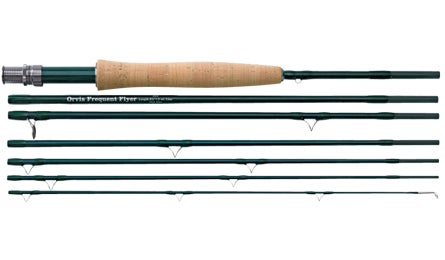 Essential fishing gear. (Courtesy Orvis)
DO IT

Get IMAX-size scenery for iPod-size effort on this 15.6-mile circuit, which serves up constant vistas of ridiculously rugged peaks, but climbs fewer than 1,500 vertical feet and connects the range's best fishing lakes—so trout dinners are almost a given. From the parking area at Brooklyn Lake (1), hike north past unnamed tarns on the Sheep Lake Trail to North Twin Lakes (2) at 1.5 miles. Follow the trail west across boulder-strewn tundra to the junction at Sheep Lake (3), and head west on the Gap Lakes Trail. Pass through small patches of Englemann spruce and subalpine fir. Just beyond sits Cutthroat Lake (4), which despite its name yields few trout. For better fishing, hike a half-mile farther and camp on a high plateau at 10,900 feet (5). From here, Crescent Lake is visible to the east, 120 feet downhill. Hike off-trail .25 mile to its treeless shoreline (6) and use a Royal Wulff to catch your dinner. Wyoming fishing license required ($6-14/day; gf.statewy.us). Next morning, head south skirting windswept North Gap Lake, climb to the saddle (7), and ogle the jagged cirque hemming South Gap Lake. Descend to the shoreline, past the Lost Lake Trail junction (8), and head south on the Gap Lakes Trail, entering a parking lot and picnic ground (with pit toilets) at Lewis Lake (9). Take the Medicine Bow Peak Trail up 1,260 feet to the 12,013-foot summit (10). Savor views over turquoise ponds and sawtooth ridges, then return to the Lost Lake Trail (11). Go east over glacier-carved rollers, through fragrant forests, and camp along Telephone Lakes (12). Next day, take the bridge over a bog and reach the Nash Fork Campground (13). Go left on the dirt road to the Sheep Lake trailhead and your car (14).

TRIP PLANNER

The Way

From Laramie, take WY 130 west (Snowy Range Rd.) 36 miles to Nash Fork Campground. Turn right on FR 317 and go one mile to the trailhead.
Gear up Get fishing supplies and gas at Big Hoss Mountain Sports in Laramie. (307) 742-9125; bighosswyo.com

Contact

Get up-to-date trail conditions and fishing information at Medicine Bow National Forest, Laramie Ranger District: (307) 745-2300; fs.fed.us/r2/mbr
KEY GEAR

Leave the vest and waders at home. This lightweight, 23-ounce system is all you need for shore-casting into Medicine Bow National Forest's trout-filled tarns.
Rod and reel A lack of brush cover and breezy conditions mean you'll want a longer rod. The 8.5-foot, three-weight Orvis Frequent Flyer 863-7 offers enough response and stiffness to roll cast into the wind, and its seven sections pack into a forearm-size tube ($198; 2.9 oz.; orvis.com). Pair it with the Orvis Battenkill Mid Arbor Fly Reel II for the perfect set up. ($129; 5.5 oz.; orvis.com)
Chest pack Sage's DXL Typhoon is smaller than a lunchbox, and when it's time to wet a line, it holds flies, tippet, and flotant at the ready. Magnets sewn into the side of the pouch secure metal tools, and three carry options (chest, shoulder, or waist) ensure comfort. ($80; 14 oz.; sageflyfish.com)

SEE THIS: ELK

More than 15,000 elk roam the southern Wyoming mountains, including the Snowies—where they are easily spotted on treeless, alpine expanses throughout the summer and fall. Your best chance of a sighting is in the morning and evening, when elk graze tundra grasses and wildflowers (midday, they generally hide out among the trees, where they're harder to see). Their cream-colored rumps often give them away; so do males' huge antlers, which can grow up to an inch per day during their summer growth spurt.
CAMP CHAT

There's lots of great paddling and fishing on the North Platte River and the other watersheds draining the Snowy Range, but only the navigable water over private land is considered public: Landowners lay claim to the river bottom as well as its banks, which means that standing in or along the water—to scout a rapid, take a break, or cast a lure—is technically considered trespassing. Discuss: Should the state have the right to restrict public access to river bottoms and banks?
ON THE MENU

Breakfast 1

On the road

Lunches 1 & 2

Peanut butter, honey, sesame seed, and apricot wraps

Dinner 1 Big Country Burrito

Breakfasts 2 & 3

Instant oatmeal, chocolate chips

Dinner 2

Snowy Trout

Snacks

Granola bars, mini Oreos, trail mix, dried figs
Big Country Burrito

A superfast but filling rollup
4 small tortillas

1 cup instant refried beans

1 7-ounce pouch chicken

2 tablespoons taco seasoning

4 ounces cheddar cheese, sliced

Dash hot sauce (optional)
Boil two cups water and add refried beans, stirring. Add chicken and seasoning; spoon into tortillas. Top with cheese and add hot sauce to taste.
Snowy Trout

Catch of the day, spicy-style
1 cup cornmeal

1 teaspoon mild chili powder

1 can chopped green chilies

¼ cup onion, minced

2 tablespoons vegetable oil

2 cleaned whole trout
Combine dry ingredients in a gallon zip-top bag. Place trout in bag and shake. Heat oil and pan-fry fish until flesh is flaky, about 3 to 6 minutes per side, and remove. Sauté onion, stir in chilies, and serve over trout.
THE GROCERY LIST

[ ] 1 onion (produce)

[ ] dried figs (produce)

[ ] 1 pack dried apricots

(produce)

[ ] 1 7-oz. pouch

of chicken (6)

[ ] 1 pack instant

refried beans (8)

[ ] taco seasoning (8)

[ ] 1 4-oz. can chopped

green chilies (9)

[ ] 1 pack tortillas (10)

[ ] 4 oz. cheddar (11)

[ ] 1 box cornmeal (12)

[ ] 6 oz. vegetable

oil (12)

[ ] chili powder (12)

[ ] 1 bag chocolate

chips (12)

[ ] sesame seeds (12)

[ ] 1 box granola bars (13)

[ ] 1 box instant

oatmeal (13)

[ ] 1 8-oz. jar peanut

butter (14)

[ ] 6 oz. honey (14)

[ ] 1 box mini Oreos (14)

[ ] 1 bag trail mix (14)

NEAREST GROCERY STORE

Safeway

554 North 3rd St., Laramie, WY;

(307) 721-5107
PIT STOP Head to the Mountain View Hotel, in Centennial, for breakfast on the sunny deck. The French toast is made with house-baked cinnamon bread. Try the "Mountain Man," which includes two eggs, hash browns, dollar pancakes, and your choice of meat. 2747 WY 130; (307) 742-5476; themountainviewhotel.com