Rip & Go: Santa Rosa Island – Channel Islands National Park, CA
Venture off SoCal's coast for long beaches, hidden canyons, and sea life.
Heading out the door? Read this article on the new Outside+ app available now on iOS devices for members! Download the app.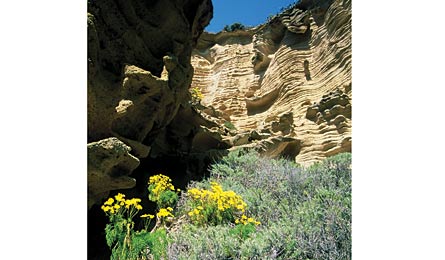 Lobo Canyon (Chuck Graham)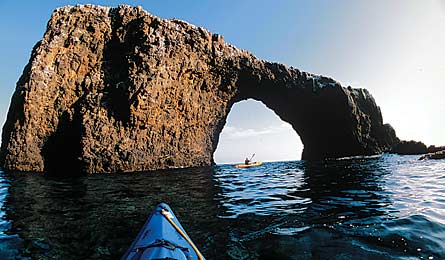 Anacapa Arch (Chuck Graham)
Do it

Spend three nights basecamping for the grand tour of the island's northern shoreline, from East Point's beaches to Lobo Canyon's sandstone bluffs. Day 1: Take a ferry to Water Canyon, and hike .5 mile west to Water Canyon Campground (1), your basecamp near the island's central hub.
Day 2: Rise at dawn for the 13.5-mile out-andback to East Point; the early start ensures a return before afternoon winds. Head east on Coastal Road, and in 1.3 miles, a 10-foot-high canopy of supersized bonsailike trees marks your entrance to the Torrey pine forest, one of two such groves in the world (the other is in San Diego). Head south on the Torrey Pines Trail (2), ascending sandy switchbacks to an old ranching double track (3) with views north to Skunk Point's white sands. Turn southeast, hike along a freshwater marsh, and join Coastal Road in .5 mile. Pass several small beaches (which are closed March 1 to September 15 for snowy plover nesting) en route to East Point (4). Elephant seals and sea lions sun themselves here. Spot dolphins and whales ("Key Skill," next page) between here and Santa Cruz Island to the east. Return by the same route—or continue to the southern shore if you want to beach camp.
Day 3: Begin the 14.3-mile round-trip to Lobo Canyon by heading west on the Cherry Canyon Trail (5) for 1.9 miles above the crescent moon-shaped Bechers Bay to Soledad Road (6). Continue east to Costal Road, hike north for .3 mile, then turn west onto Smith Highway. In 3.1 miles, descend into Lobo Canyon (7). Knobby sandstone formations protrude above 100- to 300-foot-high walls with pygmy mammoth fossils embedded in them ("See This," next page). Keep an eye out for tiny Pacific tree frogs, a keystone species that anchors the ecosystem by providing a critical food source. Lobo Canyon broadens where the creek spills into a secluded cove (8). Descend to the small beach, which thumps with surf. Hike .6 mile west along the shoreline and return along Cow Canyon's (9) eastern rim.


Trip Planner

Ferry dock Ventura Harbor, Spinnaker Dr., Ventura, CA
Ferry Island Packers, $75 (round-trip); (805) 642-1393; islandpackers.com
Permit $15/night. Reserve up to five months in advance. (877) 444-6777; recreation.gov
Gear up Real Cheap Sports, 36 W. Santa Clara St., Ventura. (805) 648-3803; realcheapsports.com
Map Trails Illustrated Channel Islands NP ($12, natgeomaps.com)
Key Skill: Whale Watching
The 5.5-mile-wide Santa Cruz Channel is a major byway for migrating cetaceans, and East Point (mile 6.8) offers world-class viewing from the shore. Pack binoculars and aim to reach the beach in the morning (before afternoon winds kick up spout-obscuring whitecaps). Scan for these identifying features to differentiate gray, humpback, and blue whales.
Gray whale

Time December-March

Spout 6 to 10 feet high, heartshaped (they have two blow holes) and bushy

Size 35-50 feet

Description Mottled gray, with 6 to 12 knuckles behind the dorsal hump
Humpback whale

Time July/August

Spout 10- to 12-foot plume

Size 40-55 feet

Description Knobby head and long (15-foot) pectoral fins; acrobatic swimmers
Blue whale

Time July/August

Spout 30-foot column

Size 80-100 feet

Description Long and slender with a U-shaped head; often feed at the surface

See This: Pygmy Mammoth Fossils

About 50,000 years ago, the northern four islands of this national park were one super island scientists call Santa Rosae, which was located just five miles away from the mainland. The smell of coastal sage wafting off the island tempted the Columbian mammoth (14 feet tall at the shoulder) across the channel. As the glaciers melted at the end of the last ice age, sea levels rose more than 300 feet, flooding Santa Rosae, increasing the channel distance to 11 miles, and marooning the beasts. Over the next 10,000 years, the survivors shrank into a dwarf species because of overpopulation (they had no predators), and ended up four feet tall at the shoulder. Then, about 10,000 years ago, they went extinct. Santa Rosa harbors more than 20 known pygmy mammoth sites. Scan the limestone walls in Lobo Canyon for protruding bones and skulls.

Locals Know

The wave-battered shorelines of Santa Cruz and Anacapa Islands are holed out with more than 100 sea caves. Rare seabirds like ashy storm petrels, pigeon guillemots, and Xantus's murrelets nest inside the grottoes, while harbor seals and sea lions gather in the rear. Painted Cave, extending 1,215 feet into the west end of Santa Cruz, is one of the largest grottoes in the world. Paddle to it on a guided tour: Channel Island Outfitters; channelislandso.com. Going solo? Pack a helmet, charts, and beware of fluctuating water levels. Even on calm days, the wake from a passing ship or a random swell can cause water to reach the roof.
On The Menu

Lunch 1

On the ferry

Dinner 1

Channel Tacos

Breakfasts 1 & 2

Santa Rosa Oats

Lunch 2

Rice cakes with PB and honey

Dinner 2

Goat cheese and tomato ravioli with marinara sauce

Lunch 3

Cheese and salami on crackers with mustard

Snacks

Energy bars, dried mangoes
Channel Tacos

Fresh fixings for basecamp
8-pack corn tortillas

1 can pinto beans

2 tablespoons chili powder

1 avocado

1 cup instant rice

6 ounces goat cheese
Cook rice and set aside. Heat beans and chili powder, covered, and rest corn tortillas on top. Meanwhile, mash avocado. When beans are hot, spoon onto tortillas with rice, and top with fixings. Serves two.
Santa Rosa Oats

A little prep, a lot of pep
1½ cups water

¾ cup multigrain oats

½ cup dried blueberries

1 banana

1 scoop of whey powder

¼ cup walnuts

1 tablespoon of honey
Mix water and oats in a cook pot and heat until the oats are soft (about five minutes). Add the rest of the ingredients and stir. Serves two.

The Grocery List (Aisle # in Nearest Store Below)

[ ] goat cheese

[ ] salami link

[ ] crackers

[ ] rice cakes

[ ] peanut butter

[ ] dried mangoes

[ ] energy bars

[ ] avocado

[ ] pinto beans

[ ] corn tortillas

[ ] instant rice

[ ] walnuts

[ ] banana

[ ] dried blueberries

[ ] whey powder

[ ] multigrain oats

[ ] goat cheese and tomato ravioli

[ ] marinara sauce
Pack Chili powder, honey, mustard
PIT STOP Try the wild Alaskan coho salmon with a Blu's Brother Smoothie at Nature's Grill & Juice Bar. 566 East Main Street, Ventura, CA; (805) 643-7855; naturesgrillventura.com

NEAREST GROCERY STORE

Trader Joe's

1751 South Victoria Ave., Ventura, CA

(805) 650-1504; traderjoes.com