Rip & Go: Sage Creek Loop – Badlands National Park, SD
Explore off-trail in a wilderness with more bison than boot prints.
Heading out the door? Read this article on the new Outside+ app available now on iOS devices for members! Download the app.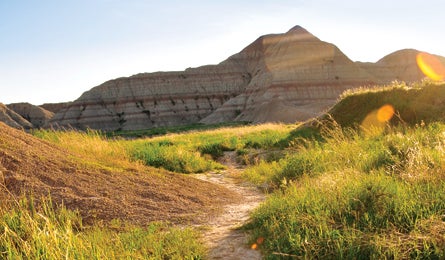 Trailhead at Conata picnic area (Kim Phillips)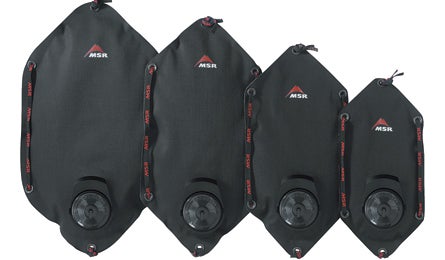 MSR Dromedary Bag (Courtesy Photo)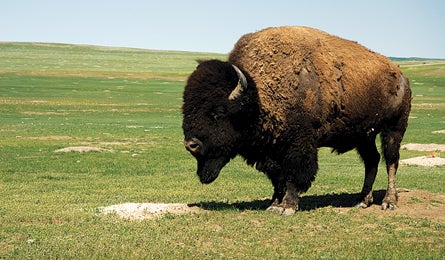 American Bison (Donna Ikenberry)
Do It

The frontier lives on in Badlands National Park's Sage Creek Wilderness Area. Bison and pronghorn roam freely on prairies riddled with labyrinthine washes and surrounded by rock pinnacles. And so will you on this three-day, 22-mile loop. From the backcountry trailhead (1) at the Conata Picnic Area, 12 miles south of Wall, head southwest through knee-high grass (watch for rattlers), skirting the base of the Badlands formations and the occasional pronghorn boneyard.
After two miles, pass through a gated barbed-wire fence (2) and veer northwest toward a clutch of rock spires. Just over a mile later, climb gravel mounds into Deer Haven (3), a juniper-lined oasis amid the spires. Camp on a flat gravel bench in this natural amphitheater (there are no designated sites on this route). On day two, weave through juniper stands and ascend .2 mile to a narrow ridge (4), the route's high point at 2,900 feet.
Descend into a steep wash pocked with mud puddles and bison prints. Follow several snaking bends northwest to a T-junction at mile 4.1 (5); turn left. At mile six, bear left where a dry creekbed enters on the right (6); leave the wash .6 mile later (7). Then traverse the Sage Creek Basin, a 3.5-mile-wide grassland veined with gullies. Stop for lunch at a grass-lined pond (the route's lone water source) (8) 8.2 miles into the loop. In 3.4 miles, hike west into Tyree Basin; spend night two here (9).
On the last day, navigate south-southeast through a maze of drainages to Sage Creek Pass (10), a large gap in the Badlands formations. At mile 15.5, angle east along a private ranch's fenceline before ducking under another north-south running fence (11) blocking the route. Descend to Conata Basin for the three-mile stretch back to the first gate and the trail to Conata Picnic Area.

Trip Planner
Driving

From Wall, take SD 240 south for 11 miles. Turn right onto Conata Basin Rd. In 1.1 mile, turn right onto Badlands Loop Rd. and follow it to the backcountry access parking area at the Conata Picnic Area.
Map

USGS quads: Wall SW, Quinn Table SE ($8 per quad, store.usgs.gov)
Gear Up

Nearby roadside attraction Wall Drug also stocks a variety of last- minute supplies such as white gas, duct tape, sunscreen, and batteries. 510 Main St., Wall, SD; (605) 279-2175; walldrug.com

BUY THE PRO MAP
Key Gear: Hydration Bags

Water sources in the Badlands are few and far between. And even if you're tempted to filter the chocolate-brown mud puddles and silty pools that dot the washes, it's a lost cause: The high sediment content of the water makes it undrinkable. To stay hydrated, hikers must pack in all of their water–at least one gallon per person per day–in heavy-duty reservoirs like the MSR Dromedary Bag ($30-$40, msrcorp.com).
See This: American Bison

You'd never guess by the droves of bison that roam Sage Creek that these thousand-pound behemoths disappeared from the area late in the 19th century (they were reintroduced in 1963). Today, roughly 600 bison live in the area's washes and grasslands. Caution: Bison are unpredictable and can charge at speeds of up to 30 mph. Check for them before heading in and out of the route's many gullies, and stay back at least 200 feet. A raised tail signals agitation.
Locals Know

Tucked far away from the glow of city lights and major interstates, the Sage Creek Wilderness is the best place in Badlands National Park to gaze at distant galaxies and glimmering constellations. "Light pollution is absolutely nonexistent here," says Badlands ranger Aaron Kaye. "On a clear night, you can see the Milky Way, the Andromeda Galaxy, and even the color variation of individual stars." Time your visit for periods of high solar activity (and no moon), and you may be treated to a rare showing of the northern lights. "I've seen them here about two dozen times in the last 10 years," notes Kaye. "They fill up two-thirds of the sky–sometimes with a vibrant range of colors, sometimes with a greenish glow." Best times to catch aurora borealis: September through November and late January through March.
On The Menu
Breakfast 1

Wall Drug Café for muffins and $.05 cups of coffee

Lunch 1, 2, and 3

Peanut butter and jelly on bagels

Dinner 1

Prairie Pesto

Breakfast 2 and 3

Oatmeal with brown sugar

Snacks

Trail mix, dried fruit, ginger snaps

Dinner 2

Badlands Curry
Prairie Pesto

A fresh pasta dinner
4 ounces spaghetti noodles

1/2 cup mushrooms

2 tablespoons olive oil

1/4 teaspoon garlic powder

2 tablespoons dried basil

1/4 cup grated Parmesan cheese
Cook spaghetti in boiling water, then drain. (Water is scarce; set aside for tea.) Stir in olive oil and all remaining ingredients. Mix well and eat.
Badlands Curry

East meets Midwest.
1 boil-in-bag rice

1 cup bison jerky, shredded

1/2 cup cashews, chopped

3 tablespoons curry powder

1 teaspoon coarse salt

1/2 cup dry milk

3 ounces pepper jack cheese
Cook rice as directed. As water boils, add jerky. Dice cheese. When rice is done, remove from bag and drain all but 1/2 cup of water. Stir in curry, salt, and dry milk. Add cashews and cheese.
The Grocery List (Aisle # in Nearest Store Below)
1 jar peanut butter (1)

1 jar jelly (1)

2 packs dried fruit (1)

4 oz. spaghetti (2)

1 boil-in-bag rice (2)

1 box oatmeal (3)

1/2 C. cashews (4)

1 box granola bars (4)

1 box ginger snaps (4)

1 package bagels (7)

2 packs trail mix (7)

1 C. buffalo jerky (checkout stand)

1/4 C. grated Parmesan cheese, 3 oz. pepper jack cheese (dairy)

1/2 C. mushrooms (produce)

Pack Olive oil, spices
Pit Stop

Grab a posthike meal at the Elkton House. Locals rave about the hot beef sandwich. Top it off with a scoop of Fjord's Ice Cream (voted "Best Ice Cream in the Black Hills"). 203 South Blvd., Wall, SD; (605) 279-2152
Nearest Grocery Store

Wall Food Center

103 W. South Blvd.; Wall, SD;

(605) 279-2331