Rip & Go: Rockytop Loop – Shenandoah National Park, VA
Escape Skyline Drive to discover secret summits and hidden valleys.
Heading out the door? Read this article on the new Outside+ app available now on iOS devices for members! Download the app.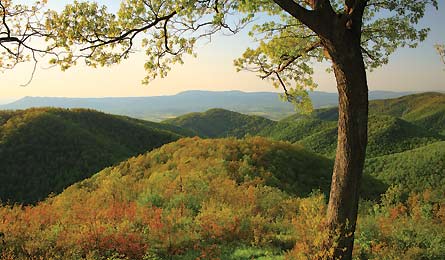 Rockytop Loop, Shenandoah National Park (Pat & Chuck Blackley)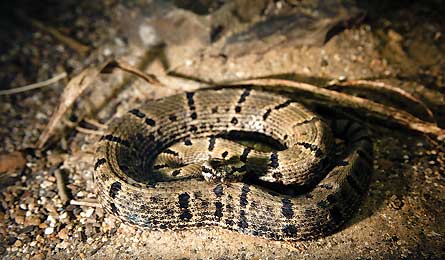 Desert snake (istock)
Do it
Enjoy eagle's-nest views of Shenandoah's southernmost ridges before descending into tranquil forests laced with streams on this 13.1-mile loop. Shoulder your pack at the Brown's Gap parking lot (1) at mile 82 on Skyline Drive and head west on yellow-blazed Big Run Loop Trail, a fire road oft-crossed by game trails. In one mile, turn left onto the blue-blazed Rockytop Trail (2). The path climbs through hardwood forest, joins Rockytop's ridge, and passes under tunnels of rhododendron and mountain laurel (June). Enjoy five miles of gentle ridgeline descent peppered with sweeping western vistas of the hazy, blue ridges off the Washington and Jefferson National Forests. Recent fires have left large sections of the ridge exposed (3), which creates viewing platforms, but rattlesnakes love the sun-warmed rocks. In late summer, graze blueberries before dropping 1,200 feet into the valley at Big Run. At the bottom of the descent, turn right onto the yellow-blazed Big Run Trail (4) where, after .4 mile, you'll cross Big Run (5). Pitch your tent in one of the established campsites (6) along the stream.
Day two's miles of dark, wet trail are a perfect counterpoint to yesterday's dry exposure. With seven miles to cover, get an early start and you'll have plenty of time to fish and swim. The trail crosses Big Run a total of nine times—varying from simple rock-hops to wide, shin-deep fords—on the gradual climb to Big Run Loop Trail (7). The quiet woods and cool stream draw the park's fauna in droves, so keep your eyes peeled for coyotes hunting the valley and black bears overturning rocks in search of grubs and nuts. Finally, truck up a steep, two-mile climb through tall, second-growth forest dominated by tulip poplar. Upon arriving back at the grassy intersection with the Rockytop Trail (8), continue straight to rejoin Big Run Loop, then left to your car.

Trip Planner

Get there

From Washington, D.C., take VA 66 to Skyline Dr. and park at the Brown's Gap parking lot at mile 82.

Permits

Required for overnights (free; available at entrance stations).
Gear up

Rockfish Gap Outfitters, 1461 East Main St., Waynesboro, VA. (540) 943-1461; rockfishgapoutfitters.com


Trip data

backpacker.com/hikes/978081
DO IT | KEY SKILLS | THE MENU


Key Skill: Packing For Stability

Day one goes down; day two goes up. Tailor your pack's load distribution to increase the efficiency of each step.
Day 1 Steep descents and tricky footing call for a low center of gravity. Pack heavy items (food, water, liquid

fuel, and tent) in the middle of your pack and near your back. Keep midweight items (self-inflating pad, cook set, canister fuel, water filter) near the top, and cram light stuff where it'll fit. This prevents sway and reduces leverage. Tighten load-lifter straps to clamp the pack to your body.
Day 2 Repack with midweight items in the center of your pack, heavier items toward the top, and lightweight gear at the bottom. This strategy lets you get under the weight and transfers more of the load to your hips, which are more suitable for bearing poundage comfortably. Loosen load-lifters on ascents to assist with the distribution of weight downward.

See This: Timber Rattlesnake

You'll probably hear the timber (aka canebrake) rattler before you see it. Found both on this hike's open, rocky ridges and in the dark, forested valleys, the timber rattlesnake has a flattened, diamond-shaped head and either dark bands on a tan background (yellow phase) or black ones on a dark brown background (black phase). In the morning, rattlers can be found sunning themselves when the air temperature is around 75°F. Midday, be especially cautious around rocks and logs—step onto these obstacles, never over them—since rattlers seek shade to keep from overheating. If the air temperature is in the low 80s (optimal temperature for digestion), rattlers will even hunt at night.
Locals Know

"Aqua-Blazing" is the Appalachian Trail thru-hiker's term for paddling through the 100-mile park on the north-flowing Shenandoah River. Why do it? Because the mostly calm river provides lazy and quiet passage through a park known for ridgewalks in the baking sun, big summer crowds, and notoriously long distances between shelters (with camping prohibited anywhere else). Rent a canoe in Waynesboro and put in at the park's southern entrance. Camp on islands and national forest land on the way to Front Royal, or do a shorter shuttle-paddle. Refresh often with a banzai jump into the river; rope swings of varying length,

height, and risk level hang over the river throughout. But don't forget to look up: Bald eagles soar overhead on routine fishing trips. Contact: Shenandoah River Outfitters (800-622-6632, shenandoahriver.com)


On The Menu
Breakfast 1

On the road

Lunches 1 & 2

Peanut butter and dried fruit tortillas

Dinner 1

Rockytop Tortellini

Dessert 1

Shenandoah Surprise

Breakfast 2

Granola with powdered milk

Snacks

Dried fruit, chocolate
Rockytop Tortellini

One-pot Italian
8 ounces Barilla dry tortellini

½ envelope McCormick's

marinara sauce mix

½ envelope McCormick's pesto

sauce mix

2 ounces sliced pepperoni

Olive oil

Cook pasta according to package directions and drain, leaving 1 cup water in the pot with the pasta. Stir in both sauce pouches and add 3 tablespoons olive oil. Stir and add pepperoni. Serves 2.
Shenandoah Surprise

Food for making friends
½ 21-ounce box brownie mix

(transfer to a zip-top bag)

¼ cup powdered milk

2 cups boiling water

Graham crackers

1 apple
Combine brownie mix with powdered milk in a pot. Slowly add boiling water and stir until the mix reaches the consistency of pudding. Serve fondue-style, dipping graham crackers, sliced apples, or a spoon. Serves 4.

The Grocery List (Aisle # in Nearest Store Below)

[ ] apple (produce)

[ ] dried fruit (1)

[ ] flour tortillas (3)

[ ] peanut butter (6)

[ ] Barilla tortellini (7)

[ ] McCormick's marinara sauce mix (7)

[ ] McCormick's pesto sauce mix (7)

[ ] brownie mix (8)

[ ] dried milk (8)

[ ] granola (10)

[ ] sliced pepperoni (13)

[ ] graham crackers (13)

[ ] chocolate bar (18)
Pack: Olive oil

NEAREST GROCERY STORE 

Kroger

245 Arch Ave., Waynesboro, VA

(540) 943-3172

PIT STOP Feast on the bratwurst, apples, and onion pizza at Blue Mountain Brewery, then wash it down with a house-brewed Full Nelson Pale Ale. 9519 Critzers Shop Rd., Afton, VA; (540) 456-8020; bluemountainbrewery.com