Rip & Go: Rocky Point to Round Lake – Boundary Waters Canoe Area Wilderness, MN
Glide through back-to-back lakes on a classic North Country canoe trip.
Heading out the door? Read this article on the new Outside+ app available now on iOS devices for members! Download the app.
Do it
Geology lesson: It took two million years of glacial movement to create this vast network of lakes, wooded hills, and granite outcrops. Paddling lesson: Don't rush this 35-mile point-to-point. Take three days to link its chain of 23 lakes. Start at Entry Point 55 and save half a day's paddle with a seven-mile tow across the sometimes wave-riddled expanse of Saganaga Lake to Rocky Point (1). Point your bow southwest through Sag's northwest arm. After two quick portages ("Locals Know," next page), cut southwest across Ottertrack (2), a narrow border lake with walleye and northern pike.
Next, string together the pristine waters of Ester, Hanson, and South Arm Knife Lakes, hedged by granite bluffs and white pines—giant cedars also flourish along the Hanson-to-South Arm Knife portage (3). Near mile 12, camp in one of South Arm Knife's quiet coves (4).
Next day, paddle 1.4 miles south-southwest to a short, 500-foot portage (5) that parallels Eddy Falls, which cascades 75 feet down mossy boulders. Five lakes (Eddy, Jenny, Annie, Ogishkemuncie, and Mueller) and four portages later, stash your canoe along the Mueller-to-Agamok portage (6). Turn left on the Kekekabic Trail for a .3-mile (round-trip) side hike to a wooden bridge spanning a shallow gorge.
Near mile 20, enter 209-feet-deep Gabimichigami (7), one of the deepest lakes in Minnesota (tip: Gabi has few islands to offer protection on windy days). Steer your boat southeast to Rattle Lake, then to Little Saganaga, and camp on a west-facing, 15-foot bluff with prime sunset views (8).
On the last day, canoe across the eastern fringes of Little Sag before crossing five more lakes and portages. A 1.3-mile portage (9), connecting Tuscarora and Missing Link Lakes, awaits near mile 32. After a .5-mile paddle through Missing Link, portage into Round Lake for the .7-mile stretch north to the take-out (10) on the northern shore. Shuttle back to Saganaga Lake.

Trip Planner

Put-in Take CR 12 north 53 miles from Grand Marais. Go right on CR 11 for .9 mile.
Take-out From Grand Marais, go north on CR 12 for 45 miles. Turn left on CR 47. Park in .7 mile.
Permit $16/person. (877) 444-6777; recreation.gov

Contact (218) 626-4300; fs.usda.gov/superior

Gear up Get canoe rentals, maps, fishing license, and arrange towboat rides at Voyageur Canoe Outfitters, 189 Sag Lake Trail, Grand Marais, MN; (218) 388-2224; canoeit.com
Key Skill: J-stroke

Paddling across 23 lakes takes more than just muscle power. You'll need a bit of finesse to master this basic corrective stroke, which allows continuous power-stroking on one side while keeping the canoe from drifting off a straight line. (Note: Use this stroke when sitting in the stern; the bow person should use a forward paddle stroke at a constant pace.)
1. Grip the paddle with your hands slightly wider than shoulder width apart. Raise your top hand to about head level, and keep the paddle vertical in the water.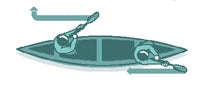 2. Pull the paddle through the water, keeping it close to the canoe. Push forward with your top hand and pull back with your bottom hand, and engage your core to fight arm fatigue.
3. Toward the end of the stroke, rotate the powerface (the side of the paddle blade you pulled toward yourself) away from the canoe, and use your lower hand to push it away from the stern. This entire motion should resemble the shape of a J when paddling on the left/port side of the canoe.
4. Repeat every three to five strokes, or as needed to keep tracking straight.

See This: Common Loon

Minnesota's state bird is a constant companion along this watery route. Listen closely for its four distinct calls. The tremolo (an alarm)sounds like frenzied laughter; the wail (a long-range social call) resembles a wolf's howl; the hoot (a close-range social call) is soft and short; and the yodel (made by males to defend their territory) is a rising call that ends in a variety of short tones. In summer, loons sport black-and-white checkered backs and have iridescent black heads and red eyes.

Locals Know

Seasoned Boundary Waters paddlers say that completing each portage in one trip (a "single portage") is key to traveling efficiently through this lake-filled landscape. "The Tuscarora-to-Missing Link portage takes about an hour, but if you have to make multiple trips, it can take up to three hours," says Wilderness Ranger Brad Kremske. Make sure all your gear fits into two packs per canoe. Stuff the big pack with camping gear, and reserve the smaller pack for food, jackets, and other items you may need throughout the day. At every portage, divvy up the load so that the person hauling the canoe carries the smaller, lighter pack. The person with the heavier pack brings the two paddles. "You can travel twice as fast by doing this," says Kremske.
On The Menu
Breakfast 1

On the road

Lunches 1, 2 & 3

Summer sausage, Cheddar, avocado, and hummus wraps with mayo

Dinner 1

Little Sag Steak & Potatoes

Breakfasts 2 & 3

Instant oatmeal

Dinner 2

Rocky Point Pizza

Snacks

Trail mix, granola bars, and dried fruit
Little Sag Steak & Potatoes

A classic, hearty meal
2 6-ounce sirloin steaks (prepacked frozen in zip-top bags)

1 package instant potatoes

1½ teaspoons salt

1 tablespoon pepper

1 tablespoon oregano

1 tablespoon thyme
Mix salt, pepper, oregano, and thyme in a zip-top bag, then rub seasonings onto both sides of the steaks. Cook to preference on fire grate. Bad weather backup: Pan fry. Prepare potatoes according to box. Serves two.



Rocky Point Pizza

Italian made easy
6 small flour tortillas

1 bag pepperoni

1 squeeze bottle pizza sauce

1 package shredded Cheddar
Build a rock oven: Stack flat rocks in the shape of a 10-inch-high bridge on top of the fire grate. Slather pizza sauce on tortillas. Add cheese and pepperoni. Place pizza in a pan; slide it under rock oven once rocks are hot (10 minutes). Cook until cheese is melted. Serves two.

The Grocery List (Aisle # in Nearest Store Below)

[ ] tortillas (back)

[ ] shredded Cheddar cheese (dairy)

[ ] pepperoni (meat)

[ ] frozen sirloin steak (meat)

[ ] summer sausage (meat)

[ ] avocados (produce)

[ ] hummus (produce)

[ ] mayo packets (1)

[ ] pizza sauce (3)

[ ] instant mashed potatoes (3)

[ ] granola bars (4)

[ ] instant oatmeal (4)

[ ] dried fruit (8)

[ ] trail mix (8)
Pack Salt, pepper, oregano, thyme
PIT STOP Refuel post-paddle at the Trail Center Lodge. Order the Canoe—a burger, fries, and malt.

7611 Gunflint Trail, Grand Marais, MN; (218) 388-2214; trailcenterlodge.com
NEAREST GROCERY STORE

Gene's IGA

431 E. Highway 61, Grand Marais, MN

(218) 387-1212